Reader Guitar of the Month: A Family Treasure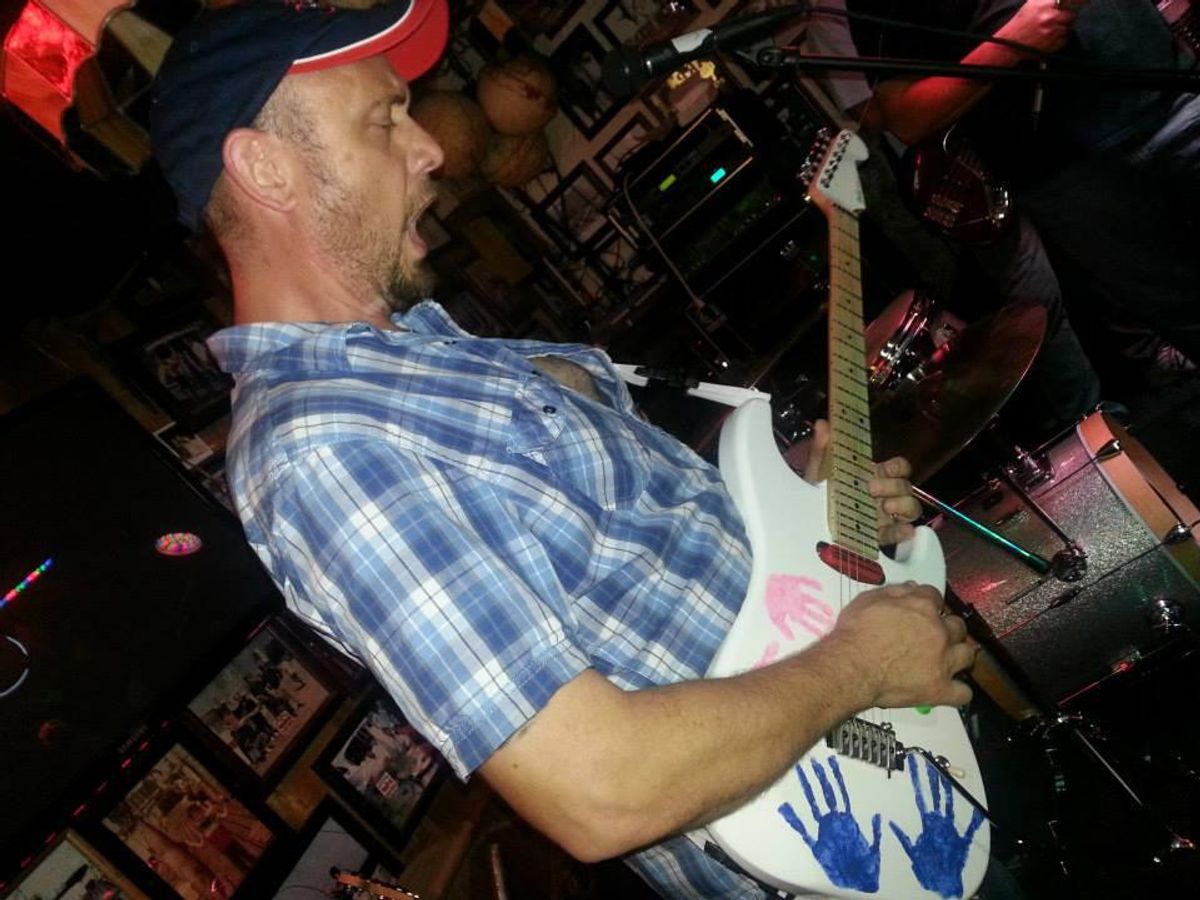 A Florida guitarist and luthier had his children make their mark on his main guitar.
Name: Mark Funk
Location: Fort Lauderdale, Florida
Guitar: Mr. Hand
Greetings from South Florida. I'm Mark Funk, husband, father, luthier extraordinaire, and owner of Funk Guitars U.S.A.Outside of family, which is my number one passion, guitar building and playing comes in as a close second. I've been playing guitar since I was 13 years old and gigged with several South Florida bands over the years.
---
I made the transition to stop gigging and focus solely on building/repairing guitars about four years ago, though I've been a luthier for 10 years. I wanted to learn all there is to know about guitars, so I wouldn't have to depend on anyone to set up or repair my gems. I have such an appreciation for the instrument—its look, tone, sound, etc.—that I taught myself all there is to know from the inside out.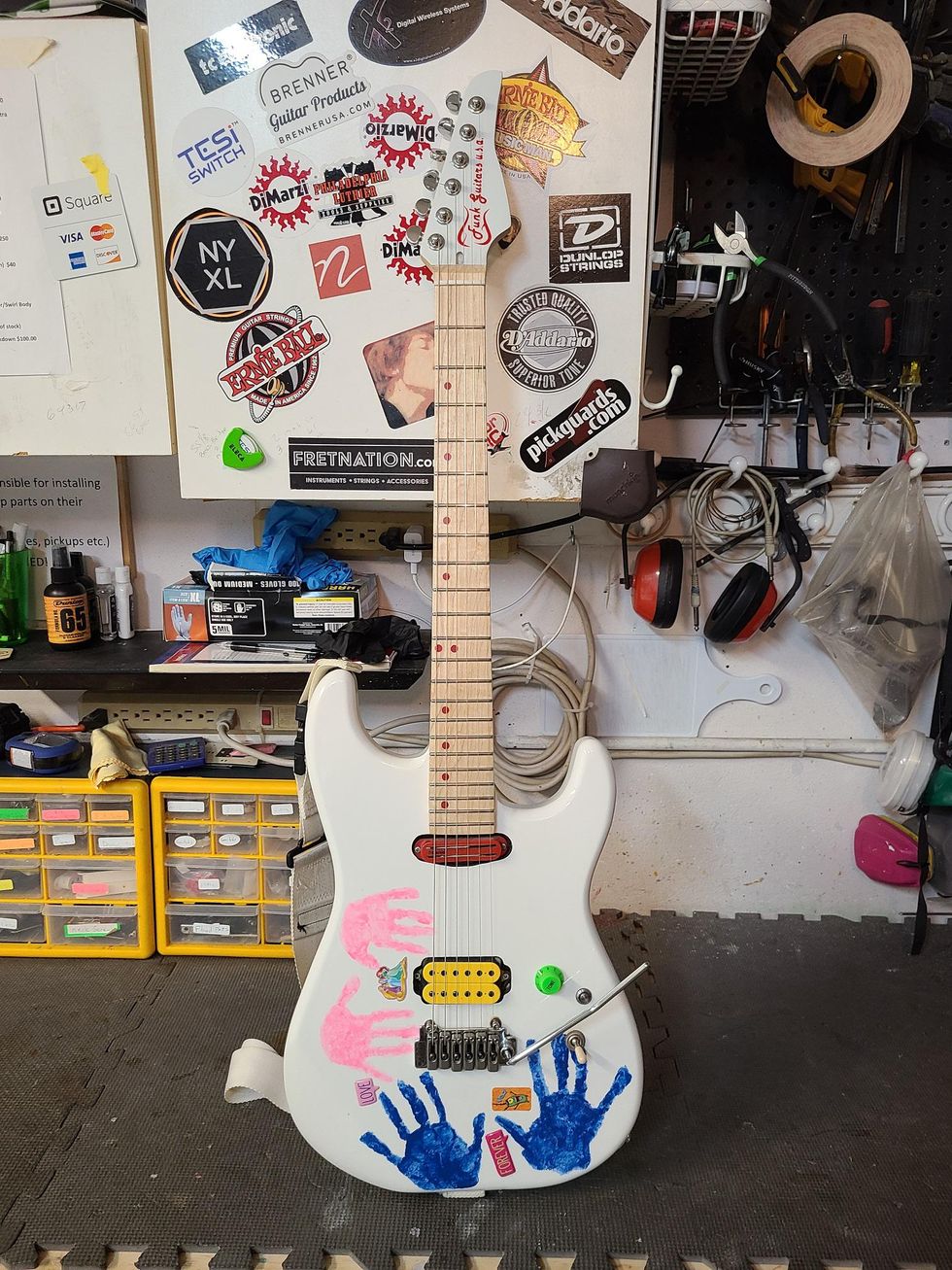 The guitar featured here is my main machine. I've built dozens of guitars for people, but this one, nicknamed Mr. Hand, is all mine. It's on its second and hopefully last neck, as the truss rod on the last one broke. It has a 2-piece alder body with a yellow DiMarzio Tone Zone and red DiMarzio Fast Track. It's equipped with a Bourns low friction pot with treble bleed, along with a Switchcraft toggle and Tesi POCO kill switch. The bridge is a Wilkinson non-floating tremolo. The neck is 2-piece oiled hard maple with red dots. It also has a 1 11/16" bone nut, Grover locking tuners, a thin "D" profile, 2 1/4" heel, and stainless steel jumbo frets.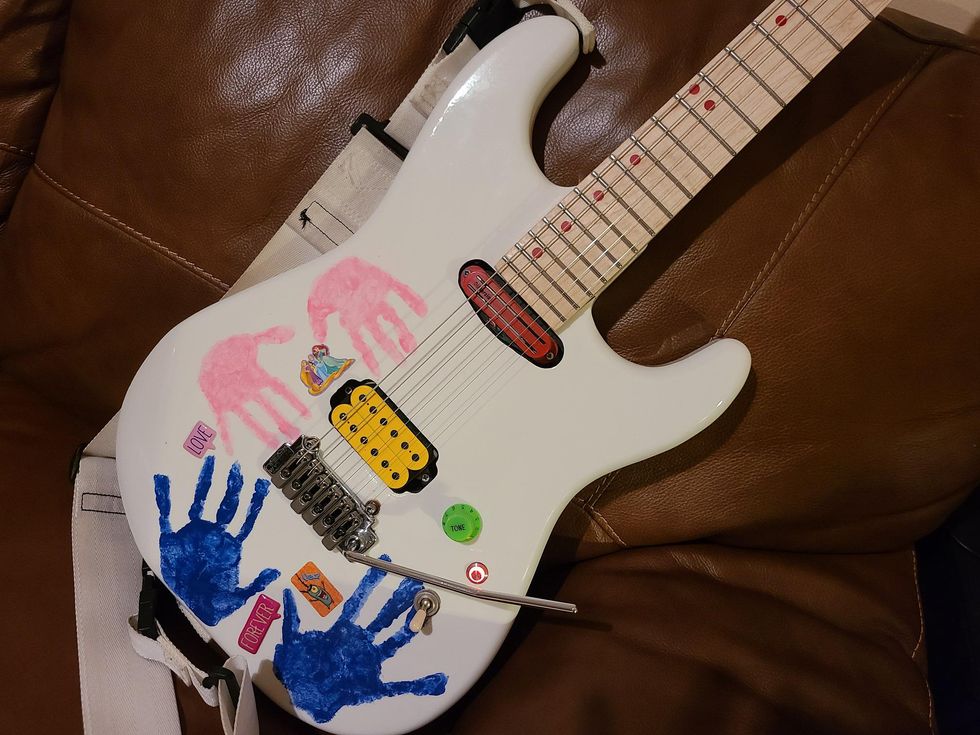 I knew I wanted to incorporate my kids into one of my guitars, so I decided to add their handprints, blue for my son and pink for my daughter, and then I clear-coated over it. We turned it into a fun family event. What can be more exciting for a 3- and 7-year-old than having your dad coat your hands in paint and then press down on a white guitar? The stickers were added later. SpongeBobSquarePants was my son's favorite show at the time—hence the Plankton sticker, and the Disney princesses are for my daughter. The "Love" and "Forever" stickers tied it all together!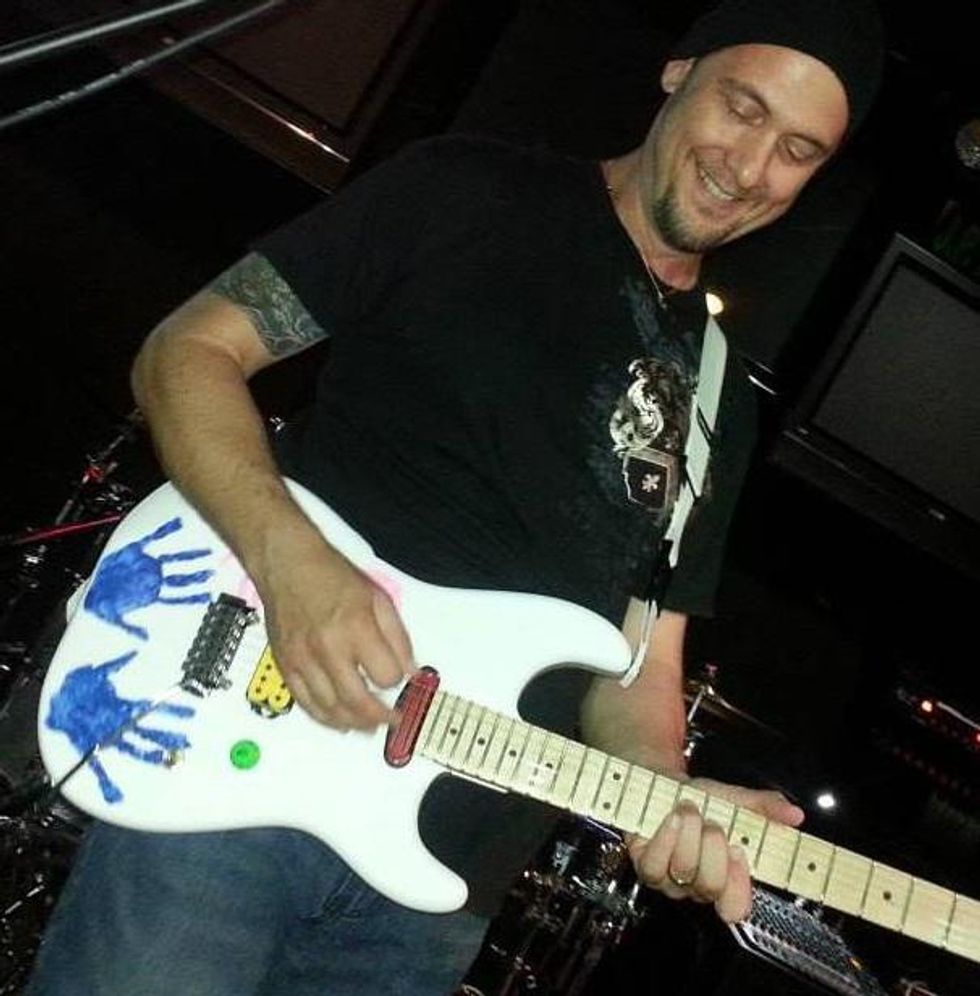 The guitar body and neck are handbuilt—no CNCs used. The guitar screams brown sound all night long and stays in tune through four sets of covers and heavy trem use. I truly believe that it's my children's handprints under the clear that keeps it playing so well. It's my treasure!
Send your guitar story to submissions@premierguitar.com