The Glorious Return of Guitar Shows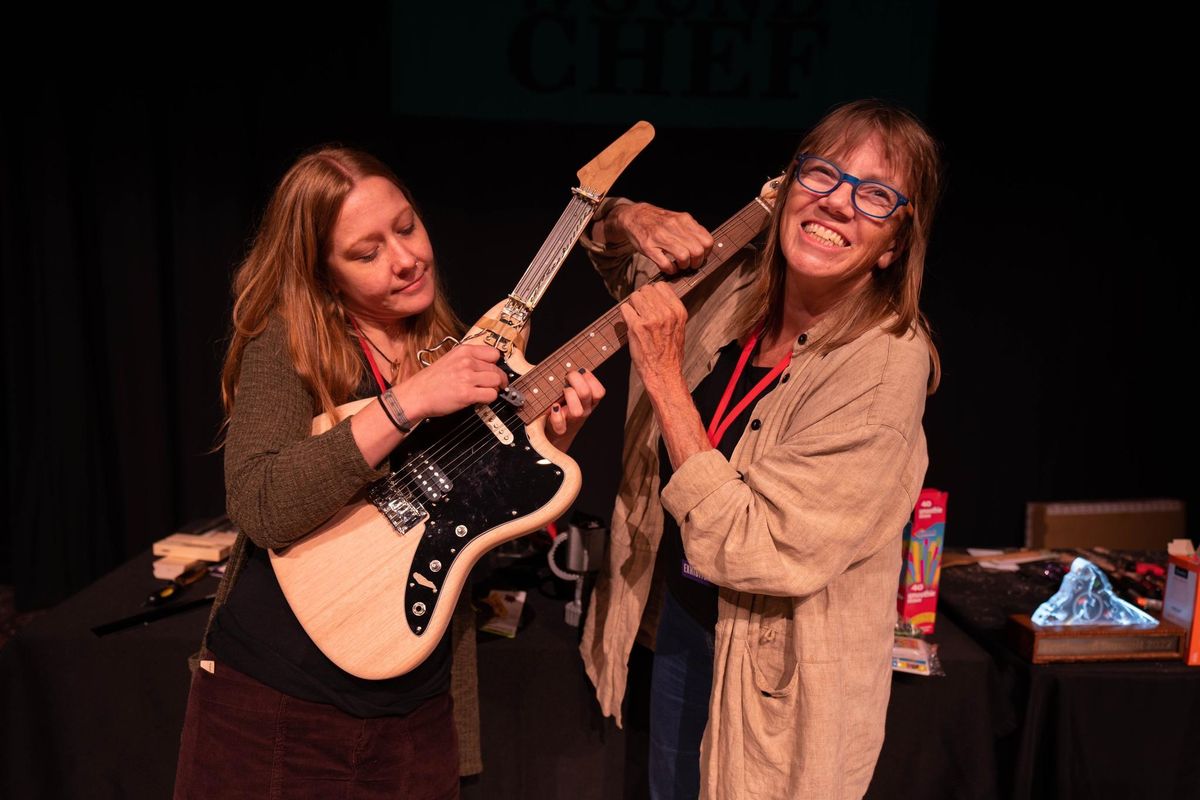 After several years away, luthiers and enthusiasts gathered across the country in 2022. Here's how it went down.
After two years of being locked up in our shops, guitar makers everywhere were eager to be reunited in 2022, when many beloved industry events returned. These guitar shows allow qualifying luthiers to showcase their work and connect with players and buyers. More importantly, they're a wonderful opportunity for the guitar-building community to come together, and I couldn't wait to see what my friends had been gluing up.
---
If you're a guitar lover, attending any of these events is like walking into a dream world. The air is filled with the same passion, love, and excitement that went into building the instruments on display. It's a contagious energy that hits you the moment you walk into the room. For us builders, these weekends are filled with life-validating moments as we get to hear our creations come to life in the hands of so many players and admirers. After investing hundreds of hours into each guitar, I can assure you there is no better feeling on the planet than watching someone fall in love with their next musical companion. This symbiotic inspiration becomes the pulse of these events, and a poignant reminder for both builders and players to keep following these crazy dreams.
Here's a glimpse into some of the most inspirational guitar shows of 2022: the Artisan Guitar Show, Fretboard Summit, and Rocky Mountain Archtop Festival.
After investing hundreds of hours into each guitar, I can assure you there is no better feeling on the planet than watching someone fall in love with their next musical companion.
The first reunion was in April at the Artisan Guitar Show in Harrisburg, Pennsylvania. The AGS takes place in a large and elegant conference room of a very nice hotel, and perfectly walks the line of being a classy yet comfortable show. With 50-plus guitar makers displaying, this show does an excellent job of representing different styles and variations of the guitar. The result was one of the most dynamic and balanced showcases of handmade guitars that I've ever seen, and the quality of work was top shelf all across the show. It had everything: archtops, flattops, semi-hollow electrics, solidbodies, and beyond. It was a true guitar lovers show. The variety of guitars and music I get to experience inspires me more than anything, which is why this show is one of my all-time favorites.
All summer long, everyone was buzzing about the return of the Fretboard Summit, which took place at the legendary Old Town School of Folk Music in Chicago, Illinois. It was a jam-packed weekend with lectures, workshops, and performances from the very best, such as luthier TJ Thompson and mandolinist Sierra Hull. This time, they decided to throw a handmade guitar show into the mix. So, after the Molly Tuttle workshop, you could wander over to the luthier's display, and actually get your hands on some Preston Thompson Guitars. There was even a competition held in front of a live audience and a panel of judges, where luthiers Creston Lea and Duncan Price raced to assemble an electric guitar kit in one hour. It was the perfect combination of genius and madness, and something that would only go down at the Fretboard Summit.
The grand finale was September's Rocky Mountain Archtop Festival hosted by Henriksen Amplifiers in Arvada, Colorado. For one weekend in September, some of the best archtop builders and players in the world assembled to celebrate this enigmatic instrument. More than 30 builders had archtops on display, and the archtop goodness literally spilled out of the showroom and into the lobby of a very lovely and accommodating Hilton. It was there you would find guitar legends Jimmy Bruno and Frank Vignola casually leading some of the most face-melting jam sessions you've ever witnessed. The energy at the show reached an all-time high as the Chinery Blue Guitar Collection—22 instruments built by some of the most prominent luthiers in the archtop world, curated by collector Scott Chinery—was revealed in a stunningly powerful display. To be in the presence of so much great history and beauty was emotional and inspiring for everyone at the archtop party. But it didn't stop there. This infectious energy spread throughout all of Arvada. That evening, the town's water tower lit up with blue lights in honor of this iconic collection and the magical weekend surrounding it. It was pure bliss. It was pure archtop.
That's a wrap on 2022! From coast to coast, it was an epic reunion for guitar lovers and builders everywhere with the most successful show circuit I've experienced in over a decade. Filled with music, inspiration, and some pretty great memories, guitar builders are now tucked back into their workshops with their wood and glue, preparing for next year's season of guitar shows. I invite you to come check out what my friends and I have been gluing together at any one of these exceptional events in 2023!