Tone Tips: Hangin' with Muhammad Ali and POTUS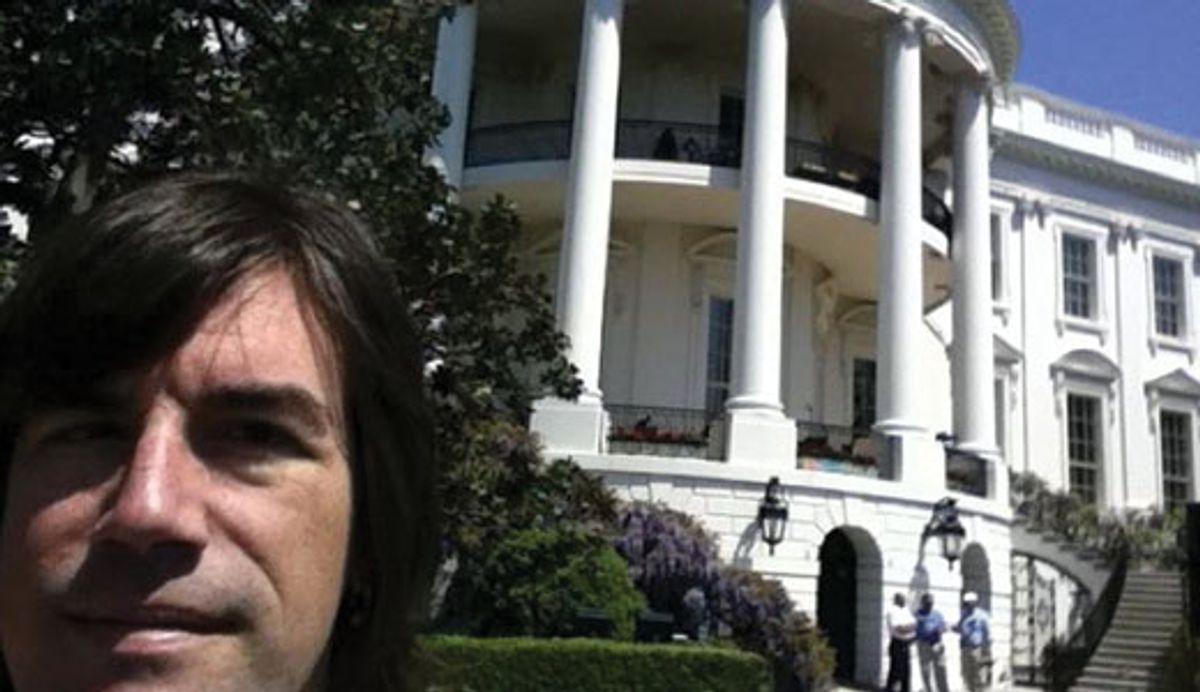 Beyond the obvious perks, playing guitar for a living can lead to some seriously amazing brushes with both famous and regular, everyday people.
Playing music for a living is not an easy career path to take, to be sure. As I've mentioned before, the aspiring career guitarist must prepare for lean times and hardship. But if you're in it for the right reason—namely, you positively love playing music—and if you work really hard at your craft, you can potentially look forward to some extremely rewarding life experiences like great gigs, tours, sessions, and interesting travel. This month, I'd like to do something a little different and share a couple of stories about fascinating, iconic people I've had the good fortune to meet, all because of my affinity for the guitar.
---
The Greatest
Way back in the summer of 2001, I was selected to join the band Five for Fighting as their touring guitarist. They had a hit single with the song "Superman" and had a busy year of touring ahead. Early on in my tenure, the band performed at the annual Sports Illustrated awards show held at the Shrine Auditorium in Los Angeles. The audience mostly consisted of high-profile sports and entertainment figures, and we were there to play one song to open the show. I was told that Muhammad Ali was going to attend and that he'd be in the front row, right in front of us. One of my childhood heroes!
When we went on, I scanned the crowd but "the Greatest" was nowhere to be seen. We finished the song, got offstage, and made our way to the dressing room. (We had to get to the airport soon after we played to catch a red-eye to Detroit for a show the next day.) When I came down the stairs from our dressing room, I was stopped on the last step by a security guard who said, "Wait a minute here. Muhammad Ali is coming through." Ali had arrived late and was slowly coming down the hall towards me. I'm not one to get starstruck, but I was suddenly 5-years-old again. There he was right in front of me: this real-life superhero I'd watched Saturday afternoons on ABC's Wide World of Sports during his heyday in the '70s. As he was walking past, he stopped, turned, and locked eyes with me. Seeing someone like me so positively transformed by his presence for probably the millionth time, he grinned a little. What happened next? Ali raised a fist, and very softly and playfully punched my chin. I think I practically fainted. It's absolutely one of the coolest things that ever happened to me.
I'm not one to get starstruck, but I was suddenly 5-years-old again.

POTUS
I was between tours with Melissa Etheridge in 2011, so I took a job with pop singer Colbie Callait to play some one-off dates. One of the gigs we ended up doing was the White House Easter Egg Roll, an annual children's party held on the White House lawn. We arrived in D.C. one day early and headed to the White House to do a setup and soundcheck. It was a fascinating, lengthy process that involved multiple screenings at different checkpoints to be admitted onto the grounds. Once we were cleared, we headed to the outdoor stage and began setting up our gear in the shadow of the White House.
As I was getting my small pedalboard and acoustic DI rig plugged in, the only people onstage were drummer Chaun Horton and myself. Lo and behold, across the White House lawn, one President Barack Obama comes strolling towards the stage with Michelle Obama and their daughters, Sasha and Malia, just behind him. He strode right up to the stage and said to me directly, "Hi, I've got some things going on and I probably won't be able to attend your show tomorrow, but I wanted to stop by and just thank you for being here."
What came out of my mouth was, "Wow, what a pleasure!" I could have said something far more profound, respectful, and appropriate, but I guess it wasn't terrible. He smiled, thanked me again, and went back to his business. (Incidentally, the raid that killed Osama Bin Laden happened five days later, so he really did have some things going on.)
The places I've found myself and the folks I've met really blows my mind sometimes, and it's all because of my love for a piece of wood with six strings stretched across it. It's a fringe benefit that I never expected, and I feel truly fortunate. I hope that those of you pursuing a career in music get to experience some magic places and meet some incredible people along your way. Until next month, I wish you good tone and good times!