The Holy Grail Guitar Show: Berlin, Take Two
Europe's exclusive boutique guitar trade show had a bold and beautiful second year.
Photo by Steve Fjestad
At the end of October, Berlin saw the second edition of the Holy Grail Guitar Show, an event conceived and organized by the European Guitar Builders Association (EGB). For those not yet familiar with the concept, it's a show exclusively for builders of handmade guitars and basses, and most of these luthiers make fewer than 25 instruments annually. Luthiers must be invited to exhibit, and they're chosen by a committee of the EGB, which follows strict nomination guidelines.
Every exhibitor shares an equal space. Another difference that many NAMM and Frankfurt Musikmesse visitors might appreciate is that all amps are housed in external sound cabins, a move that makes the two exhibition halls quiet and intimate, and fosters communication amongst attendees and builders.
Held at Europe's largest hotel, the Estrel Berlin, the 2015 show included 10 lectures by master luthiers from all around the world, some 40 concerts, and plenty of demos of the many exhibited instruments. About 115 exhibitors and close to 1,000 guitars awaited attendees for the two-day outing. Here are some highlights from selected luthiers at HGGS Part Two, and a look at what caught our eye this time around.
Chris Larkin Guitars
With nearly four decades of guitar and bass building, Chris Larkin is without question one of Europe's most experienced luthiers. In 1999, after years of attending traditional trade shows, Chris opted to rely only on his website to attract customers. The fact that he was able to successfully run a shop located on the West Coast of Ireland—far from all of Europe's music centers—speaks volumes about his communication skills and build quality. After 16 years of trade show abstinence, he calls his first HGGS appearance "the most rewarding experience of my lutherie career."
Larkin brought four instruments that covered almost all categories: a 5-string acoustic bass, a parlor acoustic, a solid electric, and a small archtop jazz guitar. As a luthier partner of the Leonardo Research Project—an effort funded by the European Commission to support the use of non-tropical, local woods—most of his instruments are built using Irish timber.
Larkin's Archtop Jazz model is an acoustic with a floating pickup, made of Canadian spruce with back, sides, and neck from Irish fiddleback sycamore and flamed Irish maple. The fretboard is Rocklite, an ebony substitute made from sustainable eucalyptus and is, in Larkin's words, "far more suitable than ebony for this purpose."
chrislarkinguitars.com
Danou Guitars
In one of his latest projects, Swiss luthier Daniel Meier wasn't afraid of embracing new concepts of functionality and shape. He's made a series of different "dual" guitars that, as opposed to the classic doubleneck, rotate within an outer frame. The design was initially something he created for himself, but the idea has now manifested in multiple variations of solidbody and acoustic pairings.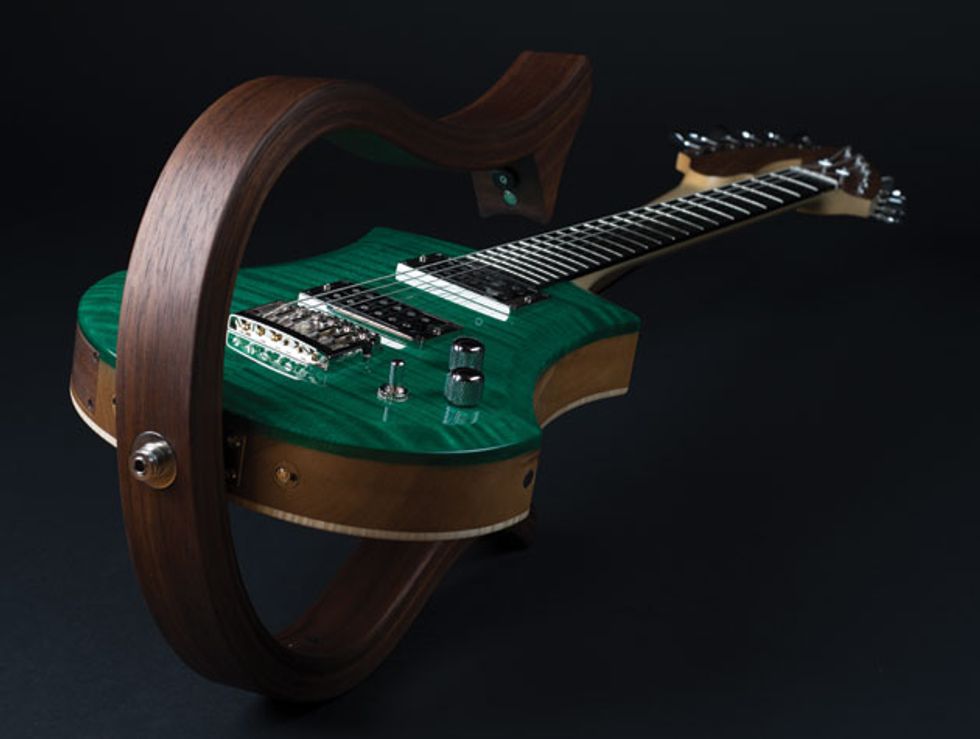 The Galileo sports a green electric guitar on one side and a red nylon acoustic on the other. While the two guitars are rather traditionally equipped with two humbuckers and a Schertler Lydia for the acoustic, more effort went into conceiving the flip mechanism. The solid hinge at the bottom is built around the output jack and is the only mechanical connection while rotating. Extra strong magnets help position the guitar, and a lock keeps the desired guitar in place. The two necks are angled apart by approximately 10 degrees. Surprisingly, there isn't much difference in playability between the electric and acoustic guitars, but those who play with the thumb over the neck might get stuck when working further up the fretboard. Meier is another builder focusing on local woods. On the Galileo he used maple, spruce, and walnut, finished with a glossy polyurethane coating.
danou-guitars.com
Island Instrument Manufacture
Photo by Mat Barbeau
Many builders in the boutique market are one-man shows, and this describes the business Nicolas Delisle runs in the heart of Montreal, Canada. He has his shop in a collective workspace of builders, and this enables him to share ideas, knowledge, and constant experimentation with his colleagues. While Delisle uses only domestic woods in his instruments, he takes the "local" concept even further by outfitting them exclusively with North American hardware and components.
Most of his builds are influenced by the 1950s and '60s, with design aesthetics reminiscent of Harmony, Silvertone, Danelectro, and Teisco. Still, as a young builder, he's also inspired by modern designs—including headless instruments and ergonomic shapes—and enjoys mixing retro and futuristic styles. For instance, the Shreddy Carnie is a 23.5"-scale headless guitar with a poplar body, an ash neck, two Mojo humbuckers, and Hipshot hardware.
This contrasts with his more classic creations like the Re Ply, a limited build of just two instruments. The Fancy Anzol, the only series model Delisle brought to Berlin, is made from pine and features a maple neck and an ivoroid pickguard. And true to his credo of "everything North American," it's handpainted by a local Canadian artist.
island-instruments.com
Jaen Guitars
Fernando Jaen is an engineer who quit his day job and went full-time as a luthier in 2003, after a decade of guitar building as a secondary job. He came to the Germany show carrying an archtop guitar with a fitting name, the Berlin Grande. This model features a carved European spruce top, curly maple back and sides, and a maple and mahogany neck with an ebony fretboard and tailpiece.
He who is an engineer stays an engineer, so it's fitting Jaen included new technology hidden underneath the classic shell. In addition to the heelless neck-body construction, the top and back have an internal layer of Nomex honeycomb core. Manufactured using aramid fiber paper, this synthetic material is soaked with a phenolic resin that strengthens both surfaces while still keeping it light—a technique usually limited to the tops of classical guitars. Jaen added his own humbucking pickups, and protected the archtop with a classic nitro finish.
guitarrasjaen.com
Kathy Wingert
Kathy Wingert took the long trip from the southern tip of Los Angeles to Berlin to show her acoustic guitars. She's another builder who's taken the classic route of a professional apprenticeship with a violinmaker. Wingert not only relies on traditional techniques and dedication to tone and individuality, but also draws on her extensive experience—she has been in business more than 20 years. Her instruments come with hand-fitted dovetail neck joints and classic X bracing to support the tops. Her experience allows her to individually carve the braces and tone bars to the needs of the customer and the specific wood she's working with.
Wingert is also well known for her spectacular harp guitars, but the pictured Model F with its fanned-fret design shows she isn't afraid to enter new terrain. As a builder, I wonder: How did she carve the braces and bars to accommodate the asymmetrical tensions of the 27.2" bass and 25.4" treble scale? This Model F has cocobolo back and sides, a spruce top, and a black-and-white ebony rosette.
wingertguitars.com
Jersey Girl Homemade Guitars
This trio of luthiers—KazG, Akiko Oda, and Eiko Goto—is now based in Hokkaido, Japan, but the company was founded as a duo in 1991 in Tokyo. Jersey Girl sets itself apart by carefully designing not only the instrument, but also a whole artful composition around it, including matching guitar "accessories."
It's not so much the technical details, but the typically Japanese love of detail and consequence that makes Jersey Girl instruments unique, and they're often accompanied by an appropriate effect pedal or strap. The Crow on a Scarecrow model is their first acoustic guitar. Although visually more a mix of a flattop and archtop, they put a tremendous amount of work in sculpting a complex and very organic bracing inside the body. And for a cool option, buyers can choose the guitar as an ensemble with a similarly designed pedal, strap, and arty postcard. Crow on a Scarecrow comes with a spruce top, a walnut neck, and mahogany sides and back. The single-coil's volume and tone control are stealthily placed on the back of the upper bout.
jerseygirlhg.com
Kobler Guitars
In contrast to the many autodidactic builders in the electric guitar business, there are far more studied ones among acoustic guitar builders. Austria's Christina Kobler took the path of attending the luthier school in Hallstatt, Austria, and went straight into business after attaining her master's degree in 2008.
The pictured high-gloss finished B-Series (00 model) comes with a spruce top and flamed whitebeam sides and back. Other woods include ebony for both the fretboard and bridge, and a mahogany neck.
It might be due to her classical education in building that Kobler's instruments have a clean design that's focused on woodwork and craftsmanship. Although her instruments are all unique builds, tailored to the specific needs of the customer, none have a dramatic or modernist design. She lets the wood and classic shapes speak for themselves, which is a welcome rarity in a hall full of the wildest shapes and candiest of colors.
koblerguitars.com
Soultool Customized Guitars
Founded by Egon Rauscher in 1998 and located close to Zurich, Switzerland, Soultool is known for minimalistic designs and clean lines. Rauscher's outfit offers just a few basic shapes. In fact, the shape of the Laguz model resembles another famous single-cut, but it boasts such modern twists as a deeper cutaway and better access to higher frets. Apropos frets: Besides the mid-hard steel variant used on all models, another feature is called 2-Zone fretting. Here, frets one to seven are slightly higher than the following upper frets. The advantage should be an optimal setup with an almost straight neck.
Soultool limits their models to just a few woods—mahogany, korina, or cedar for body and neck, and a pau ferro or optional ebony fretboard—combined with one Good Tone and one Häeussel pickup. The Junior Custom in "squirrel grey" sports a rather uncharacteristic addition: a Bigsby instead of their standard ABM wraparound bridge. A customer at last year's Holy Grail show asked if Egon could do a guitar with a Gibson scale, a bridge humbucker, and a Bigsby. Obviously Egon could and did, but it's unknown if the customer returned this year to check his aided creation.
soultool.com
Zeal Guitars

Zeal is the two-man operation of Bastian Kanbach and Oliver Reich. They had two variations of their Hydra model on display in Berlin. Hydra was Zeal's first creation after forming in 2010, and the model has been diversified into two versions, a "male" and "female," as they call it. The two versions are the black Obscura, which has 24 frets and a 25.5" scale length, and the white Custom model with 22 frets and a 24.75" scale length. It's easy to guess which is which, as the Obscura has a powerful output, designed for progressive sounds and the Custom was built to yield a "more cultivated tone."
Designed with simplicity in mind and Zeal's creed of, "It's a good design when you can't take any more of it away," the guitars sport a single DiMarzio PAF on the Obscura and a Bare Knuckle Abraxas on the white Custom. Apart from these gender-based interpretations, both feature a special finish, something the duo experiments with often. Zeal finishes include golden brass, polished steel, and even rust. The Hydra shown here is a non-metal PUR base coat with an atomized spray of nitro on top of it, which forms a smooth and satin-like finish.
zeal-guitars.com
And Many More ...
One of the main trends at the show was the use of local woods, rather than tropical varieties. The European Commission-funded Leonardo Guitar Research Project gave a lecture and showed two nearly identical guitars, one made from tropical woods and one from local alternatives, aiming to prove minimal or non-existent tonal differences.
Fanned frets were another trend surfacing in new builds on the scene for 2015. Now that the Novax patent has expired, many luthiers are exploring the multi-scale concept to maintain the tension in the lower register of their extended range guitars.
The inaugural 2014 Holy Grail show turned out to be a successful direct-sales opportunity, and many luthiers were surprised at how many customers showed up to buy straight from the booth. Also many exhibitors were shocked by the extraordinary artisan efforts of their colleagues, and this led to stiffer competition for this year's show. And next year's mix of builders will be entirely fresh, keeping with the Holy Grail stipulation that exhibitors cannot display more than two years in a row. Hopefully in 2016 these new builders will once again deliver what everybody wants to see: beautiful, handmade guitars.
holygrailguitarshow.com