Photo by Neal Casal
We may all be acting, but the fact that more musicians have successfully worked in film than actors have successfully launched careers in music suggests that, of the two disciplines, music is more challenging.
In Gwyneth Paltrow's current movie, Country Strong, writer/director Shana Feste wanted as much realism as possible, so she stacked Gwyneth's band with Nashville regulars, including Jim Lauderdale on acoustic, Bucky Baxter on steel, yours truly on bass, and a few other recognizable faces in the country-music scene filling out the rest of the band. The entire gig consisted of us playing a few concerts, with the band faking it onstage to pre-recorded tracks while Paltrow sang live.
---
Paltrow has a compelling voice and sang really well both live and in the studio. I've worked with many major-label acts that would not have sounded nearly as good under these circumstances. During a break, I asked, "So, if you end up having a big ol' hit song from this movie, would you tour?"
She thought about it for a few beats, then smiled and said, "I really like singing, but . . . I don't know." I appreciated her hesitance, because it revealed a deeper understanding of what it means to be a musician. Paltrow's husband fronts the mega-selling band Coldplay, so she gets it. For most of us, music starts as a quaint hobby. But, like all addictions, it subtly begins to grow under your skin and eventually fuses with your identity.
But, lacking this awareness, many actors see music as a yet-to-be-exploited revenue source. They look at their trophy case and think, "A Grammy and a platinum record would look nice next to my People's Choice and Emmy. I'll just call my manager and have him arrange it." These actors have this incredible, unwavering belief that because they are successful in one area, they can do anything. This kind of self-confidence produces some interesting work.
William Shatner's 1968 album, The Transformed Man, remains one of my desert-island records. To hear him emote with immeasurable conviction, shouting "Mr. Tambourine Man" as if he is teetering on the head of a pin, madness on one side, agony on the other—well, that's just pure Shat. One has to admire his confidence.
Leonard Nimoy's 1968 album, the ironically titled The Way I Feel, does not connect emotionally (which is to be expected from a green-blooded Vulcan), but remains a joy to hear. His somewhat subdued performance and lackluster sales did not prevent him from making another five albums. When it comes to music, the crew of the Enterprise boldly goes where no man has gone before.
David Hasselhoff displays definite Shat-esque confidence with his music, the kind of confidence that enables a man to do a photo shoot wearing nothing but a Speedo, an open leather jacket, a thick mane of chest hair, and a "Come hither" glare. The Hoff enjoyed two No. 1 hits in Germany and just released his 17th album, A Real Good Feeling. For me, hearing the Hoff evokes a real good feeling much like hearing the Shat. Part of that feeling may be envy for their unwavering self-assurance and thick head and body hair. Check out the music of Steven Seagal—it, too, is pure Shat that will make you shiver.
But one can't really applaud the actor/musician who lacks conviction—those of the Paris Hilton, Lindsay Lohan, and Joaquin Phoenix variety. It doesn't matter that they can't sing or rap—plenty of platinum-selling acts can't. But clearly these forays into music began with a PR team hounding the media while pounding the 'net, and then ended in damage control, redirections, and, in Joaquin's case, leaving himself an ambiguous out: If the music career works, great, he's an artist. If not, it's an edgy hoax and you're too stupid to get it.
I admire the actors who, like many of us, love playing music but don't make a big deal out of it. Gary Sinise, a long-time bass player, is a passionate supporter of American troops. He wanted to help, so he started his "Lieutenant Dan Band" and has since performed at military bases around the world. After a lifetime of playing music for fun, Jeff Bridges has started doing shows on the strength of his film Crazy Heart. Nothing heavy or ego driven—just a dude and his friends who put their band back together. I know a couple of the guys who play in Kevin Costner's band. They say it's a fun, no-pressure, feel-good gig—often with excellent catering.
Undeniably, showmanship usually helps a music career. When a musician works the stage, trying to connect with the audience, isn't that acting? I don't think B.B. King is honestly moved by all of his solos, but if you watch his face you'd swear every note slashes a razor across his heart.
As the bard said:
All the world's a stage, And all the men and women merely players; They have their exits and their entrances; And one man in his time plays many parts, His acts being seven ages.
—William Shakespeare, from As You Like It
We may all be acting, but the fact that more musicians have successfully worked in film than actors have successfully launched careers in music suggests that, of the two disciplines, music is more challenging.
[Updated 8/18/21]
Looking for more great gear for the guitar player in your life (yourself included!)? Check out this year's Holiday Gear Finds!
Outlaw Effects introduces their next generation of NOMAD rechargeable battery-powered pedal boards.
Available in two sizes, NOMAD ISO is a compact, versatile tool that offers the convenience of a fully powered board plus the additional freedom of not having to plug into an outlet. NOMAD ISO is ideal for stages with limited outlet availability, quick changeovers, busking outdoors, temporary rehearsal locations, and more!
NOMAD ISO builds upon the legacy of the ultra-convenient and reliable NOMAD rechargeable pedalboard line originally launched in 2018. The brand new NOMAD ISO editions feature eight isolated outputs (1 x 9V DC, and 1 switchable 9V/12V DC) for even more versatility and clean, quiet power. With an integrated lithium-ion battery pack boasting 12800mAh capacity, NOMAD ISO can fuel a wide array of pedals, and will last over 10 hours* on a single charge.
Each NOMAD ISO pedal board includes adhesive hook & loop pedal-mounting tape, eight (8) standard DC connector cables, and one (1) reverse polarity DC cable, giving you everything you need to build your ultimate "off-the-grid" rig. A rugged, road-ready padded gig bag with shoulder strap is also included, to safely protect your gear while you're on the move.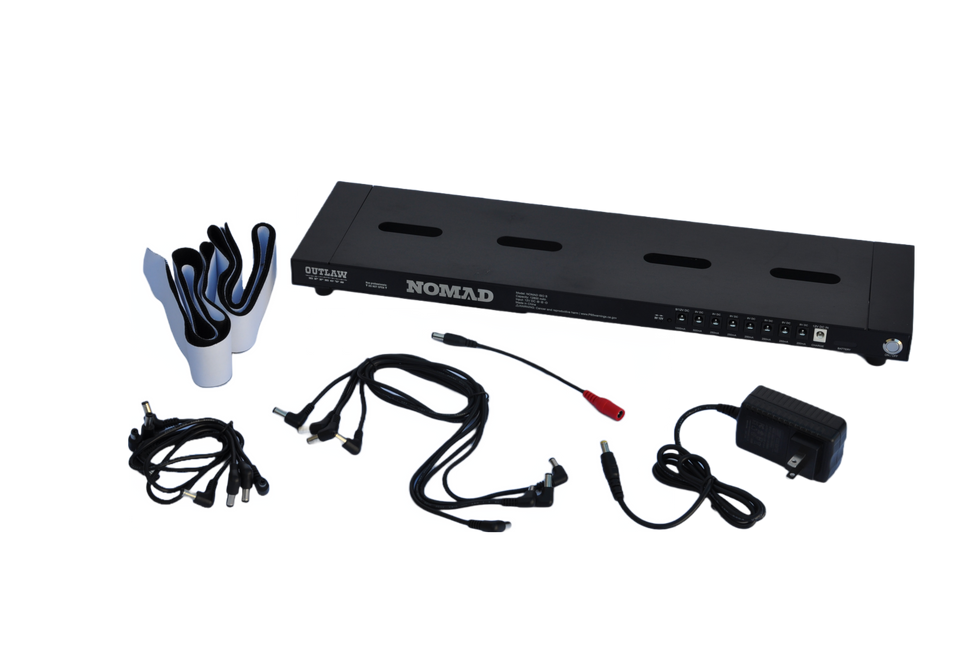 Dunable announce new Minotaur model featuring Grover Rotomatic Keystone tuners.
The Minotaur's DNA is rooted in their classic Moonflower model, which Dunable discontinued in 2017. However, they have long since wanted to create a fresh take on a carved top guitar design, and various attempts to rework the Moonflower led them to a brand new concept with the Minotuar.
Dunable's goal is to give the player a guitar that plays fast and smooth, sounds amazing, and gives maximum physical ergonomic comfort. The Minotaur's soft and meticulous contours, simple and effective control layout, and 25.5" scale length are designed to easily meet this criteria.

Dunable Minotaur!
Features
25.5" scale length
Dual Humbucker
one volume, one tone, push pull for coil splitting
Grover Rotomatic Keystone tuners
Grover Tune O Matic bridge with brass Kluson top-mount tailpiece
jumbo nickel frets
12" fretboard radius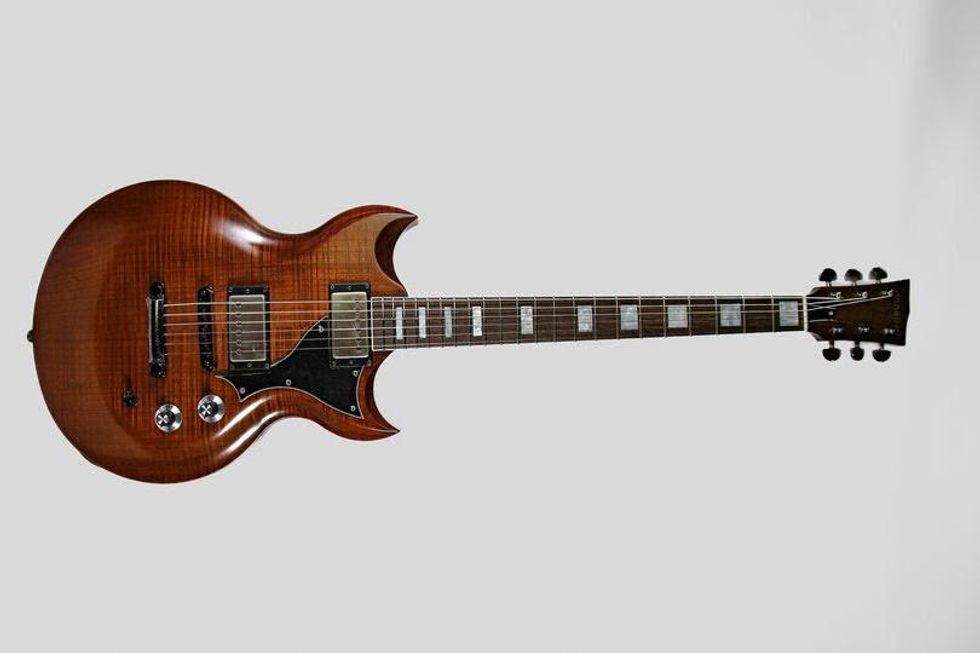 Dunable
This full-amp-stack-in-a-box pedal brings a new flavor to the Guitar Legend Tone Series of pedals, Missing Link Audio's flagship product line.
Adding to the company's line of premium-quality effects pedals, Missing Link Audio has unleashed the new AC/Overdrive pedal. This full-amp-stack-in-a-box pedal – the only Angus & Malcom all-in-one stompbox on the market – brings a new flavor to the Guitar Legend Tone Series of pedals, Missing Link Audio's flagship product line.
The AC/OD layout has three knobs to control Volume, Gain and Tone. That user-friendly format is perfect for quickly getting your ideal tone, and it also offers a ton of versatility. MLA's new AC/OD absolutely nails the Angus tone from the days of "High Voltage" to "Back in Black". You can also easily dial inMalcom with the turn of a knob. The pedal covers a broad range of sonic terrain, from boost to hot overdrive to complete tube-like saturation. The pedal is designed to leave on all the time and is very touch responsive. You can get everything from fat rhythm tones to a perfect lead tone just by using your guitar's volume knob and your right-hand attack.
Features 
Three knobs to control Volume, Gain and Tone
Die-cast aluminum cases for gig-worthy durability
Limited lifetime warranty
True bypass on/off switch
9-volt DC input
Made in the USA
MLA Pedals AC/OD - Music & Demo by A. Barrero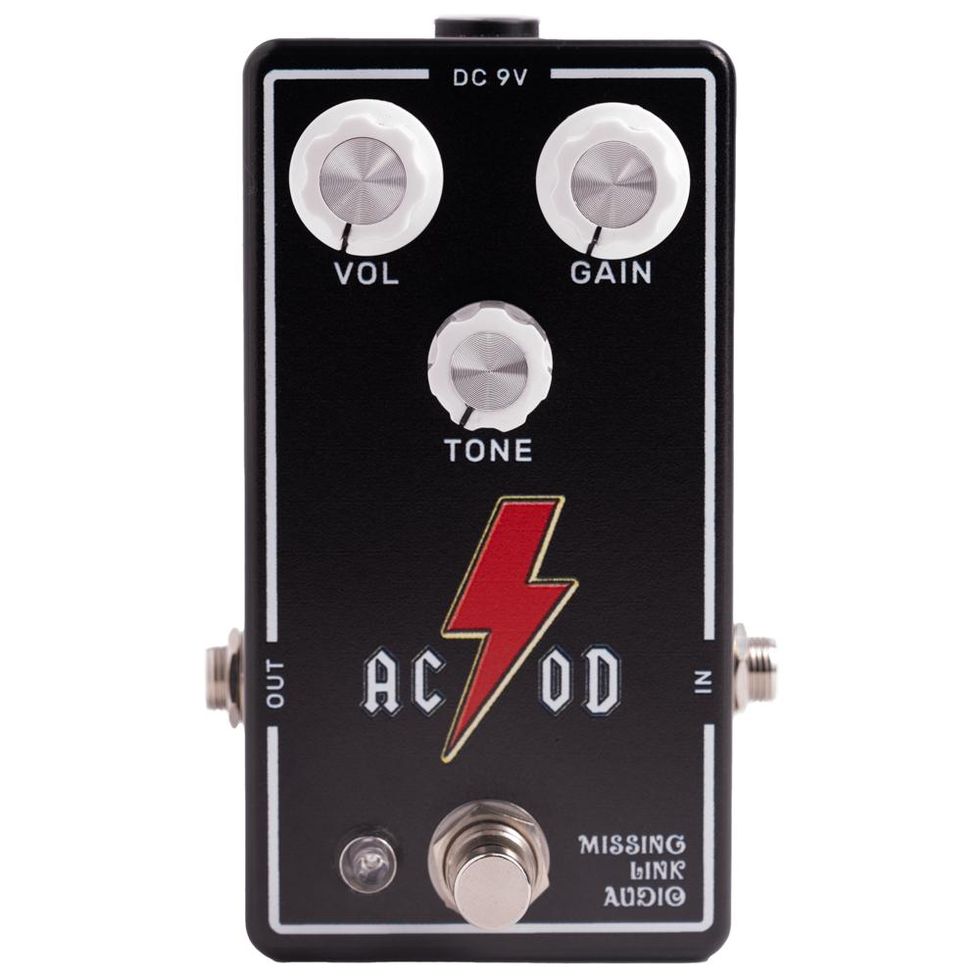 www.mlapedals.com.