It includes an F-bomb or two, but the screen legend's speech to college graduates highlights the inevitability of rejection and how you've got to keep working.
"Time goes on. So whatever you're going to do, do it. Do it now. Don't wait." —Robert De Niro
Here's a true music industry story that's stuck with me for 15 years. I'm keeping this anonymous because the story involves some transgressions by formerly powerful people, and although I like the idea of karma in action, I'm no snitch. As a rule, I avoid saying negative things about anybody, whether it's deserved or not.
---
A friend of mine was on tour with a newly successful artist on Sony who had a big hit on her first record. Although the gig had the potential of being very lucrative and prestigious, during this infancy, the pay was low, and the day-to-day tour life was devoid of the amenities that one might expect on a major tour. When the band was shorted on per diem, they agreed the bandleader should meet with management to try and fix the oversight and mend a few other issues. After a few unreturned phone calls, eventually management met with the band leader, who told management about the missing money. He started to mention some other issues when the management stopped him mid-sentence and said:
"Next!"
"I'm sorry … what do you mean?"
"I mean next. You musicians are interchangeable. There are a ton of players who want this job as is. We don't need a bunch of crybabies on the payroll, so … next."
My friend was quickly replaced, another player quit, and the rest of the band stayed on until the gig lost its momentum and eventually whimpered to a stop a few years later when the artist was dropped.
I don't want to be the person who takes delight in others' misfortune, but I guess I am that person because it was satisfying to watch that artist fade into anonymity. She had it coming, so yes, I do smile a bit when thinking about it. Today, as I type this, I wonder whatever happened to that manager, who I used to see behind the velvet rope at every industry event. It's occurred to me that I've not seen him for more than a decade because this former titan of industry is no longer relevant. I'm petty enough to enjoy his comeuppance as well.
No matter what dogma people may preach, I've found that we're not punished for our sins, we are punished by our sins.
"When it comes to the arts, passion should always trump common sense," De Niro tells the graduates. "You aren't just following dreams; you're reaching for your destiny. You're a dancer, a singer, a choreographer, a musician, a filmmaker, a writer, a photographer, a director, a producer, an actor, an artist. Yeah, you're fucked! The good news is that that's not a bad place to start. Now that you've made your choice, or rather, succumbed to it, your path is clear. Not easy but clear. You have to keep working. It's that simple…. Your motto, your mantra, your battle cry, 'Next!' You didn't get that part, that's my point, 'Next'—you'll get the next one, or the next one after that."
But what comes "next" depends on what you do now. Every step is contingent on the steps you've already taken. That artist and manager's "next" didn't include success in the music industry. There are a lot of factors involved in their descent from on high, but I suspect if either one of them treated people well, their "next" would've been different. They may not be successful, but they would at least be liked and people tend to want to work with or help people they like. No matter what dogma people may preach, I've found that we're not punished for our sins, we are punished by our sins. Treat people poorly and they not only won't like to work with you, but they'll also enjoy your failure.
My friend the musical director continued to work hard and be kind to people. Although there were some lean times for him, his "next" included consistent work as a top-tier touring musician, well liked and respected by his peers. He now tries to avoid working for people who treat others badly because he's learned that those gigs may dangle the golden carrot, but they rarely, if ever, fulfill their promise. All you get is a small paycheck and a slow beatdown.
I love De Niro's motto, mantra, battle cry, 'Next!' Being fired, hired, ignored, revered, treated well, or treated poorly, it doesn't matter, you move onto what's next. What's next depends on what you do now. I can't wait to see what's next.
Looking for more great gear for the guitar player in your life (yourself included!)? Check out this year's Holiday Gear Finds!
Outlaw Effects introduces their next generation of NOMAD rechargeable battery-powered pedal boards.
Available in two sizes, NOMAD ISO is a compact, versatile tool that offers the convenience of a fully powered board plus the additional freedom of not having to plug into an outlet. NOMAD ISO is ideal for stages with limited outlet availability, quick changeovers, busking outdoors, temporary rehearsal locations, and more!
NOMAD ISO builds upon the legacy of the ultra-convenient and reliable NOMAD rechargeable pedalboard line originally launched in 2018. The brand new NOMAD ISO editions feature eight isolated outputs (1 x 9V DC, and 1 switchable 9V/12V DC) for even more versatility and clean, quiet power. With an integrated lithium-ion battery pack boasting 12800mAh capacity, NOMAD ISO can fuel a wide array of pedals, and will last over 10 hours* on a single charge.
Each NOMAD ISO pedal board includes adhesive hook & loop pedal-mounting tape, eight (8) standard DC connector cables, and one (1) reverse polarity DC cable, giving you everything you need to build your ultimate "off-the-grid" rig. A rugged, road-ready padded gig bag with shoulder strap is also included, to safely protect your gear while you're on the move.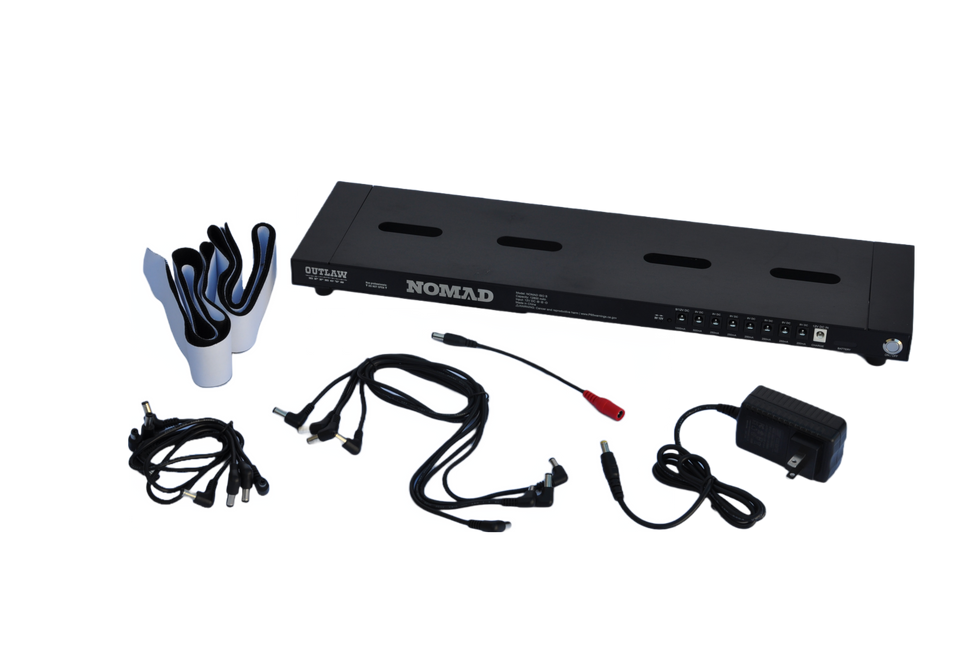 Dunable announce new Minotaur model featuring Grover Rotomatic Keystone tuners.
The Minotaur's DNA is rooted in their classic Moonflower model, which Dunable discontinued in 2017. However, they have long since wanted to create a fresh take on a carved top guitar design, and various attempts to rework the Moonflower led them to a brand new concept with the Minotuar.
Dunable's goal is to give the player a guitar that plays fast and smooth, sounds amazing, and gives maximum physical ergonomic comfort. The Minotaur's soft and meticulous contours, simple and effective control layout, and 25.5" scale length are designed to easily meet this criteria.

Dunable Minotaur!
Features
25.5" scale length
Dual Humbucker
one volume, one tone, push pull for coil splitting
Grover Rotomatic Keystone tuners
Grover Tune O Matic bridge with brass Kluson top-mount tailpiece
jumbo nickel frets
12" fretboard radius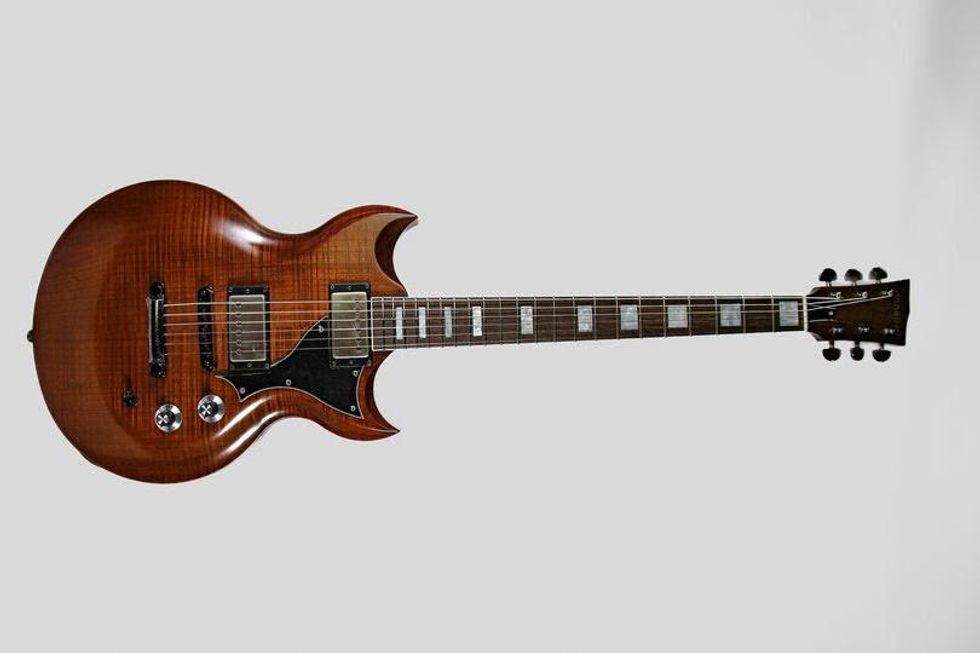 Dunable
This full-amp-stack-in-a-box pedal brings a new flavor to the Guitar Legend Tone Series of pedals, Missing Link Audio's flagship product line.
Adding to the company's line of premium-quality effects pedals, Missing Link Audio has unleashed the new AC/Overdrive pedal. This full-amp-stack-in-a-box pedal – the only Angus & Malcom all-in-one stompbox on the market – brings a new flavor to the Guitar Legend Tone Series of pedals, Missing Link Audio's flagship product line.
The AC/OD layout has three knobs to control Volume, Gain and Tone. That user-friendly format is perfect for quickly getting your ideal tone, and it also offers a ton of versatility. MLA's new AC/OD absolutely nails the Angus tone from the days of "High Voltage" to "Back in Black". You can also easily dial inMalcom with the turn of a knob. The pedal covers a broad range of sonic terrain, from boost to hot overdrive to complete tube-like saturation. The pedal is designed to leave on all the time and is very touch responsive. You can get everything from fat rhythm tones to a perfect lead tone just by using your guitar's volume knob and your right-hand attack.
Features 
Three knobs to control Volume, Gain and Tone
Die-cast aluminum cases for gig-worthy durability
Limited lifetime warranty
True bypass on/off switch
9-volt DC input
Made in the USA
MLA Pedals AC/OD - Music & Demo by A. Barrero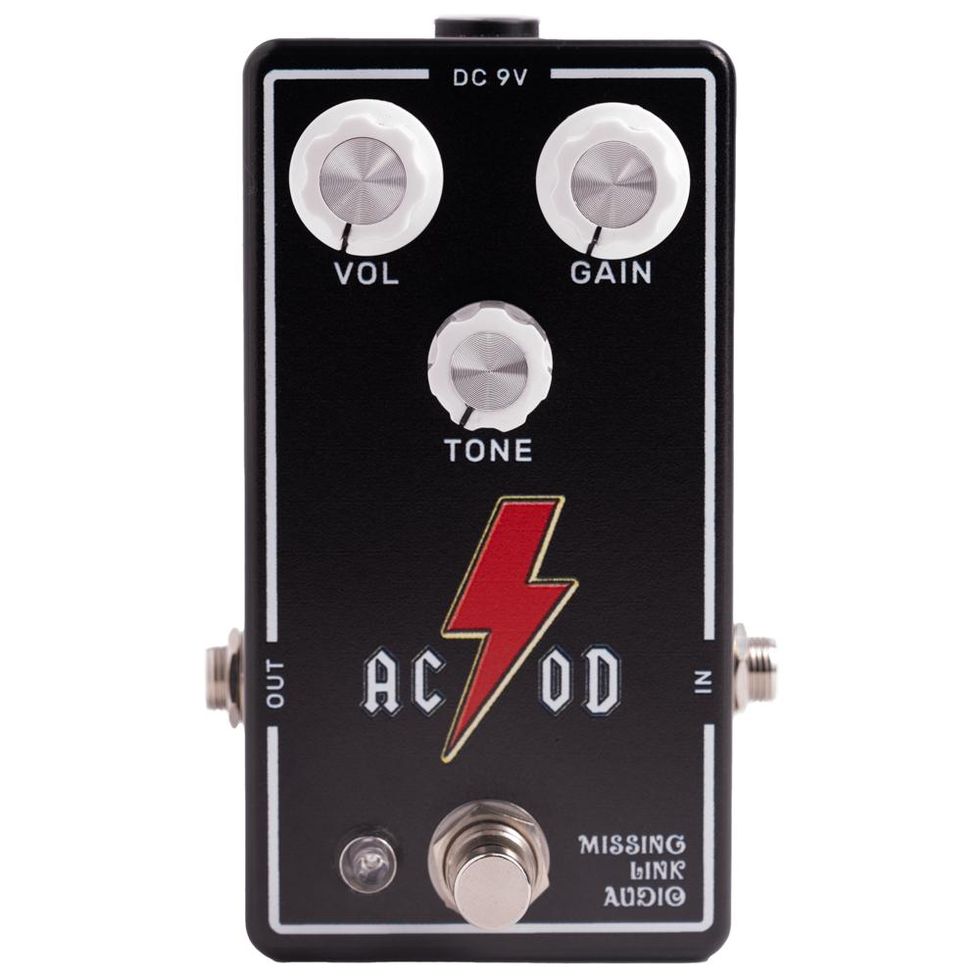 www.mlapedals.com.