Last Call: Maybe This Gig Is Not for You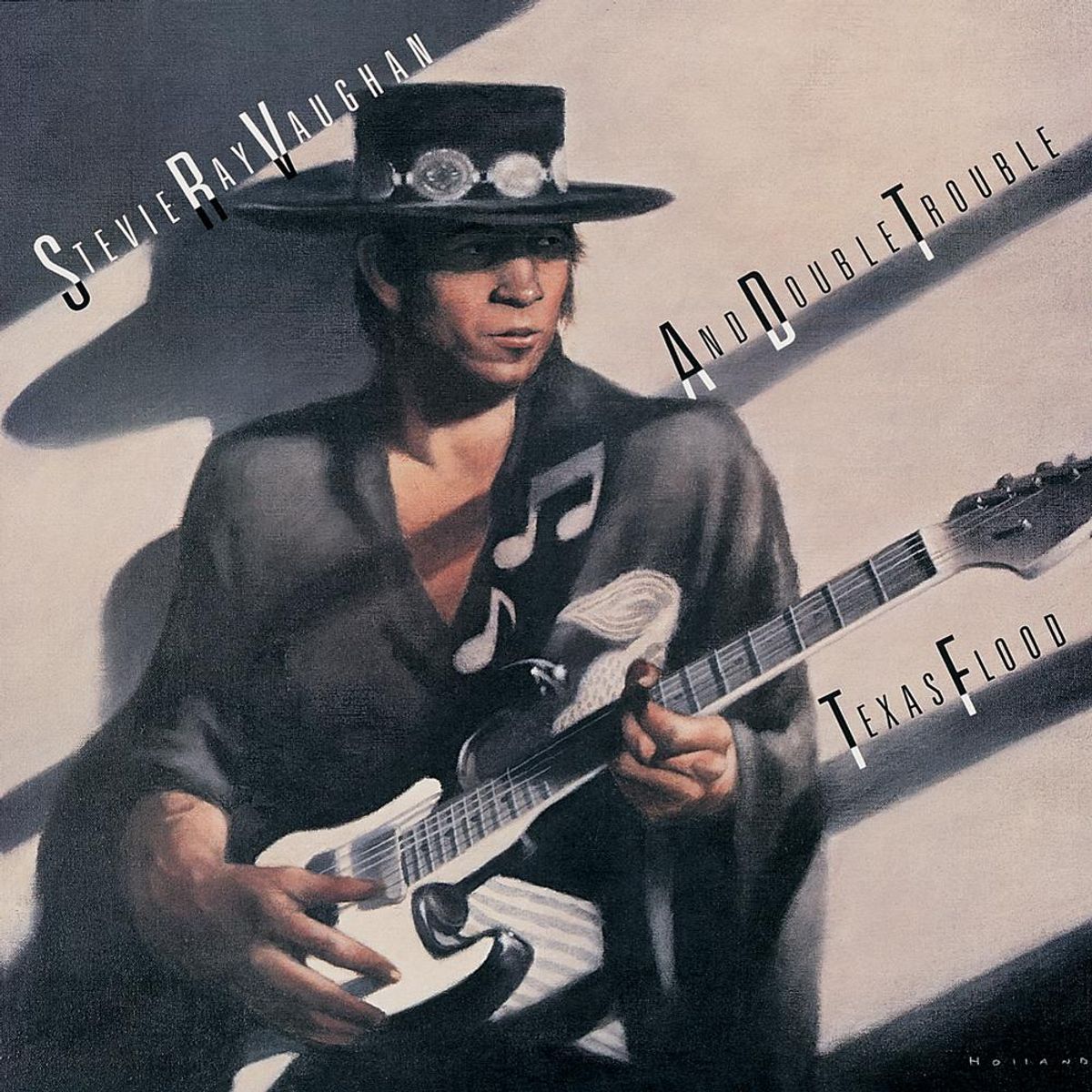 A takeaway from the saga of Stevie Ray Vaughan and David Bowie.
Let me say that, in my blurry opinion, Stevie Ray Vaughan may be the greatest American since Jesus. Until I heard him, I had no idea how expressive a guitar, particularly a Strat, could be. SRV's sledgehammer right hand beating those strings as thick as power lines remains the most fierce/gigantic clean tone I've heard. Nobody can sound that angry without leaning on some serious overdrive. But he also had this tender side, where he'd break it down to a whisper that felt vulnerable and sad. "Lenny," from his debut album, remains the most moving instrumental I've ever heard. You can't overstate SRV's influence on guitar playing.
That's why I'm shocked by the persistent rumor that SRV lost his Bowie gig because he wasn't cutting it during rehearsals for the Let's Dance tour of 1983. Bowie recruited SRV to play on that album after catching his set at the Montreux Jazz Festival. Yeah, that's Stevie slinging Strat on the title track. His funky, turbo-Texas guitar sticks out like a habanero in a bowl of ice cream. Since he was a brilliant addition to the recording, it made sense to hire him for the touring band.
But as the rehearsals started, there were conflicts between Bowie's and Vaughan's management. Vaughan's record label wanted him to tour behind his own imminent debut, money became an issue, and so did SRV's sense of loyalty to his bandmates in Double Trouble. And apparently, Carlos Alomar, Bowie's longtime rhythm guitarist and music director, was really unhappy. He banned SRV's wife Lenny from rehearsals, reportedly due to her flagrant use of cocaine. That didn't sit well with Stevie. But the kicker—and what really rings a bell with me—is that Alomar was reportedly dissatisfied with SRV's inability to read music and with his playing on Bowie's signature hits. In this perfect storm, it was inevitable that Stevie wasn't on the bus for the Serious Moonlight Tour.
Think about this: SRV's fat tone on "Let's Dance" was perfect, but could you imagine it on "Suffragette City" or "Diamond Dogs?" Me neither. SRV was a master, not a mimic. His playing was highly stylized, and that style does not fit with much of Bowie's work. Les Paul and Chet Atkins were amazing players, too, but they also would not have worked on that gig. Stevie could not fake Ziggy, but plenty of pro guitarists could strap on a Strat and dial up a convincing SRV tone for three songs a night, then go back to Mick Ronson's or Earl Slick's angry Les Paul sound for the older catalog.
Think about this: SRV's fat tone on "Let's Dance" was perfect, but could you imagine it on "Suffragette City" or "Diamond Dogs?"
The point: Just because you're an amazing guitarist doesn't mean you're right for the gig.
And here's another story. About 10 years ago, I was the bandleader for a series on NBC. When we had to make a personnel change, I hired a legendary bass player whom I'd always admired but never worked with before, because this musician was out of my league. Long story short, when we got into rehearsal, it became apparent that the bassist didn't read very well. Also, although the bassist was a killer singer who had a hit song as an artist, the backing vocals failed to blend well with the lead singer's. I was confident this player would rise to the occasion when the show went live, but the network didn't share my optimism and I had to hire a session guy who has no identifiable style but could nail whatever you threw at him.
Today, the fired bassist plays for a famous rock band and earns waaaaaaay more money than I do, so there's a happy ending and a good reminder that sometimes we should not be where we do not belong.
I've played enough jazz standards gigs to recognize that jazz is not my bag. I know three songs in The Real Book and I read like a fat guy runs marathons—slow, sweating, and perhaps not making it to the end. So, when I get calls for a live reading-jazz gig, I always tell the leader: "If you can't find anyone good and you are in a bind, I will take the gig, but you have to promise not to get mad at me when this show turns into a one-man clambake. If this ruins the gig or your career, it's your fault for hiring somebody as unqualified as me."
Stepping outside your safety zone should not be painful for other musicians on the gig. Being out of your comfort zone is fine if you do your homework and try to fit the music, rather than shoehorning your thing in it. But there are some gigs that aren't meant to be.
If Bowie did fire SRV, he did the world a favor. If that gig was successful, SRV might have shifted to a sideman career and never become the legend he is.