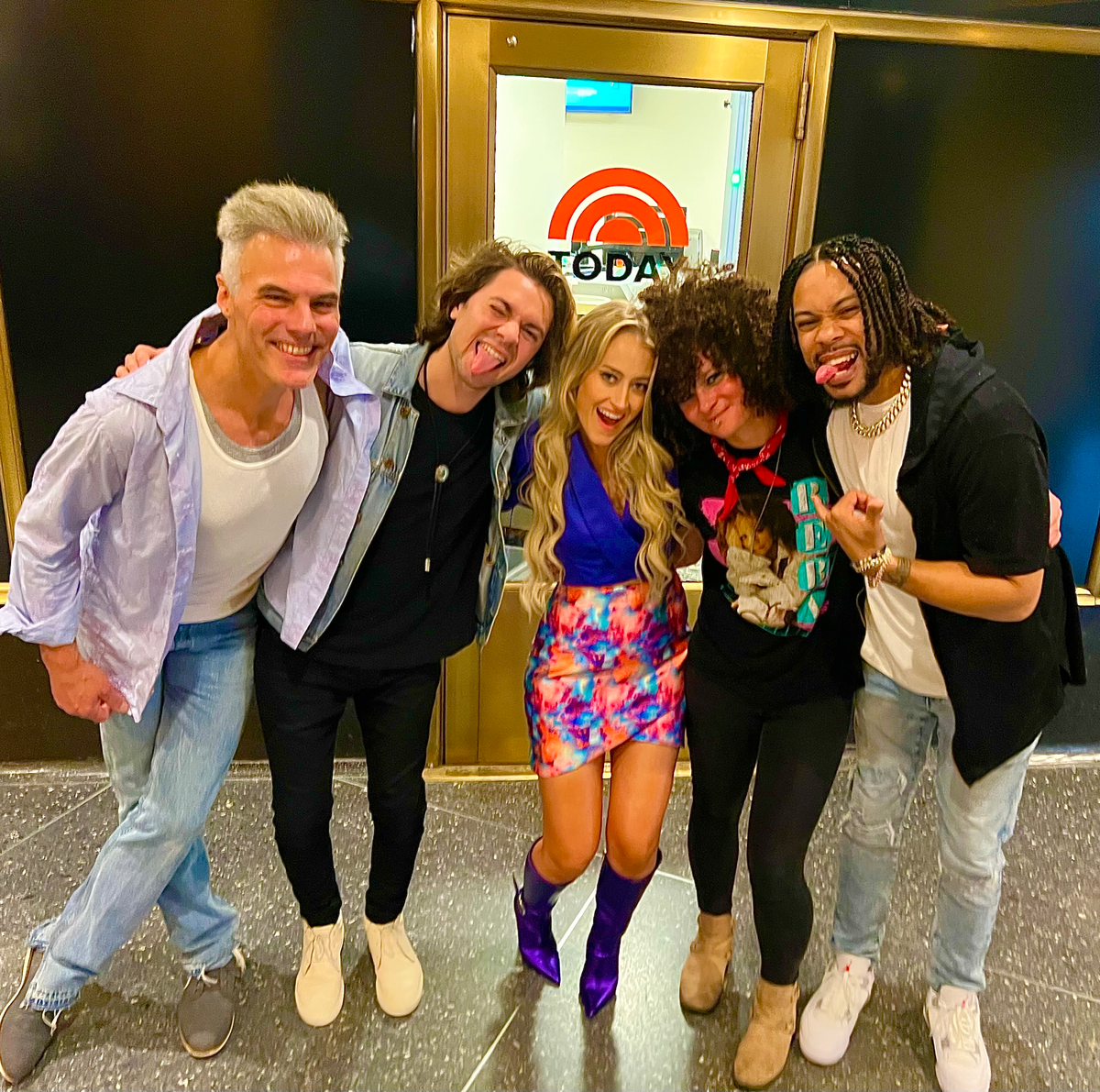 One of my recent gigs was playing pedal steel with country artist Brooke Eden on live TV in front of millions of eyeballs. Here's how it went.
Yesterday, I played The Today Show with country artist Brooke Eden. I've played Today and/or Good Morning America seven or eight times over the past 28 years: a few times on guitar, four or five on steel, and once on banjo (I'm terrible at banjo but can play a simple part under pressure). Here's an inside look at the gig while the memory is still fresh.
---
Last week, Brooke Eden's musical director, Miles Aubrey, texted to ask if I was available. I jumped on it. The band was Miles on guitar, Megan Jane on drums, Carl Fields on bass, and me on pedal steel with Brooke singing. The steel part was prominent yet somewhat simple, but the song had some keypads and a second guitar part that I tried to cover with a dotted delay trick to fill out the sound. We had one quick rehearsal at Brooke's home, and although the five of us had never played together, it sounded great on the first run-through. We played it once more then planned to meet in New York on Sunday night.
The next day, Miles texted everyone that he was sick and should bow out. Our drummer Megan brought in guitarist Gabe Burdulis, who she was touring with, to fill in for Miles.
I tried to re-find that sweet spot between deafening and inaudible, but erred on the side of volume, as my personal motto is "better too loud than too quiet."
Today has a 4:30 a.m. call time, allowing bands to soundcheck before the guests and hosts arrive, which means you fly in the night before. I checked my steel (a Show Pro single-neck E9 10-string), a duffle bag with show clothes, a volume pedal, some cables, and a small steel-specific pedalboard with a Peterson tuner, Keeley Compressor Mini, Keeley Red Dirt Mini Overdrive, Ibanez Echo Shifter for weird analog delay, and an Electro-Harmonix Oceans 11 for a second digital delay or 'verb, tremolo, etc. Both delays have a tap tempo: I used a dotted delay on the Oceans 11 running into a trippy quarter-note delay on the Ibanez to cover a lot of space.
I checked into the hotel by 5 p.m. and then spent Sunday night walking around Times Square people watching, eating, and dreading my 4:15 a.m. lobby call. Today requested that Brooke play a second song as a teaser, so I listened to the new song and the single"Left You for Me" on a loop on my phone as I walked around, hoping to solidify my parts. We hadn't ever played the second song together, so I was a bit nervous about remembering it under the pressure of TV.
I was so deliriously tired when we arrived at 30 Rock that I literally had trouble putting my steel together. (I miss having a tech.) Because Today's studio is fairly small, I requested a Fender Deluxe but instead they had a massive '90s-era, 100-watt Fender Tone-Master with a matching 4x12 cabinet. With the volume on 1, I could hear nothing but the hum of electronics. At 1.5 it was so loud it was peeling paint off the stage. I found a sweet spot just one hair over 1 that worked.
Today'ssound team are total pros—they dialed in a high-fidelity mix very quickly. We ran the song twice, then were released to wait in the green room until our performance. Brooke's team wanted to go with a summery wardrobe of light blues, gray, and white. Gabe, who left straight from tour, didn't have time to grab extra clothes and had only black jeans. Megan, our drummer, had some white jeans. When Brooke's manager noticed that Gabe and Megan were roughly the same size, he suggested that Gabe wear Megan's pants, so Gabe would be in white out front while the black jeans would be hidden behind Megan's drum kit. They did the switch and, although not a perfect fit, those tighty-whitey pants looked hip on Gabe, who is handsome enough that it would be impossible for him to look bad.
The talent wrangler brought us on deck at 9:30 a.m. The volume had been turned down on my amp, so I tried to re-find that sweet spot between deafening and inaudible, but erred on the side of volume, as my personal motto is "better too loud than too quiet."
We ran the teaser song twice. I was thinking this was another soundcheck/rehearsal, but they filmed it and used it as a teaser. It was literally the first time these five people had played that song together, but it sounded great. After the teaser, Today host Craig Melvin walked over to me and said, "I love pedal steel. I'm a big Robert Randolph fan."
They called quiet on the set, and we went live. The hosts did an interview with Brooke and then we played "Left You for Me" live. I thought I was a bit flat on the first bend in my turnaround solo, but other than that, it felt good going down. Brooke's vocal performance was killer, and the band served the song well. What more could you want?
When you think about playing in front of 3 to 5 million people live, that can get in your head. The trick is to just play, don't think. In fact, that may be the secret to life.
The Tour Collection is defined by a minimalistic, vintage-inspired aesthetic, top-of-the-line components, and a simplified electronics configuration featuring new, custom pickups by Supro.
Available in the collection is the 16-inch-wide double-cutaway DC, the 15-inch-wide single-cutaway SS, and a 14-inch-wide Mini DC. Each model comes in three finishes: Slate Blue, Solid Wine, and Solid Black.

Every detail of the Tour Collection was chosen to achieve retro minimalism. Small diamond fingerboard inlays match 1930s-style diamond f-holes, and an undersized Throwback Scroll-style headstock achieves excellent head-to-body balance. The collection also features satin nickel hardware and custom Vintage Deluxe Grover tuners with a 15:1 gear ratio. Each model also features a simplified two-knob electronics configuration with 50s-style wiring to retain top-end clarity upon rolling off the volume knob. The neck shape in the Tour Collection is similar to the slim C-shape found throughout the D'Angelico line, but with more thickness in the shoulder to allow for snug hand fit as well as extra sustain. Medium Jumbo fret wire and a 12-inch fingerboard radius allow for quick navigation of the fingerboard while also prioritizing comfort for both rhythm and lead playing.
In 2020, Supro and D'Angelico became part of the same family of brands under Bond Audio. At that time, EVP of Product Ryan Kershaw and CTO Dave Koltai began designing custom pickups under the Supro name for the Tour Collection project.
"Supro Bolt Bucker pickups were designed to offer the tone of the most sought-after vintage "PAF" pickups from the late 1950's. Scatter wound, just like the originals, Supro Bolt Buckers utilize 42-gauge enamel wire along with a mixture of Alnico II (neck) and Alnico V (bridge) magnets to provide the perfect balance of warmth and clarity with unrivaled articulation and note bloom." - Dave Koltai, Chief Technology Officer at Bond Audio.
Introducing the Excel Series Tour Collection | D'Angelico Guitars
All models are available for pre-order and will be in stock this holiday season. US MAP $1499. For more information, please visit dangelicoguitars.com.
The Cream Amp is a handmade low-gain overdrive pedal based on the Electra Distortion circuit.
The Cream Amp was designed to deliver full dynamics amp-like dirt to your clean and crunch amp or to another pedal in the chain without altering your tone too much. To add some grit at low volume or to make your amp sound more full, use the Drive control to set the gain and the Level control to match with your amp.
​Two knobs to control Volume and Drive
Shielded inputs/outputs to avoid RF
Filtered and protected 9VDC input
Daisy-chain friendly
Current draw: 7.5mA
The Cream Amp pedal is hand-made in Barcelona with carefully selected components and has a price of 100.00€. The pedals are available and can be purchased directly from the Ananasheadonline store.
For more information, please visit ananashead.com.
The Red Sea was born out of the vision to provide complex signal routing options available to the live/performing musician, that up until now, are only found in a studio mixing environment.
​Introducing the Red Sea, an all-analog signal routing matrix, designed for countless stereo and mono signal path routing options. The Red Sea was born out of the vision to provide complex signal routing options available to the live/performing musician, that up until now, are only found in a studio mixing environment. The Red Sea has accomplished this in a compact, easy-to-use, and cost-effective solution.
Wet | Dry | Wet
The Red Sea gives you the ability to run a FULL Stereo wet dry wet rig using only 2 amps or just 2 signals to the FOH, while also giving you complete control over your Wet & Dry mix! Use the Blend knob to control the overall mix between stereo wet effects and mono dry/drive signals.
Stereo Dual Amps
Run dual amp modelers if full stereo w/ stereo effects. Gone are the traditional ways of one amp in the Left channel and another in the Right channel. Now use the Red Sea to seamlessly blend between two separate amps in true stereo. Think of this as a 2-channel amp where you can blend anywhere between both amps.
Stereo Parallel FX
Red Sea has two independent stereo FX loops. Use each FX loop to run stereo delay's and reverb's in parallel, where each effect does not interact with each other. Huge soundscapes can be achieved with washy reverbs and articulate delay repeats while being able to blend between each FX loops mix level.
The Red Sea can also do the following routing options:
Wet | Dry utilizing a single amp
Clean Wet | Dry | Wet (drives DO NOT run into wet effects)
Wet | Dry | Wet with dual delays (one in the L channel & other in R channel)
Parallel Dual Amps (run dual amp modelers in FULL stereo)
Convert a tube amp's serial FX Loop to a parallel FX Loop
Stereo and Mono analog dry through (avoid latency in digital pedals)
Stardust V3 was designed to capture the sound and response of 3 distinct amplifier models.
Stardust V3 was designed to capture the sound and response of 3 distinct maxed-out amplifier models. An all-analog signal path with discrete gain stages featuring MOSFET transistors provides juicy overdrive tones with great note separation that clean up to that sparkly sound that we all love and heard in recordings of the past. Set gain and tone and control everything from your guitar. Sparkly clean to crunchy mean are all there.

You can select the amplifier voicing via the onboard toggle switch.
BSM: Voiced after a blackface amp head that was primarily targeted for bass guitar players but got famous for electric guitar classic rock tones.
VLX: Voiced after a chimey 2x10" combo offering the perfect amount of controllable crunch
DLX: Voiced after one of the most popular low wattage 1×12″ combo amps that have found their way in countless recording studios and clubs around the world.
​Stardust V3 now comes with top-mounted jacks and soft-click true bypass via a high-quality relay. The pedal has loads of output volume and enhanced headroom provided by 18V DC (boosted internally) so that it can also be used as a preamp going straight into your Power Amp or AudioInterface when combined with a separate speaker simulation device.
Street price: 199 Euro / 199 USD.
For more information, please visit crazytubecircuits.com.