Our Go-to Guitar Store Riffs
Texas slinger Zach Person joins us in sharing the ditties we play when sizing up a new axe to see if it meets our needs. Plus, we discuss current musical obsessions.
You enter your local guitar store. An instrument calls you over, you pick it up ... what do you play? Do you have a go-to riff when testing out new gear?
---
Zach Person — Guest Picker
Photo by Nathan Hall
A: I usually will set the amp really clean so that I can hear the true sound of the instrument. I'll almost instinctively play through a variety of pentatonic and Lydian-esque passages, and big open chords to get a feel for how it handles tuning, intonation, etc. If it proves to sing through all of these "tests," then I'll add some drive and continue exploring. At that point, any person accompanying me knows that they've lost me for the next half hour!
Current obsession: An artist in town (Austin, Texas) named Dave Scher. He is truly my favorite guitarist, and he inspires a lot of my playing. He's so melodic, and his improvisation never feels stale. He's one of those guys that can plug straight into any amp and make it sound like he's running through a $3K+ pedal rig. Before the pandemic he was on the road for several months with Eric Johnson playing rhythm guitar (and bass on some songs), but he has his own solo project here in town. Go check him out. You can thank me later!
Dave Scher "Georgia On My Mind"
Felipe Gonzalez — Reader of the Month
A: I tune it down to D, then play "Hate by Design" by Killswitch Engage. If it resists the abuse of that riff, it's worth it. The reasoning behind playing this riff to test guitars is the mix of precise downstrokes, palm-muted notes, and ringing notes in an up-tempo song. (It's KSE, after all.) It's challenging and delightful to play. I love the power of their riffs—to play them is tricky and will develop your timing in a very good way. I think Adam and Joel are one of the best guitar tandems on the metal scene of all time.
Riff Rundown - Killswitch Engage's Hate by Design
Current obsession: My current musical obsessions are three bands I discovered by chance: God Is an Astronaut, Earthside, and Distant Dream. Sometimes the YouTube algorithm works nicely for you, and that's how I found them. I love their melodic approach in their composition and the lack of virtuosic playing, which in the end, makes me tired. This is music, not a competition.
GOD IS AN ASTRONAUT - Fade (Official Video) | Napalm Records
Ted Drozdowski — Senior Editor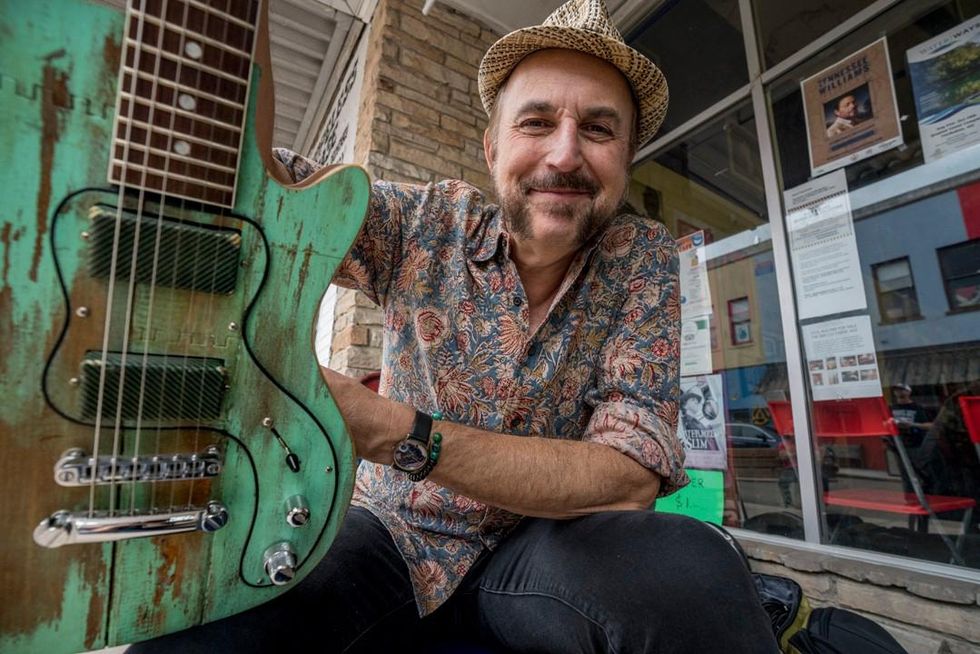 A: I have a very specific ritual: a rip on the riff from Beck's "Devil's Haircut" followed by the four-note riff and opening barre chords from "Shine on You Crazy Diamond, Part II" and then some blues licks and campfire chords. If there's no buzz, it rings out, and the neck feels like love, then I plug in.
Current Obsession: Figuring out how and when to return to live performance. My band, Coyote Motel, just had its first rehearsal in 14 months and we could feel the rust, but the gears were still turning beautifully underneath. Now what?
David Von Bader — Contributing Writer
A: I have one rootsy-sounding, slippery ascending riff that starts with the open low E and slides into a little double-stop sequence that I tend to play when my hands are on autopilot. It's a lick that makes it sound like I kinda know what I'm doing, but without being too showy. As someone that put in a few years working at a busy but physically small vintage guitar shop in Brooklyn, I'm hyper aware of in-store demo etiquette and the last thing I want to do is subject shop employees to any ego riffing beyond what I really need to get a feel for a guitar or amp or pedal.
Current Obsession: I've been absolutely punishing the Walker Brothers' 1978 release Nite Flights lately. It was the last album they released as a group, but it's essentially three solo EPs smashed together. The songs each of the band's three members (they weren't actually related) respectively wrote and sang appear sequenced together in clusters. The four Scott Walker tunes that open the album are dark, wonderfully dramatic, incredibly catchy, and subtly telegraph the avant-garde (and occasionally quite terrifying) direction of his late-career solo work.
The album features some truly phenomenal guitar work by famed British session ace Big Jim Sullivan, as well as hired soloist Les Davidson, who rips a proper barn burner of a solo on the album's opener "Shutout" that perfectly accentuates the song's bad drug trip at the disco feel.