Be prepared for your next session by getting your arsenal of amps down
This month's installment of Tone Tips continues my focus on a phrase I like to use (and which sounds an awful lot like the Boy Scouts of America motto): "Always be prepared." When it comes to session work, being prepared is tricky because of the fact that no studio is the same—and that you can record anywhere these days. So, your guitar essentials have to cover a wider range of situations. You never truly know what you're getting yourself into until you show up.

I'm sure all of you have read some session ace's article in one of the many guitar magazines out there (including the best one, right here). They always talk about some gig where the guy brings three amp heads, two combos, a couple of pedalboards, multiple guitars (acoustic, electric, and other doodads), etc. If you're anything like me, you're thinking, "How would I ever be able to afford all that gear, let alone have it wired up perfectly?" It seems like a daunting task.

If you can afford that much gear, that's great. What producer and artist wouldn't want you to come in with incredible gear that let's you get a variety of sounds instantaneously. But that luxury isn't an option for most guitarists trying to get into session work. I live in New York City and fly to Los Angeles all the time. I don't have anywhere to put that stuff, and to be honest there really isn't a crazy session scene in New York. So today I'm going to talk about how I overcome these setbacks, as well as some of the things I like to show up with or do to help out in this scenario. Let's talk amps, baby!

Find Your Go-To Amp
Amplifiers are one of the most important parts of the recording process. Have you ever tried out a few amps, and no matter which knobs you turn, you just can't get them to sound the way you want? But then there's that amp that, no matter what you do to it, it just seems to be perfect. That's the one you need to find. Find that one amp you really love playing and that gives you your sound. Having one solid, reliable amp is key. This will be the basis for everything you record. There are a few variables involved when picking out this amp. Do you want it to be versatile, a one-trick pony, one that might work well with pedals, etc? All of these scenarios will work. The most important thing is to evaluate your style and needs. If you find that you're suited best to rock sessions that need amazing distortion tones, find an amp that satisfies that need.

Due to the nature of sessions I like (ranging from singer/songwriter to rock and pop), I have had the best result with amps that live in Fender or Vox AC30 territory. I prefer a good, clean sound at the heart of every session I do. From there, you have a great foundation to build other tones on using pedals and perhaps by pushing the amp harder. I have used this style of amp even in full-on rock sessions. Some of my best successes have involved 65 Amps' Monterey and London models, as well as a Matchless DC30. These are great examples of amps that handle variety well, sound phenomenal, and take to guitar pedals incredibly well. They start off with full, rich clean tones and break up superbly when pushed. So you really are getting two amps out of these. They don't produce high-gain tones, of course, but if you need more crunch there are some incredible pedals you can pair with them to yield amazing results. If these amps are out of your price range, take a look at amps like the Fender Hot Rod Deluxe. I've done a ton of recordings with that, and it takes to pedals really well.

Then Broaden Your Palette
So this is a good base to start. Once you get your clean and overdrive things going and feel like investing some more money, then go for something different. If you already have a 6L6- or 6V6-powered tube amp (like most Fenders and the 65 Monterey), look into something powered by EL34s or EL84s (like Vox, Marshall, and the 65 London)—and vice versa. Another option is amps with even more gain than your standard Vox or Marshall. Just be sure to thoroughly research them—online and in person—so you end up with something that sounds incredible and makes you feel incredible when you play it. You have to be inspired by the sounds you bring. And don't get trapped into what fancy features the amp has, what brand it is, or what some guitar hero is using. I've been in this business professionally for a while now, and I've seen the marketing and money come into play in pretty serious ways. For instance, some of your favorite players are using dummy cabs onstage and plugging into other amps behind the stage for their sound. Trust me, it happens all the time. But in the studio, the only thing people care about is if it sounds good.

Tune in next month and we'll talk about which pedals you should arm yourself with. After all, some people have made their careers off of them.

Good luck out there!


---
Jared Scharff
Jared Scharff has been the house guitarist for the legendary Saturday Night Live band for the last two years. A Native New Yorker, Jared is also a recording artist, producer, songwriter, and highly sought-after session player, and has shared the stage with Justin Timberlake, Beyonce, Kid Rock, Rihanna, Mary J. Blige, Pete Seeger, Arlo Guthrie, Roger McGuinn, and Debbie Harry. For more information on Jared, go to
myspace.com/jaredscharffmusic
.
Looking for more great gear for the guitar player in your life (yourself included!)? Check out this year's Holiday Gear Finds!
This full-amp-stack-in-a-box pedal brings a new flavor to the Guitar Legend Tone Series of pedals, Missing Link Audio's flagship product line.
Adding to the company's line of premium-quality effects pedals, Missing Link Audio has unleashed the new AC/Overdrive pedal. This full-amp-stack-in-a-box pedal – the only Angus & Malcom all-in-one stompbox on the market – brings a new flavor to the Guitar Legend Tone Series of pedals, Missing Link Audio's flagship product line.
The AC/OD layout has three knobs to control Volume, Gain and Tone. That user-friendly format is perfect for quickly getting your ideal tone, and it also offers a ton of versatility. MLA's new AC/OD absolutely nails the Angus tone from the days of "High Voltage" to "Back in Black". You can also easily dial inMalcom with the turn of a knob. The pedal covers a broad range of sonic terrain, from boost to hot overdrive to complete tube-like saturation. The pedal is designed to leave on all the time and is very touch responsive. You can get everything from fat rhythm tones to a perfect lead tone just by using your guitar's volume knob and your right-hand attack.
Features 
Three knobs to control Volume, Gain and Tone
Die-cast aluminum cases for gig-worthy durability
Limited lifetime warranty
True bypass on/off switch
9-volt DC input
Made in the USA
MLA Pedals AC/OD - Music & Demo by A. Barrero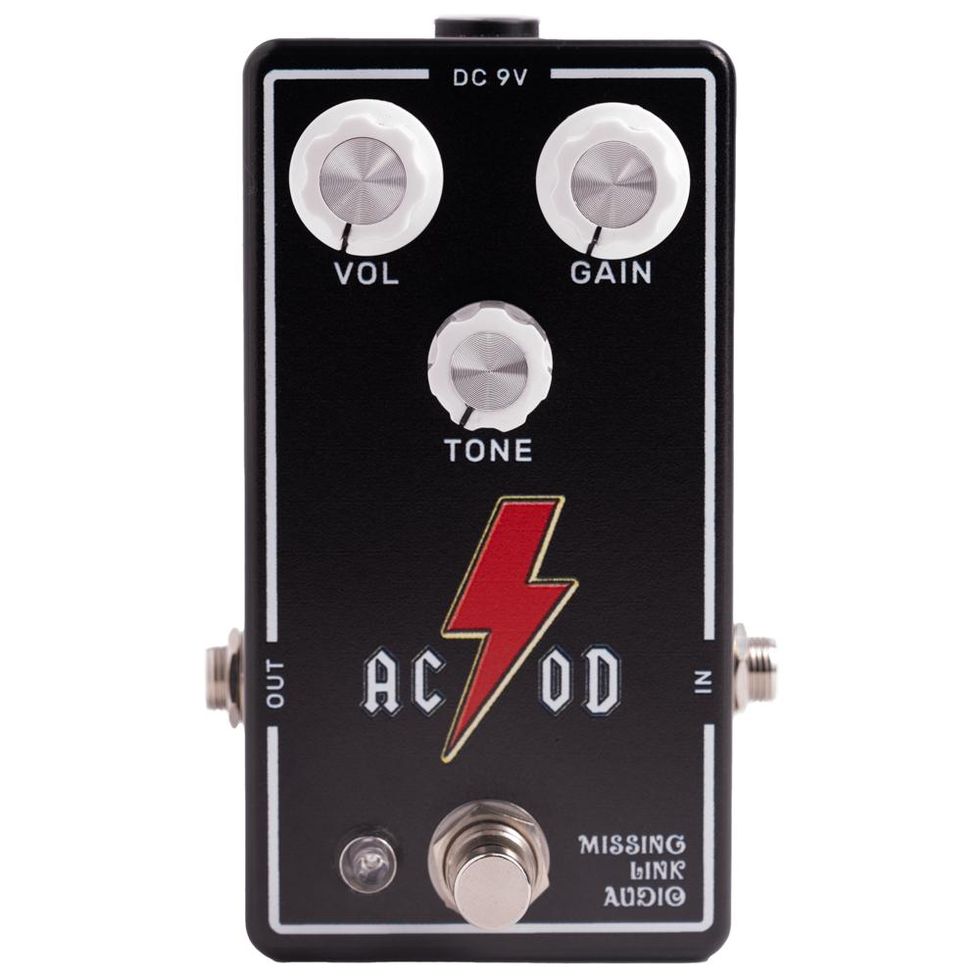 www.mlapedals.com.
Sporting custom artwork etched onto the covers, the Railhammer Billy Corgan Z-One Humcutters are designed to offer a fat midrange and a smooth top end.
Billy Corgan was looking for something for heavier Smashing Pumpkins songs, so Joe Naylor designed the Railhammer Billy Corgan Z-One pickup. Sporting custom artwork etched onto the covers, the Railhammer Billy Corgan Z-One Humcutters have a fat midrange and a smooth top end. This pickup combines the drive and sustain of a humbucker with the percussive attack and string clarity of a P90. Get beefy P90 tone plus amp-pummeling output with the Railhammer Billy Corgan Z-One.
Patented Railhammer Pickups take passive guitar pickups to a new level with rails under the wound strings lead to tighter lows, and poles under the plain strings offer fatter heights. With increased clarity, the passive pickup's tone is never sterile.
Railhammer Billy Corgan Signature Z-One Pickup Demo
Designed for utmost comfort and performance, the Vertigo Ultra Bass is Mono's answer to those who seek the ultimate gigging experience.
Complete with a range of game-changing design features, such as the patent-pending attachable FREERIDE Wheel System, premium water-resistant and reflective materials, shockproof shell structure and improved ergonomic features, the Vertigo Ultra Bass takes gear protection to the next level.
The Vertigo Ultra Bass features:
Patent-pending FREERIDE Wheel System that allows for wheels to be attached on the case in no time, giving you the option to travel with it seamlessly
Upgraded materials, including a water-resistant 1680D Ballistic Nylon outer shell, plush inner lining and new reflective trim for maximum backstage and night visibility
Enhanced protection with a shockproof shell structure and heavy-duty water-resistant YKK zippers for protection from the elements
Improved ergonomics and functionality including added back support and load-lifting detachable shoulder straps with side release buckles
Flexible storage options with added space for touring essentials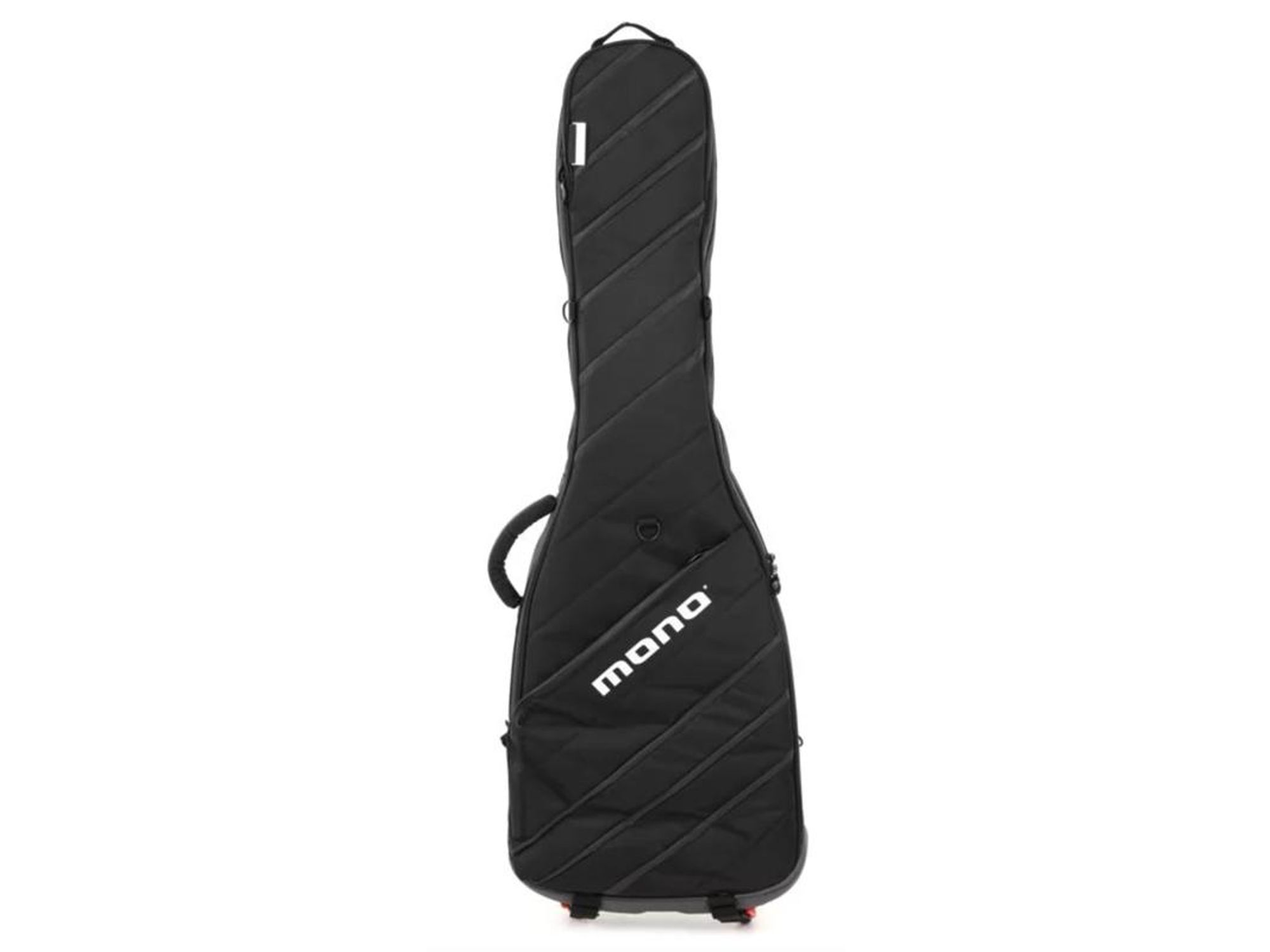 For more information, please visit monocreators.com.
Mono