Van Halen Flags at Half-Mast for the Mighty Rich Osweiler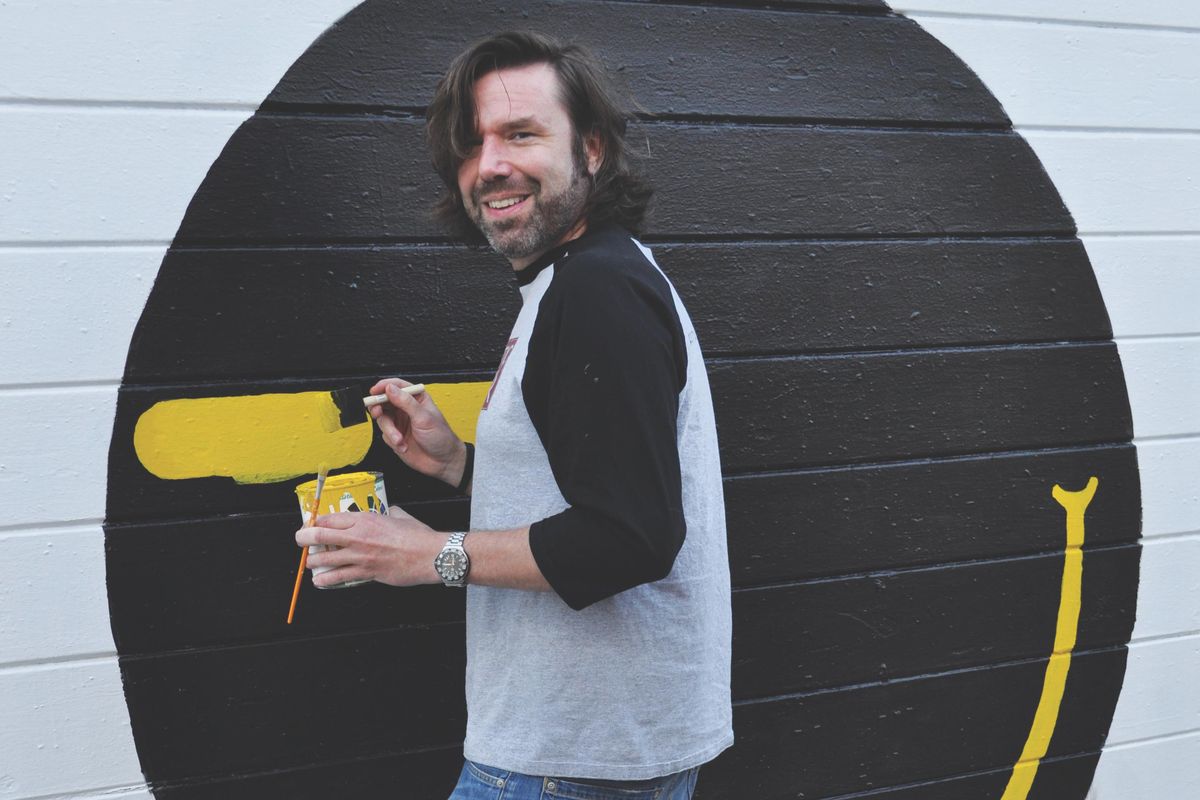 Remembering PG's resident bass ace—a one-of-a-kind friend and dad, and quite possibly the world's most loud 'n' proud David Lee Roth fan.
We're heartbroken to share the news that longtime associate editor Rich Osweiler—Premier Guitar's resident bass ace—passed away early this April at far too young an age. Rich worked in guitar publishing for 20+ years and was known throughout the industry for his easygoing nature and verve for life. His love for music, bass, guitar, skiing, scuba diving, biking, and everything in between was only exceeded by his matchless dedication as a dad. Everyone at PG loved Rich. He was unflappably positive, professional, kind, charming, dependable, and funny.
---
I met Rich in 2005 when I joined the staff at Acoustic Guitar magazine. We worked in separate departments, but right away he was one of the people I took to most. Like me, he was more of a rocker, and we became fast friends due in part to our mutual love of Van Halen. We stayed in touch off and on after I left AG, and then, within about a year of starting here at Premier Guitar, back in 2010, I ran into Rich as I walked out of the Anaheim Convention Center at the 2011 Winter NAMM show. As soon as I heard he was looking for something new, career-wise, the gears started working in my head. PG's editorial team was in desperate need of more hands, and I've always been a strong believer that knowing someone's character, personality, ethic, and work style is at least as important as anything else. I knew Rich was a stand-up guy, knew his personality would totally jell with our team, and knew his love of bass guitar would be a big boon to Premier Guitar as we expanded our bass coverage—plus, unbeknownst to me till then, he also had a journalism degree.
We brought Rich aboard as soon as we could after that chance meeting, and our team became faster friends with each passing day. Needless to say, despite knowing of some of his recent health issues, we were all devastated when we heard the news of his passing. None of us could believe it.
Everyone at PG loved Rich. He was unflappably positive, professional, kind, charming, dependable, and funny.
Because Rich worked remotely from his home in California, most of my interactions with him over the years have been via phone, Skype, or Slack. Though twice a year we'd get to hang a bit at NAMM. Favorite memories from those hangs include—after one of his many trips to the emergency room left him with a broken toe, foot, and/or ankle—seeing Rich haul ass around the convention center on one of those medical push-scooters. Because he was both kind of an adrenaline junkie and a bit of a klutz, Rich joked that the ER crew at his local hospital knew him by name. Apparently the klutziness subsided when it came to skiing, however. Friends who hit the black-diamond runs with Rich swear he was more agile on skis than on dry ground, fearlessly carving quick, elegant lines in the snow whether it was hard packed or waist deep.
A fair number of the conversations Rich and I had involved banter about Van Halen—or, more precisely, David Lee Roth. We were both hardcore fans of the early VH years, but Rich took it much further than that. He unflinchingly heralded Roth as not just his hero/idol, but as "the coolest guy in the universe." Some of that was bravado—Rich loved to mess with you by spouting outrageousness with a straight face … although if you knew him well enough, the twinkle in his eye was a pretty good giveaway. Even so, his Roth adoration was very real. Put it this way: He had a phone app with nothing but isolated Roth screams, hoots, and howls, and he periodically busted it out during gear-review meetings to both fly the flag high and proud and taunt anyone who felt less enthusiastically about Roth.Which reminds me of another favorite NAMM moment: A group of us were driving back from a dinner in Anaheim one night when "The Full Bug" (off VH's 1982 album, Diver Down) came on the radio. Rich's face lit up like it was friggin' Christmas morning. He immediately began air drumming to the fast-paced boogie so energetically that it rocked the car from side to side. It was so priceless I had to capture it on video.These are, of course, just a tiny fraction of the multitude of fun, endearing moments so many friends and loved ones had with Rich.We only wish we could have had many more years' worth. PG sends its most heartfelt love and condolences to the innumerable people bereaving Rich's untimely passing. We love and miss you more than words can say, Rich.