Quick Hit: Guild Jumbo Junior Bass Review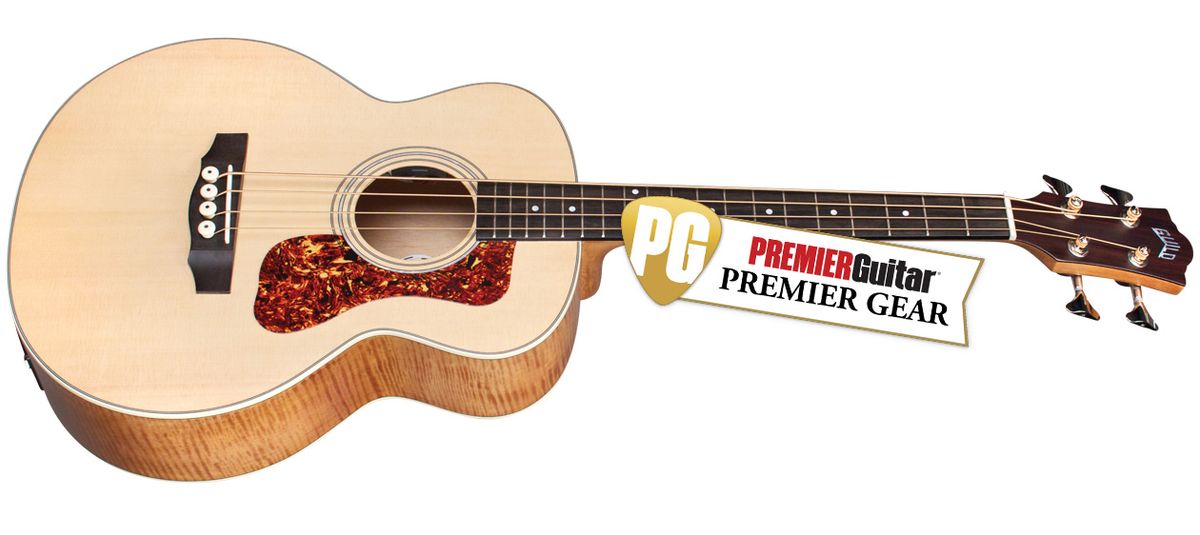 An acoustic bass that's easy to transport, has big tones, is well constructed, and priced right.
As tech gizmos get smaller and smaller, there seems to be a similar trend with acoustic bass guitars. Let's face it: No matter how big the box or how long the scale, you're still likely going to be plugging in when playing with others, right?
Guild's 23 3/4"-scale Jumbo Junior Bass is a clean and classy looking ABG with a solid Sitka soundboard and layered flame maple for the sides and arched back. The tasteful purfling, binding, and rosette—along with the tortoise pickguard—complete the JJB's refined look, and it can't be overstated how well the bass is constructed. The 4th string has a bit of a floppy nature (Hey, it's a short-scale bass!), but the playability of the ebony-capped maple neck was buttery smooth. The JJB's unplugged volume was adequate (expected) for its size and plenty fine for solo jamming. Still, I spent much of my time with the bass plugged in, enjoying the deep, warm, and woody sounds that projected plenty of midrange sparkle and clarity for a little guy, thanks in part to the smart wood combination and the AP-1 active piezo system. The electronics are governed by dials for volume and tone tucked neatly under the top edge of the soundhole. No, the JJB doesn't have onboard tuning, but players who prefer not having a hunk of side cut out to accommodate a control panel will be pleased.
The Jumbo Junior Bass could make a great friend-at-first-play for anyone after an ABG without the hefty DNA of a full-sized chubby cousin. If a smaller-sized, short-scale instrument is a comfy fit for you, why not go stealth?
Test gear: Gallien-Krueger 800RB head, Orange OBC212 cab, Focusrite Scarlett 2i4

Recorded direct using Focusrite Scarlett 2i4 interface into GarageBand.
Clip 1 - Fingerpicked with onboard tone set flat.
Ratings
Pros:
Clean build and clean looks. Big, woody bass sounds without the need for a big, wooden instrument. Nice playing neck. Above-average gig bag included.
Cons:
We bassists like big things, so … wait for it: It's "not for every player."
Street:
$499
Guild Jumbo Junior Bass
guildguitars.com
Tones:


Ease of Use:


Build/Design:


Value: