Radial Introduces the ChainDrive 1x4 Distro and Line Driver
Vancouver, BC (December 8, 2012) – Radial Engineering Ltd. is pleased to announce the ChainDrive 1x4 distro and line driver, the latest in the company''s every growing range of 500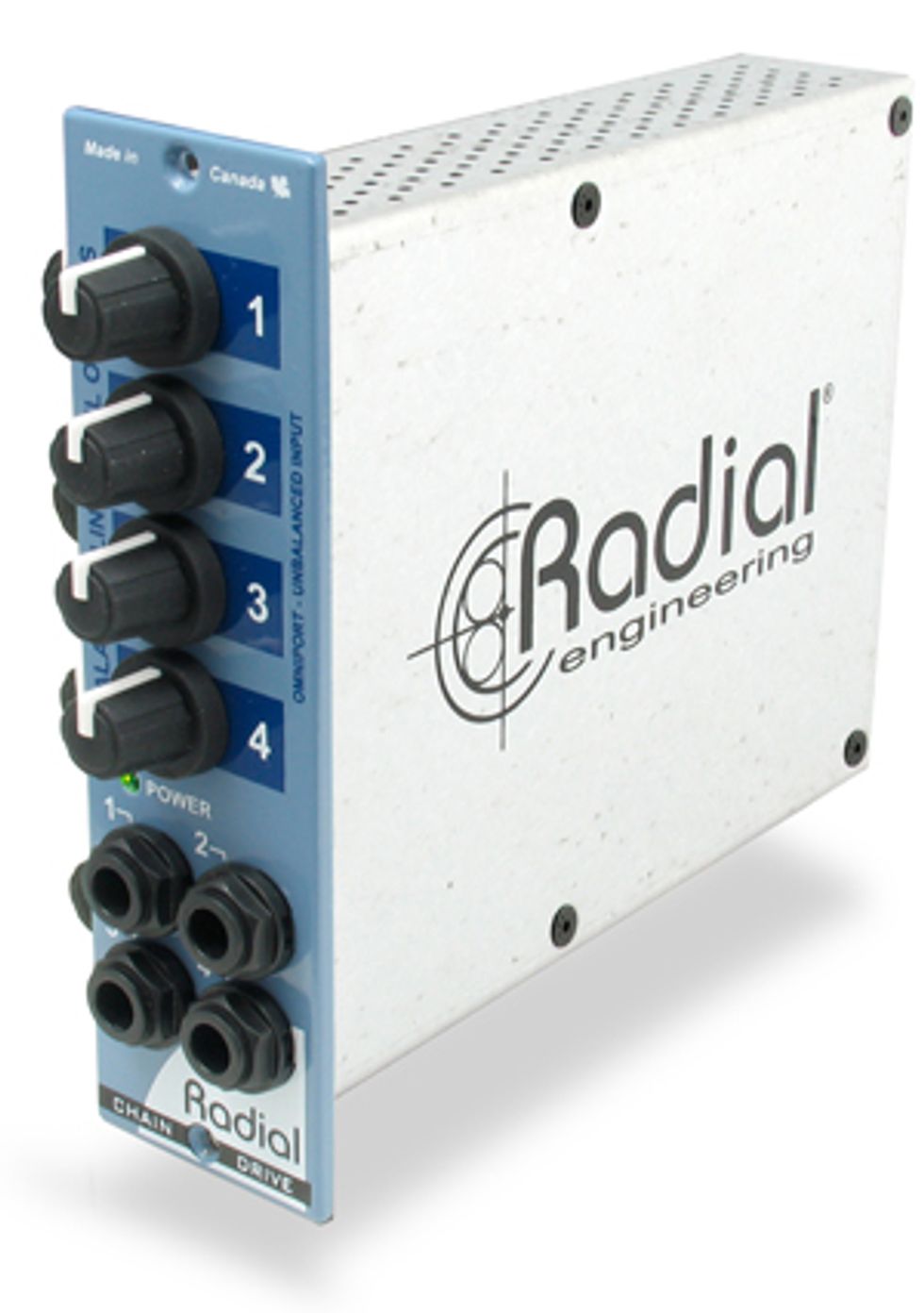 Vancouver, BC (December 8, 2012) – Radial Engineering Ltd. is pleased to announce the ChainDrive 1x4 distro and line driver, the latest in the company's every growing range of 500 series modules.
The ChainDrive is a single-wide audio distribution module that accepts either a balanced or unbalanced source via the 500 series power rack input and distributes the signal to four front-panel ¼" TRS outputs. Four conveniently positioned front panel level controls make it easy to optimize signal-to-noise levels for best audio. For those equipped with a Radial Workhorse, the Omniport is set up as an unbalanced to balanced converter for manipulating hi-Z signals in the pro-audio domain. The ChainDrive can also distribute a full stereo program using TRS connectors following the tip-left, ring-right, sleeve-ground convention.  
Once connected, the ChainDrive lets you create exciting signal chains such as multi-band compression, feeding several guitar amps and effects simultaneously, or even taking a stereo program and sending it to various digital processors, dynamic controllers and effects at the same time.
As with all Radial products, the ChainDrive is built to the highest standards. It begins with a 14 gauge steel outer casing with a galvalume shield to protect the circuit board. Each potentiometer is outfitted with a steel shaft and output jacks are made from extra tough glass-filled nylon with nickel-silver contacts that will not tarnish. Full surface ground plane with double sided solder points further ensure part integrity remains while noise is kept to a minimum.
The ChainDrive is now shipping. Estimated retail price: $350 USD.
For more information:
www.radialeng.com