A history of Rickenbacker basses, and the value of this ''70s example.
Hey Zach,

I'd like you to take a look at my baby, a 1970s Ricky bass. I bought it used in the late '70s and have played it ever since. The serial number is NK706XX. Can you tell me a little more about the guitar and if it is trash or treasure? Thanks!

Timothy
Phoenix, Arizona
Hi Timothy,
Cool bass, man, and it's awesome you've been using it for over 30 years now! One look at a Rickenbacker really catches your eye, doesn't it? However, not many people know much about Rickenbacker basses, despite how important they have been to the bass market. I'll give a little Rickenbacker history, explain why their basses are important, and discuss the specs and value of your bass.
Adolf Rickenbacker, along with two other men, started a metal stamping shop in 1925 called the Rickenbacker Manufacturing Company. Adolf invested in the original National (Dobro) guitar company during the late 1920s and began supplying them with metal bodies for their Dobros. In the early 1930s, Rickenbacker and National employees George Beauchamp and Paul Barth formed a new company, called Ro-Pat-In, to begin developing Beauchamp's electric guitar design—a design that National was not interested in. The first electrics by Ro-Pat-In were introduced in 1932 under the Electro String Instruments trademark, which later became the Electro String Instrument Corporation. By 1934, the brand name on the guitars changed to Rickenbacker.
In 1953, Rickenbacker sold his company to Francis C. Hall, who founded the Radio and Television Equipment Company that was the exclusive distributor for Fender in the late 1940s and early 1950s. Rickenbacker has been a family-run business ever since, as his son, John C. Hall, took control of Rickenbacker in 1984, and John's son, Bill, works there as well. It is important to note that Hall worked very closely with Fender, as the two have been competitors ever since.
There is a lot of debate and general confusion over who introduced or created or invented the first electric guitar, but many consider Rickenbacker to be the first. George Gruhn is probably the most accurate when he describes Rickenbacker as the first guitar company to successfully market electric guitars. Regardless, they've been producing electric guitars since the beginning, and because of the high quality of their instruments, many players took notice. Rickenbacker had a long list of big names playing their instruments in the 1950s and '60s, including Roger McGuinn, Pete Townshend, Glenn Frey, and of course, John Lennon and George Harrison of the Beatles. Tom Petty and the Bangles' Susanna Hoffs are more recent artists who have had signature Rickenbacker models.
While Rickenbacker was experiencing signifi- cant success with their guitars, F.C. Hall knew they needed an electric bass in their line, too. In 1957, Rickenbacker introduced its first electric bass, which had many revolutionary new features. Most notably, its neck-through-body design used one long piece of wood that ran the entire length of the bass. Rickenbacker's rival, Fender, only used bolt-on necks, which started the ongoing debate over which design is better. Rickenbacker's neck-through design really set the standard for many modern bass builders regarding tone and sustain, as the tuners, fretboard, pickups, and bridge are all mounted on the same piece of wood.
Your model 4001 bass was built in November 1974 according to the serial number (almost all Rickenbackers can be dated through serialization). It features Rickenbacker's eye popping "cresting wave" body with a maple neck-through-body and maple body wings, cream body binding, a bound 20-fret rosewood fretboard with pearl triangle inlays, two-per-side tuners, two pickups, a white pickguard, four knobs (two volume, two tone), a three-way switch, and chrome hardware. Note that on the headstock there are small wood pieces glued to the body-long neck piece, and the large chrome surround on the bridge pickup is missing its cover.
Regarding your instrument's condition, the chrome is pretty rusted and oxidized, the back of the neck is slightly worn, and the body has significant nicks and scuffs on both the front and back. All of this is to be expected on a guitar that's over 35 years old. Based on this, the overall condition of your guitar is 80 percent (Very Good +), and in this condition is currently valued between $1500 and $1800. Comparatively, excellent condition models are valued between $2200 and $2500. Based on how well these basses play and today's value, your Ricky 4001 bass is definitely a treasure!
A quick clarification: I mistakenly stated in my June 2010 article on the Guild JF-55 that Campbell American Guitars were building instru- ments in the old Guild factory in Westerly, Rhode Island. Actually, Campbell American Guitars hired several employees from the Guild factory, but builds guitars in a factory located in Westwood, Massachusetts. Sorry for any confusion.
Sources: 12th Edition Blue Book of Electric Guitars by Zachary R. Fjestad, The Complete History of Rickenbacker Guitars by Richard R. Smith, and Gruhn's Guide to Vintage Guitars by George Gruhn and Walter Carter.
---
Zachary R. Fjestad
Zachary R. Fjestad is the author of the Blue Book of Acoustic Guitars, Blue Book of Electric Guitars, and the Blue Book of Guitar Amplifiers. Questions can be submitted to:
Blue Book Publications
Attn: Guitar Trash or Treasure
8009 34th Ave. S. Ste #175
Minneapolis, MN 55425
bluebookinc.com
guitars@bluebookinc.com
Looking for more great gear for the guitar player in your life (yourself included!)? Check out this year's Holiday Gear Finds!
Outlaw Effects introduces their next generation of NOMAD rechargeable battery-powered pedal boards.
Available in two sizes, NOMAD ISO is a compact, versatile tool that offers the convenience of a fully powered board plus the additional freedom of not having to plug into an outlet. NOMAD ISO is ideal for stages with limited outlet availability, quick changeovers, busking outdoors, temporary rehearsal locations, and more!
NOMAD ISO builds upon the legacy of the ultra-convenient and reliable NOMAD rechargeable pedalboard line originally launched in 2018. The brand new NOMAD ISO editions feature eight isolated outputs (1 x 9V DC, and 1 switchable 9V/12V DC) for even more versatility and clean, quiet power. With an integrated lithium-ion battery pack boasting 12800mAh capacity, NOMAD ISO can fuel a wide array of pedals, and will last over 10 hours* on a single charge.
Each NOMAD ISO pedal board includes adhesive hook & loop pedal-mounting tape, eight (8) standard DC connector cables, and one (1) reverse polarity DC cable, giving you everything you need to build your ultimate "off-the-grid" rig. A rugged, road-ready padded gig bag with shoulder strap is also included, to safely protect your gear while you're on the move.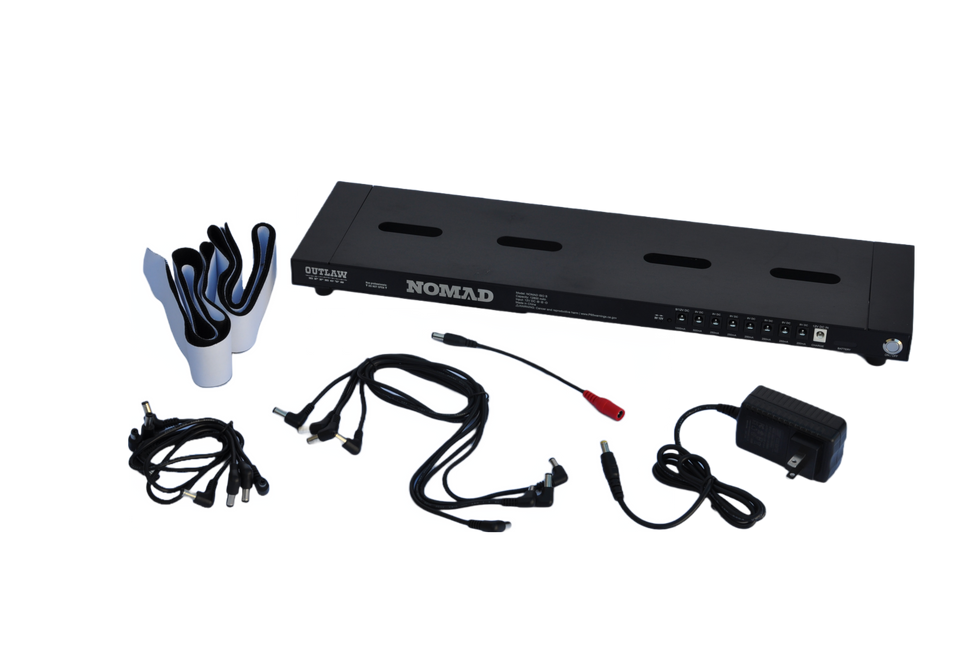 Dunable announce new Minotaur model featuring Grover Rotomatic Keystone tuners.
The Minotaur's DNA is rooted in their classic Moonflower model, which Dunable discontinued in 2017. However, they have long since wanted to create a fresh take on a carved top guitar design, and various attempts to rework the Moonflower led them to a brand new concept with the Minotuar.
Dunable's goal is to give the player a guitar that plays fast and smooth, sounds amazing, and gives maximum physical ergonomic comfort. The Minotaur's soft and meticulous contours, simple and effective control layout, and 25.5" scale length are designed to easily meet this criteria.

Dunable Minotaur!
Features
25.5" scale length
Dual Humbucker
one volume, one tone, push pull for coil splitting
Grover Rotomatic Keystone tuners
Grover Tune O Matic bridge with brass Kluson top-mount tailpiece
jumbo nickel frets
12" fretboard radius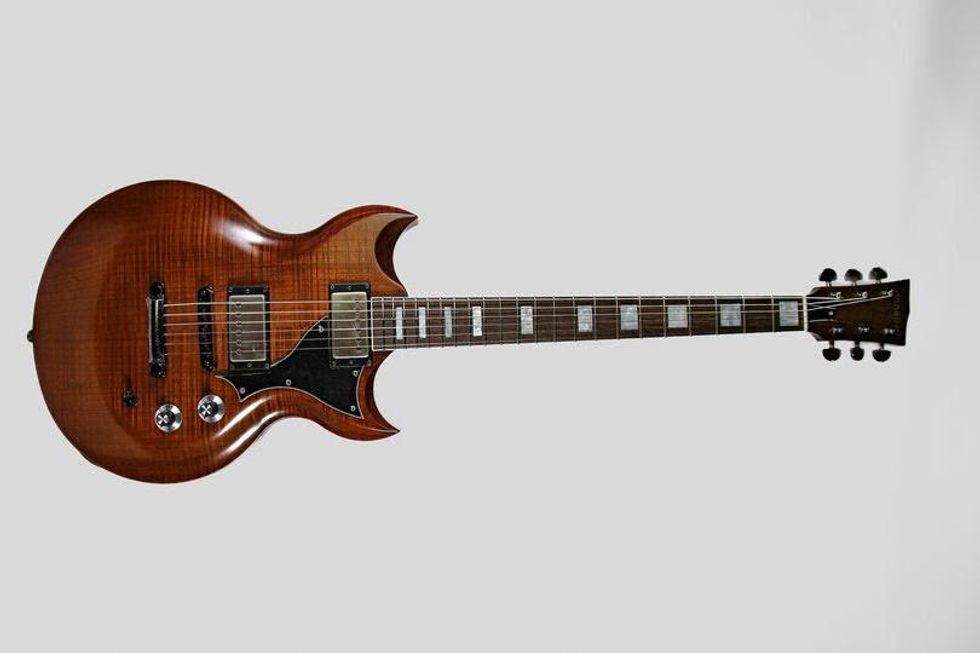 Dunable
This full-amp-stack-in-a-box pedal brings a new flavor to the Guitar Legend Tone Series of pedals, Missing Link Audio's flagship product line.
Adding to the company's line of premium-quality effects pedals, Missing Link Audio has unleashed the new AC/Overdrive pedal. This full-amp-stack-in-a-box pedal – the only Angus & Malcom all-in-one stompbox on the market – brings a new flavor to the Guitar Legend Tone Series of pedals, Missing Link Audio's flagship product line.
The AC/OD layout has three knobs to control Volume, Gain and Tone. That user-friendly format is perfect for quickly getting your ideal tone, and it also offers a ton of versatility. MLA's new AC/OD absolutely nails the Angus tone from the days of "High Voltage" to "Back in Black". You can also easily dial inMalcom with the turn of a knob. The pedal covers a broad range of sonic terrain, from boost to hot overdrive to complete tube-like saturation. The pedal is designed to leave on all the time and is very touch responsive. You can get everything from fat rhythm tones to a perfect lead tone just by using your guitar's volume knob and your right-hand attack.
Features 
Three knobs to control Volume, Gain and Tone
Die-cast aluminum cases for gig-worthy durability
Limited lifetime warranty
True bypass on/off switch
9-volt DC input
Made in the USA
MLA Pedals AC/OD - Music & Demo by A. Barrero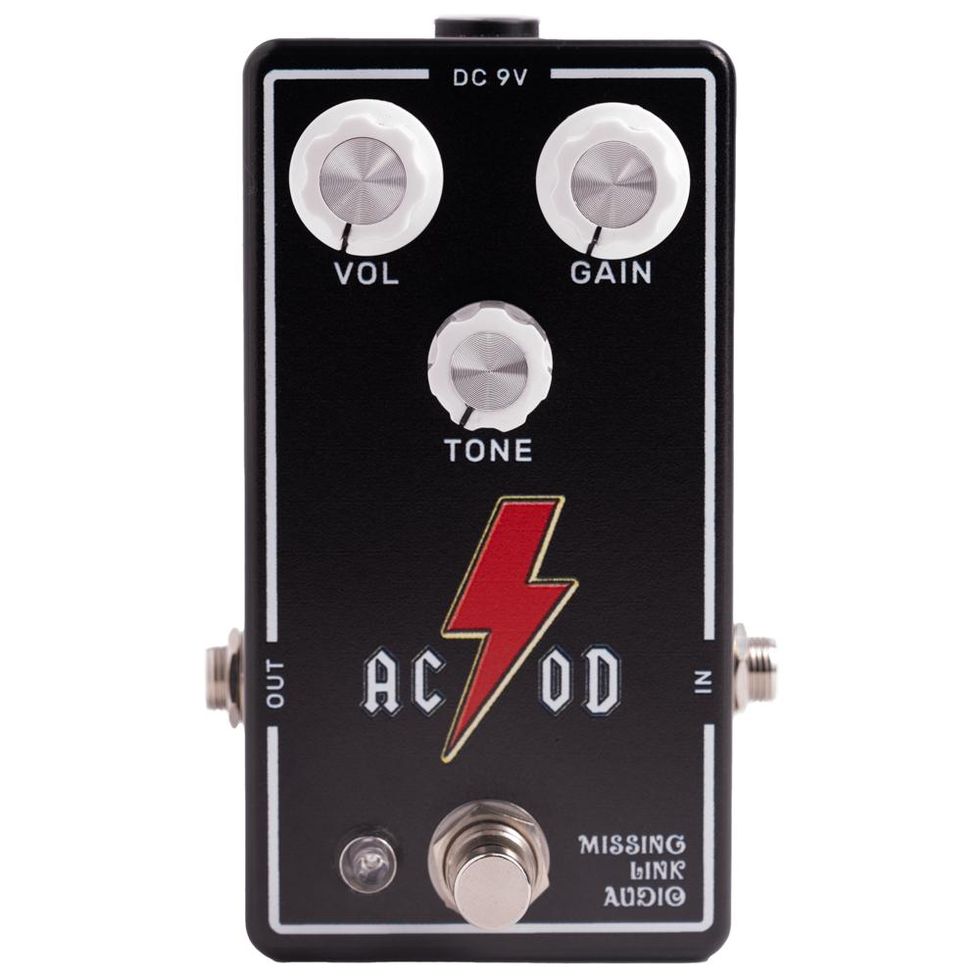 www.mlapedals.com.