Rig Rundown: Fall Out Boy
The multi-platinum pop-punk band talks about signature guitars and the latest lineup in their never-ending gear swap.
Premier Guitar met with Fall Out Boy's Patrick Stump, Joe Trohman and their techs Brian Diaz and Josh Newton before their sold-out show at The Woods Amphitheater at Fontanel just outside of Nashville on July 13, 2014.  Each FOB member loyally plays his own signature model, but amps and pedals are in nearly constant rotation.
Patrick Stump's Gear
Guitars
Patrick Stump tours with three Gretsch Electromatic CVT Patrick Stump Signature "Stump-O-Matic" guitars strung with Dean Markley NickelSteel Signature Series LTHB .010–.052. These sexy white beauties feature MegaTron pickups, Adjusto-Matic bridge, a killswitch, rotary switch, and a middle pickup blend. Tech Brian Diaz added a Hipshot Xtender tuner and DiMarzio clip guitar straps.
When not on his signature model, Stump plays his black Martin 000CXE acoustic, which utilizes a Fishman Presys + Preamp and Pickup.
Amps
Stump currently does it all with an Orange Dual Dark 100W guitar head, channel switching between the dirty A and clean B. He keeps an Orange Dark Terror as a backup, and runs the amps into an Orange PPC212 cabinet loaded with Celestion Vintage 30s. The cab is miked offstage with a Shure KSM32. This signal is combined with a direct signal that runs through a Palmer PGA-04 ADIG-LB to the front of house.
Effects
Patrick Stump goes for a fairly clean signal path. His guitar runs into a Shure UR4D wireless, a Whirlwind 4-way rack selector, an Ebtech Hum Eliminator then a Boss AC-3 Acoustic Simulator into the amp. His effects loop chain in the Orange runs into a Boss NS-2 Noise Suppressor and a Boss GE-7 Equalizer that both stay on all the time. Then the signal hits a Boss OC-3 Super Octave and a Boss RV-5 Digital Reverb. The pedals are powered by a T-Rex Fuel Tank Chameleon. Guitar tech Brian Diaz put the rig together and keeps it running.
Pete Wentz's Gear
Basses
Wentz tours with three Squier Pete Wentz Signature Precision Basses, which feature a bat/diamond 12th fret inlay and a single control for volume. Brian Diaz added Hipshot Xtender tuners, DiMarzio clip guitar straps, and Seymour Duncan Quarter Pound pickups.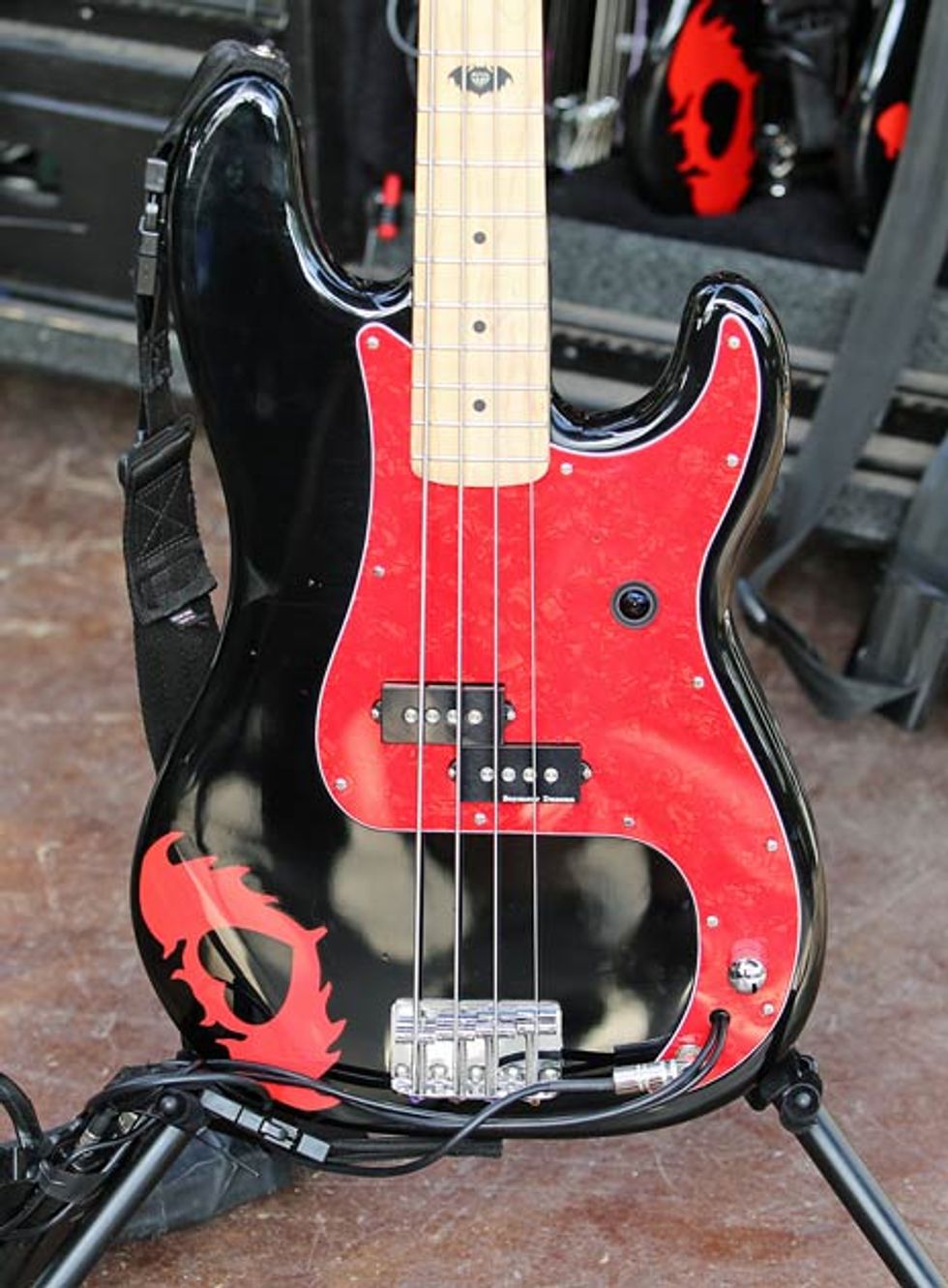 One of Wentz's Squiers has a GoPro camera built into the body with the lens mounted through the pickguard to send a live wireless video feed to FOB's video screens. 
Wentz also uses a Fender Custom Shop Pete Wentz P/J bass featuring a Hipshot Xtender, a Seymour Duncan Quarter Pound P-bass pickup in the neck position, a Seymour Duncan QP J-bass pickup in bridge position, a mother of pearl bat/diamond 12th fret inlay, flamed maple neck, string-through body, and vintage-style "reverse wind" tuners.
Amps and Effects
Wentz plugs his bass into a Shure UR4D wireless that goes into a Tech 21 SansAmp RBI bass preamp that runs directly to the monitors and front of house. The SansAmp's effects loop runs into a Boss OC-3 Super Octave. This gear lives in the rack that Wentz and Stump share. An abandoned Line 6 POD HD testifies to high gear turnover.
Joe Trohman's Gear
Guitars
Trohman tours with four of his Squier Joe Trohman Signature Telecasters—two are tuned standard, two are in dropped-D.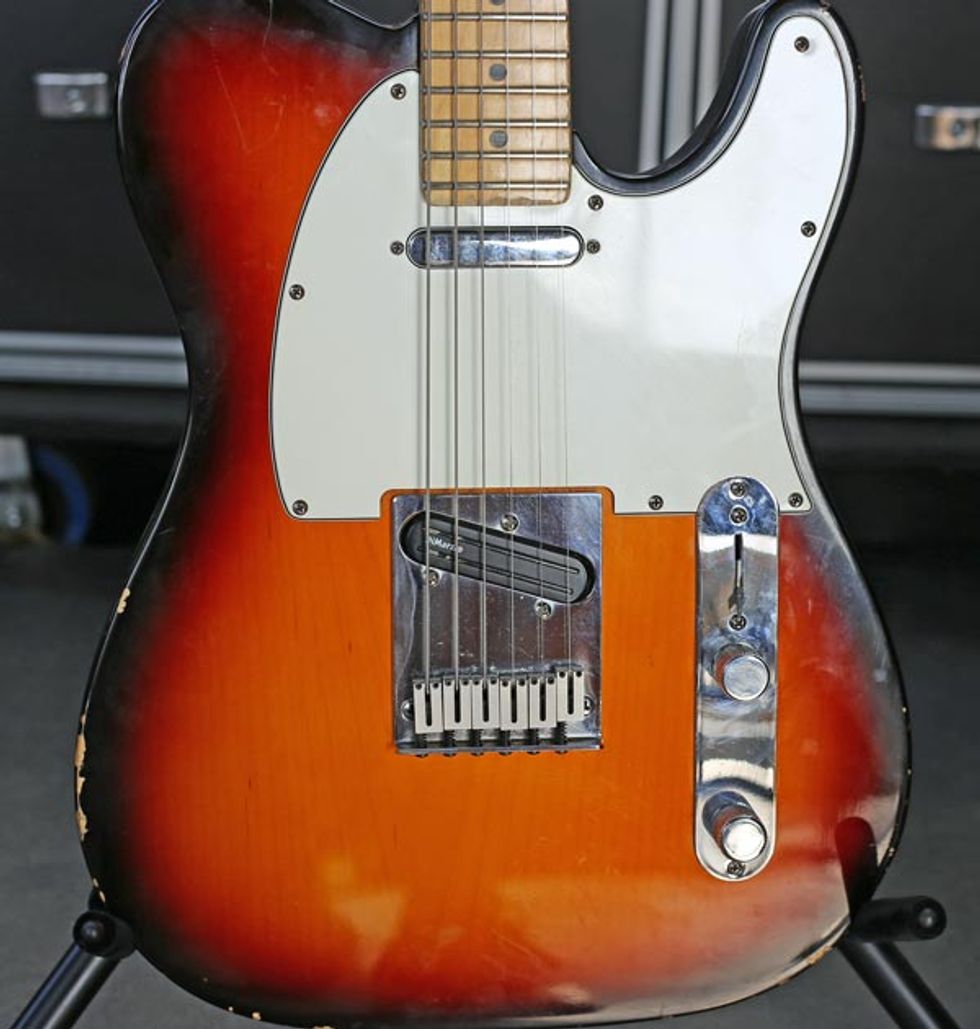 He also has a 1994 American Standard Fender Tele with a DiMarzio Fast Track in the bridge, a True Velvet in the neck, and Fender locking tuners.
When Trohman wants something feedback prone, he goes with his 2013 Fender Starcaster modded with Fender locking tuners.
Speaking of feedback, he also has a Gretsch G3150 Streamliner on the road.
And when he wants something a little more invisible, Trohman grabs his Electrical Guitar Company 2013 custom acrylic T-style with single-coils and Bigsby.
Amps
Trohman switches it up between an Orange Thunderverb 200, a Rockerverb 100, or, on the day we interviewed him, a Sunn Model T reissue. Trohman also keeps three cabinet options: an Orange PPC 2x12 and/or a 4x12 cab and/or Marshall model 1990 8x10 cabs (vintage and new custom shop).
Effects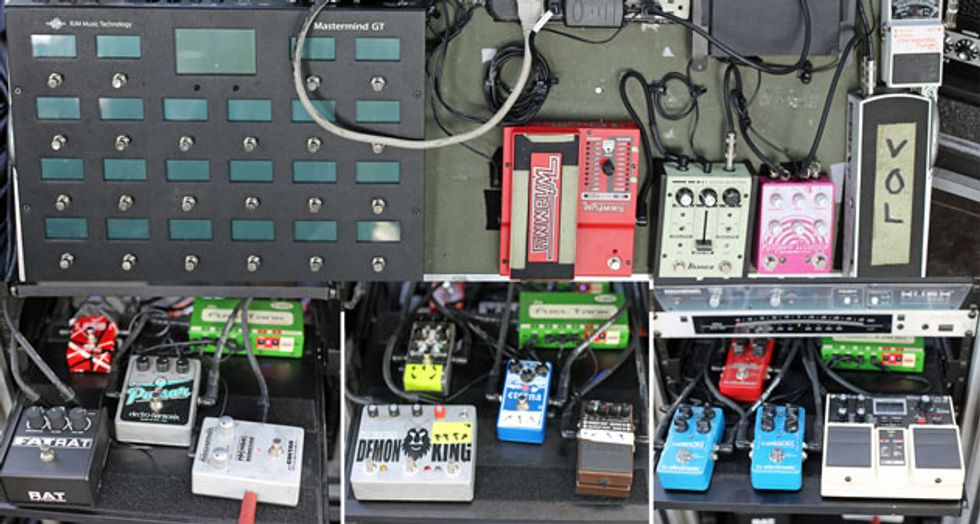 Whereas Stump goes for an unaffected tone, Trohman will occasionally build trippy walls of effected sounds. The signal goes from the guitar to a Shure ULXD4Q wireless, Whirlwind MultiSelector PRO then out to the pedalboard that contains: an Ernie Ball VP JR, a Boss TU-3, an EarthQuaker Devices Rainbow Machine, an Ibanez ES2 Echo Shifter delay, and a DigiTech Whammy 5th generation—all powered with a Voodoo Lab Pedal Power 2. This board also has the RJM Mastermind GT/22 on it. The signal comes back to the rack to the Rocktron HUSH Pro and RJM Gizmo loop switcher, which is programmed as follows:
Loop 1: Fuzzrocious Rat King
Loop 2: Catalinbread Dirty Little Secret
Loop 3: Boss OC-3 Super Octave
Loop 4: Mr. Black Eterna
Loop 5: TC Electronic Hall of Fame Reverb
Loop 6: TC Electronic Flashback (slap)
Loop 7: Boss DD20 Giga Delay (tape 225 ms)
Loop 8: TC Electronic Flashback (tape 666 ms) 
Loop 9: MXR EVH Phase 90
Loop 10: EHX Stereo Pulsar tremolo
Loop 11: ProCo Fat Rat