Rig Rundown: Roger Waters' The Wall Live
We were lucky enough to spend an afternoon behind the bricks of Roger Waters'' The Wall Live, chatting with guitarists Dave Kilminster, G.E. Smith, and Snowy White, along with techs Tim Myer and Colin Lyon.
Page 1: Snowy White - Page 2: GE Smith - Page 3: Dave Kilminster - Page 4: Roger Waters
PG's Rebecca Dirks, Jason Shadrick, and Tessa Jeffers spent an afternoon onstage at Roger Waters' The Wall Live tour. Check out our video Rig Rundowns with each of the guitarists on the show as well as Roger's tech. For closeups of all of the gear, check out our online photo gallery.
Snowy White

Guitars
White has had his main guitar, a 1957 Les Paul Goldtop, for 40 years. He says it's a "fantastic guitar, stays in tune, sings on every fret." Despite being a vintage instrument, White treats it like any workhorse guitar: If something needs changing, he'll do it. The guitar has been rewired, refretted, and has new tuners.
Amps
White uses a pair of newer Vox AC30s with Master Volume. He sets them for a little bit of breakup on the amp itself, but still with a fairly clean tone. He mostly uses one combo, but kicks in a second AC30 for solos and powerful rhythm work.
Pedals
White uses an Ernie Ball VP JR, Boss BD-3 Blues Driver for most of his distortion, a Boss OD-3 Overdrive in conjunction with his Boss GE-7 Graphic Equalizer to dial in what they call "Snowy's Note," a long-sustaining section of a solo that's tuned to the sweet spot based on the room each night, a Boss RT-20 Rotary Ensemble used as a chorus pedal to add thickness to solos, and a Line 6 M9 Stompbox Modeler used for echos and chorus. Also on the board is a Boss TU-2 Tuner and Voodoo Lab Pedal Power 2 Plus power supply. Off to the side of the board is a Boss PSM-5 power supply and master switch pedal (like all players in the show have), which is used to control the rackmounted delays.
Page 1: Snowy White - Page 2: GE Smith - Page 3: Dave Kilminster - Page 4: Roger Waters
GE Smith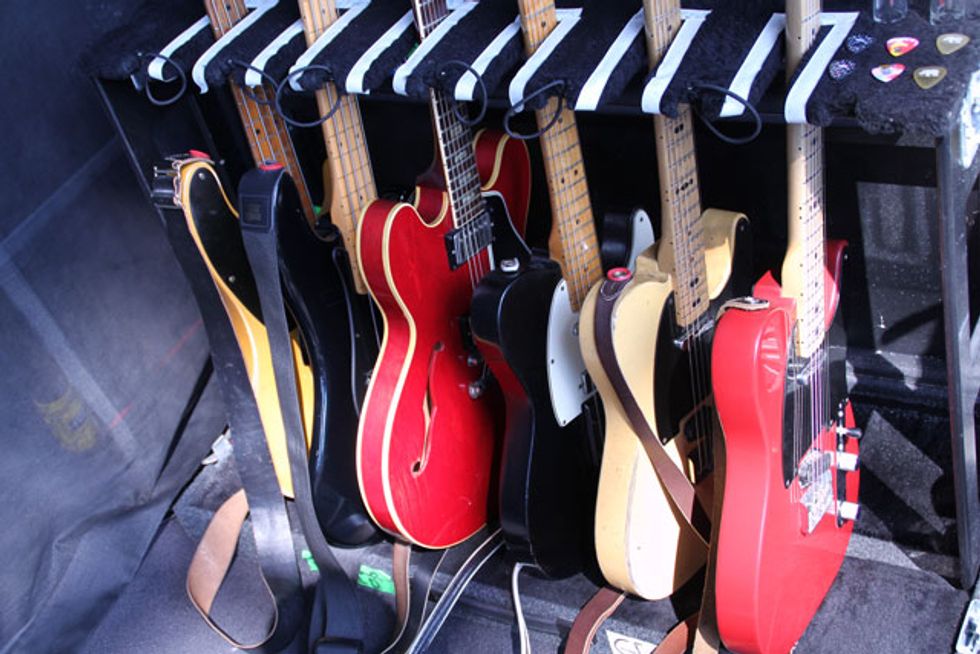 Guitars
In the guitar boat is an all-original 1951 Fender P-bass used for more song-oriented parts, a Fender fretless bass with Seymour Duncan pickups for "Hey You," a 1962 ES-335 that he's used throughout his career and is stock other than a refret, a "parts" Tele (with a '63 body and pickups, '68 neck, and an Epiphone mini-humbucker set closer to the bridge for a nasty in-between sound used for slide), and a prototype and production models of his Fender G.E. Smith Signature Telecaster. Not pictured is a stock black Fender Precision Bass used for front-of-stage songs, where all of the instruments must be black.
Amps
Smith uses a 50-watt Marshall head (the second is a backup), "set loud with no treble" through an old Mesa 4x12 with original speakers. The cabinet is configured with the top two speakers open-back and bottom two closed, which he likes because it sounds like two 2x12s.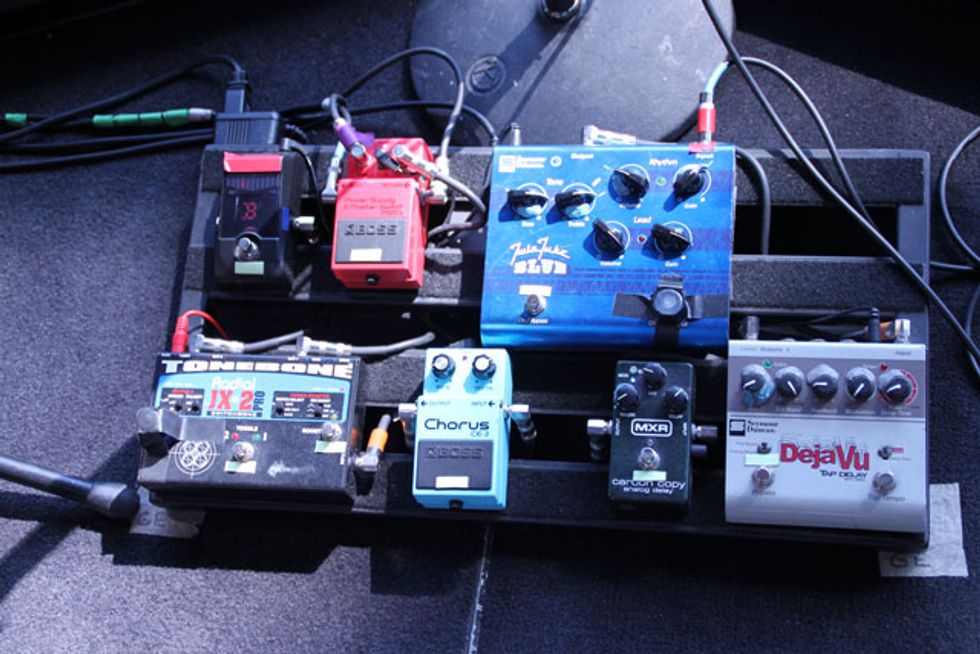 Pedals
Smith uses the Radial Tonebone JX-2 Pro as a clean boost, Boss CE-2 Chorus, MXR Carbon Copy Delay, Seymour Duncan Deja Vu delay, and Seymour Duncan Twin Tube Blue (set to Rhythm for lighter overdrive). He switches delays through the show depending upon the intensity needed. The Carbon Copy is used earlier on for its more organic, analog tone. He uses a Korg Pitchblack tuner for both guitar and bass, and like the other guitarists on the show, uses a Boss PSM-5 power supply and master switch to control the rackmounted TC Electronic delays for "Another Brick in the Wall."
Page 1: Snowy White - Page 2: GE Smith - Page 3: Dave Kilminster - Page 4: Roger Waters
Dave Kilminster

Guitars
Nicknamed "Rose," Kilminster's main guitar is used for most of the show's electric parts other than in "Hey You." It has a swamp ash body with a maple neck, a Seymour Duncan Custom bridge pickup, Suhr Fletcher Landau single-coils, and a Suhr tremolo and tuners which are now out of production.
Amps
Kilminster uses a duo of 50-watt Mercury amps. Brunetti added a wattage switch for him so he could run them at 20-watts, which Kilminster still describes as, "ridiculously loud." He EQs the amps fairly flat and uses both heads in stereo.


Pedals
Dave uses an Eventide TimeFactor, Boss CE-2 Chorus Ensemble, Boss NS-2 Noise Suppressor, Suhr Riot distortion, Wah, Ernie Ball VP JR, and Boss TU-2 Tuner, as well as a Boss PSM-5 power supply and master switch pedal, which is used to control the rackmounted delays.
Page 1: Snowy White - Page 2: GE Smith - Page 3: Dave Kilminster - Page 4: Roger Waters
Roger Waters

Basses
His main instrument since the 1970s, Waters uses this P-bass for all of his bass parts on the show. It's the model his signature model is based on. He uses Rotosound 66 strings. Waters keeps a clone of this guitar made by the Fender Custom Shop as a backup and he also has a clone with a rosewood neck that's used only for the front of the stage, where the instruments are supposed to be dark.
Amps
Waters uses an Ampeg SVT-6 Pro, with one spare, through three 4x10 cabs rewired to 8 ohms (two running with one spare). The same system is used throughout the Dark Side of the Moon and The Wall tours.
Effects
This is Waters' original Pete Cornish-built board that was built for him just before the original Wall album in 1980. It's kept in the back and controlled by his guitar tech. While he used to use the phaser and echo, he now primarily uses the Bassballs circuit as the delays are controlled via rackmounted TC Electronic units.