Seymour Duncan Unveils 8 New Pickup Models for 2010
Seymour Duncan has announced all-new pickup models for 2010, including new signature models for Slash, Yngwie Malmsteen and Mick Thomson.
Anaheim, CA
(January 12, 2010) -- Seymour Duncan has announced all-new pickup models for 2010, including new signature models for Slash, Yngwie Malmsteen and Mick Thomson. Here are the details on them all:
Alnico II Pro Slash
He is, by many accounts, history's all-time greatest guitar hero. With the ubiquitous top hat and shades, mop of black curls obscuring his face, and a blazing electric guitar tone blasting through a wall of amps, Slash epitomizes the very reasons we first air-strummed a low-slung tennis racquet in the privacy of our bedroom. He is the seminal rock guitar god. And for over three decades he has relied on Seymour Duncan pickups for his guitar tone. Now Seymour Duncan honors their guitar hero with his first signature pickup, the Alnico II Pro Slash.
The tone of this pickup will be familiar to all who have heard Slash's recorded tone. Though he has dozens of amazing guitars, since 1986 Slash has used pretty much one very special Les Paul® for all recording. The Alnico II Pro Slash was designed to give Slash's other
Les Paul
guitars–what he calls his "live guitars"–the exact tone of this legendary instrument.
Like the standard APH-1 Alnico II Pro, which he has used for years, the Slash model uses an Alnico 2 magnet. However, the Alnico II Pro Slash is wound with just enough boosted output to push a stock Les Paul toward the sweet sustain and rude crunch that characterizes Slash's sound as heard on hundreds of recordings. In addition, it comes with some of the same appointments found on the Duncan pickups in Slash's '86 recording axe, including single-conductor cable, long-legged bottom plate, and wooden spacer. For the true fan, or the player who wants to capture Slash's recorded tone, this pickup is a critical part of the tone chain.
While designed for use in a Les Paul, this pickup works well in any well-balanced humbucker-equipped guitar including hollow and semi-hollow body guitars. The Slash aficionado will use a pair of these pickups to capture that unmistakable tone. This pickup matches well with Seymour Duncan's SFX-04 Twin Tube Blue all-tube overdrive-distortion stompbox for singing leads and authoritative chording.
The Alnico II Pro Slash is hand built in Seymour Duncan's Santa Barbara, California workshop and including all mounting hardware.
Yngwie J. Malmsteen STK-S10 YJM Fury
We've all experienced it. It never subsides. When Yngwie said he wanted to take his tone to the next level, we listened. No other guitarist unleashes the fury like Yngwie J. Malmsteen. His influence is undeniable. His technique is unparalleled. His pickups? Seymour Duncan. Yngwie needs a pickup that responds to his unique playing style. After hundreds of hours of intense tone pursuit, their labor or love yielded the STK-S10 YJM Fury.
Beginning with Seymour's original Stack pickup design, these hum-canceling single-coil-sized pickups were designed to meet Yngwie's personal tonal desires. The YJM series includes a dedicated bridge pickup and separate neck/middle pickup. It's recommended for neo-classical, shred, hard rock, power metal, and heavy metal. Dedicated bridge and neck/middle pickups represent two highly customized voices. In the bridge position, Yngwie wanted more aggression, more power. The neck pickup needed to balance Yngwie's fluid left hand technique with his broad mix of right hand pick attack. The result is a pickup that's sweet and fluid, but with more articulation and responsiveness to dynamics.
The YJM Fury is available with white, off-white, or black covers and can directly retrofit most single-coil equipped guitars. It also comes pre-installed in the signature series Fender® YJM Strat® guitar but works well with any guitar that utilizes traditional single-coil-size Strat pickups.
Blackouts AHB-3 Thomson EMTY
Seymour Duncan announces the release of the latest addition to the hugely popular Blackouts
Humbucker
series; the Blackouts AHB-3 Thomson EMTY. Like its predecessors (The AHB-1 and AHB-2), the Blackouts AHB-3 EMTY provides distinctive, screaming metal tones, packing a serious mid-range punch, thicker, darker chords than other humbuckers and hard-hitting driving leads. The 9-volt active Blackouts are designed specifically for more aggressive playing styles including players using extreme low tunings. The EMTY takes it a step further, created to meet Mick Thomson's personal specs and metal desires. Mick asked for tighter bottom, and more searing top end cut, and Seymour Duncan delivered.
The AHB series conveys a less compressed tone, with a more extended frequency response helping to cancel hum by using balanced inputs. Blackouts are up to 14dB quieter than any of the competitions', while producing more lows, more highs, and more output. Simply put, Blackouts have more tone than other active pickups. And players have noticed the benefits of the reduced hum, especially during recording.
Thomson was already an avid fan of the Blackouts when he met Seymour Duncan Head of Artist Relations, Evan Skopp during a discreet backstage meeting at the 2008 Loud Park festival in Japan. Mick stayed involved every step of the way from the precise wiring configuration to the logo and printing on the pickup including his renowned number seven imprinted right on the side of the casing. Now he depends on EMTY to execute his completely psychosocial tone that defines the Slipknot sound; because to play extreme metal, you need extreme metal tone.
AHB-3 Blackouts EMTY are available as Mick's two-humbucker set, or in individual neck and bridge models to mix and match with other Blackouts and Livewires Classic II active pickups. All versions come with all necessary mounting hardware, including pots, jack, and a battery clip. For players with active pickups already installed, the EMTY can plug right into the quick connection harness, making it a snap to unplug the old pickup and plug in the new EMTY.
SHPR-2b P-Rails Hot
For guitar players who want it all, the ground breaking design of Seymour Duncan P-Rails, delivered three distinct tonal voices in a single pickup: fat humbucker, beefy P-90, and traditional single coil Strat tone.
Now, Seymour Duncan introduces the SHPR-2b P-Rails Hot, delivering the same tonal flexibility as its predecessor, but specifically designed to provide a punchier, more aggressive tone in the bridge position. The P-Rails Hot features a beefed up coil wind and 2 powerful Alnico 8 magnets, which rival ceramic magnets in power but maintain the sweet sustain Alnico is known for. The P-90 coil in the P-Rails Hot is wound with a special wire type, selected for output and clarity. This P-90 is loud! The rail mode is hotter thanks to the power of the Alnico 8, and the series humbucker mode is huge!
P-Rails Hot are a direct humbucker retrofit and can be used in any guitar set up for a traditional humbucker or Trembucker spacing. To maximize P-Rails Hot's unique splitting capabilities and get the most tonal versatility, it is recommended for use in tandem with a standard P-Rails in the neck position with a two-way switch (push-pull or mini-toggle) to get both humbucker and P-90 tones. Use a three way switch (DPDT on-off-on) to bring in the single coil Rail tones. Or for the ultimate in versatility, use Seymour Duncan's Triple Shot switching mounting ring.
SSL-1 Vintage Staggered 7-String & SSL-5 Custom Staggered 7-String
The Seymour Duncan Custom Shop has been custom-building 7-string electric pickups upon request for years. Now, to keep up with the demand for 7-string pickups, the company is introducing production versions of some of their most popular models, including the SSL-1 Vintage Staggered 7-string and the SSL-5 Custom Staggered 7-string, specifically designed with a modern stagger for the needs of the 7-string player.
The Vintage Staggered 7-string delivers a deep punchy tone with bright sparkle for single-coil strat® guitars, recommended for country, pop, surf, rockabilly, blues, ska, classic rock and any player that wants to marry a vintage sound with the new era of 7-stringed guitars. Complete with hand-ground Alnico 5 magnets, it compliments a humbucker like the SH-4 JB 7-string in the bridge position, along with a neck pickup like the SH-1n '59 7-string. Add an all-tube overdrive like the Seymour Duncan SFX-11 Twin Tube Blue for the ultimate tone.
The Custom Staggered 7-string pickup provides a distinct vintage tone with greater sustain and full sounding harmonics that cuts through the mix, but cleans up nicely when you back off the volume. It's 6-string counterpart has been championed by countless artists over its long history for its strong, overwound Strat tone, most recently making an appearance on Fender's David Gilmour Signature Series Strat. Pair this pickup with a high output bridge pickup like the SH-10 Full Shred 7-string, and a moderate output neck pickup like the SH-2n Jazz 7-string, for great tone when playing Texas blues rock, classic rock and heavy rock.
Both pickups come with a black cover and are produced at the Seymour Duncan factory in Santa Barbara California.
SH-10 Full Shred 7-string and SH-14 Custom 5 7-String humbucker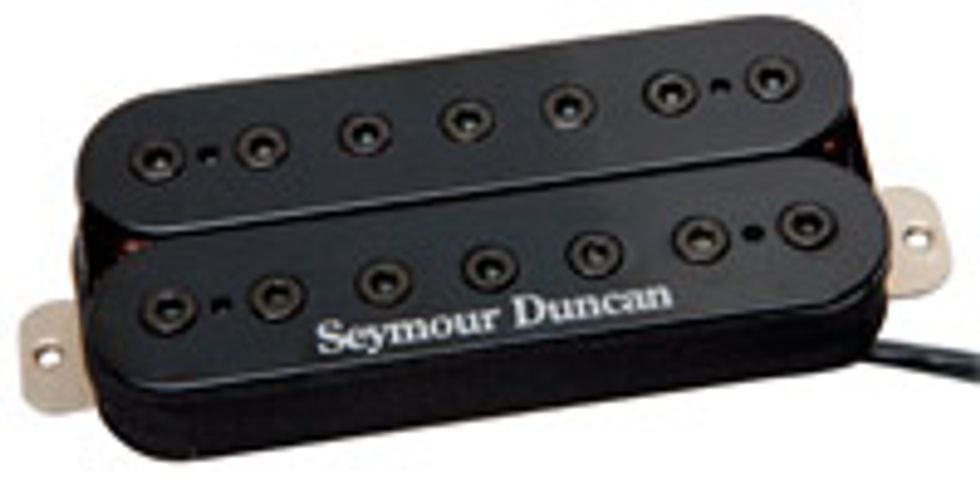 Seymour Duncan is announcing the release of several of their most popular pick-ups, specifically re-designed to capture the deeper tones and wider range of sound found in the new generation of seven-stringed instruments, including the SH-10 Full Shred 7-string and the SH-14 Custom 5 7-String humbucker.
The 6-string Custom 5 was developed in part by contributors on the Seymour Duncan web user group forum who replaced the magnets in their Custom or Custom Custom with Alnico 5 magnets. The versatile Custom 5 7-string is a moderate to high output humbucker, perfect for pop, country, blues, classic rock and heavy rock with its deeper bottom end and expanded output. Recommended for the bridge position, add an SH-1n 7-string in the neck position for real deal P.A.F. tones.
Shredders and metal-heads will elate in the high output that the Full Shred 7-string offers. For years, the Seymour Duncan Full Shred has been revered for its top end clarity, crisp, well defined low end, and aggressive midrange, great for capturing clear, tight tone during heavy rhythms and speed riffs. Two symmetrical coils and short Allen head pole pieces produce a more intense, focused magnetic field while the Alnico 5 magnet maintains an organic attack and feel. The Full Shred is perfect for rock, heavy metal, speed metal, and any music featuring fast, aggressive, solo playing. It comes with a four-conductor hookup cable for various switching options, in both bridge and neck versions, and matches well with the SFX-04 Twin Tube Mayhem for ultimate heaviness.
For more information:
Seymour Duncan