Bogner's Alchemist spins your tone into gold.
-Advertisement-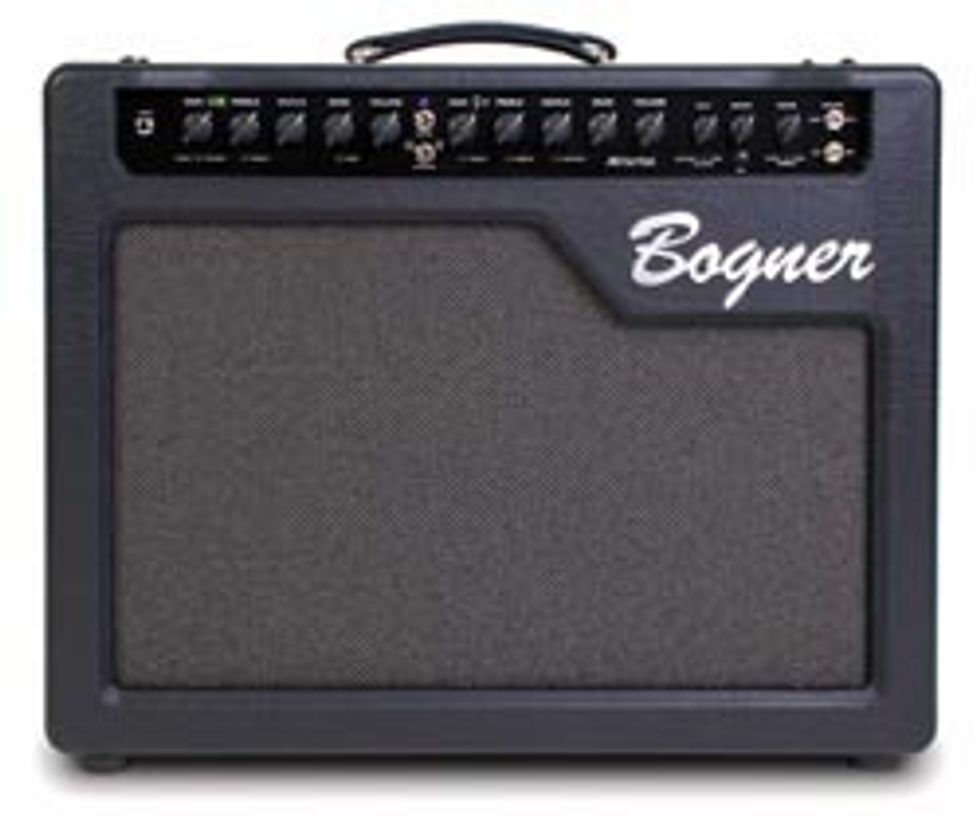 After years of dedicated and scrupulous attention to detail in his homeland of Germany, Reinhold Bogner made the life-changing move to Los Angeles in 1989. Reinhold quickly made a name for himself with his original take on classic guitar tone. On the heels of repairing and modifying amplifiers for Steve Stevens, Allan Holdsworth, and Steve Vai, he was challenged with overhauling and revitalizing Eddie Van Halen's #1 Marshall Plexi. His success with Eddie and others helped vault the status of Bogner Amplification.
Bogner amps are all built on the same principles; quality craftsmanship through sophisticated arrangement of simple circuits, currents, metal and wood. The end result is a versatile amp with numerous effects and tonal options, not to mention meticulous controls. All of this combined allows players ultimate authority over their sound. And the Alchemist is no different.
The new Alchemist features a matched pair of 6L6 power tubes and five 12AX7/ ECC83 tubes in the preamp. Also included on all Alchemist models are two channels; Gold—channel one—and Mercury—channel two. The Gold (left) features a clean start and gears up simmering tones as the CRUNCH switch is enabled. The Crunch channel breaks up like a Tweed, but has bottom end similar to a Hiwatt®—a great rhythm or blues channel. The Mercury picks up from there, offering crunchier rhythms and lead tones from the famous white-hot Bogner gain. Both channels have knobs for Gain, Treble, Middle, Bass and Volume so you customize each channel.
Options include:
1x12 or 2x12 open-back Combo, Head, 2x12 open-back Extension Cabinet
Switchable 20-watt variac mode
Crunch mode and Deep switch—adds low mid depth and bottom end (channel 1)
Mid Shift—allows for more intricate tone adjustments at varying volumes (channel 2)
Punch Switch—switches between Fenderstyle and British-flavored tones (channel 2)
Bright Switch for both channels
Shared in parallel; Reverb Type, Reverb Level, Delay Type, Delay Level, Delay Repeats (Feedback), Tap Tempo
Premium Celestion® speakers
Four-button footswitch included: Channel Select, Boost, Delay, Reverb
The innovative Delay setting features three different modes: Ducking, Analog and Tape. The Ducking is a digital delay. The mix level automatically responds to your playing volume, reducing the level of the delay while you are playing, and increasing the level when you stop. The Analog is a model of a classic analog delay pedal, providing a classically warm, personality-rich sound with subtle modulation. The Tape provides classic darkening echoes, and the organic variations typical of classic tape echo units. Also, the built-in Reverb effects feature studio grade digital processing. The 3-position switch has three choices: Plate, Hall and Spring.
Whether you're looking for some ear-splitting crunch, a sweet touch of the Brown sound or classic cleans of a Fender amp, it all can be found under the hood of Bogner's latest creation, the Alchemist. Like all its other predecessors, each Alchemist has Reinhold's stamp of approval and signature configurations. With all of his sweat, time and hard work invested in the project, Reinhold can only wish one thing upon plugging into his latest amplifier.
"I hope it will inspire you."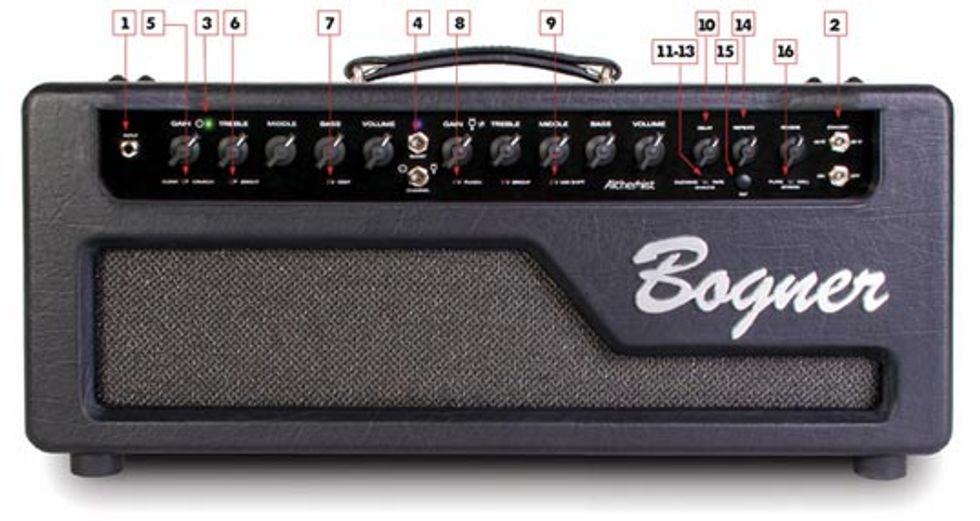 1. ¼" input

2. Power Switches – The upper switch chooses the full power (40W) or low power (20W) mode, and sets the amp to standby (power on, but power amp is not driving the speaker). The lower switch turns the amp on/off.

3. Gain Lights – When the Footswitch is enabled, these easy to see LED lights will easily distinguish which Channel you're on.

4. Boost – (Gold) this will slightly increase your volume, but thicken your tone with mid-low increases. (Mercury) fattens your tone and pushes the gain without significantly changing volume.

5. Clean/Crunch – (Gold) Clean mode stays pretty clean with an open sound Fender® Amps. The Crunch channel breaks up like a Tweed, but has bottom end for a great rhythm or blues channel.

6. Bright– Both channels have their own bright switch, to customize the channel for your guitar.

7. Deep – Adds low mid depth and bottom end to the Gold (left) channel.

8. Punch – Switched to the left, this will give midgain rhythm and lead tones with a Fender®-style tone. Switch it right for more of a British, high gain flavor.

9. Mid Shift –Switched to the left, for more focused tone adjustment from the tone knobs. Switched to the right, this broadens the effect of those controls, which can be especially effective at lower volumes.

10. Delay – The delay signal is applied in parallel to your dry signal, so your dry signal never goes through the internal effect unit.

11. Ducking – This is a digital delay. The mix level automatically responds to your playing volume, reducing the level of the delay while you are playing, and increasing the level when you stop.

12. Analog – This is a model of a classic analog delay pedal, providing a classically warm, personality-rich sound with subtle modulation.

13. Tape – This is a model that provides classic darkening echoes, and the organic variations typical of classic tape.

14. Repeats – This knob sets the feedback, which determines how many repeats of the delay you'll hear.

15. Tap – Tap two or more times on this button to set the delay time to match the speed/tempo that you tapped.

16. Reverb – The built-in reverb effects feature studio-grade digital processing. The 3-position switch chooses between Plate, Hall and Spring reverb
---
Bogner
www.bogneramplification.com