Actor H. Jon Benjamin recorded a jazz album wherein he played piano, but he doesn't know how to play piano. Let's explore the musical conundrum of skill versus emotion.
"The guitar is the easiest instrument to play and the hardest to play well." —Andrés Segovia
You probably know H. Jon Benjamin's voice. He's the voice actor for Archer in the animated sitcom Archer, as well as Bob in Bob's Burgers, and Carl in Family Guy. (Okay, so I watch a lot of cartoons). In 2015, Benjamin recorded a jazz album, Well, I Should Have…, with some true jazzers—Scott Kreitzer on sax, David Finck on bass, Jonathan Peretz on drums—and Benjamin on piano. Here's the twist: Benjamin does not play piano. Nor is he a fan of jazz. He just went for it, and Sub Pop released it.
Admittedly, I couldn't make it through the entire album, but I did enjoy a two-song serving. Most of the time, Benjamin sounds like a not particularly gifted 13-month-old child in a room with a piano and little else to entertain him. His timing is … well … time-less: a bit like tennis shoes in a dryer. His note choice is arbitrary, there's no sense of melody or dynamics, but every now and then, he plays something that sounds like music, usually when he gave it some space. Regardless, the band was swinging, so his pocketless nonsense sometimes kind-of worked. Honestly, I've been lost at a gig or a session and sounded about as musical as Benjamin until I recovered. As you might imagine, the album angered a lot of jazzers (who kind of seem a little angry anyway), but if the point of jazz is to push boundaries and transcend norms in a spirit of true artistic experimentation—mission accomplished.
Who hasn't listened to jazz and wondered, "Did they mean to do that?" Throughout Thelonious Monk's entire career, there were people who saw him, heard him, and even hired him, who thought Monk didn't know how to play piano; as if his entire career was a ruse, a deep fake. With his fingers splayed out and attacking the keys in this unorthodox method, all that dissonance and weirdness combined with mental illness made Monk's music a bit difficult to digest. But that's art: genius working on the border of the frontier of new ideas is rarely recognized.
"As you might imagine, the album angered a lot of jazzers (who often seem a little angry anyway), but if the point of jazz is to push boundaries and transcend norms in a spirit of true artistic experimentation, mission accomplished."
On the other hand, you don't have to know what you're doing to make good, or even great music. Even a cat walking across a piano can play something cool, or creepy, and almost always engaging. Even when a musician really knows what they're doing, there are often bits of music that go beyond what the player is capable of crafting intentionally. That's part of music's magic—play long enough, and your fingers will unconsciously stumble into a cool riff or melody. It may be dumb luck, or it may be that the player is channeling some benevolent spirit of music who sings through them.
For an example of channeling, check out Daniel Lanois. He's produced and played on a handful of albums that are on Rolling Stone's "500 Greatest Albums of all Time" list. When I watch Lanois play guitar or pedal steel, I get the feeling he has no idea where he's going, or what he's playing. It feels like he's connected to something spiritual, and the result is something between a prayer and a howl.
That's why those Lanois albums hold up so well. If a hired-gun guitar virtuoso played those sessions, those parts probably wouldn't have said as much. Most studio aces would play something they've played before. It would sound great, but probably wouldn't be as effective as Lanois' playing. If you know your instrument extremely well and work out a clever part, you run the risk of thinking your way out of the emotion. It happens to great players regularly, so maybe it's hard to let the muse drive the ship when you're a highly skilled captain. Kurt Cobain was not a technically gifted guitarist, but Nirvana's body of work expressed something—angst, depression, alienation—that millions of people immediately related to, so much that Nevermind single-handedly changed popular music. At a time when popular music was "Nothin' but a Good Time," big, teased hair, guy-liner, and garish colors, Cobain didn't shy away from dealing with negative emotions and the challenges of life. In fact, he embraced it and connected with the masses.
"But that's art: Genius working on the border of the frontier of new ideas is rarely recognized."
Music does not discriminate. It can be created by anybody: geniuses, idiots, children, or senile old people with one foot in the grave. There are no sure things. You can spend a lifetime dedicated to creating music, become a brilliant musician, and still occasionally sound like you have no idea what you're doing. As blues great Coco Montoya told me during his Rig Rundown, "Sometimes you get Coco, sometimes you get caca."
Photo by Julia Marie Naglestad
After seven albums with her trio, the avant-garde Norwegian guitarist branches out and collaborates with the Trondheim Jazz Orchestra on a concept album, Maternity Beat, which explores themes of empathy and parenthood, inspired by displaced persons fleeing war.
For a stiff contraption of metal and wood, the guitar can convey an extraordinary range of human emotions. Combine it with an 11-piece ensemble and the options expand like a flower. Norway's Hedvig Mollestad, her blonde Gibson ES-335 in hand, revels in these myriad possibilities on her latest album Maternity Beat, a commissioned project with the Trondheim Jazz Orchestra. (Previous TJO guest collaborators include Chick Corea and Joshua Redman—not too shabby.)
It's a logical progression. Over the course of seven albums for Rune Grammofon since 2011, the Oslo-based Mollestad remained focused on the decidedly rock-edged sound of the Hedvig Mollestad Trio, with Ellen Brekken on bass and Ivar Loe Bjørnstad on drums. Then came a shift in 2020, which led to the release of two solo albums, Ekhidna and Tempest Revisited (2021), also for Rune, that changed the sonic equation.
Instead of electric bass, Mollestad recruited two keyboardists for Ekhidna and added trumpet. On Tempest Revisited, the lineup grew to include three saxophonists and two drummers. She may not have known it right away, but she was laying the foundation for Maternity Beat and the expanded sound world made possible by the TJO.
Hedvig Mollestad & Trondheim Jazz Orchestra - All Flights Cancelled
Part of the catalyst was motherhood and the huge personal and professional changes it can bring. "My first child was born in 2015 and the second in 2017," she explains. But more than this, it was the plight of migrants, including many children, during this same period that triggered Mollestad's artistic response. "At that time, it was mostly people fleeing the Syrian war," she observes, "and a lot of them came to Norway. They were treated in a harsh manner, picked up in the middle of the night and driven up north where the weather was minus 40. It was so inhumane. This was happening while my children were very small, and it had a big impact on me."
The disconnect between this hardship and her own relative comfort proved jarring for Mollestad and others in her circle, and it prompted a search for new modes of expression. "You go around in your perfect everyday mood, happy to play with your children while people are experiencing real traumas so close to us. I wasn't doing anything in particular, except thinking about it. So, it made me wonder: What is caring for other people? What is it that makes us care? Do we have to be parents? What does it take to care for another's child? The title
Maternity Beat
grasps at our only common experience, that we are all born from someone. It's not an homage to perfect parenting or motherhood, but it comes from an experience of deep caring, and a kind of awakening on the question of what makes us care, what makes us act."
"It's so dangerous to play in a band with Ståle because he's such a box of extreme surprises and wonderfulness that you really have to step up and get your game on to match what he's doing."
To convey any of this, Mollestad realized, she needed words. And so, as a first, she wrote lyrics. More than sung melodies, they are mainly short spoken-word passages voiced by Mai Elise Solberg and Ingebjørg Loe Bjørnstad. At times the two also harmonize wordless melodies as part of the orchestra (joined by Mollestad herself on the culminating epic "Maternity Suite"). "Is there a boat on the horizon?" they intone on the album's leadoff track. "With mothers and children and fathers? … / Life is all they bring / Life is all we bring."
It wasn't just the heightened turmoil of this period that led Mollestad away from the direction of her trio. "I'd always been true to this guitar-only concept," she says, "but I found myself wanting to break it up a little more." This didn't necessarily mean downplaying the guitar, but rather featuring it in different settings to explore its capabilities more fully. In this respect, she mirrors the influence of a major role model, veteran ECM recording artist Terje Rypdal.
Hedvig Mollestad's Gear
Mollestad uses various Fender amps on tour, but her go-to setup is an early-'70s Fender Dual Showman Reverb atop a 2x15 cabinet.
Photo by Julia Marie Naglestad
Guitars
1988 Gibson ES-335 Showcase Edition (modified with'57 Classic pickups, Bigsby tremolo, gold hardware)
1970 Gibson ES-335 (for "On the Horizon, Part 2")
Gibson ES-345
Amps
Close to home:
Fender Dual Showman Reverb, 2x15 cabinet (approx. 1972)
For the road (options requested for backline):
Vintage Fender Super Reverb
Fender Bassman with 4x10 cabinet
Fender Deluxe Reverb
Orange Rockerverb 100 MKIII
Effects
EarthQuaker Palisades V2 Overdrive
Vulk Audio Germanium Fuzz
Boss TU-3 Chromatic Tuner
Moog Moogerfooger
Empress Superdelay
Boss DD-7 Digital Delay
Ernie Ball volume pedal
Roland EV-5 Expression Pedal
Strings and Picks
Elixir or Ernie Ball, .011–.048
Dunlop 1.0 mm (default)
Dunlop Jazz III 3 mm (for jazz)
Dunlop .73 mm (for strumming)
One priority was moving away from electric bass—and yet Brekken, who had always doubled on upright bass with Mollestad's trio for the more jazz-oriented numbers, had made herself indispensable enough to get hired on upright for Maternity Beat. "It's easy for a guitarist to play with bass guitar," Mollestad maintains. "It's the same kind of riffing, the same kind of fingering, and it's beautiful, but I wanted to move away from that, which is why I first chose the double keyboards on Ekhidna. But I still needed Ellen's presence on Maternity Beat. Her sound is so full, and her beat is so concise and steady, and I really needed her energy. It was also nice to involve her in such a personal project because we're close friends."
On keyboards, Mollestad brought in the formidable Ståle Storløkken, from the influential electro-acoustic improvising quartet Supersilent. Storløkken's toolkit includes otherworldly synths, warm Rhodes textures and a raw, earthy Hammond organ that can recall Jan Hammer with John Abercrombie on Timeless (or perhaps Larry Young with the Tony Williams Lifetime).
When she spoke to Premier Guitar, Mollestad was on the road with Storløkken as part of a new trio called Weejuns (a play on "Norwegians"). "It's so dangerous to play in a band with Ståle," she says, "because he's such a box of extreme surprises and wonderfulness that you really have to step up and get your game on to match what he's doing. There are so many beautiful details coming out and he's so musical. You can't dwell on your choices when you play with him, you just have to act."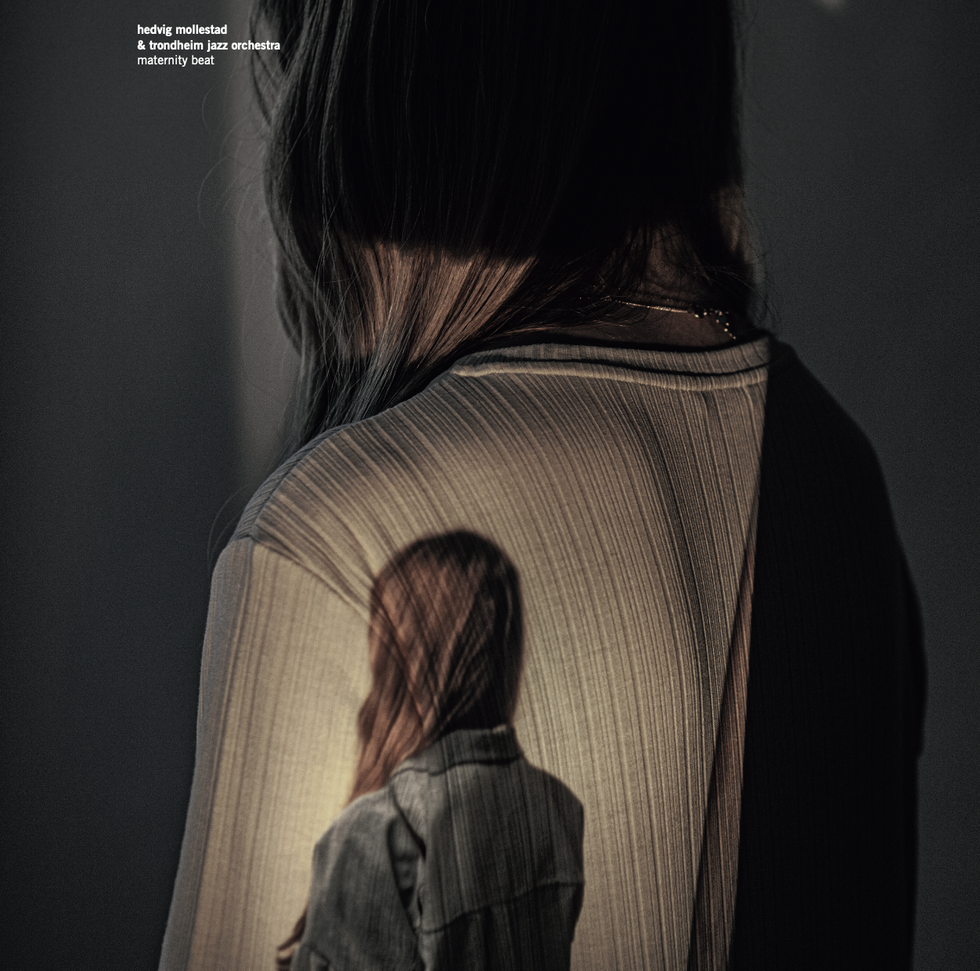 Hedvig Mollestad's Maternity Beat is a collab with the Trondheim Jazz Orchestra. Mollestad was moved by the plights of refugees and wanted to explore themes of empathy and how that relates to parenthood.
While Maternity Beat is a departure, one thing that hasn't changed for Mollestad is her main axe, the semi-hollow ES-335, chosen precisely for its versatility in jazz and rock settings. That plus vintage Fender amplification and a pedalboard full of fuzztones and delays keeps Mollestad in her happy place. "I need my tuner," she clarifies, citing fairly extensive use of the Bigsby tremolo arm, which can wreak havoc during a set. "Also, with the trio there are songs where we have to tune to drop D in the middle of a song. In 'Leo Flash' Return to the Underworld,' for example, we have to retune on the last drum break."
In aesthetic terms, Mollestad wanted her encounter with the TJO to depart from a mainstream big band sound. To that end, she enlisted not only Storløkken but violinist Adrian Løseth Waade and flutist Trine Knutsen as prominent melodic voices to supplement the guitar, two saxophones, and trumpet. There are complex, meticulously-notated lines and counterpoint but also room for the breath and collective release of improvisation. Elements of chamber music, prog rock, and fusion intermingle as Brekken, drummer Torstein Lofthus, and percussionist Ingvald André Vassbø lay a robust rhythmic foundation.
"You go around in your perfect everyday mood, happy to play with your children, while people are experiencing real traumas so close to us."
Mollestad's guitar is a shapeshifting constellation of sound, from the crunchy overdriven speed-riff of "On the Horizon, Part 2" to the fractured, echoing wails of the markedly dissonant, slow-grinding "Do Re Mi Ma Ma." Her glassy, expansive chording meshes with Storløkken's eerie melodies in a marvelous five-minute duet that opens the title track, before a transition to some of the richest ensemble orchestration on the album. And on "Maternity Suite," she goes full-on arena rock, with big anthemic chords that give way to a striking and truly imaginative flourish: a unison passage for fuzz guitar and flute.
"All Flights Cancelled" is an outlier, a song conceived for (and recorded by) Mollestad's trio but reworked for Maternity Beat as the one track without the full TJO ensemble. "I felt that we really needed a combo piece," she explains. "The album starts with dark, heavy emotional stuff and then this song is a little break in the middle, a fun song to play, focusing on Ståle with [Torstein and Ingvald] both playing drum sets."
Mollestad switches up her picks depending on what she's playing. Her default is Dunlop 1 .0 mm, but she'll use a Jazz III for jazz runs, and a .73 mm pick for strumming.
Photo by Arne Haug
Amid the lyrical guitar balladry and lush ensemble adornment of "Her Own Shape," the voices return, reciting words on what Mollestad calls parenthood's "extreme gift and responsibility." "My cell within me / Will split to become larger / Part to become stronger," they speak about watching one's offspring separate and blossom.
"It's so strong and sad at the same time," Mollestad says, "because they will always be your biggest concern and you will carry it with you everywhere. At the same time, they're here to live their own life. And they are perfect as they are. You don't have to interfere at all because they're the most equipped to be perfect people. You just have to be yourself because that is what they need from you."
But how to get through those difficult moments? On "Little Lucid Demons/Alfons" Mollestad recommends a way forward. In unison and with impeccable timing, Solberg and Bjørnstad offer a staccato pep talk of sorts for when the kids "pull your hair for you, and paint it gray." Think of everything, they suggest, in terms of music:
look for swing
look for flow
look for beat
and then
take it away.
Hedvig Mollestad Trio - Beastie, Beastie (Live)
There's more in Corona than a slice of lime. The California city is also the home of Fender's Custom Shop, and PG's John Bohlinger, with our crack video team of Chris Kies and Perry Bean, descended on the shop recently for a different kind of rundown.
The tour starts with master builder Andy Hicks, who recount his CV, including a stint in the Gretsch Custom Shop, where he built the Malcolm Young 1963 Jet Firebird G6131 limited edition. At Fender, he leads a tour through the company's metal shop, which includes a press installed by Leo Fender. Saddles, pickup bobbins, shielding, bridge plates … check. You can watch a CNC machine cut Strat pickguards, and then stop in on Josefina Campos, perhaps Fender's most famed living pickup maker, with 31 years of experience. Campos' pickups are destined for Master Built guitars. How do you know if you've got a Campos pickup? She signs and dates each one. At Fender's wood mill, where both the Fender USA and Custom Shop sawing gets done, you see alder, ash, and maple blanks, plus rosewood for fretboards. Learn about the "Golden Neck," and see how Custom Shop necks get hand shaped. In Custom Shop final assembly, everything comes together. Guitar bodies have been painted and aged. Assembled neck are bolted in. The wiring and electronic installed. "All the guys in here are experts about their own work as well as everything else," Hicks explains. That's part of Fender Custom's quality assurance gameplan. On this day, Team Built instruments were on the menu. Master Built guitars are the province of a single builder, from start to finish. And master builder Austin MacNutt gives us a close-up look at one of his special projects, the Jerry Garcia "Alligator" Stratocaster, in a limited run of 100. And in Hicks' own shop, he talks about the process of creating a custom guitar, from talking to the buyer about his or her desires, to plugging it in and playing it. He also displays a very special Jaguar, made from a 50,000-year-old piece of partially petrified wood, with a blonde inlay from mastodon tusk. FYI, he currently has 50 to 75 guitars at various stages of the three-month process of custom building. Hicks also talks about creating his annual prestige model. It's a secret. You've gotta wait till next year!