Myriad tones, from classic to tweaky, lurk in this one-stop modulation shop.
Ratings

Pros:

Versatile modulation/filter box. Smart layout and ergonomics. Real-time control. Programmable effects loop.

Cons:

You can only use one effect at once.

Street:

$299

Wampler Terraformwamplerpedals.com

Tones:Ease of Use:Build/Design:Value:
The Terraform is the first multi-effects stompbox from Wampler Pedals. The company is best known for creating clever new spins on classic analog effects. But the Terraform is strictly digital—its effects generated by a powerful SAM 5504B chip from Dream, a French DSP (digital signal processing) company.
A Suite of Sweeps
Here, you get 11 fine-sounding modulation and filter effects: auto-wah, envelope filter, flanger, phaser, u-vibe, rotary, auto-swell, tremolo, harmonic tremolo, chorus, and dimension (an alternate chorus sound inspired by Boss's old Dimension C circuit). You can only use one effect at a time. The demo clip features the effects in the above order. (The guitar is a "parts" S-style with Lollar Firebird pickups, played through a simulated amp in Line 6's Helix Native plug-in to showcase the effects in stereo.)
Terraform lives in a custom enclosure roughly the size of a standard BB-sized box, but slightly taller. The layout is logical: There are two footswitches, bypass and tap tempo, with an LED to indicate the current tempo. A large rotary switch ringed by LEDs selects from the 11 effects. You wrangle them all via a bank of five knobs. Rate, depth, and level usually do just what you'd expect. However, the roles of the blend and variable knobs differ from effect to effect. The Terraform runs on standard 9V power supplies (not included) and has no battery compartment.
Living the Dream
The Dream chip generates rich, detailed tones. The pitch shifting is better than on some cheaper DSP chips, which means smoother, more immersive modulation effects, devoid of tinny resonance. These effects aren't particularly analog sounding. For example, you don't encounter the quirky noise and spectral distortion you'd get from a chorus pedal with a bucket-brigade chip. Yet there's nothing harsh or cold about these inviting textures.
All that is testimony to the Dream chip's sound quality. The things that set the Terraform apart are savvy programming with wisely chosen parameter and range choices, an intuitive interface, and a wealth of clever extras.
The Dream chip provides rich, detailed tones. The pitch shifting is better than on some cheaper DSP chips, which means smoother, more immersive modulation effects.
More Than Mimicking
The Terraform's ergonomics are excellent. The close knob spacing lets you spin multiple pots simultaneously, which is more useful than you might think. When dialing up a new sound, I found myself twisting rate and depth simultaneously, homing in on a general flavor, and then seeing whether the blend and variable pots added anything cool. Sure, you could consult the manual or the included cheat sheet to identify exactly which parameter the variable knob addresses. Or you might, like me, just think of it as the "do something cool" control and add to taste.
It's easy to tell which vintage effects inspired these algorithms. But these are more than simple sound-alikes, because edit options usually expand the range of original effects. Take u-vibe, based on the 1960s Uni-Vibe phaser. The original has rate and depth controls, plus a chorus/vibrato switch. Here, the rate, depth, and blend controls serve those functions, except that the blend knob offers more shadings than the original's all-or-nothing toggle. Meanwhile, the variable knob provides alternate modulating waveforms not found on the original. Another example is the harmonic tremolo algorithm, based on the chorus-like dual-band tremolo circuits of brownface Fender amps. Those amps have rate and depth controls, but no way to manipulate the crossover frequency or bandwidth. On Terraform, blend and variable dials provide those options, greatly expanding the effect's range.
Under Control
The Terraform has stereo input and output jacks. But you can also deploy two of those jacks as an effects loop. Why an effects loop on an effect? Because here you can position effects before or after the loop. Say you're pairing the Terraform with a distortion pedal. You might want some of these effects to appear before the crunch stage, and others after. If you plug straight into the Terraform with your distortion pedal in the Terraform's loop, you could specify, for example, that u-vibe and auto-wah appear before the distortion circuit, while tremolo and rotary appear after. Without these assignable loop positions, you'd need a second distortion pedal after the Terraform to get the same results.
You can save those preferences with your patches. The Terraform can store eight sounds in memory. You recall them using the pedal's pushbuttons, or via MIDI if you plug the included ¼"-to-MIDI adapter into the pedal's expression jack and connect to anything dispensing program-change messages. Or you can plug in an expression controller (not included) and pilot any of the five edit knobs via the pedal. These assignments are also saved with your patches.
The Verdict
For many players, the Terraform will be a one-stop modulation/filter shop. It's easy to imagine it replacing multiple pedals, especially given an ingenious effects loop that can situate individual effects before or after the loop circuit. The sound quality is excellent. The build is solid. The price is fair. The sonic options are immense.
Watch the First Look:

Tone freaks, take note: It's badass—but not just for the usual "bang-for-buck" reasons.
Recorded using an Anasounds Element reverb and a Celestion Ruby-loaded Goodsell Valpreaux 21 (clips 1-3) and a Weber Gray Wolf-loaded Jaguar HC50 (clip 4) miked with a Royer R-121 feeding an Apogee Duet going into GarageBand with no EQ-ing, compression, or effects.

Clip 1: Squier Tele with Curtis Novak JV-M neck and Tele-V bridge pickups, first with the Breakdown bypassed, then engaged in mode 1 with volume at 2:30.

Clip 2: Squier Tele bridge pickup, first with the Breakdown bypassed, then engaged in mode 2 with volume at 2 o'clock.

Clip 3: Squier Tele with bridge pickup, first with the Breakdown bypassed, then engaged in mode 3 with volume at noon.

Clip 4: Squier Jaguar with Curtis Novak JAG-V bridge pickup, first with the Breakdown bypassed, then engaged in mode 6 with volume at max.
Ratings

Pros:

Incredibly simple (and affordable) way to zing up your rig with varying degrees of gain—from hardly there (but magical) to blistering quasi-fuzz.

Cons:

Modes 2–6 add some background hiss when volume is past noon.

Street:

$149

Danelectro The Breakdowndanelectro.com

Tones:Ease of Use:Build/Design:Value:
Based on the rare Univox UD-50 Uni-Drive reportedly used by Hendrix and Jimmy Page in the late '60s and early '70s, Danelectro's The Breakdown uses three 2N3904 silicon transistors (in place of the original's out-of-production silicon Matsushita 2SC859 "black button" transistors) to blast your amp's front end with up to 35 dB of gain. Controls are super simple: There's a volume and a 6-position "break-up" knob. (The UD-50's large, wah-style treadle design has been wisely abandoned for space considerations.)
I'm not being hyperbolic when I say it can make your amp do things you may never have heard it do before.
The Breakdown isn't just badass for the usual bang-for-buck Dano spiel, nor simply because it can outdo famous Klon clones at the whole "clean boost with a little extra somethin'-somethin'" thing. I'm not being hyperbolic when I say it can make your amp do things you may never have heard it do before—but the amp's gotta be working hard for the magic to happen. My 6973-powered 20-watter has always sounded amazing cranked with a Tele, but in nearly 10 years I've never heard it sound so many shades of awesome—from bristling harmonic liveliness with the Breakdown's volume somewhere past noon in modes 1–3, to several hues of seething rock glory in higher modes. Same goes for my Jag through a 50-watt EL34 combo. I don't know if the amp or the guitar have ever sounded more visceral, with higher Breakdown settings yielding snarling fuzz ferocity with attack that's razor sharp and articulate yet not strident. Meanwhile, Breakdown's higher settings yielded singing, well-defined corpulence with a Les Paul and my Vibrolux Reverb.
Test Gear: Squier Tele, Squier Jaguar, and Eastwood Sidejack Baritone DLX all with Curtis Novak pickups (JM-V and Tele-V, JAG-Vs, and JM-WRs), Gibson Les Paul Traditional with 57 Classics, Goodsell Valpreaux 21, Jaguar HC50, 1976 Fender Vibrolux Reverb
Watch the First Look:

Fender's hallowed vintage humbucker with CuNiFe-magnet pole pieces boasts one-of-a-kind tones. Problem is, it costs $500+ per pickup on the used market.
There are present-day options for chasing the tone from Seth Lover's originals of yore—without spending a small fortune on a '70s Wide Range pickup or going for a rebuild. We've rounded up 10.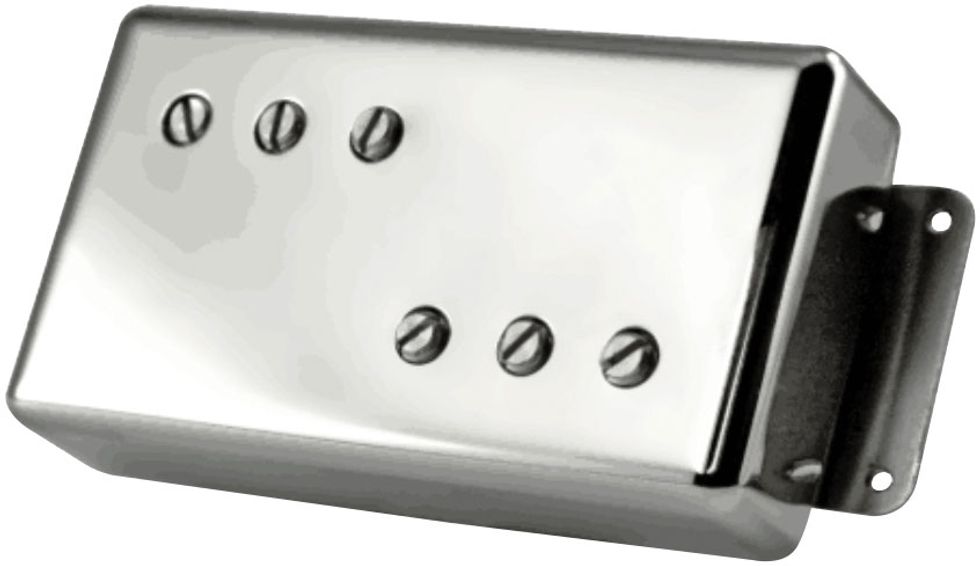 These one-at-a-time handwound versions of the original are made with all-U.S. parts, and are designed to be clean, articulate, and bright for era-specific tone.
LINDY FRALIN
Built with staggered, alnico-5 magnets—with beveled, exposed poles—these 'buckers are 20 to 30 percent overwound, compared to the company's regular-sized humbuckers, for bigger, thicker tone.
PORTER
For classic, fat, single-coil "doubled-up" sounds, these pickups are made with a warmer midrange sound than standard singles and, with a higher output, intended to break up an amp nicely.
CREAMERY
These vintage-correct Wide Range-style pickups are handwound with threaded-rod magnets using the larger Fender-style frame and cover, and can also be ordered with a Fender logo cover.
CURTIS NOVAK
For his version of a classic Wide Range, Jason Lollar designed the tooling to accurately produce his pickups to the original specs, and they are available in chrome, nickel, or gold.
LOLLAR
Fully vacuum potted, these clones of the original were designed to completely capture historic sound, but include some improvements, like a slightly underwound neck pickup and 4-conductor wiring.
MOJOTONE
Utilizing threaded alnico-5 rod magnets and a period-correct wind pattern, these pickups are designed to get as close to the bark and bite of the vintage originals as possible.
SEYMOUR DUNCAN
Another homage to Seth Lover's original design, these pickups promise jangle and power with their vintage-correct and -sized bobbins—and to be a great option for indie sounds to blues tones.
REVEL
Ready to fit into Fender Tele Deluxe and Custom guitars from the '70s, the WideTone Fats are geared for extra sweetness, girth, and beefy overdriven tones.
GUITAR FETISH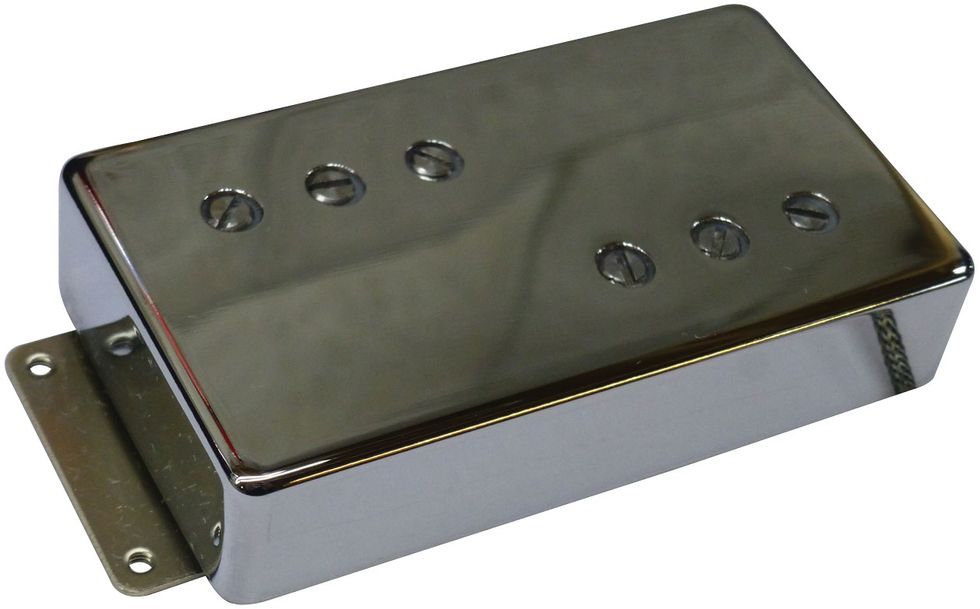 Using a plastic injection mold to produce the correct-size bobbins for the correct-size wire on the '72 originals, these pickups also feature a version of alnico-2 and alnico-5 threaded magnets.
BRANDONWOUND