This Bass Might Be Responsible for the Pointy Headstocks of the '80s
Guitar hunter extraordinaire Frank Meyers recalls how he found this late-'60s Marlin PB-26—an ahead-of-its-time design so gonzo it left him speechless.
I talk a lot about my early days of guitar hunting—adventures driving up and down the East Coast in search of music stores and pawnshops. Back then, I found plenty of cheap gear, but I only occasionally found something just so strange, so bizarre, and so gonzo that I was taken aback. I can say with certainty that this month's featured instrument (Photo 1) absolutely took my breath away when I came across it.
This horny fellow was found in the Pocono Mountains region of Pennsylvania, where it was hanging on the wall of a musty old music store that had been around since the '70s. I remember three things about the shop. First, they had one of those cool, round coffee-table Teisco Checkmate amps with a huge ashtray sitting on top. Second, there was an ancient pink hardshell case I simply had to have. (Sometimes, I dig weird and old guitar cases as much as guitars.) Lastly, the owner was a heavy smoker, so this bass initially appeared through the cigarette haze like some sort of evil apparition.
The owner was a heavy smoker, so this bass initially appeared through the cigarette haze like some sort of evil apparition.
At the time, we guitarists were collectively coming out of the pointy guitar craze, but here, in this little music store, I was looking at a design that predated it all. This sucker wasn't cheap, unfortunately, but it was just so awesome that I had to take it home to examine. I later found out what I had was a 1968 or 1969 Marlin PB-26 bass, which—along with a very rare 6-string—was among the extreme offerings from a short-lived Japanese company called Idol.
In the mid-'60s, Teisco was one of the largest producers of electric guitars in Japan, but the even larger Kawai purchased Teisco, and soon moved all guitar production to the Kawai factory. The old Teisco factory sat idle for a short time, but later ramped up production again by making guitars for three different brands: Honey, Firstman, and Idol. Interestingly enough, the owner of Idol, Doryu Matsuda, was the original owner of Teisco and is still alive today!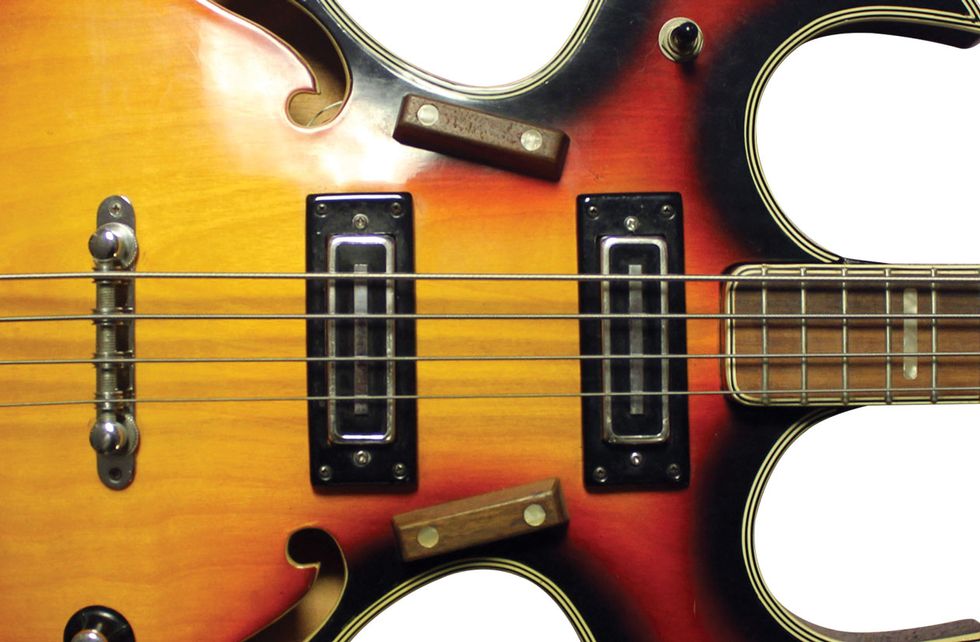 Photo 2
The three brands manufactured at the former Teisco factory were almost exclusively sold in Japan, except for Idol Guitars, which appeared in the U.S. carrying the Marlin brand name. I'm not sure who imported these guitars here in the U.S., but I was able to find a number of old advertisements in the music-trade magazines of the time. Almost every model from the company featured very extreme designs with oversized bodies, lopsided silhouettes, and straight-up demonic curves like the ones on this bass. As many of us remember, a lot of metal bands in the '80s would strut onstage with guitars that were meant to look a bit intimidating, even if the players were strutting with less-than-intimidating, poofed-up hair.
The PB-26 is a lightweight bass with a rather slender neck, so it's easy to play. While standing, however, the bass feels really long, and the neck wants to dive a bit since the body is so light. The hollowbody guitars made at the old Teisco factory during the same period were built well, but always seemed to have a subdued tone. The PB-26 bass, however, sounds great with punchy blade-style pickups (Photo 2) that measure rather hot. The bridge is a simple Space Control-style unit that creates a good break-over angle, which gives this monster some good thump.

Photo 3
The triple-bound body and neck are also nice touches, but it was certainly the shape of the body and headstock (Photo 3) that first grabbed me, and I wondered: How did players in the late-'60s react to something like this? And could it be that a few U.S. guitar makers from the '70s and '80s were inspired by these Marlin instruments to create some demons of their own?
This bass might look like a weapon from Game of Thrones, but the late-'60s-era Marlin PB-26 demoed by Mike Dugan has its own legacy and sound.
---