Breaking with style dogma delivers new sonic, ergonomic, and aesthetic joys. The PG Fano Omnis GF6 review.
 

Ratings

Pros:

Excellent quality and attention to detail. Suprisingly airy humbuckers. Neck feels great. Compound fretboard radius.

Cons:

A touch expensive. Two-control layout is limiting.

Street:

$999

Fano Omnis GF6fanoguitars.com

Tones:Playability:Build/Design:Value:
If you ever get the chance to play an original Fender Starcaster, don't pass on the experience. Not that it's a common opportunity. Fender didn't sell many Starcasters, and sightings today are an irregular-to-rare event even in the highest profile vintage shops. But many specimens were great guitars, full of unique sounds and feel. In recent years, the Starcaster's unusual shape, component parts, and tones became things of interest to boutique builders—including Fano, of course, which released its first version of the up-market Alt De Facto GF6 in 2013. Interest hasn't abated since. The instrument's steadily elevated profile has even prompted the release of mass-produced affordable takes on the Starcaster style.
Significantly, Fano's new China-made Omnis-series GF6 is among the first Starcaster-influenced instruments to bridge the gap between entry level and boutique categories. And while it's not cheap at just under $1K, the Omnis GF6 delivers many of the ergonomic and aesthetic joys of its inspiration while ironing out eccentricities that could estrange more straight-ahead players.
Staring by Star Glow
It's not hard to imagine why the original Starcaster's shape was polarizing. Semi-hollow guitars often appeal to traditionalists, and there was little in the way of tradition to turn the heads or change the minds of prospective ES-335 buyers. The offset waist, for instance, screamed Jazzmaster and Jaguar at a time when Fender's '50s designs were back en vogue and their surfy '60s shapes considered passe. For many players just now basking in the afterglow of popular offset reappraisal, the compound curves, arches, and shifting lines will be a revelation. Fano's glossy "bull black" shade in particular highlights the complex lines—simultaneously evoking the sweeping fenders of a '48 Buick Roadmaster and the irreverence of mid-'70s small-batch guitar-craft.
Rather than laminate maple, which is used on most semi-hollow archtops, the Omnis GF6 is fashioned from arched solid alder on top and a flat, solid alder back and sides. At about nine pounds, the Omnis GF6 is pretty hefty, too. The 2-piece maple neck feels like a not-too-chunky Fender '60s C-shape, and it's a nice fit for the compound 9.5"-12" radius pao ferro fretboard, which facilitates bends up high and chording among the lower frets. Despite its very non-vintage spec, it manages to feel both fast and vintage-y, and the flatter radius encourages you to take advantage of the contoured heel, which tapers on the treble side to give you easy access all the way to the 22nd fret. Medium-jumbo frets make the guitar feel even more bend happy. Semi-hollows rarely feel so shreddy past the 12th fret.
For many players, the fascinating compound of curves, arches, and shifting lines will be a revelation.
We've grown used to high quality in accessibly priced, import guitars. And even though the Fano's $999 price tag pushes "affordable" to the limits of its definition for most folks, the build quality remains impressive. The polyurethane finish is smooth and flawless around the f-holes. The neck pocket is uniform and tight. The guitar is also very tuning stable.
Stylistic Omnivore
Starcasters were distinguished by their Wide Range pickups, which famously (or infamously, depending on your perspective) mated the sum of the chiming qualities of a Telecaster pickup with the brawn of a Gibson humbucker. Here, Fano uses what they call a "proprietary" humbucker—presumably based on a PAF.
Fano—or their OEM pickup provider—did a lot of things right with these pickups. They're not plagued by the muddiness that ruins most affordable PAF-style humbuckers. They're airy, not too hot, fairly dynamic and remarkably well balanced between high-end sparkle and bass ballast—making them able to stand in for a Telecaster, a Rickenbacker, or a Gretsch in a recorded mix if you're clever and attentive to your volume, tone, and approach. Not all humbuckers are equally suited for folk-rock jangle and smoky jazz-blues duties, but the Fano's pickups—assisted no doubt by the body's zingy and outstanding acoustic resonance—can span that range.
It's a shame that good Wide Range replicas are so expensive, because I would love to hear a set in this guitar, which otherwise flirts so unabashedly with Starcaster style. With its well-balanced pickups, the GF6 tends to sound like a more open, less burly Gibson ES-335—which is no bad thing. But it would be awesome to experience such a different-looking guitar with an equally unusual pickup pairing. And while you wouldn't be able to fit a set of full-size Wide Range pickups without re-routing the body, there is no shortage of options that can fit here if your inner deviant wins the day. It would be neat to see Fano offer such an option.
The Verdict
There's a lot of the original Starcaster's rebel spirit in the GF6. Sticklers may lament the smaller pickguard and headstock, the lack of Wide-Range pickups, or omission of the 5-knob control array with master volume that appeared on the original. But the GF6 is a great instrument on its own merits. If you're in the market for a 335-sounding axe that breaks from style dogma, you're in business with the GF6. And if you've lusted for a Starcaster-style axe and can hang with deviation from the Wide Range humbucker sound and style, you, too, are likely to reap many benefits, sonic and otherwise, from your investment.
Check Out the Video:

Luthier Dennis Fano's new model unites Rickenbacker, Kay, and Jazzmaster cues including Gold Foil pickups.
PG Editors pick their top gear from the final day of NAMM.
PG Editors pick their top gear from the last day of NAMM. See everything from day 4 in our photo gallery.
Universal Audio Apollo Twin
Universal Audio's new Apollo Twin recording interface features two high-quality XLR preamps, a 1/4" guitar input, a suite of 14 included plug-ins—from guitar amp and effects to reverbs and models of classic UA studio units—as well as available plug-ins from partnerships with Boss, ENGL, and more. Most notably, all plug-in processing happens with SHARC chips built into the unit itself, which translates to low-latency tracking. The one-processor Solo goes for $699, and the Duo goes for $899.
Z.Vex Fat Fuzz Probe
Z.Vex Effects put their Fat Fuzz circuit into the new Fat Fuzz Probe. The theremin control governs the stab parameter, and there are also drive, comp, gate, and volume knobs, as well as a 3-position voicing toggle for standard Fuzz Factory sounds, and "deep" and "deeper" subharmonic modes. It'll be available in late summer for $369 street.
Seymour Duncan Vapor Trail
Seymour Duncan's new Vapor Trail delay feature 600ms of completely analog delay with two mini pots for modulation, a transparent delay knob with an embedded rate LED, and a cool wet insert that you can use with an expression pedal to control volume of repeats or to use with a y-cable to loop in any other effect and have it only affect repeats. It goes for $149 street.
Empress Tremolo2
Empress Effects reinvented its famous Tremolo pedal. The Tremolo2 has an all-analog signal path with incredibly powerful digital controls, including an innovative new multi-colored LED system for identifying up to eight presets. Also new is the control port which can be used with an external tap-tempo footswitch, an expression pedal (to control almost any function), or even with Empress' MIDI Box to recall presets or sync the pedal with time code. $249 street.
Diezel Lil Fokker
Diezel's new 100-watt Lil Fokker is its simplest design to date. Powered by a quartet of KT77s, it features clean and dirty channels, a series effects loop, and a two-button footswitch for switching channels or between two different master volumes. $2,499 street.
Walrus Audio Descent
Walrus Audio's new Descent reverb goes from lush, dreamy soundscapes to twisted and trippy. Modes include hall, reverse, and shimmer, and -1 and +1 knobs add low and high octaves to the reverberations. There are three available presets, plus manual mode. Jacks include a mono input, stereo outs, and an expression-pedal input that lets you control reverb time or wet mix. $300 street.
Wire Instruments Supercollider
Former Nirvana tech Earnie Bailey is building absolutely beautiful guitars under the Wire Instruments name. These instruments are inspired takes on the old Gretsch Astro Jet profile called the Supercollider. The one on the left is a Korina bodied specimen with Lindy Fralin Pickups Plus P-92s. On the right, an Alder body with Railhammers.
Fano Alt De Facto RB6
Fano Guitars' newest, beautiful Alt De Facto RB6 mutation unites Rickenbacker, Kay, and Jazzmaster cues including Gold Foil pickups, Mastery bridge and vibrato, and checkerboard binding. Definitely one of the most fun guitars at Winter NAMM 2014.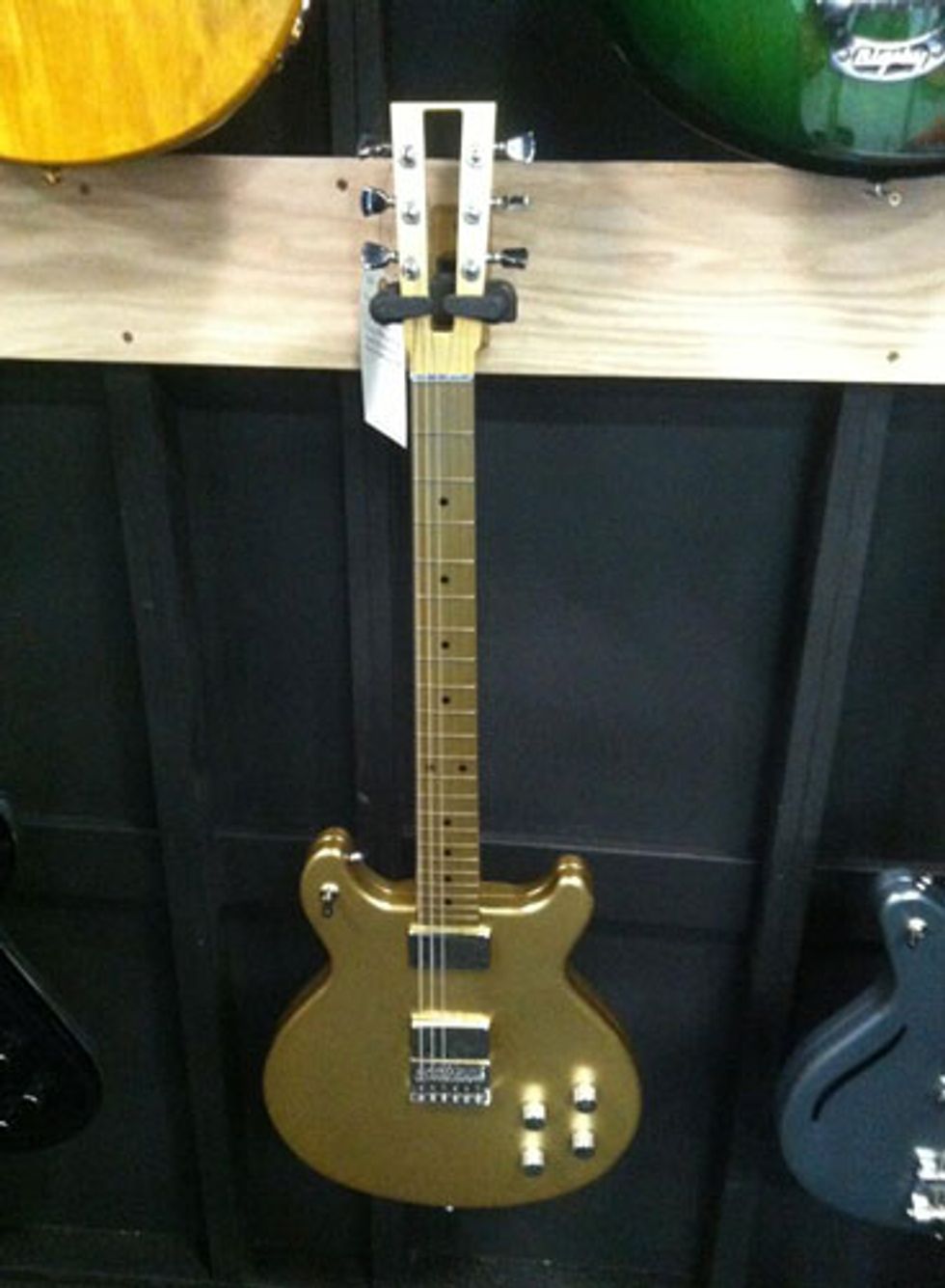 Buzz Osborne Electrical Guitar Company
Glorious resurrection!!! Travis Bean Guitars is back! This particular all-metal marvel is an Electrical Guitar Company (the company resurrecting TBG) Buzz Osborne signature model, loaded with EGC humbuckers.
Brubaker Musical Instruments
Brubaker Musical Instruments brought bass No. 1 of a brand new series called the JXB Standard. This J-style, handcrafted axe has an alder body, maple neck, and East Indian rosewood fretboard. Outfitted with a traditional JJ configuration, Brubaker chose Aguilar AG 4J-HC hum-canceling pups for the JXB.
DBZ Maverick
Among their numerous new offerings at NAMM, DBZ Guitars introduced a new vintage-inspired body shape to their line with the Maverick. The Maverick SM variation shown here has a mahogany body topped with spalted maple, and a mahogany neck capped with a rosewood fretboard. For electronics, the Maverick SM is packed with a Pearly Gates/'59 Seymour Duncan combo.
Phil Jones Suitcase Compact
Phil Jones just unveiled the 300-watt Suitcase Compact bass combo. This small yet powerful 2-channel amp houses four of Jones' 5" PJB Piranha speakers and weighs in at a back-friendly 40 pounds.
Doyle Wolfgang von Frankenstein
PG associate editor Chris Kies ("Last Caress" was the first song he ever hammered out) with his hero, former Misfits guitarist Doyle Wolfgang von Frankenstein at NAMM 2014.