NAMM 2014: Editors' Picks Day 4
PG Editors pick their top gear from the final day of NAMM.
PG Editors pick their top gear from the last day of NAMM. See everything from day 4 in our photo gallery.
Universal Audio Apollo Twin
Universal Audio's new Apollo Twin recording interface features two high-quality XLR preamps, a 1/4" guitar input, a suite of 14 included plug-ins—from guitar amp and effects to reverbs and models of classic UA studio units—as well as available plug-ins from partnerships with Boss, ENGL, and more. Most notably, all plug-in processing happens with SHARC chips built into the unit itself, which translates to low-latency tracking. The one-processor Solo goes for $699, and the Duo goes for $899.
Z.Vex Fat Fuzz Probe
Z.Vex Effects put their Fat Fuzz circuit into the new Fat Fuzz Probe. The theremin control governs the stab parameter, and there are also drive, comp, gate, and volume knobs, as well as a 3-position voicing toggle for standard Fuzz Factory sounds, and "deep" and "deeper" subharmonic modes. It'll be available in late summer for $369 street.
Seymour Duncan Vapor Trail
Seymour Duncan's new Vapor Trail delay feature 600ms of completely analog delay with two mini pots for modulation, a transparent delay knob with an embedded rate LED, and a cool wet insert that you can use with an expression pedal to control volume of repeats or to use with a y-cable to loop in any other effect and have it only affect repeats. It goes for $149 street.
Empress Tremolo2
Empress Effects reinvented its famous Tremolo pedal. The Tremolo2 has an all-analog signal path with incredibly powerful digital controls, including an innovative new multi-colored LED system for identifying up to eight presets. Also new is the control port which can be used with an external tap-tempo footswitch, an expression pedal (to control almost any function), or even with Empress' MIDI Box to recall presets or sync the pedal with time code. $249 street.
Diezel Lil Fokker
Diezel's new 100-watt Lil Fokker is its simplest design to date. Powered by a quartet of KT77s, it features clean and dirty channels, a series effects loop, and a two-button footswitch for switching channels or between two different master volumes. $2,499 street.
Walrus Audio Descent
Walrus Audio's new Descent reverb goes from lush, dreamy soundscapes to twisted and trippy. Modes include hall, reverse, and shimmer, and -1 and +1 knobs add low and high octaves to the reverberations. There are three available presets, plus manual mode. Jacks include a mono input, stereo outs, and an expression-pedal input that lets you control reverb time or wet mix. $300 street.
Wire Instruments Supercollider
Former Nirvana tech Earnie Bailey is building absolutely beautiful guitars under the Wire Instruments name. These instruments are inspired takes on the old Gretsch Astro Jet profile called the Supercollider. The one on the left is a Korina bodied specimen with Lindy Fralin Pickups Plus P-92s. On the right, an Alder body with Railhammers.
Fano Alt De Facto RB6
Fano Guitars' newest, beautiful Alt De Facto RB6 mutation unites Rickenbacker, Kay, and Jazzmaster cues including Gold Foil pickups, Mastery bridge and vibrato, and checkerboard binding. Definitely one of the most fun guitars at Winter NAMM 2014.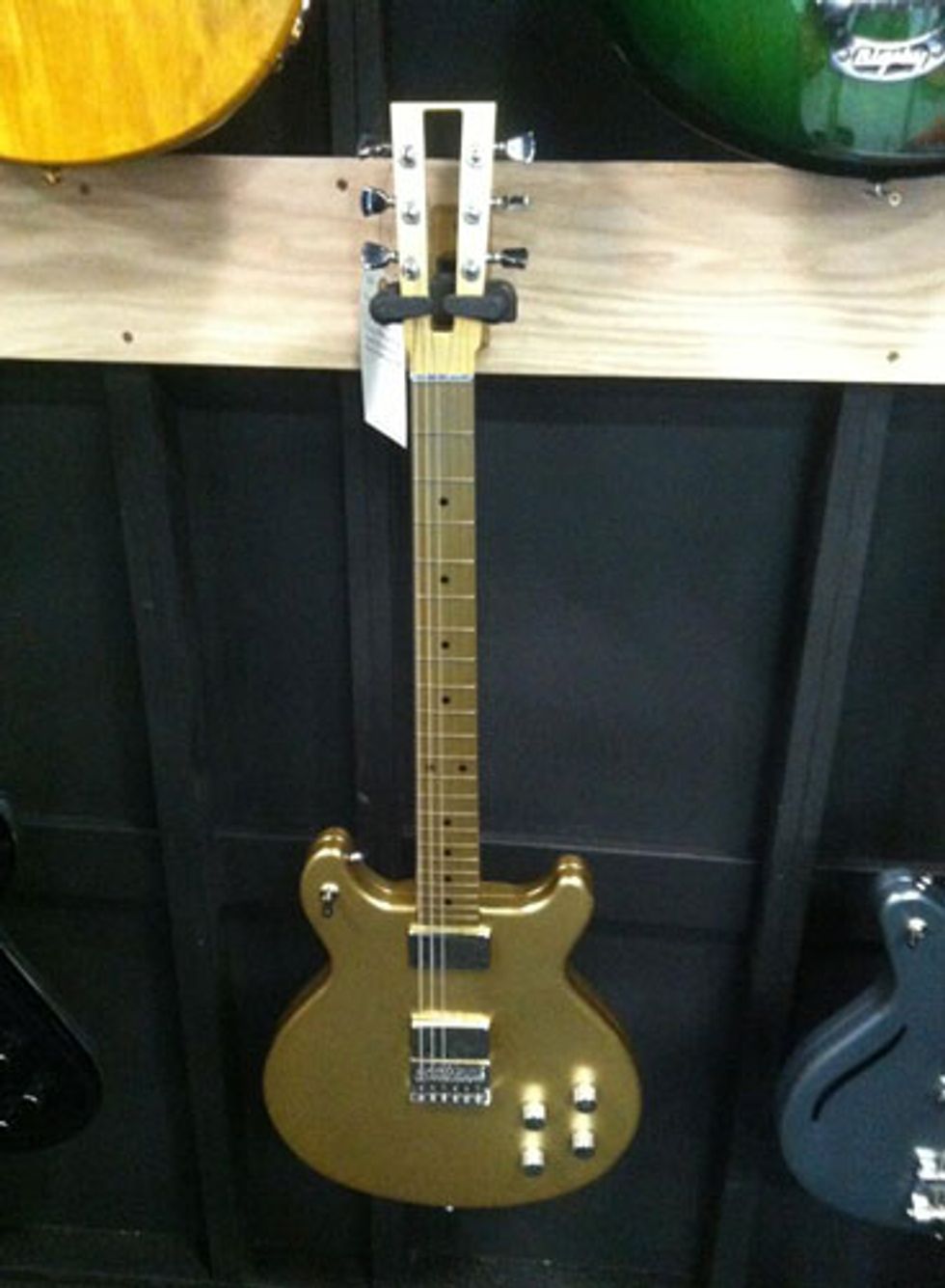 Buzz Osborne Electrical Guitar Company
Glorious resurrection!!! Travis Bean Guitars is back! This particular all-metal marvel is an Electrical Guitar Company (the company resurrecting TBG) Buzz Osborne signature model, loaded with EGC humbuckers.
Brubaker Musical Instruments
Brubaker Musical Instruments brought bass No. 1 of a brand new series called the JXB Standard. This J-style, handcrafted axe has an alder body, maple neck, and East Indian rosewood fretboard. Outfitted with a traditional JJ configuration, Brubaker chose Aguilar AG 4J-HC hum-canceling pups for the JXB.
DBZ Maverick
Among their numerous new offerings at NAMM, DBZ Guitars introduced a new vintage-inspired body shape to their line with the Maverick. The Maverick SM variation shown here has a mahogany body topped with spalted maple, and a mahogany neck capped with a rosewood fretboard. For electronics, the Maverick SM is packed with a Pearly Gates/'59 Seymour Duncan combo.
Phil Jones Suitcase Compact
Phil Jones just unveiled the 300-watt Suitcase Compact bass combo. This small yet powerful 2-channel amp houses four of Jones' 5" PJB Piranha speakers and weighs in at a back-friendly 40 pounds.
Doyle Wolfgang von Frankenstein
PG associate editor Chris Kies ("Last Caress" was the first song he ever hammered out) with his hero, former Misfits guitarist Doyle Wolfgang von Frankenstein at NAMM 2014.