Check out the latest and greatest gear from the final day of the 2014 Winter NAMM show.
Analog Alien's new Alien Bass Station has three independent effects for bass or guitar. First in the path is the 3-knob limiter, then the amp generator—which is voiced like an Ampeg B15—and then the gama fuzz. It goes for $399 street.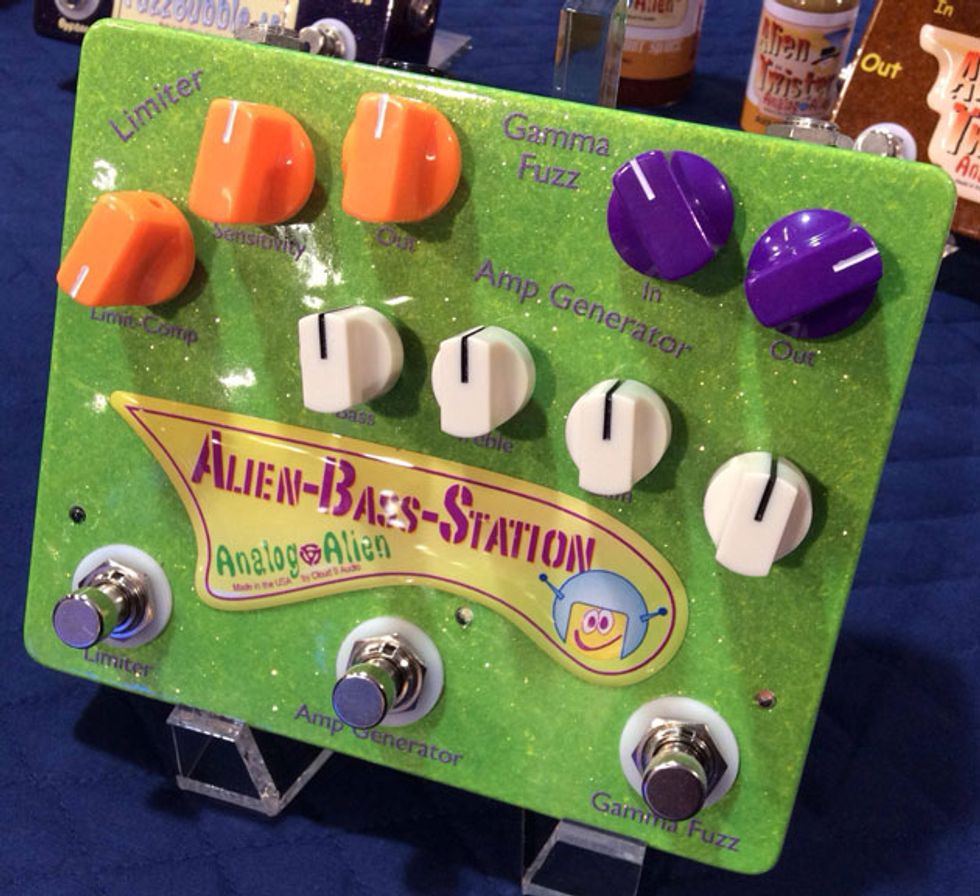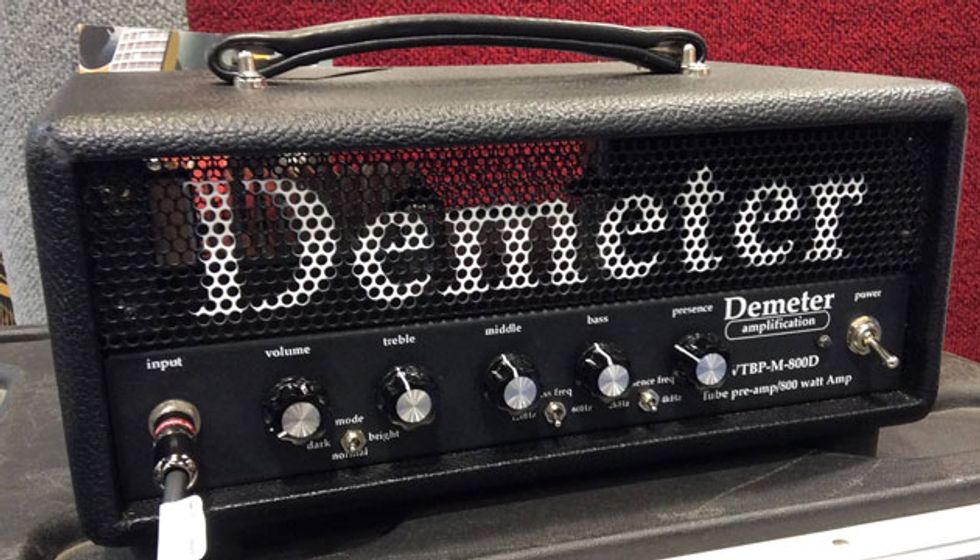 Demeter brought the new VTBP-M-800D head to NAMM. Based on the VTBP-201 preamp used by bass legend Lee Sklar for many, many years, the 800D uses a 280V power supply, an 800-watt, class D amp, and full-voiced preamp with input mode switch, bass and presence voicing toggles, DI and line outputs, and two Speakon speaker jacks. All in a 10.5-pound head with options starting at $1,359.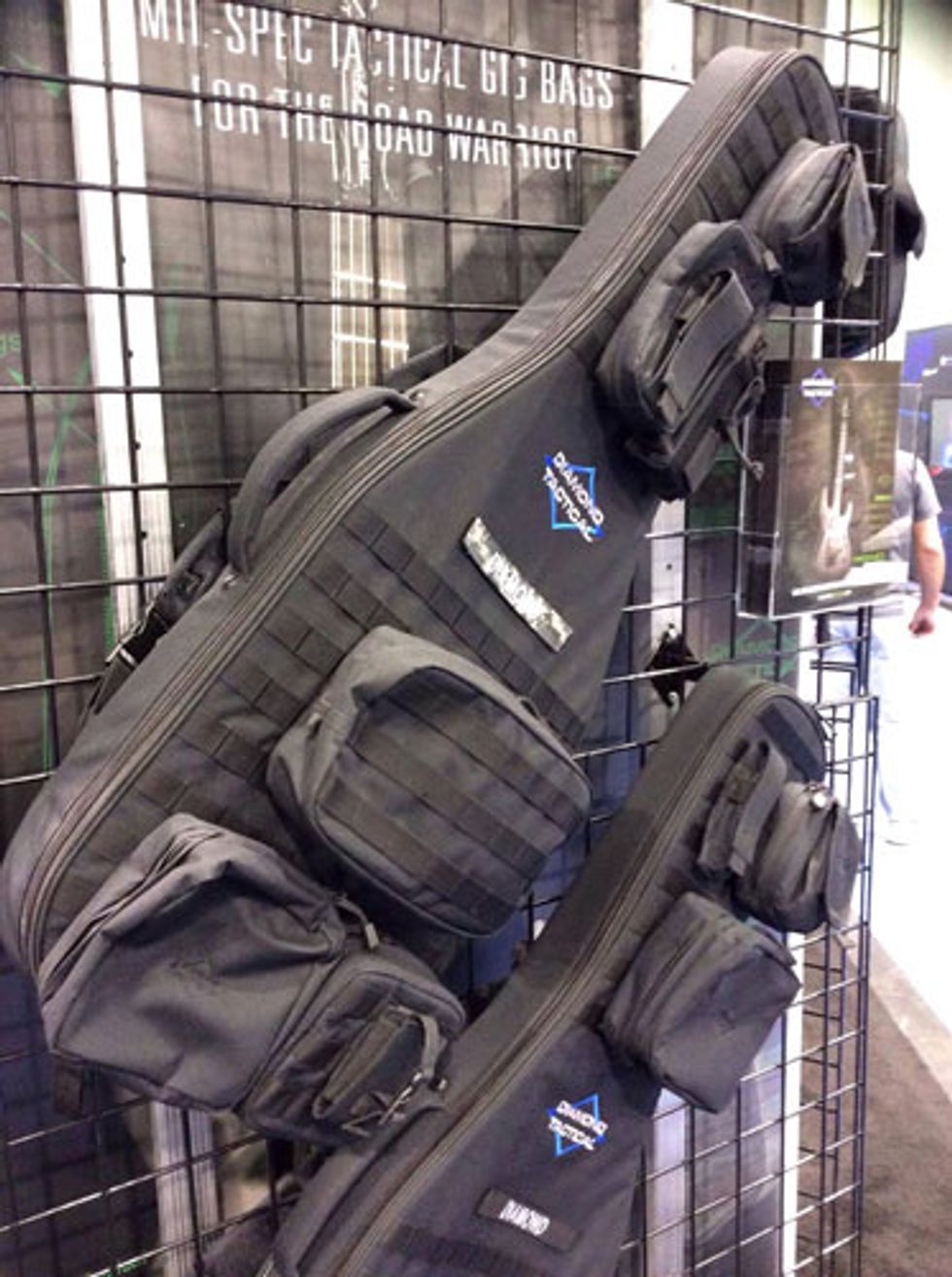 Diamond Tactical debuted their modular guitar bag system at this year's NAMM show. They utilize the MOLLE system (the same used by a number of NATO forces) for their gig bags, which allows players to customize and deck out their bags with modular pouches for everything from dedicated repair kits to cable pouches to pedal pouches to chart pouches and more.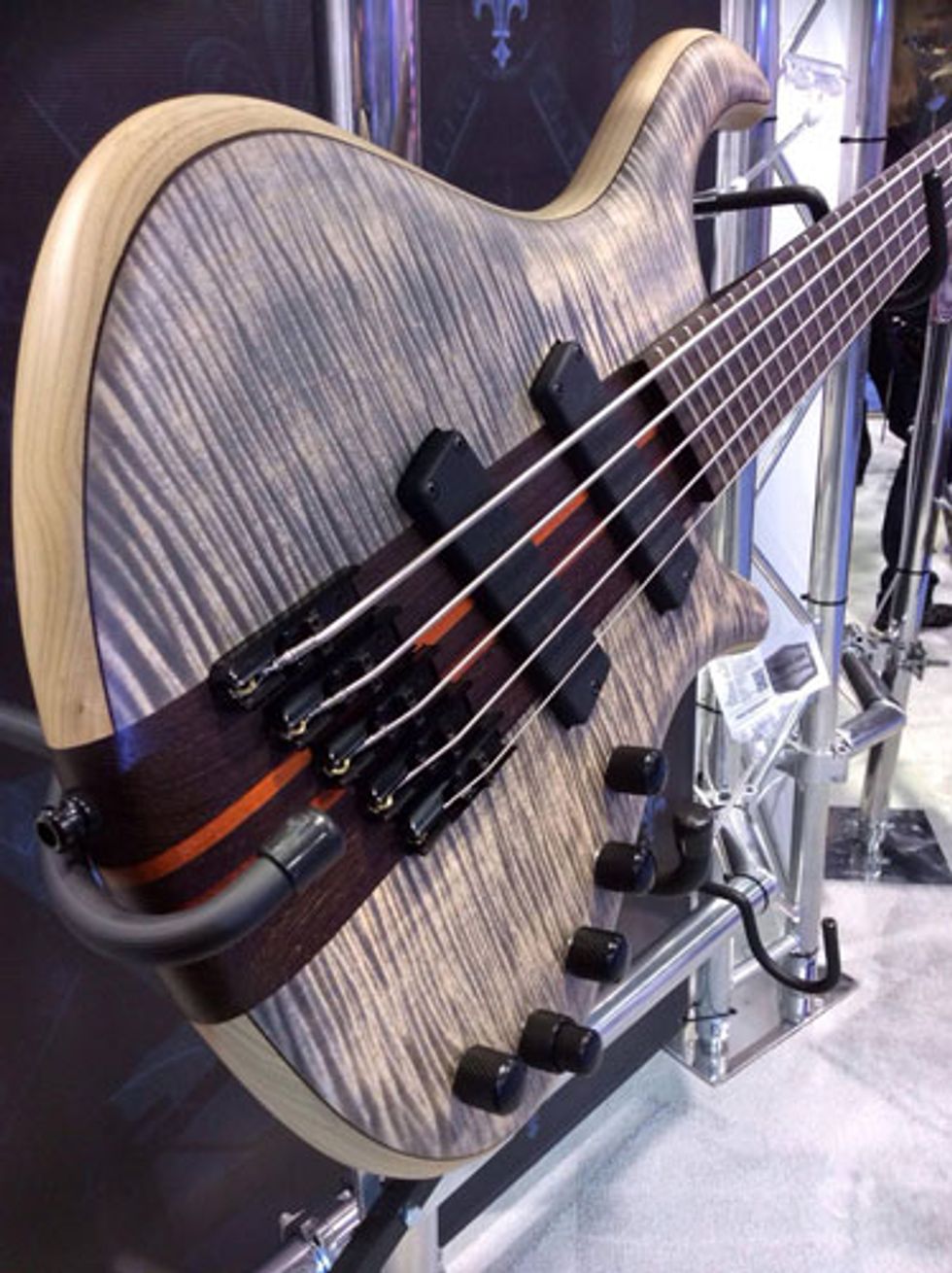 Mayones was at the show with an array of stunning handcrafted instruments. Shown here is the Patriot Classic V-Fret with a "transparent black jeans" finish. It has an American ash body with flamed maple top, a wenge/padouk neck, and an ebony fan-fretted board. For pickups, this axe is decked out with a Bartolini xxP46C set.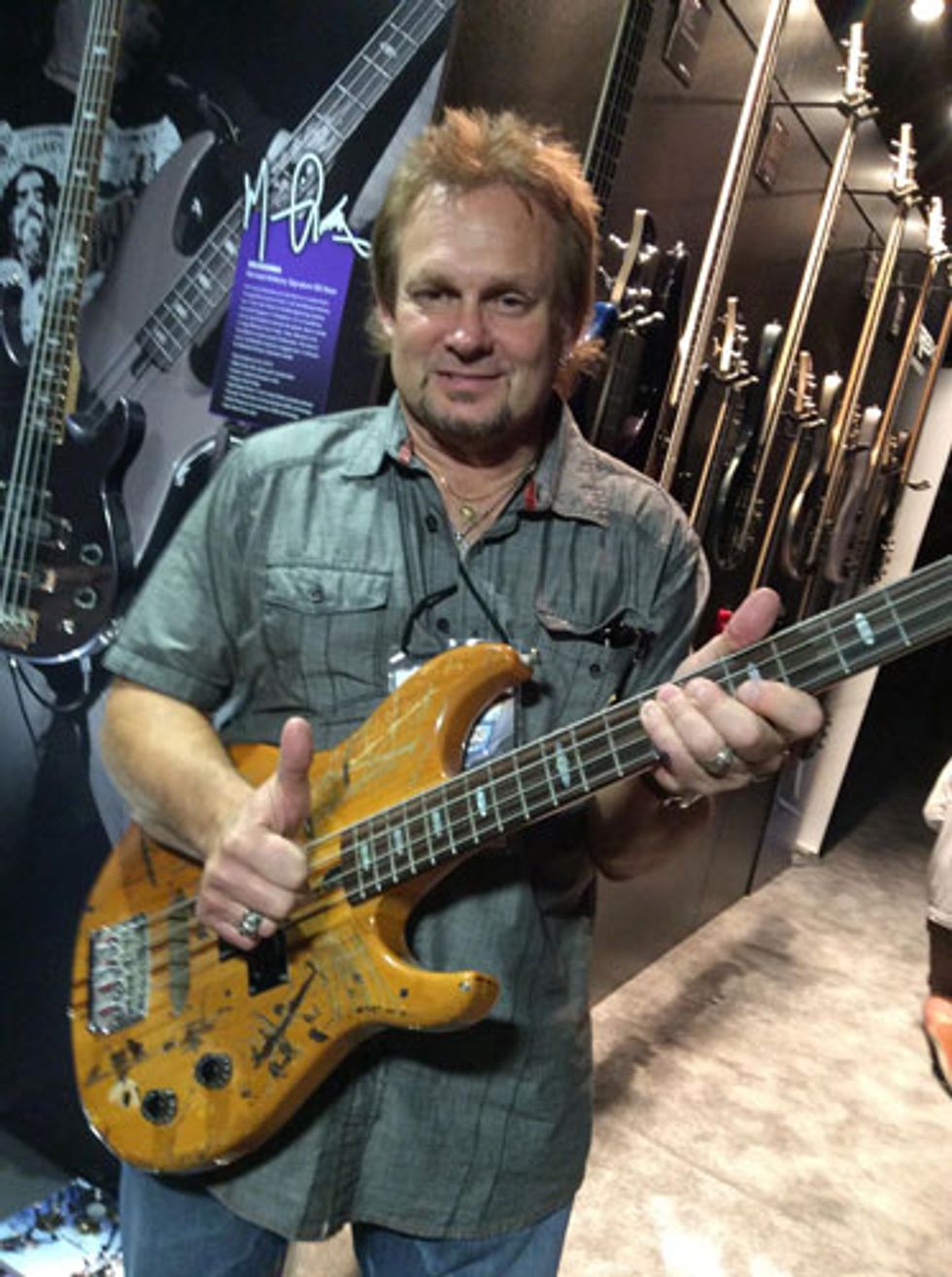 Michael Anthony with one of his battered ol' Yamaha BB series basses at the company's NAMM room.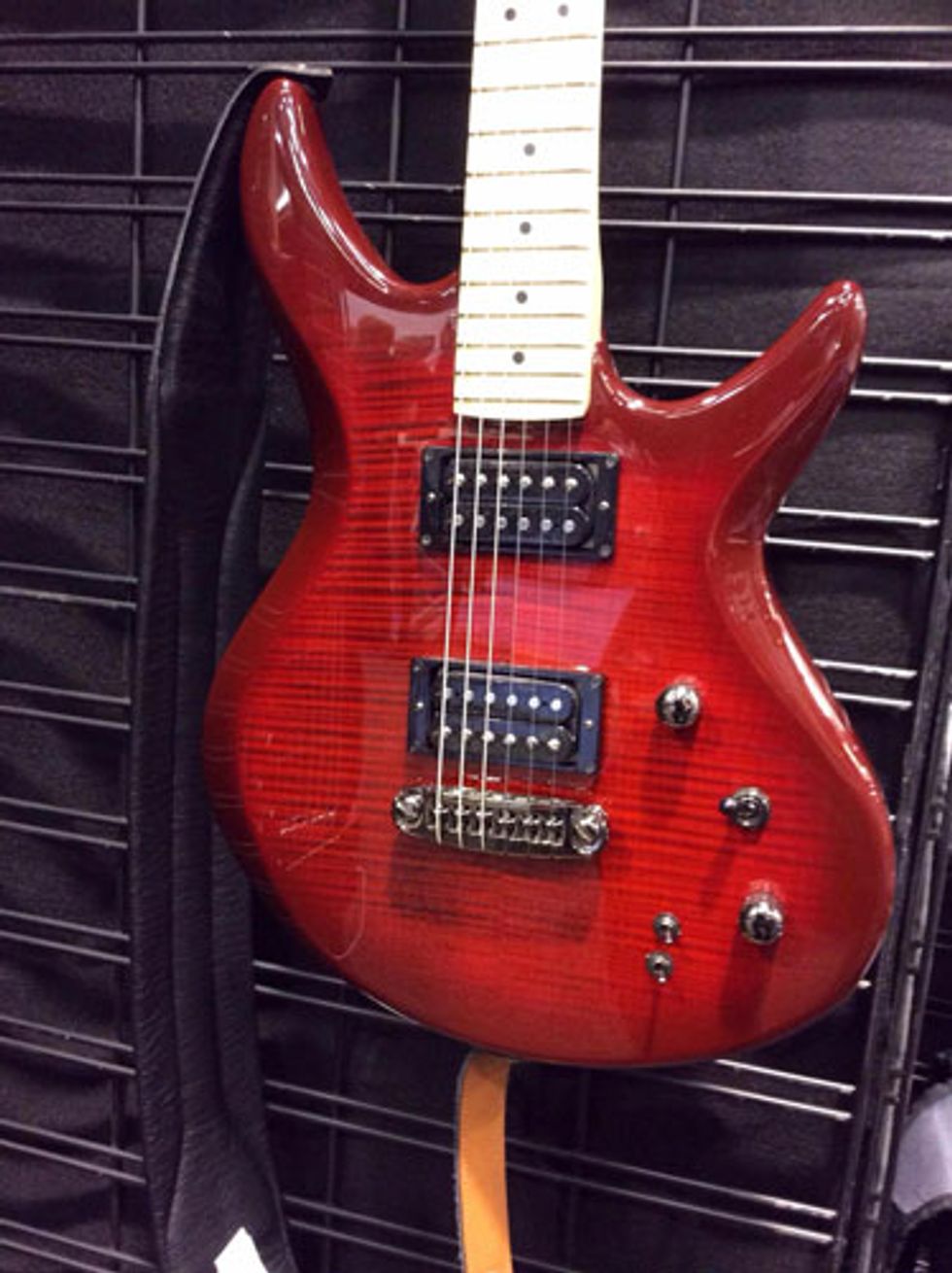 While certainly best known for his basses, Michael Tobias Designs came to NAMM with a new guitar in tow—the MTD Kingston Rubicon. Starting at $999, the Rubicon has a carved alder body with a flame maple top, an asymmetrical one-piece maple neck, choice of rosewood or maple fretboard, and custom-wound humbuckers with onboard series/parallel switches.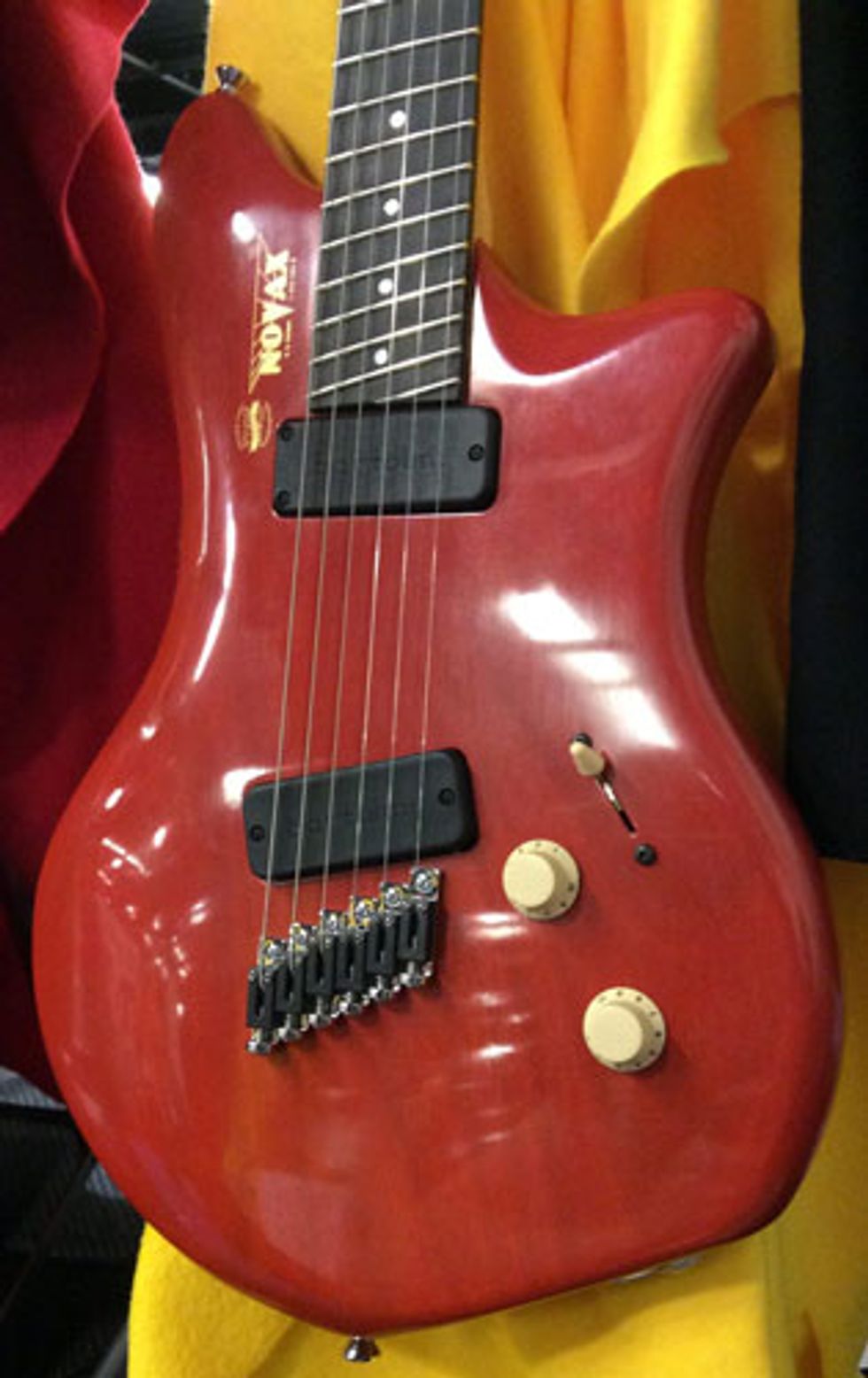 Fanned-fret pioneer Ralph Novak brought two 25th-anniversary Novax Guitars models to the show this year. The Sweet Annie (pictured) has a mahogany body and neck, ebony fretboard, two custom-voiced, passive Bartolini soapbar pickups, and innovative 5-way switching for a variety of warm tones. Meanwhile, the Sassy Annie has three single-coils, a 5-way selector, a contoured swamp-ash body, and an ebony-topped maple neck. Both go for an anniversary price of $2,500.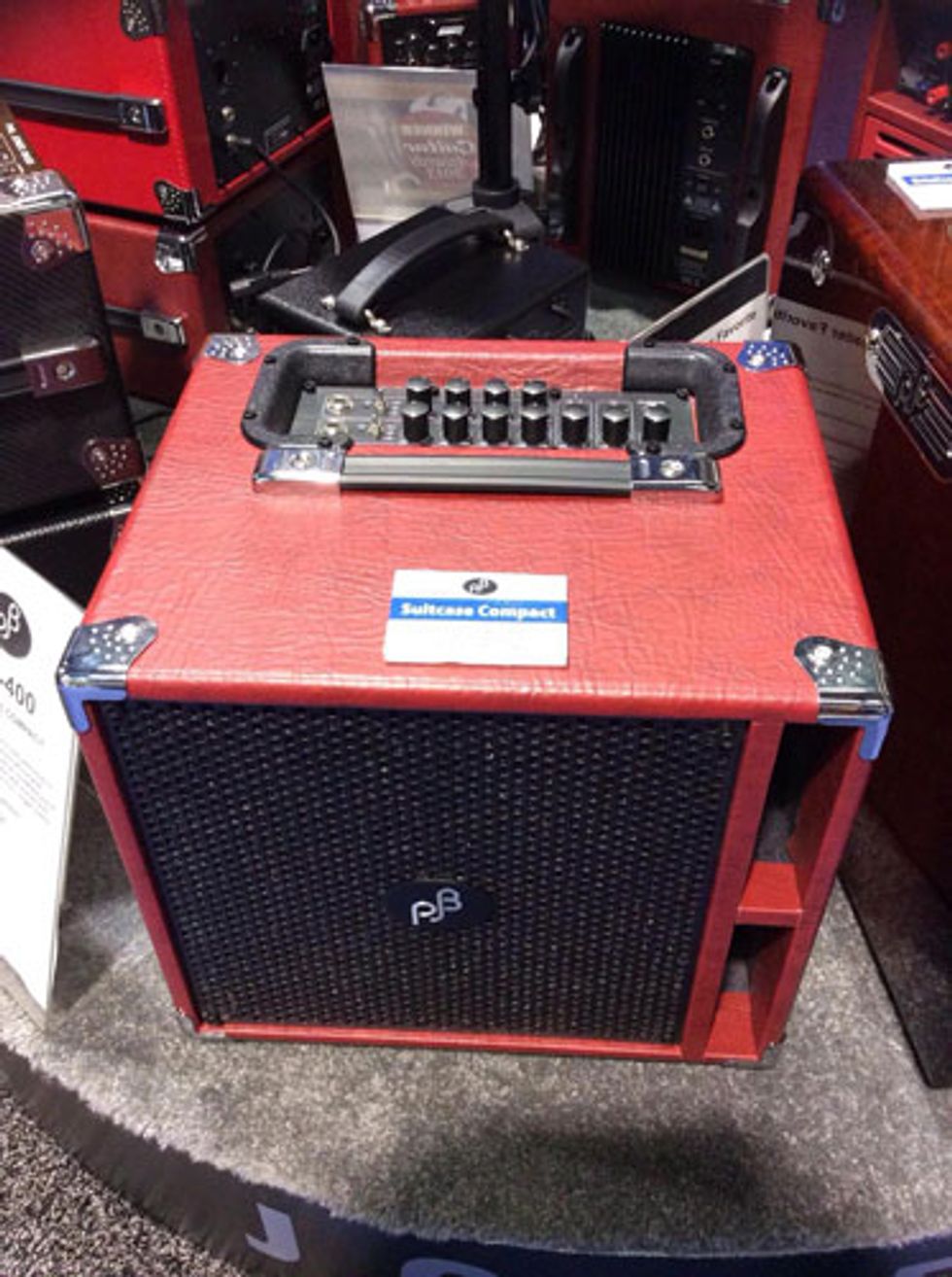 Phil Jones Bass just unveiled the 300-watt Suitcase Compact bass combo. This small yet powerful 2-channel amp houses four of Jones' 5" PJB Piranha speakers and weighs in at a back-friendly 40 pounds.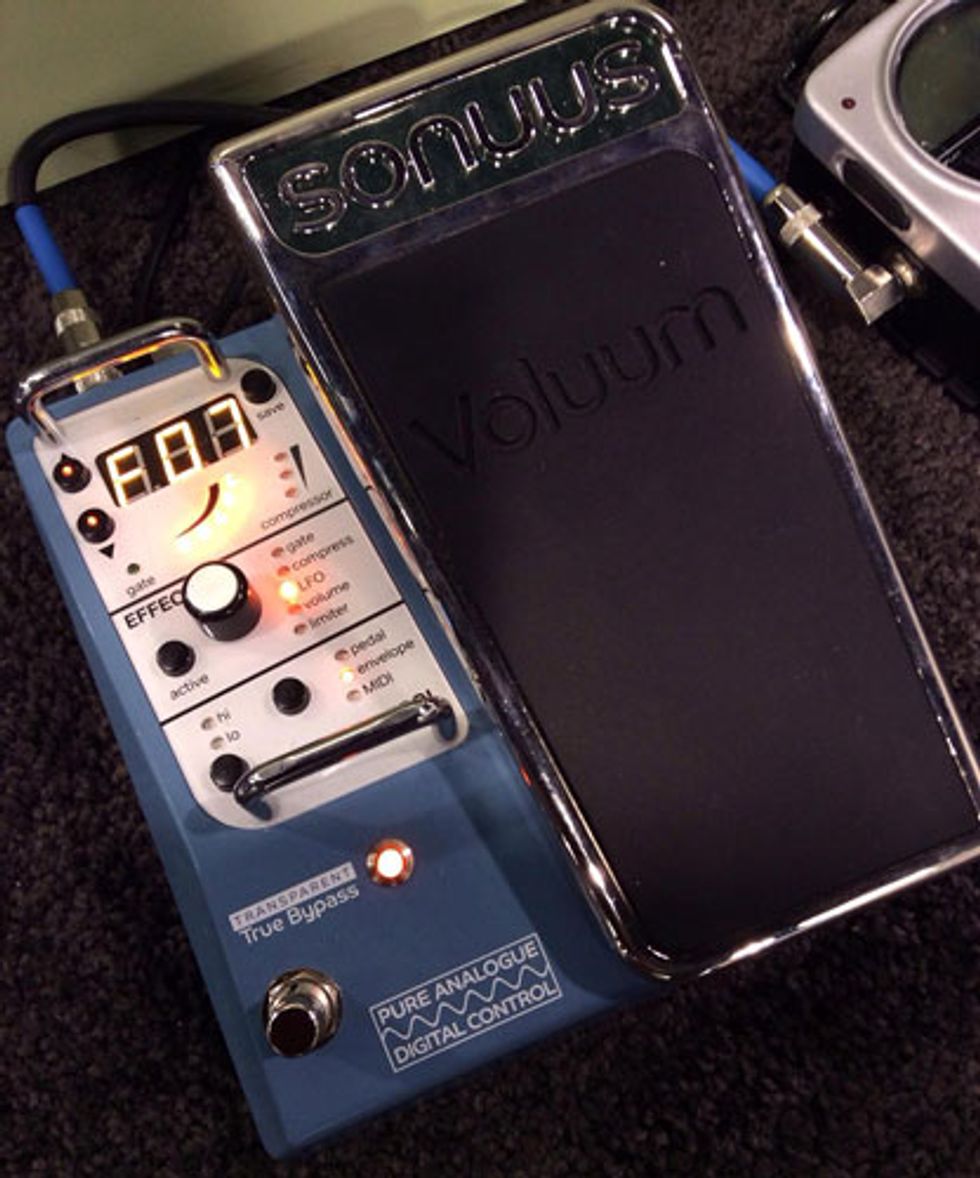 Sonuus' new Voluum features an all-analog signal path and multiple effects—LFO, compressor, limiter, gate/expander, and volume—that can be extensively tweaked with the included editing software (Mac and PC). It comes with 30 factory presets and has 100 user memory slots. Street price is $319.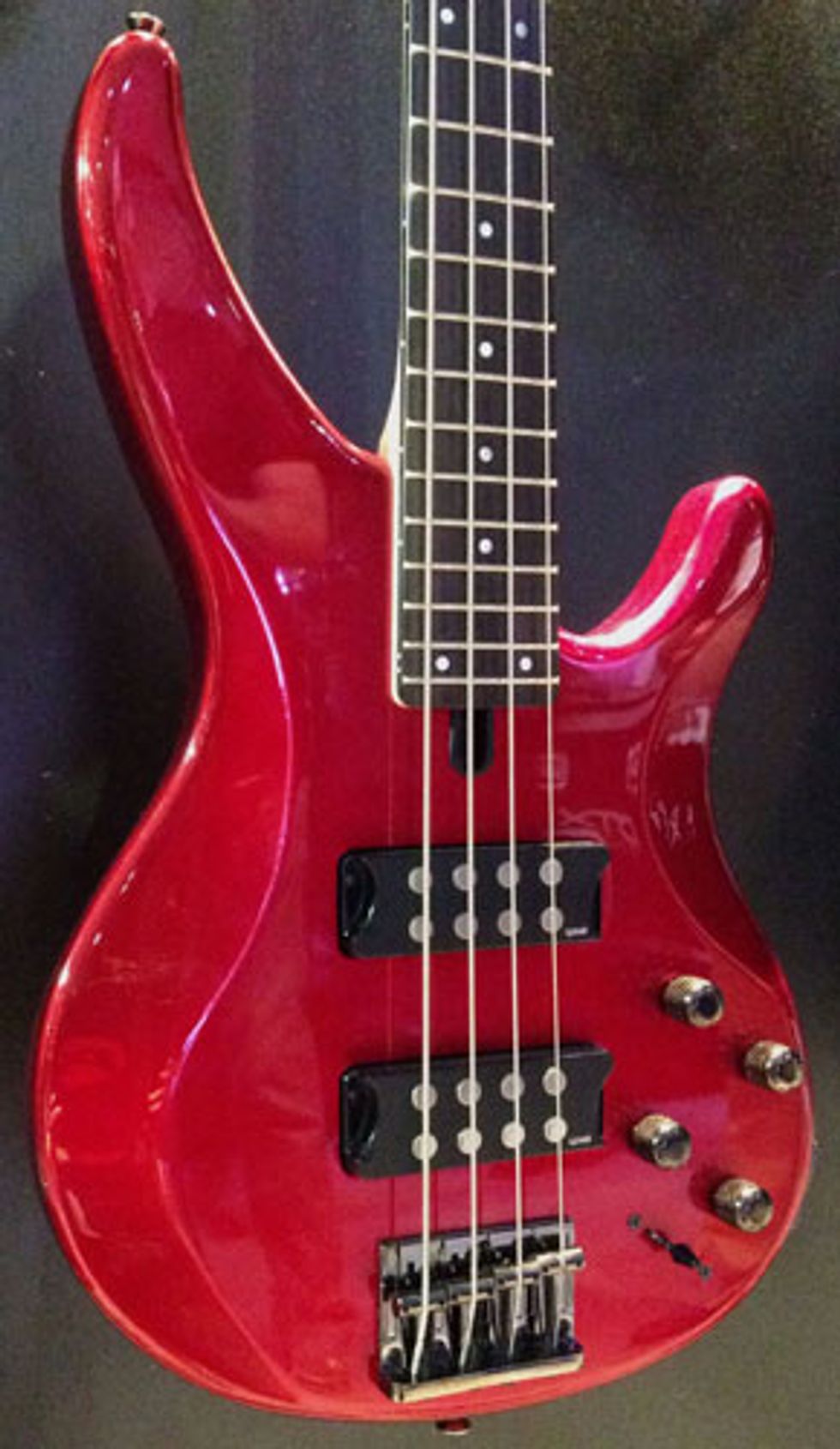 Yamaha's new TRBX304 4-string has a sculpted, solid mahogany body, a 5-ply maple-and-mahogany bolt-on neck with a rosewood fretboard, and M3 ceramic-magnet pickups with thumb rests. Controls include master volume, pickup balance, 2-band active EQ, and a 5-position "performance EQ" switch with preset EQ curves for on-the-fly adjustments.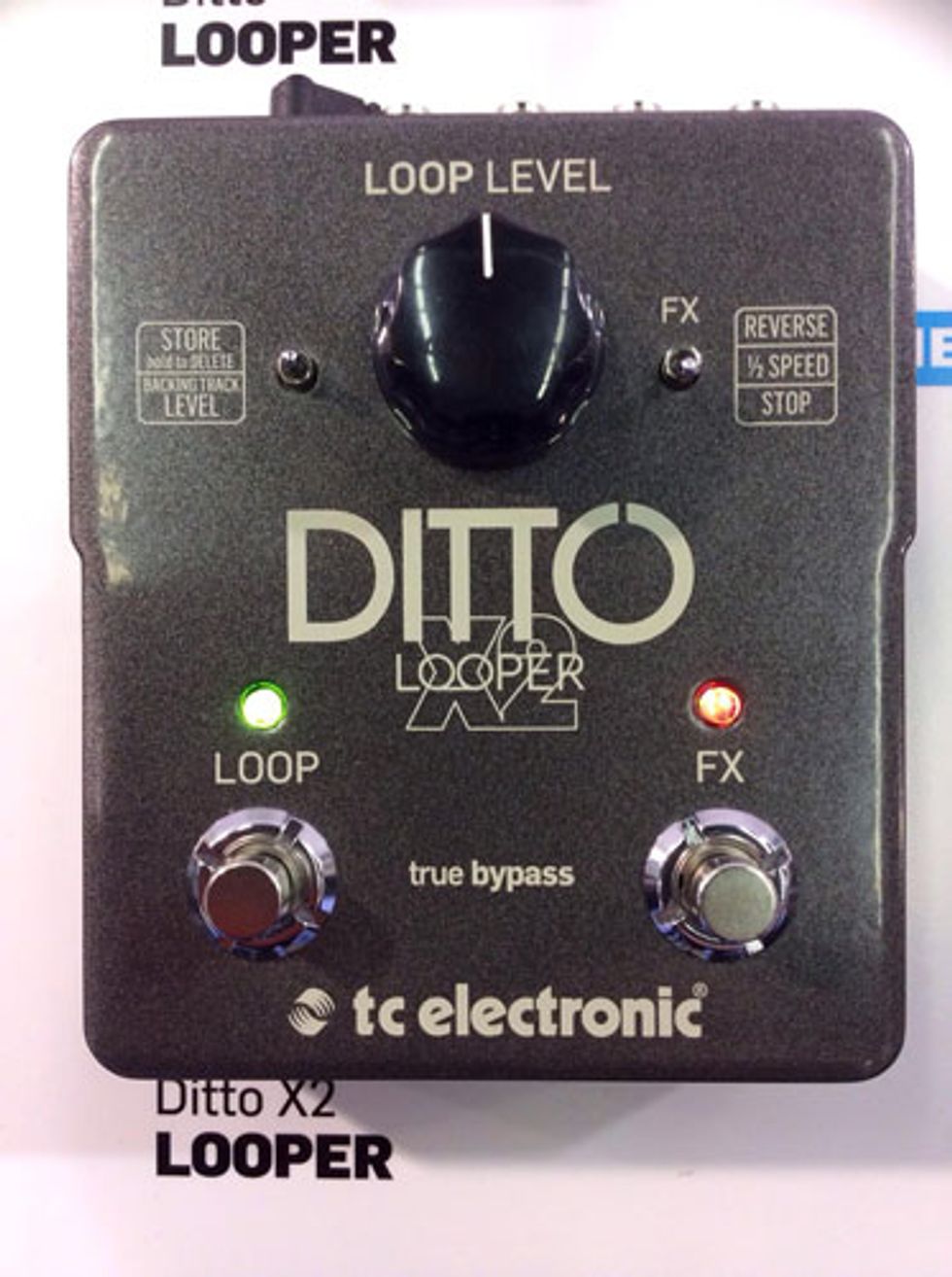 TC Electronic's Ditto X2 Looper is the follow up to their uber-popular Ditto Looper. It has a dedicated stop/clear switch, a button for reverse/half-speed looping, stereo I/O, and the ability to import and export loops.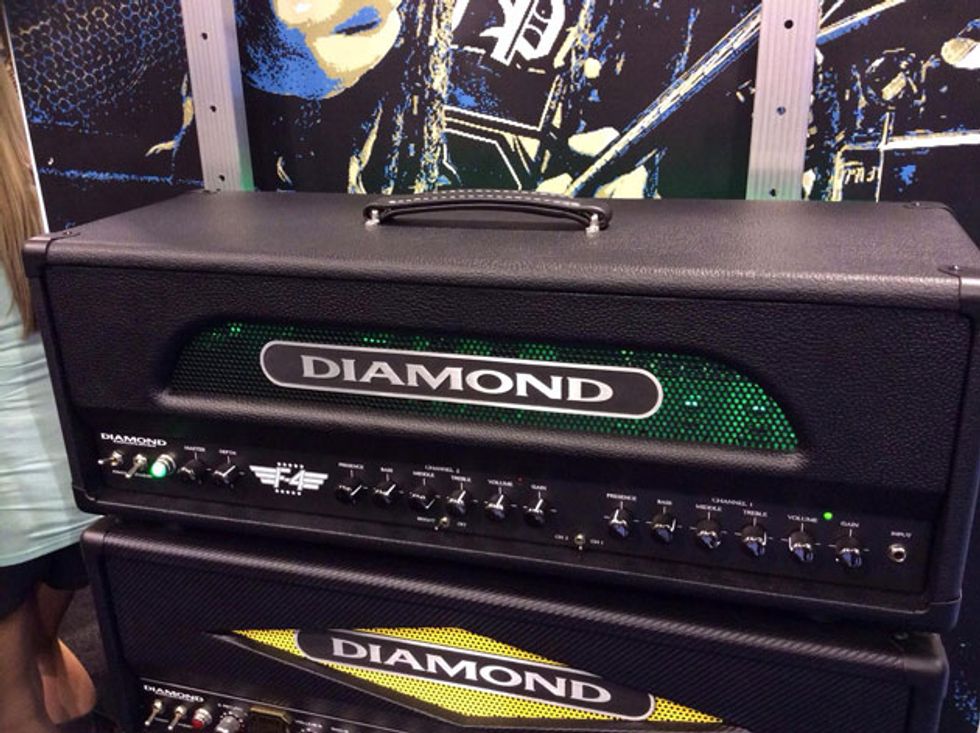 Diamond Amplification's new 100-watt F-4 has two independent channels (clean and crunch), each with a 3-band EQ, as well as volume, gain, and presence controls. A footswitch is included and the street price for this all-tube rig is just $999.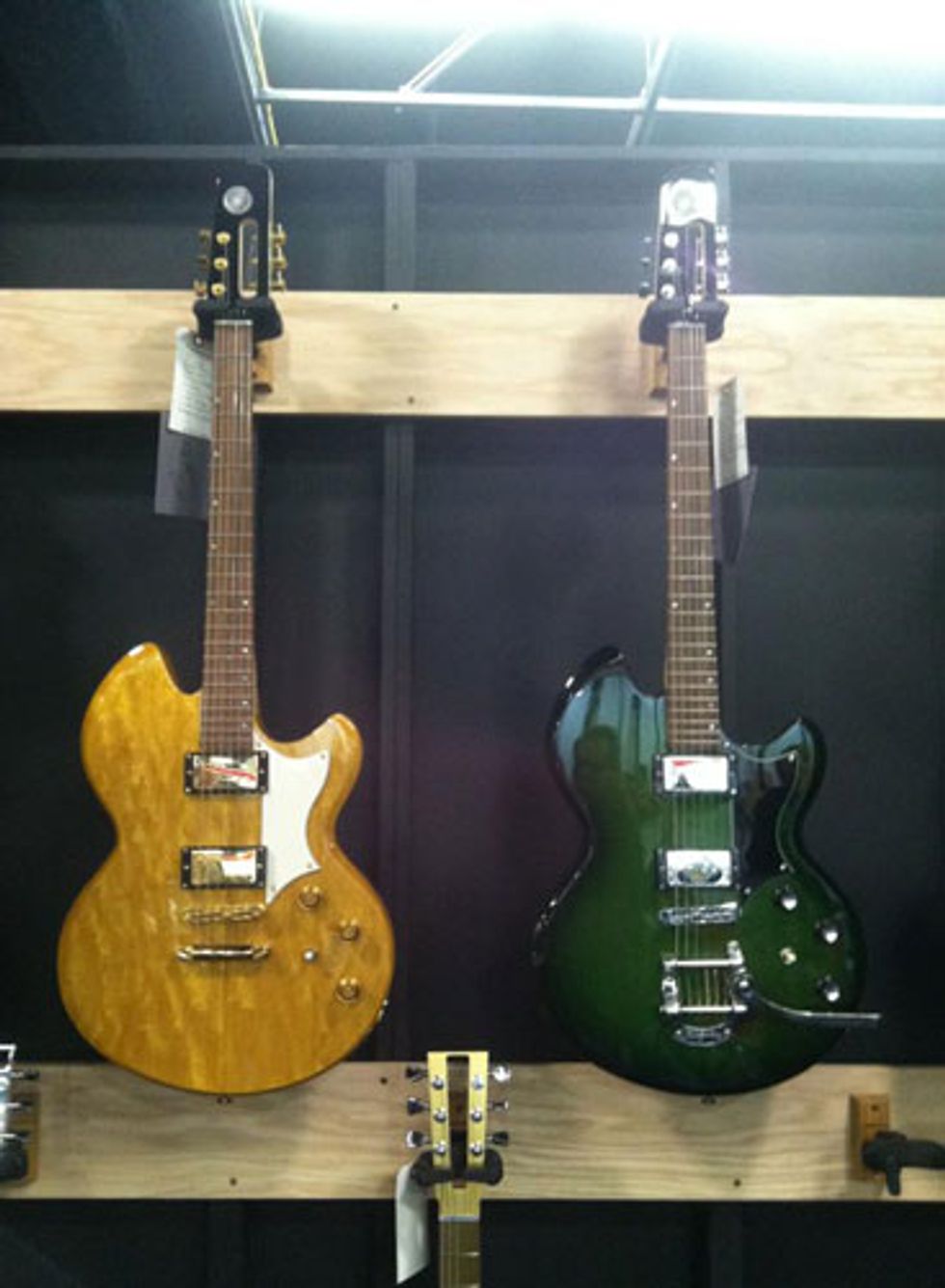 Former Nirvana tech Earnie Bailey is building absolutely beautiful guitars under the Wire Instruments name. These instruments are inspired takes on the old Gretsch Astro Jet profile called the Supercollider. The one on the left is a Korina bodied specimen with Lindy Fralin Pickups Plus P-92s. On the right, an Alder body with Railhammers.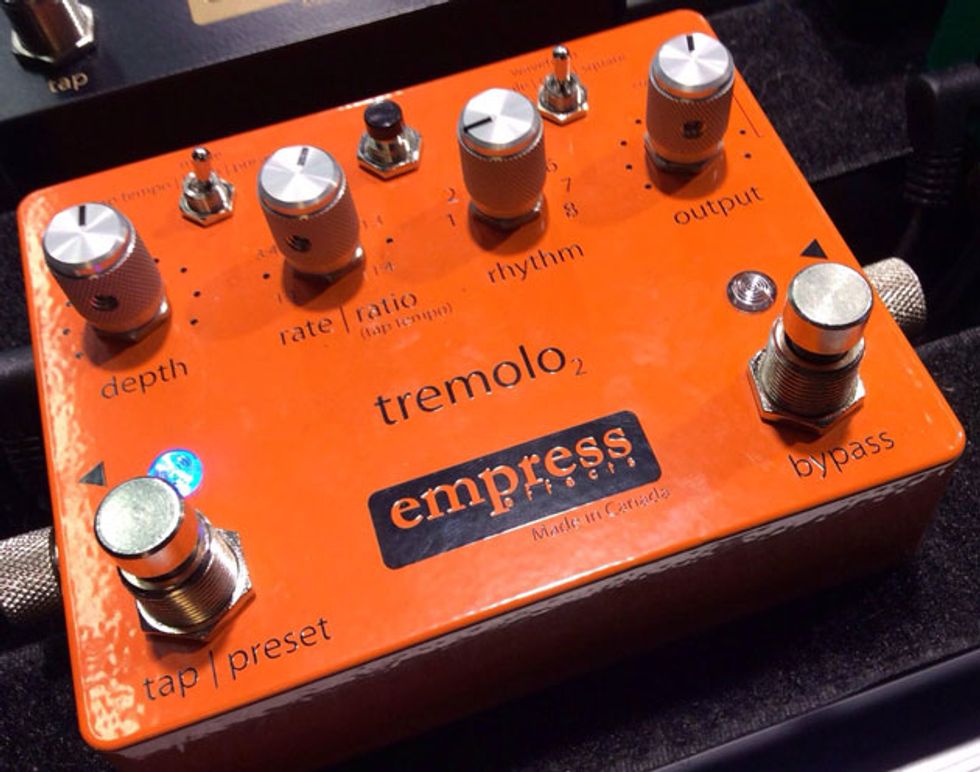 Empress Effects reinvented its famous Tremolo pedal. The Tremolo2 has an all-analog signal path with incredibly powerful digital controls, including an innovative new multi-colored LED system for identifying up to eight presets. Also new is the control port which can be used with an external tap-tempo footswitch, an expression pedal (to control almost any function), or even with Empress' MIDI Box to recall presets or sync the pedal with time code. $249 street.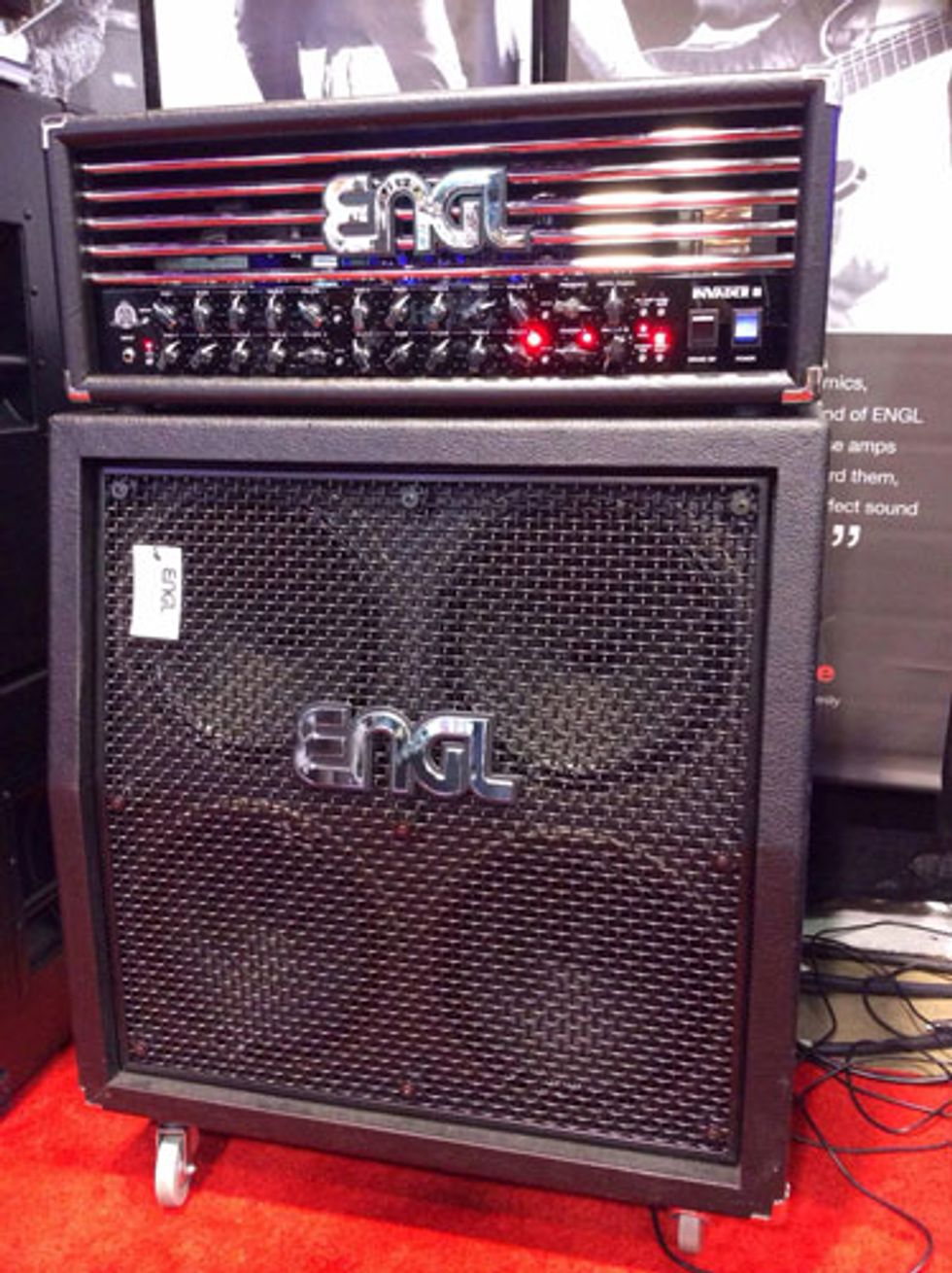 The new 100-watt Invader II from Engl features two clean channels and two overdrive channels that are all switchable between a hi/lo gain mode, and each channel has a dedicated 3-band EQ. As an add-on option for the Invader II, Engl offers the Sound Wizard Module Z16 for ultimate tone-tweaking hi-jinx.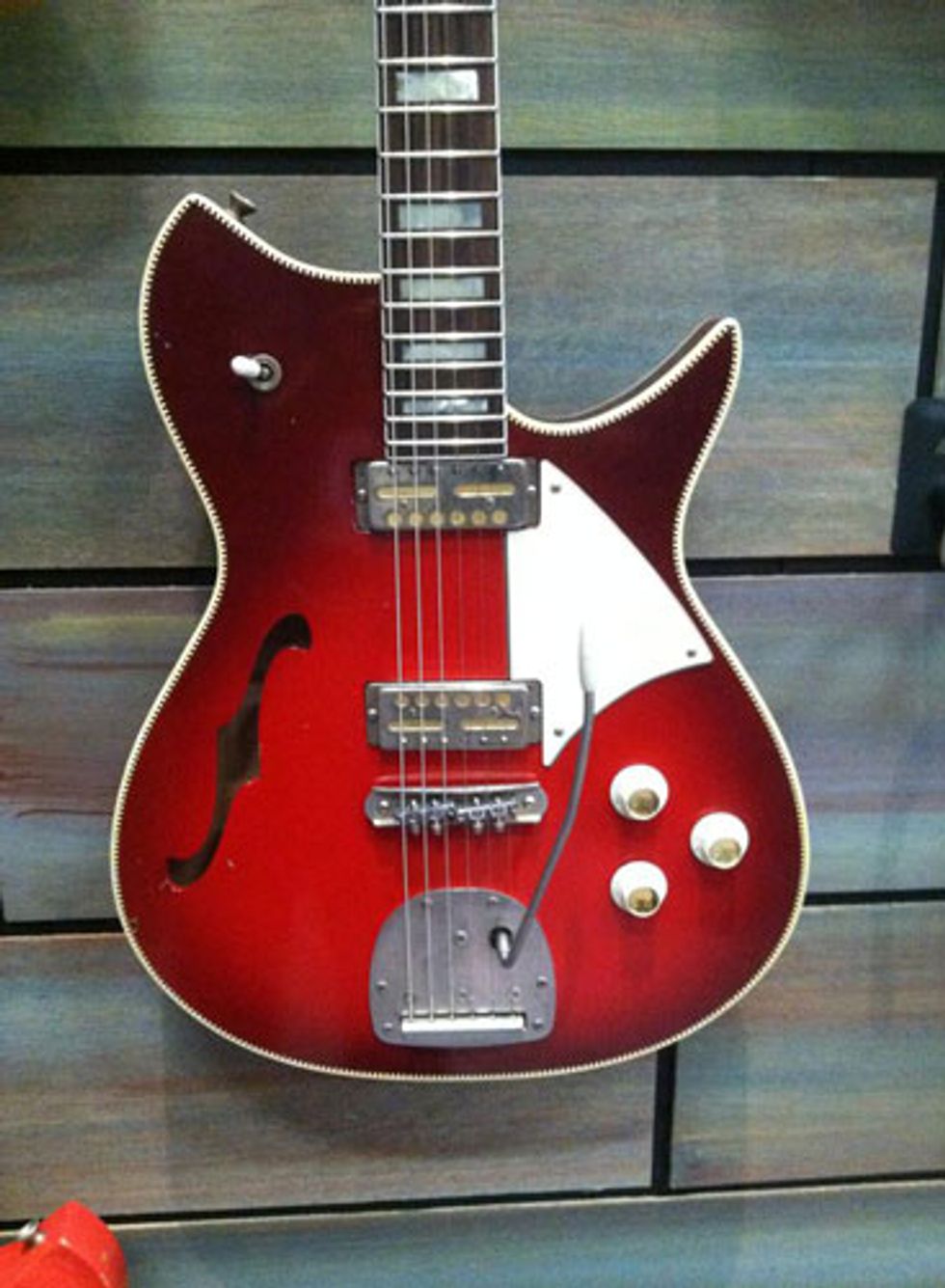 Fano Guitars' newest, beautiful Alt De Facto RB6 mutation unites Rickenbacker, Kay, and Jazzmaster cues including Gold Foil pickups, Mastery bridge and vibrato, and checkerboard binding. Definitely one of the most fun guitars at Winter NAMM 2014.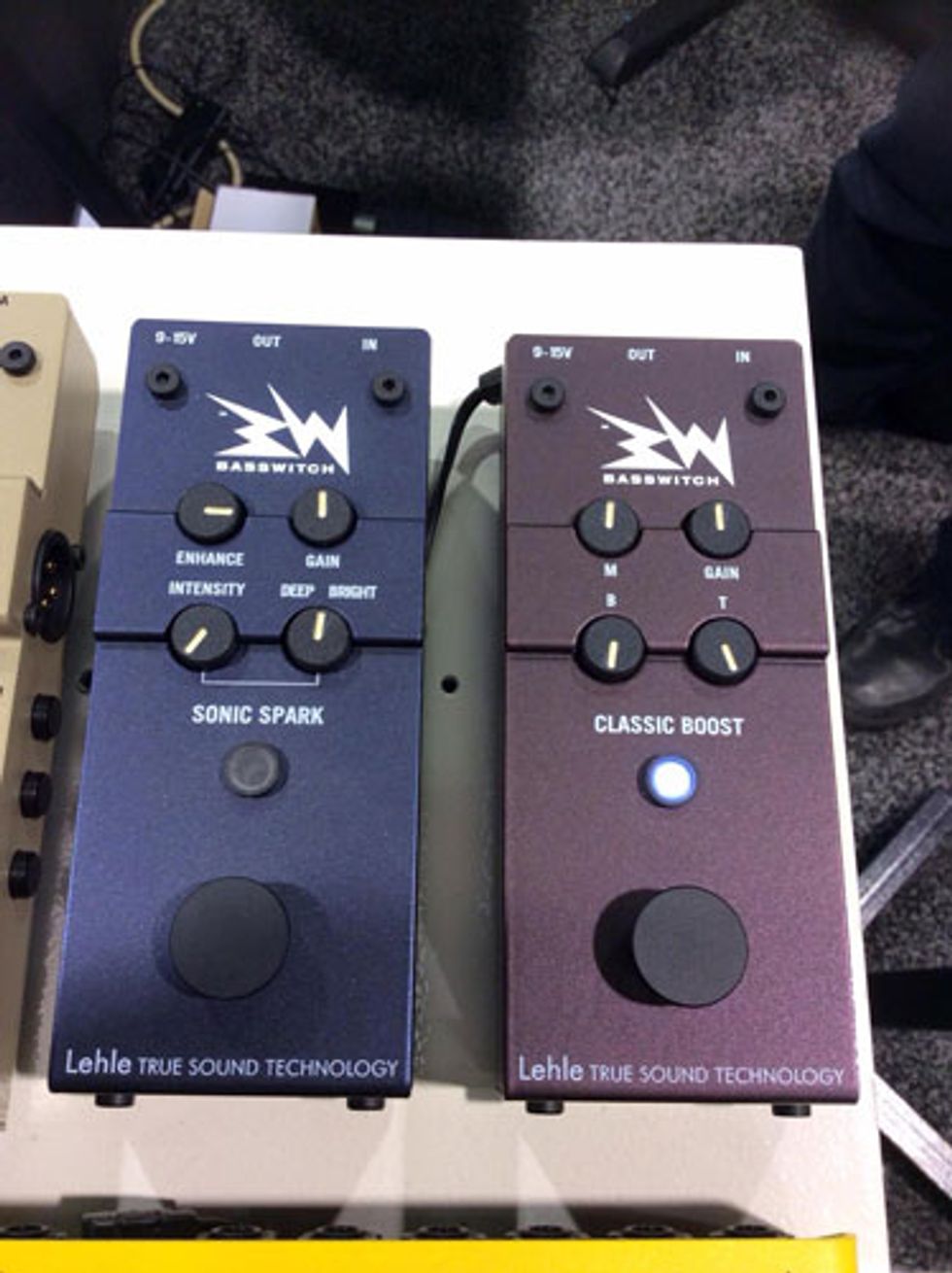 Lehle introduced a trio of new bass pedals including the two shown here: the Basswitch Sonic Spark and the Basswitch Classic Boost. The Sonic Spark is an acoustic flavor enhancer pedal that's able to really fatten up bass tone. The Classic Boost is a booster pedal with voicing specifically developed for passive JJ, P, and P/J type basses.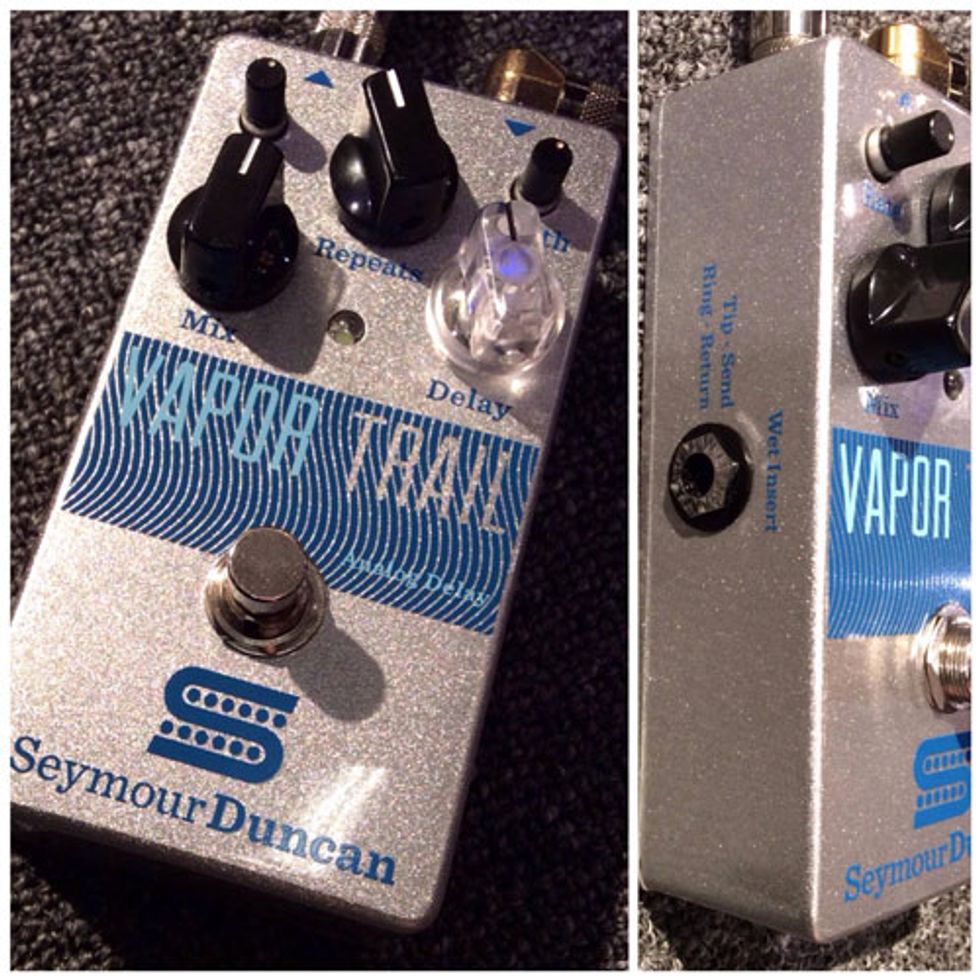 Seymour Duncan's new Vapor Trail delay feature 600ms of completely analog delay with two mini pots for modulation, a transparent delay knob with an embedded rate LED, and a cool wet insert that you can use with an expression pedal to control volume of repeats or to use with a y-cable to loop in any other effect and have it only affect repeats. It goes for $149 street.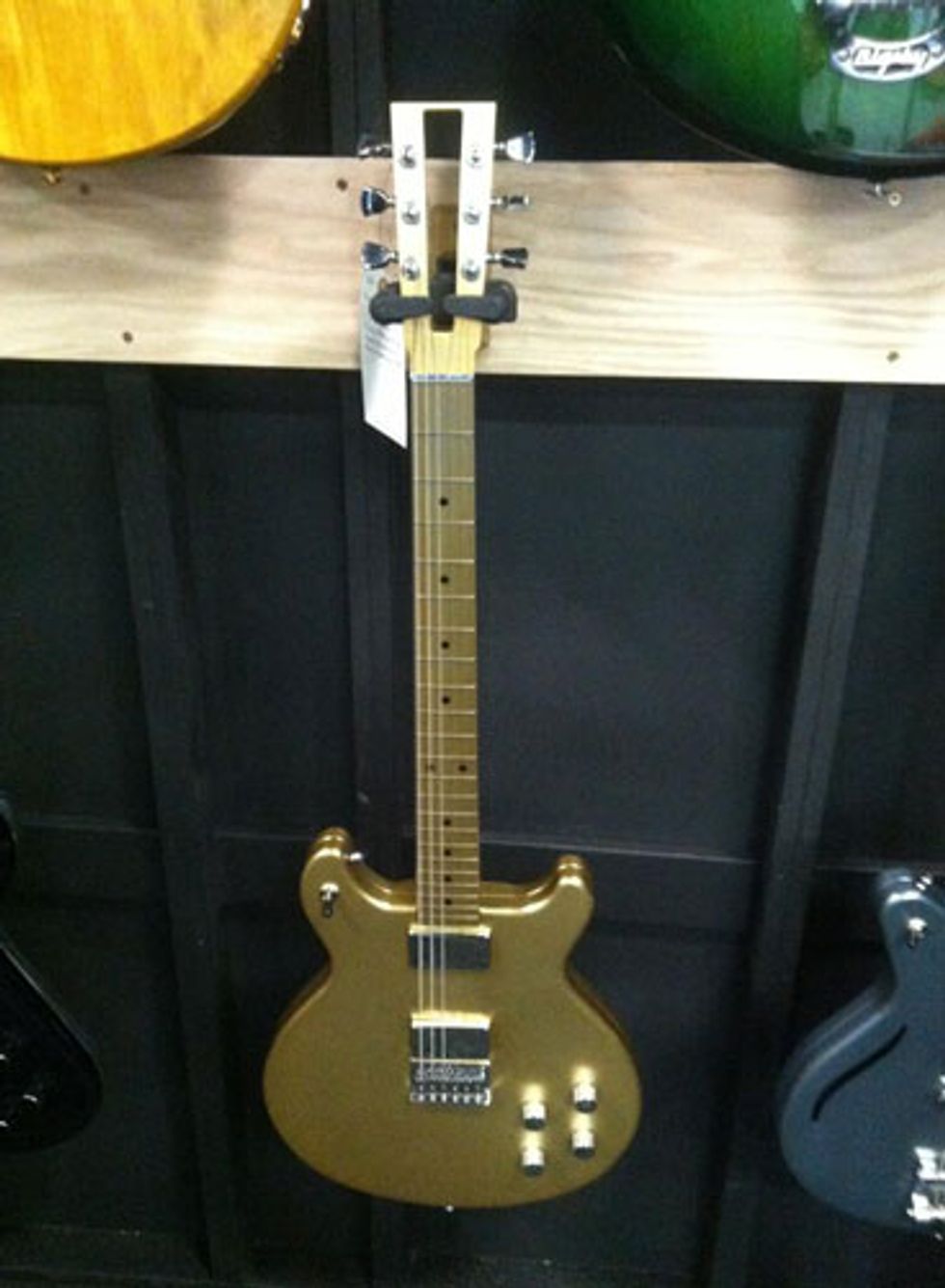 Glorious resurrection!!! Travis Bean Guitars is back! This particular all-metal marvel is Buzz Osborne's signature model, loaded with EGC humbuckers.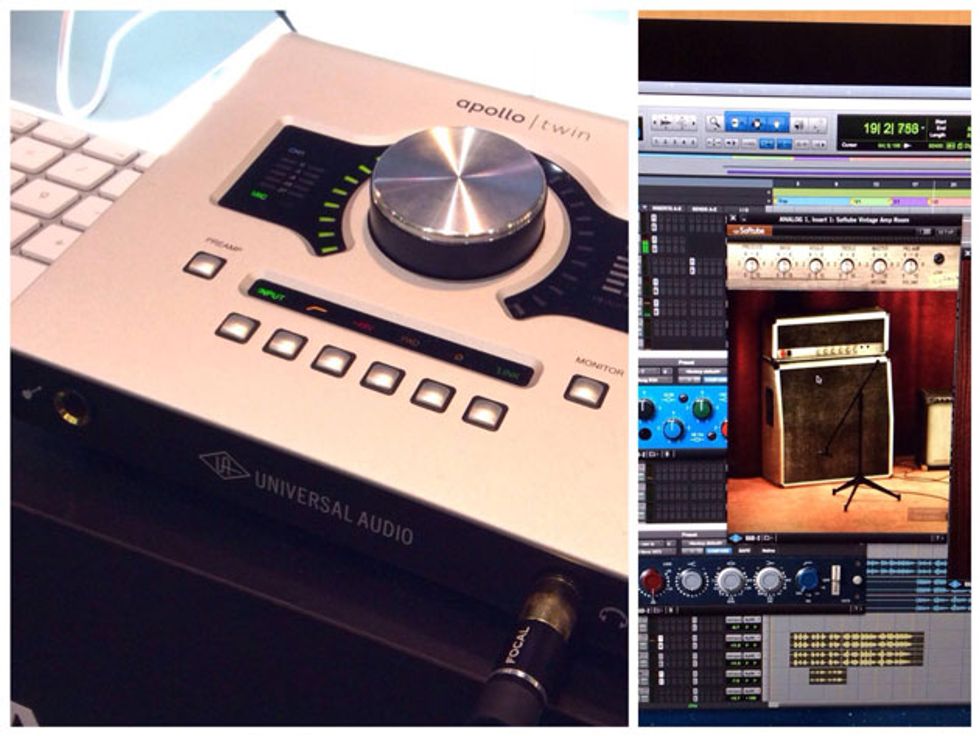 Universal Audio's new Apollo Twin recording interface features two high-quality XLR preamps, a 1/4" guitar input, a suite of 14 included plug-ins—from guitar amp and effects to reverbs and models of classic UA studio units—as well as available plug-ins from partnerships with Boss, ENGL, and more. Most notably, all plug-in processing happens with SHARC chips built into the unit itself, which translates to low-latency tracking. The one-processor Solo goes for $699, and the Duo goes for $899.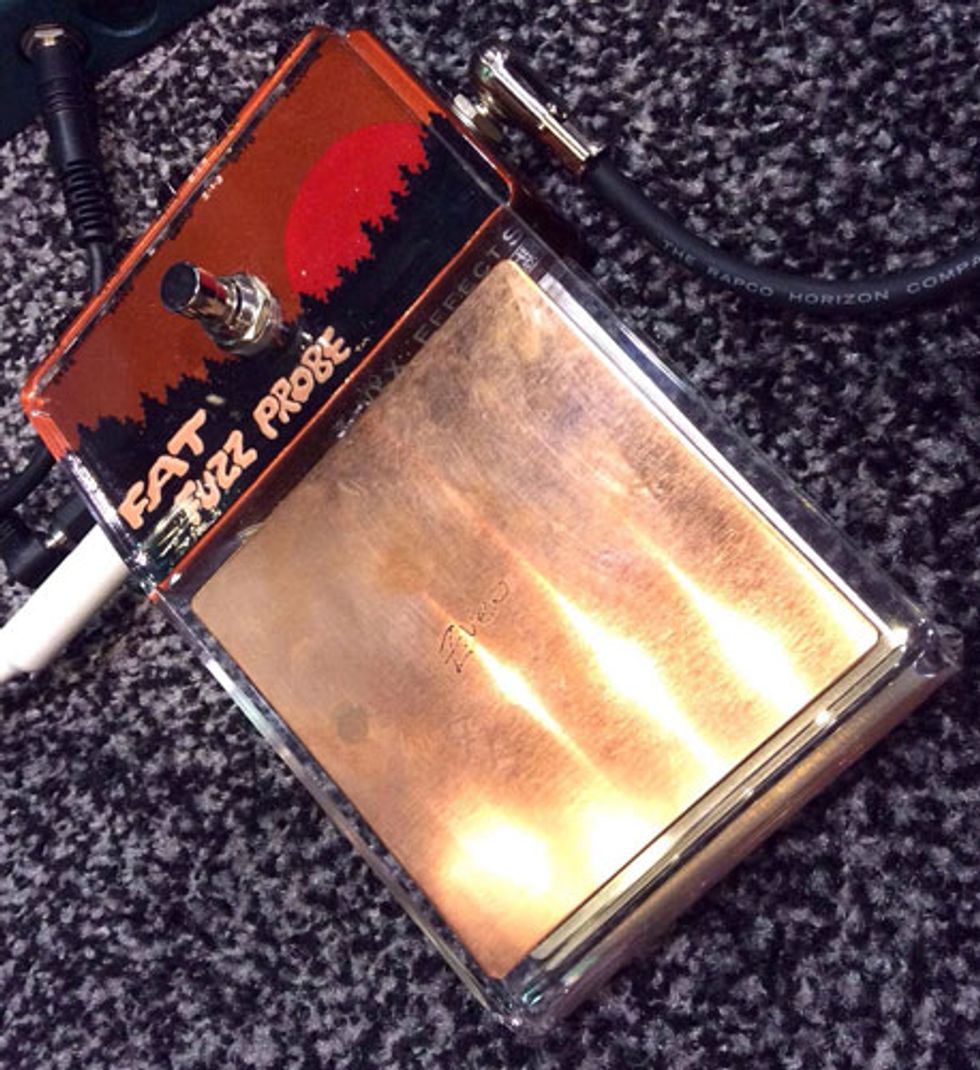 Z.Vex Effects put their Fat Fuzz circuit into the new Fat Fuzz Probe. The theremin control governs the stab parameter, and there are also drive, comp, gate, and volume knobs, as well as a 3-position voicing toggle for standard Fuzz Factory sounds, and "deep" and "deeper" subharmonic modes. It'll be available in late summer for $369 street.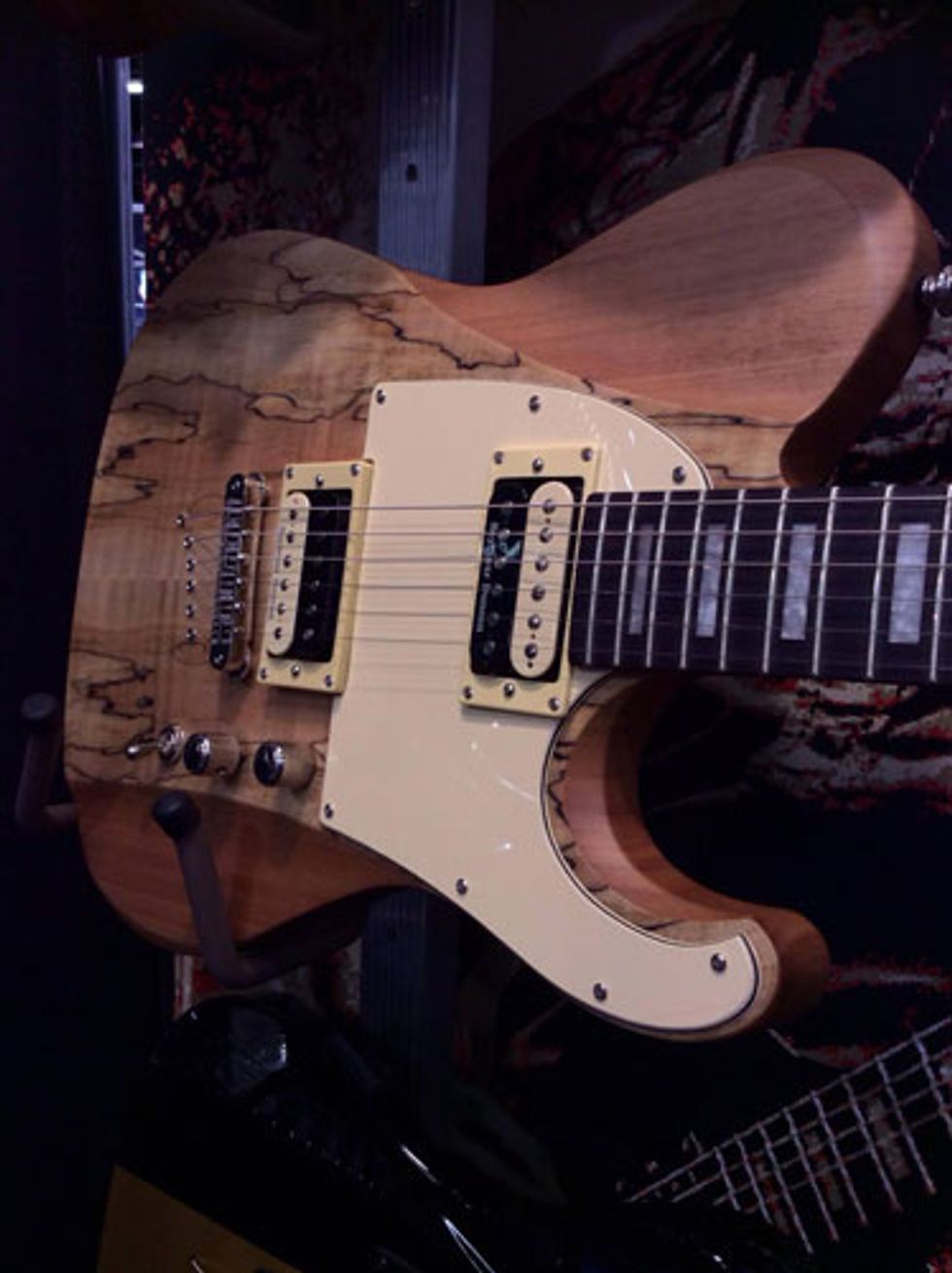 Among their numerous new offerings at NAMM, DBZ Guitars introduced a new vintage-inspired body shape to their line with the Maverick. The Maverick SM variation shown here has a mahogany body topped with spalted maple, and a mahogany neck capped with a rosewood fretboard. For electronics, the Maverick SM is packed with a Pearly Gates/'59 Seymour Duncan combo.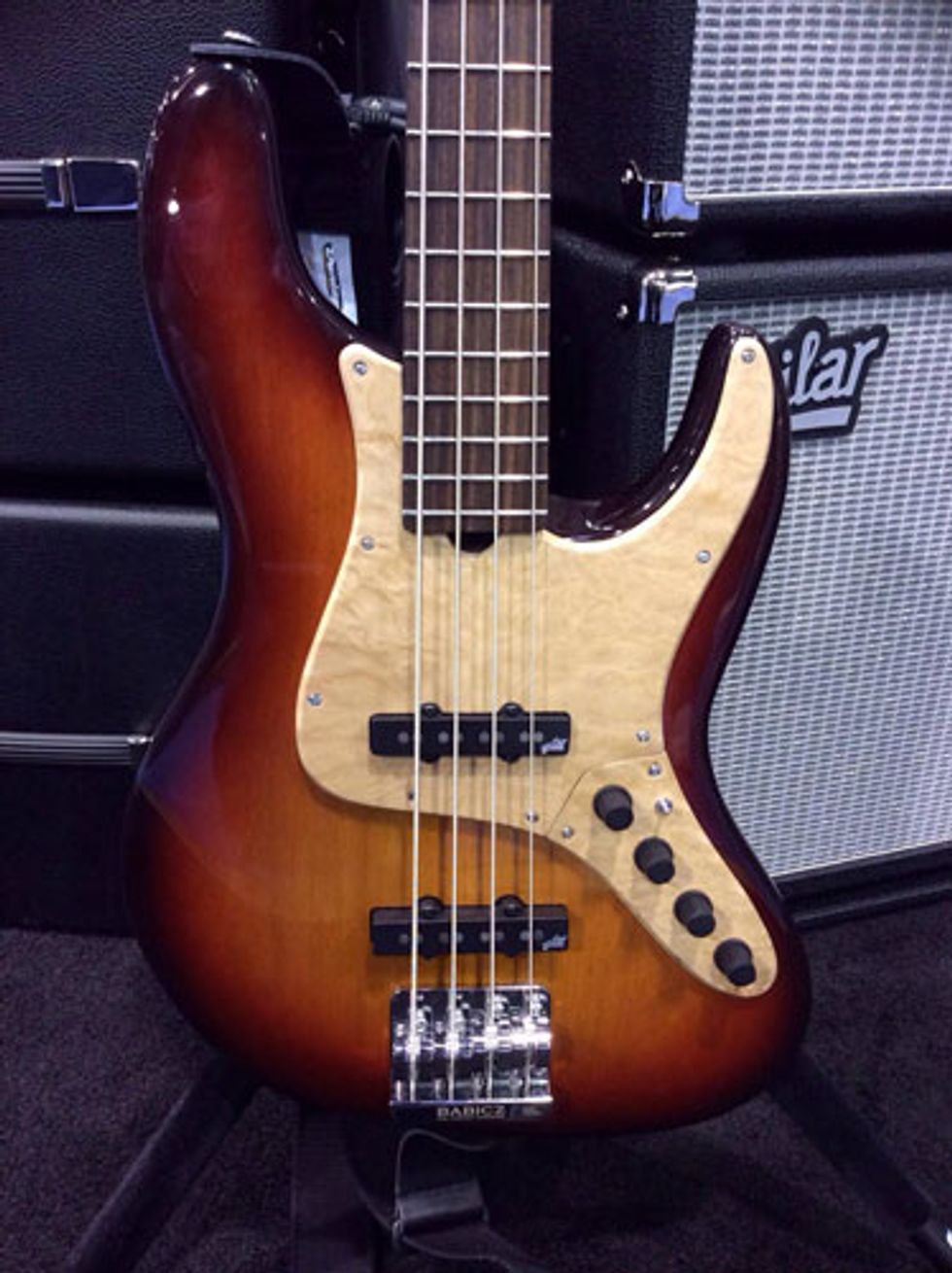 Brubaker Musical Instruments brought bass No. 1 of a brand new series called the JXB Standard. This J-style, handcrafted axe has an alder body, maple neck, and East Indian rosewood fretboard. Outfitted with a traditional JJ configuration, Brubaker chose Aguilar AG 4J-HC hum-canceling pups for the JXB.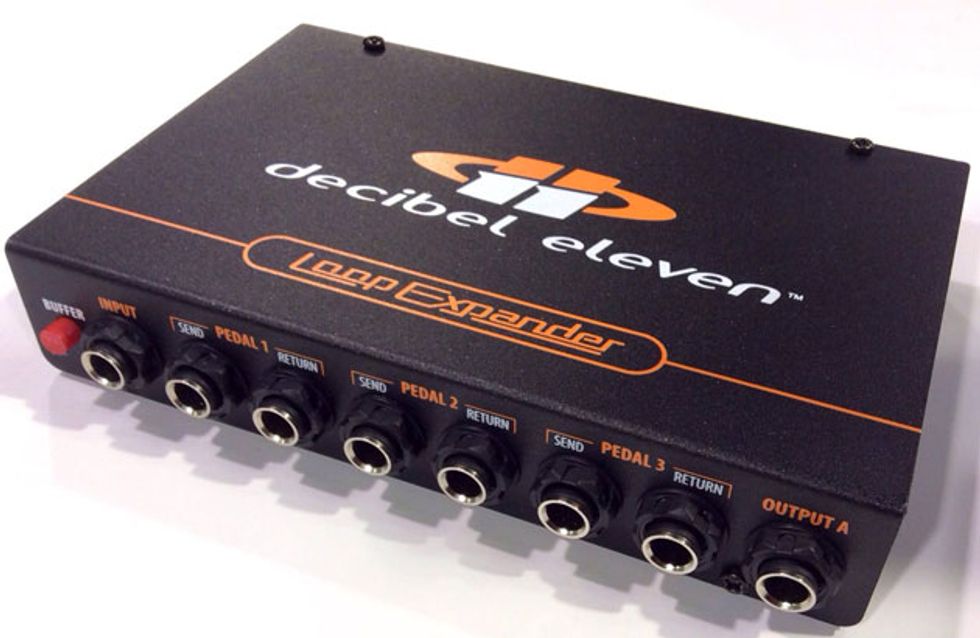 Decibel Eleven's new Loop Expander is a four-relay unit that adds true-bypass loop switching to any MIDI setup. The fourth loop can function as an amp switcher, you can connect multiple units in series for large pedalboards, and it works with MIDI program or control changes. There's also a switchable class A buffer. $189 street.

Diezel's new 100-watt Lil Fokker is its simplest design to date. Powered by a quartet of KT77s, it features clean and dirty channels, a series effects loop, and a two-button footswitch for switching channels or between two different master volumes. $2,499 street.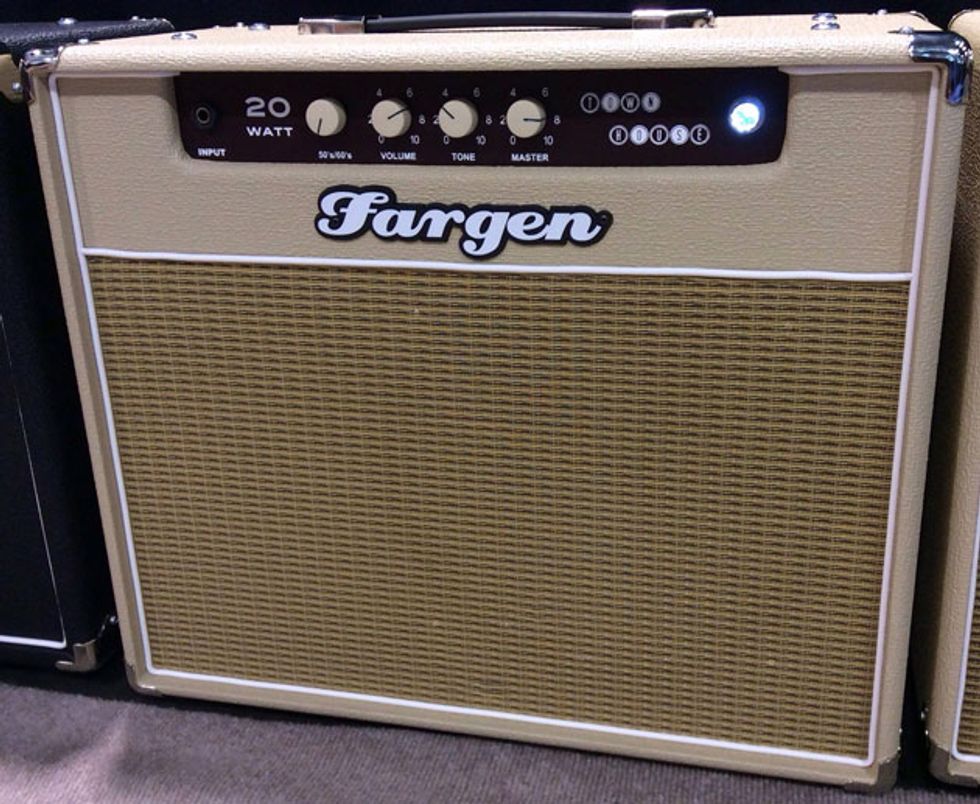 Fargen Amplification debuted its first-ever combo to street for under two grand. At $1,699, the 6V6-powered Townhouse 20 has two circuits—tweed '50s style and '60s brownface—and external bias points for using 6L6 output tubes.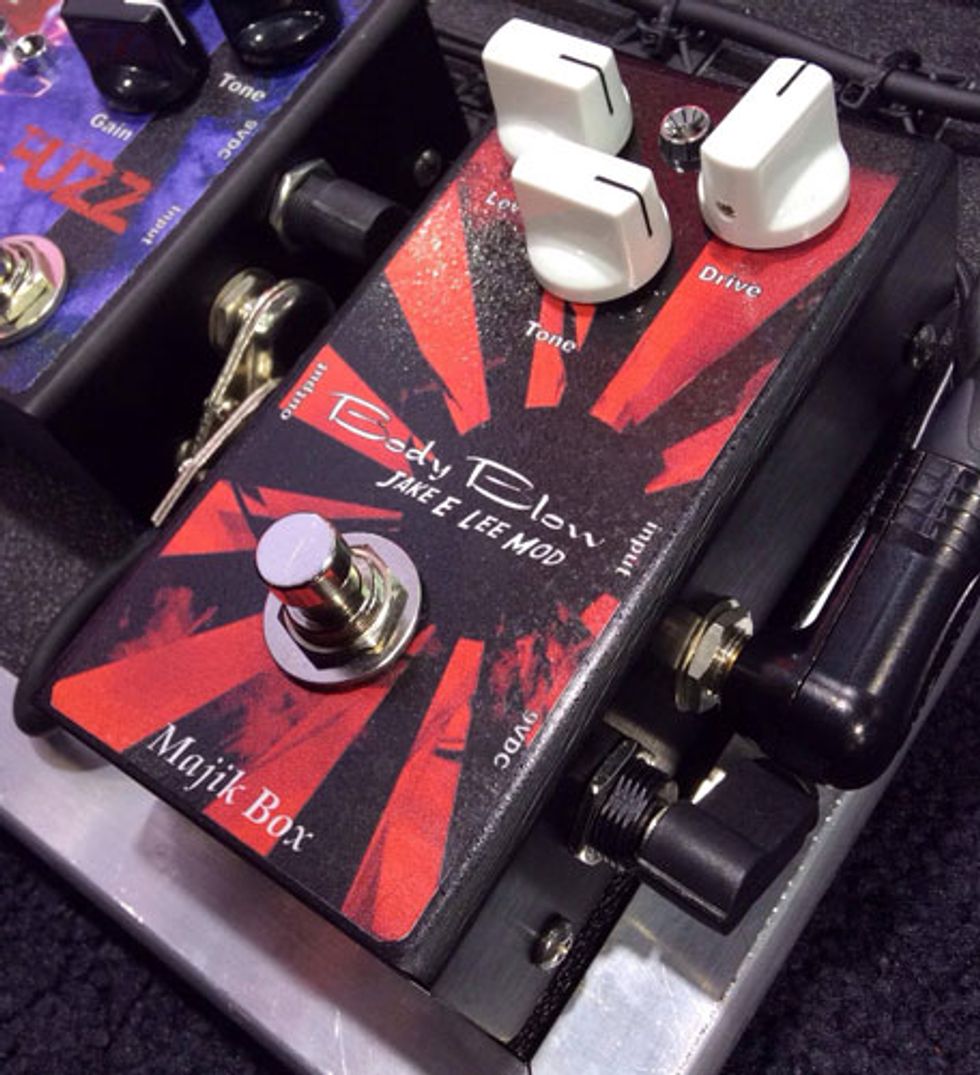 Majik Box new Body Blow Jake E. Lee Mod overdrive is similar to the existing Body Blow, but it's missing the two toggles because this box has more low end than the original, and Lee prefers the original's diode-clipping vintage mode. Unlike many overdrives, it accentuates low-mids to give more oomph to solos.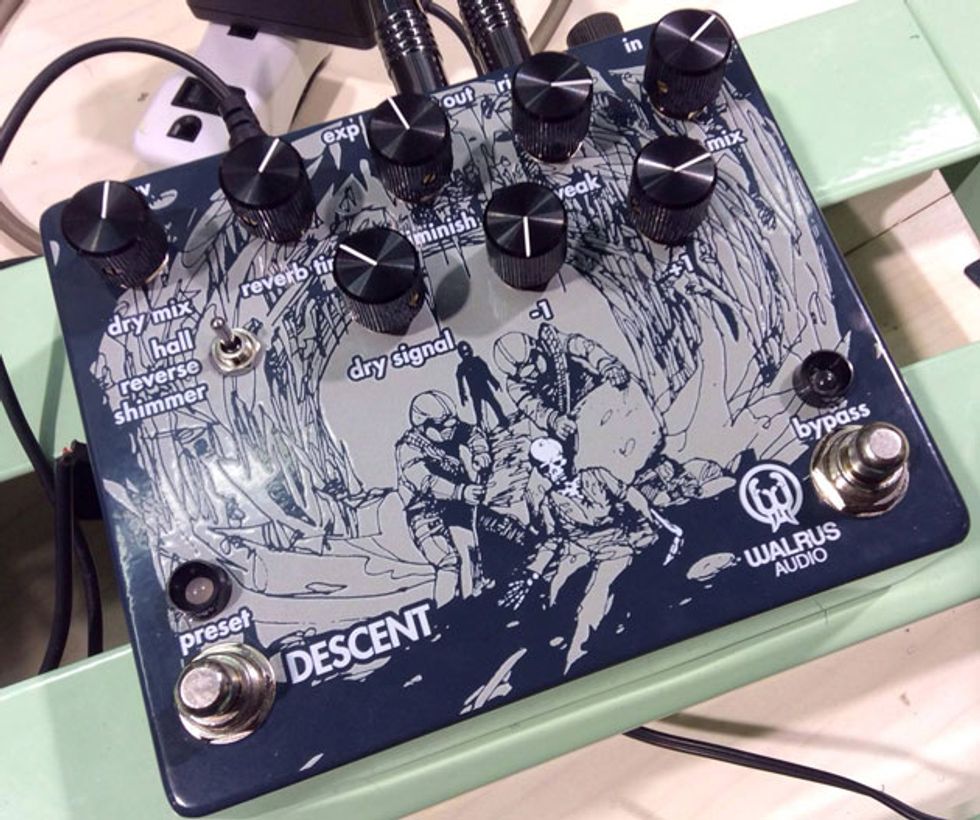 Walrus Audio's new Descent reverb goes from lush, dreamy soundscapes to twisted and trippy. Modes include hall, reverse, and shimmer, and -1 and +1 knobs add low and high octaves to the reverberations. There are three available presets, plus manual mode. Jacks include a mono input, stereo outs, and an expression-pedal input that lets you control reverb time or wet mix. $300 street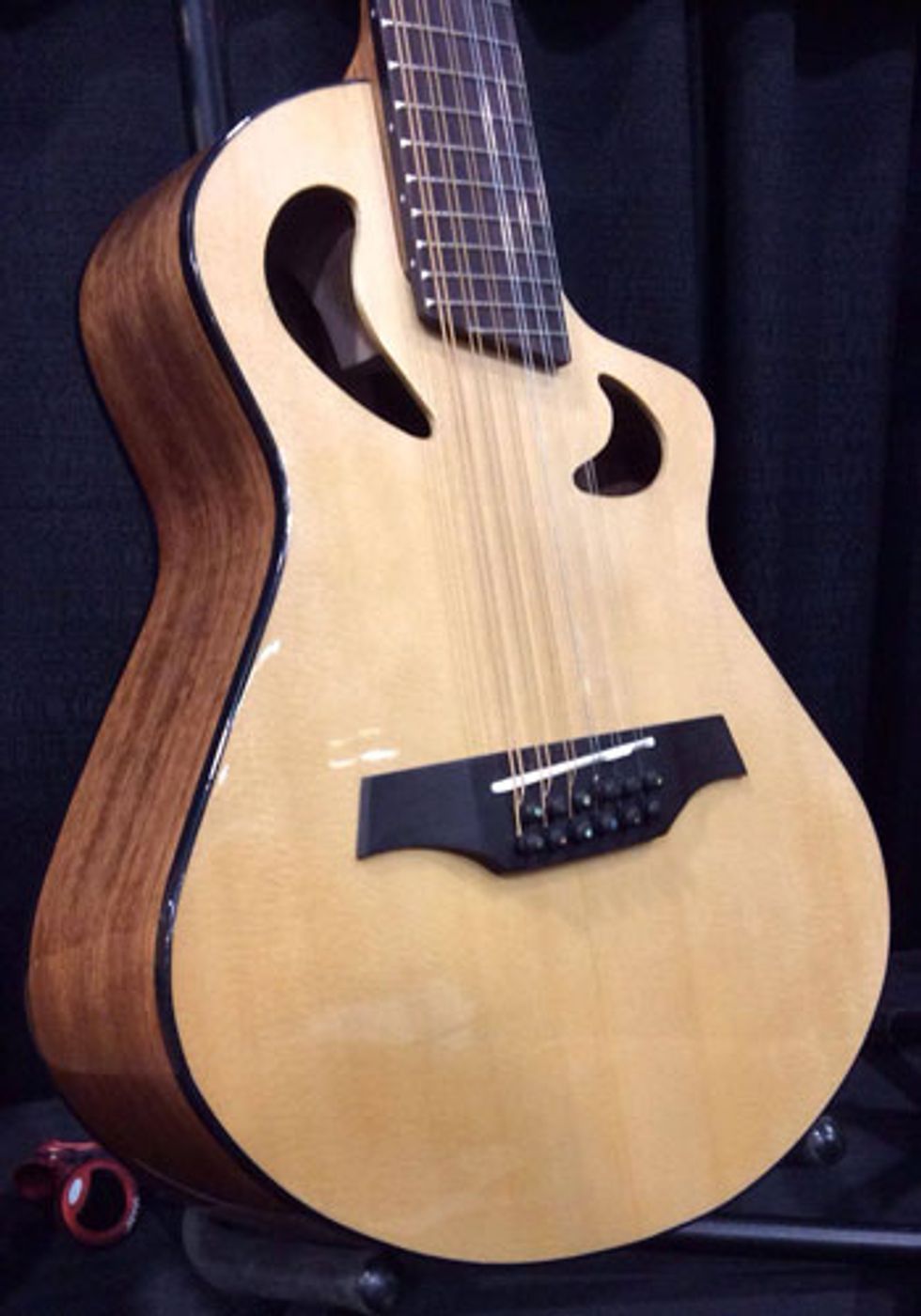 After 40+ years of making his instruments by hand, luthier Joe Veillette announced at NAMM that he is beginning production on an import line. The 18 1/2"-scale Avante by Veillette Gryphon short-scale 12-string is tuned D to D (above standard) and features solid-mahogany back and sides, solid maple top, piezo bridge pickup, and volume and treble-rolloff controls for $1,399 street.