Find out why this pattern favored by metal shredders and jazz gurus is one of the most accurately named modes.
It's interesting how scales develop their names. In particular, what makes Super Locrian super? I'm sure there are a whole host of reasons/theories surrounding that one, but let's save that for another time. Today I want to focus on a different scale that somehow has earned the most admirable of adjectives—the melodic minor scale. The name might lead one to believe that this particular group of notes is the only way to be "melodic" on your instrument. Can we all agree that isn't the case? Cool. Let's move on.
The ascending melodic minor scale is one of the three traditional minor scales. It is constructed with a W–H–W–W–W–W sequence of whole-steps (W) and half-steps (H). In the key of C that would give us C–D–Eb–F–G–A–B or 1–2–b3–4–5–6–7 as shown in Ex. 1. Other ways to wrap you brain around it could be a simple major scale with a b3 or natural minor with raised 6 and 7 scale degrees.
It has a bright sound due to the four consecutive whole-steps in the top half of the scale and is used primarily in jazz to create altered dominant seventh chords and modes that you can't get from the major scale system. Ex. 2 provides you with four common two-octave melodic minor scale patterns. This is an easy way to get the sound of the scale under your fingers and in your ears.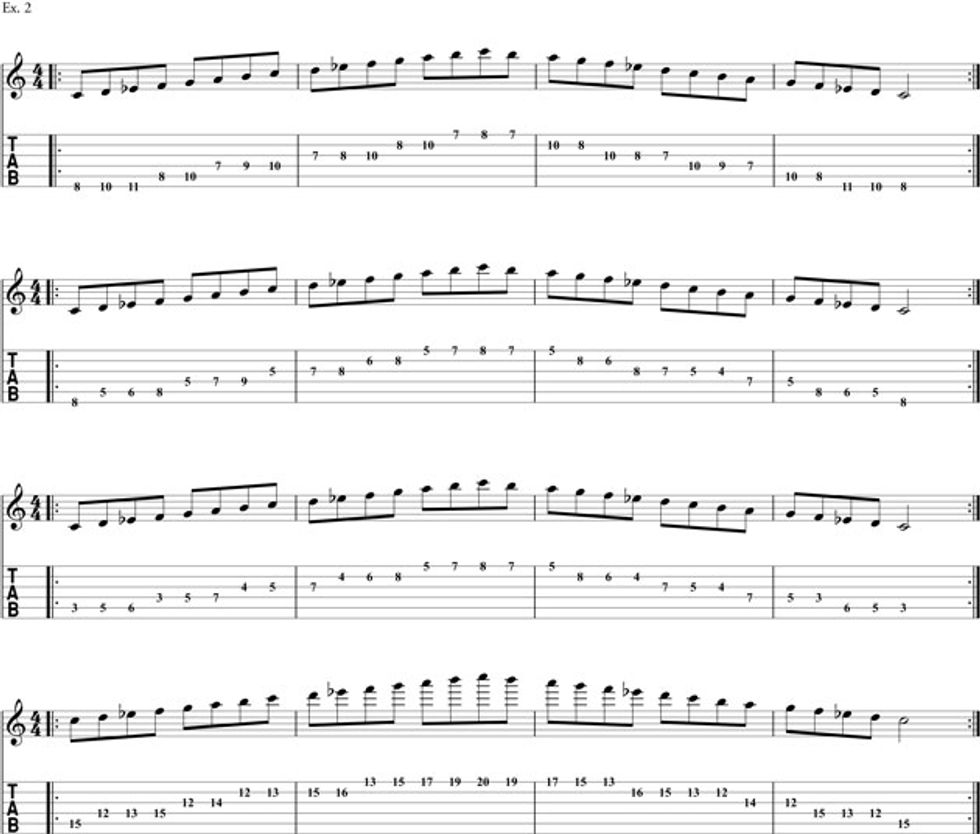 After learning how a scale is built, the next step is to dig into the diatonic thirds, triads, and seventh chords it creates. The better your understanding of the harmony of the scale, the easier it will be to compose and improvise with it. Essentially, figure out what's there, and then figure out how you're going to use it.
In Ex. 3, I've systematically mapped out all the diatonic thirds across five different adjacent string sets. I jumped down the octave when needed, but playing through these will help give you a more horizontal view of the scale. Check out that run of major thirds in the middle—that is the sound of the jazz melodic minor.
Next up are the diatonic triads (Ex. 4). This linear view of the triads helps me see how each one is related to one another. The resulting harmonic pattern is Cm–Dm–Ebaug–F–G–Adim–Bdim. Playing through these triads a few times will also help outline the brightness of the scale.
What's next? Why, seventh chords of course! In Ex. 5, I wrote out voicings for the chords with roots on the 5th and 6th strings. Here, the harmonic pattern is a bit more complicated: Cm(maj7)–Dm7–Ebmaj7(#5)–F7–G7–Am7b5–Bm7b5. If you haven't seen a m(maj7) chord before, it's simply a minor triad with a natural 7 on top.
The previous examples show these dyads and chords lined up and down the neck. You can obviously play the notes together or separately using different rhythms and string patterns. In Ex. 6, Ex. 7, and Ex. 8 I've outlined a few different practice patterns for this scale. I didn't do all the work for you, but I think you will get the gist of it pretty quickly. Over the years I've worked on playing these structures as ascending, descending, and alternating between the two. Obviously, there are other intervals and chord structures that you could work on (and you should), but because most jazz harmony is built by stacking thirds, this is a good place to start. Practicing in this way increase your technical ability, and you'll have something ready to play if you're not inspired by anything else at the moment.
Now, let's dive into the modes of the jazz melodic minor scale. In Ex. 9, I've written out a fingering for each one of the diatonic modes and below I've written out their corresponding formulas.
C melodic minor 1–2–b3–4–5–6–7
D Dorian b2 1–b2–b3–4–5–6–b7
Eb Lydian augmented 1–2–3–#4–#5–6–7
F Lydian dominant 1–2–3–#4–5–6–b7
G Mixolydian b6 1–2–3–4–5–b6–b7
A Locrian #2 1–2–b3–4–b5–b6–b7
B Super Locrian 1–b2–b3–b4–b5–b6–b7
Suppose you need to find the parent key of A Lydian dominant. Simply find the melodic minor scale that has an A as the fourth note. Spoiler: It's E melodic minor. In Ex. 10, each mode of the jazz melodic minor scale is played in order starting on C. Playing them from the same root allows you to actually hear how different each mode sounds. When played diatonically, it's easy to miss their individual characteristics. Memorizing the order of the modes will help you find the parent key of any single melodic minor mode.
The next step, of course, is figuring out how and where to use these modes. You have to think about chord type and chord function, just like the modes of any other scale. The melodic minor scale can be used over any min(maj7), m6, or any chord that functions as the tonic in a minor key. That means if you're playing a blues in C minor, you can use the C melodic minor scale. Check out Ex. 11 to hear what this mode sounds like over a simple Im–V progression in C minor.
The second mode, Dorian b2 can be used over a IIm7 chord. It's a darker sound compared to the Dorian mode due to the b2. In Ex. 12, I'm playing the A Dorian b2 (G melodic minor) over an Am13 vamp, focusing on triads and thirds to bring to the 13th and b2 sound of the mode.
If the Lydian mode is bright enough for you, then get into the Lydian augmented scale, the third mode of melodic minor. Ex. 13 uses the E Lydian Augmented (C# melodic minor) over a G#/E to F#/E vamp. I'm still utilizing thirds and triads to get the sound of the mode, but also targeting chord tones of Emaj7(#5).
Jumping ahead to Locrian #2, this mode is used over m7(b5) chords to get a slightly brighter half-diminished sound with a little more tension. Ex. 14 uses the F# Locrian #2 mode (A melodic minor) over an F#m7(b5) vamp, exploring the #2 sound in a couple different positions.
The next three examples explore dominant seventh sounds and each example is over a IIm7–V–I–VIm progression in D major. First up is Lydian dominant in Ex. 15. When confronted with a 7(#11) chord, this is the mode to use. It's almost identical to Mixolydian, but with a raised fourth scale degree. Over the V chord, I'm playing A Lydian dominant (E melodic minor), and B Lydian dominant (F# melodic minor) over the VI chord.
In Ex. 16 we dive into Mixolydian b6. Again, it's almost identical to Mixolydian but with a flatted 6th scale degree. Over the V chord I'm playing A Mixolydian b6 (D melodic minor) and over the VI I'm using B Mixolydian b6 (E melodic minor).
Last but not least is Super Locrian. Even though this mode builds a m7(b5) chord, it is often used over a dominant chord to get all the altered tones (b9, #9, b5, #5), hence the "altered scale" name. It's also known as the diminished whole tone scale because it begins like a half-whole diminished scale and ends with whole tones. In Ex. 17, I'm playing A Super Locrian (Bb Melodic Minor) over the V chord and B Super Locrian (C Melodic Minor) over the VI chord.
The jazz melodic minor scale can be used over all the seventh chords found in the major scale system. It will add new color tones and tension to your soloing and chord voicings. You could potentially substitute a mode of the jazz melodic minor over every seventh chord in a jazz standard and create an alternate diatonic universe. Obviously, that would eat up a lot of clock time in your weekly schedule, but in the meantime, you can add these new flavors to your favorite lines and come up with a brand new you. Enjoy!
Musicians Institute guitar guru Scott Henderson and outspoken bass virtuoso Jeff Berlin discuss their chops-laden new album with Dennis Chambers, why Berlin didn't join Van Halen, and why metronomes and rock academia are useless.

Jazz super-trio HBC—Scott Henderson, Dennis Chambers, and Jeff Berlin— at a gig in Israel.
It began about three decades ago at Hollywood's Musicians Institute [formerly Guitar Institute of Technology], when (then) guitar student Scott Henderson walked into jazz-fusion bass instructor Jeff Berlin's office and said, "You should hire me."
The infamously outspoken Berlin (who says of a reported past offer to join Van Halen, "They were rock royalty and I didn't wish to take the gig for mercenary reasons. But I should be in the band now—I would be the best bass player they ever had. I would lift them 40 percent higher than they are now") decided to go to one of Henderson's Top 40-cover-band gigs. Berlin came away so impressed that he hired Henderson to play on Champion, his first solo record. It was the start of a musical relationship that lasted until Berlin moved to Florida in the mid '90s to open the Players School of Music.
But if you're thinking the difficult-to-impress bassist—whose prestigious gigs over the years include stints with Frank Zappa, Allan Holdsworth, Sonny Rollins, k.d. lang, Kazumi Watanabe, T Lavitz (Dixie Dregs), and Anderson Bruford Wakeman Howe—was won over by note-for-note renditions of "Cocaine," think again. Henderson used those gigs to show off the burning intervallic and chromatic lines that have made him a legend among fusion guitar geeks worldwide.
"I think I soloed more on some of my Top 40 gigs than I do on some of my band's gigs today," laughs Henderson—whose own list of accomplishments is as impressive as Berlin's. Since graduating from MI, he's worked with jazz gods Chick Corea (Miles Davis, Return to Forever) and Joe Zawinul (Weather Report), as well as renowned violinist Jean Luc-Ponty (Mahavishnu Orchestra). "All a club owner cares about is whether the people are dancing. Once you have the floor packed, you can play anything you want—people are drunk and nobody cares. I played 20-minute solos, just practicing the stuff that I learned at school." Soon after leaving the ranks of MI's students, Henderson joined its faculty, where he still holds a teaching position to this day.
Since opening the Players School, Berlin has been on hiatus from major touring. But in 2009, he got the gigging bug again and called up Henderson. "Scott and I are, frankly, made for each other," says Berlin. Monster drummer Dennis Chambers (Parliament-Funkadelic, John Scofield, Santana) was also enlisted for the tour, and the trio recently released HBC—an album that borrows heavily from the Weather Report catalog to relentlessly showcase the members' smoldering improvisational prowess.
Scott Henderson in the studio with his signature Suhr guitar. Photo by Jessica Pettyjohn
What made you guys decide to play so much Weather Report material on HBC?
Henderson: Outside of this project, we all have our own bands. For me, it's hard enough to come up with music for my own trio and I just don't have time to write for other projects, so when Jeff called me for this project I said, "Yeah, I'll do it as long as it doesn't involve writing." Also, we're sort of known as improvisers. A lot of people really don't care about the material we're playing. They just want to hear Dennis play his drums, Jeff play his bass, and me play the guitar.
Berlin: But we'll never play cliché Weather Report tunes like "Birdland" or "Teen Town." We do a lot of [the] Wayne Shorter[-written] tunes because he's one of the guys that harmonically represent my interests in music as well as Scott's. We both like chords and harmony, and we both like music that doesn't just go Dm–G7–Cmaj7.
Scott, are some of the Zawinul tunes on the record songs you played while you were in his band?
Henderson: No, actually these are tunes I learned for fun. I've always thought that, if I was going to do covers, I would rather do covers of keyboard players not guitar players—because who wants to rip off somebody else who plays your instrument? It'd be kind of dumb to do John McLaughlin covers and not have about one-sixteenth of his chops [laughs].
Although this is a trio record, Scott transcribed and overdubbed all the keyboard parts from the original versions to flesh things out.
Berlin: Lately, Scott's gotten into guitar orchestration rather than just, 'Plug me in, let me solo, and go home.' Dennis and I recorded the basic tracks in one day. Scott took weeks to do his parts.
Henderson: I'm a big fan of Weather Report—of Zawinul and Shorter—and to pay homage to them, I wanted to make their music kick ass like it does on their own records. Those parts must have been important for them, or they wouldn't have been on their records. I wanted to fatten it up and make it as big and textural sounding as it did on the original recordings. This meant multiple guitar tracks. I come from a career where your track on an album is basically one track. But when you're doing a trio, you've got an opportunity to make it sound really huge like, Jimmy Page did with Led Zeppelin. My friend Mike Landau has a lot of experience layering, because all of his albums are layered. He mixed two of my records and taught me a lot of cool stuff in the studio.
How many layers might be on a track?
Henderson: Fifteen or 16. I wanted to keep the mix pretty much the same as on the originals. If something was low in the mix on the Weather Report record, I kept it low in the mix on our record. Joe [Zawinul] had this secret saying, "Whenever you do a record, make sure there's a bunch of stuff in there that's really low in the mix." It adds ambience to a record. It's like seeing a Star Wars movie: There's so much there to see that you can't possibly see it all in one viewing, you have to watch the movie multiple times.
In contrast to some of the headier tunes, the earthy "Wayward Son of Devil Boy" sounds like it might be more at home on one of Scott's blues records.
Henderson: Yeah, that came from our live shows. After we do "The Orphan," which is kind of ethereal sounding, and "Sightseeing," which is kind of an atonal tune, we always went into this blues, just to sort of freak out the audience. On Weather Report's 8:30, "Sightseeing" comes after "The Orphan," so we just kept that the same. We decided to put that on the album in the same sequence.
Berlin: Scott calls himself a simple blues guitarist, but I don't buy that—he's way more than that. But the blues figures greatly into his playing, so when we did all this fusion stuff, he thought a blues [song] might be a nice addition. It also gave me a chance to play as simple a bass line as I could come up with—something Roscoe Beck might have come up with.
Jeff, do you enjoy this type of music?
Berlin: I do—and I enjoy it a lot more the older I get.
Bass legend Jeff Berlin practices some scales while recording with his trio in 2011 at the Clear Track Studio in Clearwater, Florida. Photo by Brad Kugler
How did having the amazing Dennis Chambers aboard affect your playing?
Berlin: Dennis is one of the top two or three virtuoso drummers on the planet. He pushes Scott and me to the edge of the cliff, and hopefully we don't fall off. I've never played with a drummer that pushed me to the limits of knowing how to subdivide rhythms as I experienced with Dennis. Dennis does things that are almost unimaginable. I always regard this band as a band with a good bassist, a great guitarist, and an unbelievable drummer.
Did it take some time to acclimate to his playing?
Henderson: Well, nobody gets used to playing with Dennis. You might get a little better at it, but he's still going to freak you out every time. There's just no way any human being can hear the one [beat] with some of the stuff Dennis does. All Jeff and I can do is tap our feet and watch each other's foot, and at least we'll come in together even if we're off from Dennis. We're always looking at Dennis like, "Did we make it?" He'll shake his head "yes" or "no," but it doesn't matter because we feel like we're doing a pretty good job just keeping up with him at all.
Berlin: I can hang with his polyrhythmic playing now. That used to not be the case. It took me about two years to figure out how to play with him. One of the best suggestions he ever gave me was to not listen to him. What he meant was that when he goes into his polyrhythmic thing, if I start to count it literally—subdividing the rhythms that he's playing—I can't hear it that way. So what I do is simply count the music where I feel the quarter-note comes in on the downbeat. When I do that, I can play a very strong part under his drum solo, which he relied on as the true quarter-note version of the song we were playing. Dennis would play things so far outside of that, which worked because I wouldn't get lost.
One of the standout tracks on HBC is "Footprints." Jeff, your solo showcases your unique legato approach. Is that inspired from your beginnings as a violin prodigy or from working with players like Henderson and Holdsworth?
Berlin: It comes from my violin playing. The legato style is not that popular—or not even popular at all for bass players. It also comes from the fact that I have a goal to not sound like my fellow bass players. I have a philosophy that if I really want to call myself different, I had better play differently.
Do you keep your action low to facilitate the legato approach?
Berlin: It's very low and very close to the fretboard.
Scott, your solo on that track is some of your most exciting playing ever. The clean tone sounds like you're using a jazz box, which you don't often employ. What guitar did you use for that?
Henderson: I wanted to do it as a traditional jazz-guitar thing, because I don't often get to do that. I don't own a hollowbody— when I recorded Reality Check, Ibanez loaned me a George Benson model. I didn't rent one this time, I used my Line 6 Variax 700. I ran that into a Suhr Badger, which warmed it up quite a bit. I sent the track to a couple of my friends who actually play jazz boxes, and they gave me the thumbs up.

HBC in Bangkok, Thailand. Henderson routes his Suhr guitar through a signature Suhr head driving Marshall 4x12s, while Berlin plays his Dean 4-string through two Ampegs and an unidentified combo.
Scott, you're also known for your legato technique, as demonstrated on the new "Stratus" solo. Early in your career, you used humbuckers. Now that you're using single-coils, is it harder to play those types of passages?
Henderson: Yeah, physically harder. My guitars are set up now more for tone than for speed. The action is a little bit higher now than it used to be, because I want my guitars to ring really clear. Some people like my tone back then. It might have been a little smoother because I was using those double-screw humbuckers, which make the tone creamy and milky—but there's no rock 'n' roll whatsoever in that sound. They also have no bass whatsoever. They're very small sounding. When I listen to my tone from the old days, it sounds very thin, whereas now my tone sounds a little bit more rock, but it's way fatter and takes up more space. I'm also using .011s now instead of .010s, tuned down to Eb, and they're a little bit harder to bend than .010s in E.
Jeff, do you tune down to accommodate Scott's tuning?
Berlin: No, I play in E. They detuned me for the record, because Scott likes the Eb tuning, but I can't function in Eb. When we're on the gig [live], Scott plays in E.
Tell me about some of the unique features of your signature instruments.
Berlin: My bass is a Dean 4-string with passive Bartolini pickups. I know active is popular, but I prefer passive because I don't like the sound of active pickups—they sound artificial to me.
Henderson: My Suhr signature model is not really that far away from Suhr's Classic model. The only thing that makes it a Scott Henderson model is that, instead of a C-shaped neck, it has a D shape—which has a little less wood on the back and a little more on the sides. Also, my model has a real Fender 6-screw bridge—it won't sound like a Strat if it doesn't. That's, like, amazingly important. People have said to me, "I got a Suhr and it doesn't sound like a Strat, what's wrong?" They've got some kind of Gotoh 2-post bridge on it, and I'm, like, "Well, half the sound of a Strat is the bridge." Anything else is not going to sound like a Strat, because the regular 6-screw vintage Strat bridge is going to give the guitar twice the bass of a 2-post bridge.
Another thing that's different about my guitar—and this is kind of a cool thing that a lot of my students have copped—is that, when most guys use the two and four positions on a Strat, they want them to be bright. But I have the tone controls disabled on the two and four positions, because I have the treble rolled down on my treble pickup, so if I switch to two or four, I'd have to take that tone knob and roll it all the way up and then roll it all the way back down when I go back to the treble pickup. I'd be messing with my tone knob all night and it would drive me nuts. When the tone control is disabled, it's just like the treble is up all the way.

Henderson insists that his Suhr guitars have a traditional 6-screw bridge for authentic Strat tones, while Berlin prefers passive Bartolini pickups in his signature Dean bass. Photo by Jessica Pettyjohn
What do you use the two and four positions for?
Henderson: I usually use it for funky rhythm stuff. I use it when soloing, too. When I want the solo to just come out into your face, I'll switch to one of those in-between positions. But the cool thing is that, when I go back to my treble position, the knob is still where it was.
Jeff, you've employed a unique chorus sound for a long time now. What pedal is that?
Berlin: I've used the same pedal for 20 years. [One year] I was performing [for the pedal manufacturer] at NAMM, where demonstration of gear is mandatory, and I didn't charge a penny—I didn't ask them for anything. But two years in a row I forgot to bring my own. I asked the company twice if I could use their pedal [at NAMM], and one day I got an email that said, "We're tired of loaning you your own pedal. We're not lending you one anymore—bring your own." I wrote them and said, "Well, why don't you have me as an endorser?" The response I got—and I'm quoting here—was, "We had a meeting and we decided to pass on that one." Now, I've sold six figures' worth of amplifiers for Markbass, and I've sold tons of basses for Dean, but with these guys the only way I felt I ought to react in regards to how cheaply they treated me was to never mention their name. I haven't sold anything for these guys.
Jeff, over the years, you've developed a reputation as having a somewhat inflammatory personality. Is it true that you got banned from a bass forum?
Berlin: The forums don't count, because the forums are [full of ] amateur musicians all trying to function as professionals before they're ready to do so.
Your unwavering positions against metronome use and rock music education's validity are both controversial and legendary. Can you touch on those topics briefly?
Berlin: I say things I regard as truthful and that I can prove—there's nothing I say that I can't back up. The metronome is not useful at all, because time doesn't come from a box that clicks. Rock schools, rock camps, or rock lessons are entertainment—they're not going to help you play better. The blind are leading the blind. Teachers that don't know about music are teaching people that don't know how to play and aren't getting better, and everybody's happy but me.
Scott Henderson's Gear
Guitars
Suhr Signature model, Line 6 Variax 700, '90s Gibson Les Paul, Gibson SG
Amps
'71 Marshall head, Suhr SH-100 signature head, Kerry Wright 4x12 with Celestion 25-watt Greenbacks, Fender Bandmaster modded by Alexander Dumble, Fender Hot Rod Deluxe, Marshall DSL head
Effects
Xotic RC Booster, Maxon SD-9, Fulltone Octafuzz and Plimsoul, Z.Vex Fuzz Factory, Arion SCH-1 with true-bypass mod, Vertex Effects Systems Axis wah, Boss SE-70, Boss RC-2 Loop Station, Vertex-modded Boss FV500L
Strings, Picks, and Accessories
D'Addario .011–.049 sets, Fender heavy picks, Strap King straps, Xotic XGC-1 Scott Henderson signature cables, Suhr MiniMix II (for isolating the wet signal from the Boss SE-70), Vertex pedalboard, Tech 21 MIDI Mouse, Snark SN-8 tuner
Jeff Berlin's Gear
Basses
Dean Jeff Berlin signature 4-string
Amps
Markbass CMD 151P signature 1x15 combo
Effects
Unnamed chorus pedal
Strings
DR Strings DDT .040–.100 sets
Do you enjoy playing rock bass?
Berlin: I like being available to people that call me to play simple music, because I don't enjoy constant virtuosity unless I put myself in that situation to perform it. I'd really much rather play rock or pop. I just did a record with a guy who produced Judas Priest and Black Sabbath. I questioned constantly, "Is this what you want? Am I doing this correctly?" And I got a lot of affirmation that I was one of the best rock bass players they ever worked with, because I tried to represent the music correctly and I added a little bit of my Jeff Berlin-isms in there. That combination seemed to work.
Didn't you turn down the Van Halen gig back in the day?
Berlin: I turned Van Halen down because, when you join a band, you join it in its entirety. I didn't wish to take the gig just to make a paycheck and then maybe leave the band. It's not the correct thing to do with a band that is as legendary as theirs.
Would you take the gig now if Van Halen asked?
Berlin: Well, I should be in the band now, but I'll explain that in a second. When I did it then, they were into activities that I preferred not to participate in, so I bowed out. My maturity puts me in the area to play simple rock, but I can add stuff that really is not easy to find in other bassists. But of course, Eddie's son has that gig, and as long as he's doing a good job and everybody seems to like the band, then I won't get the call.
Can you elaborate?
Berlin: I would do things that they expect and also provide them with things that would hopefully, and pleasantly, be unexpected to them.
Henderson: I can't even imagine Jeff playing in Van Halen. That gig calls for a 100-percent-support bass player, and I just don't think that's a good fit. As far as just playing on a pop or a rock gig, we all have our moments when we wish we made more money but nobody wants to play music that they hate. Not saying that Jeff hates Van Halen—because we all love Van Halen. I think Van Halen's a great guitar player and I always have really liked his playing. But I couldn't play that music all night and be myself, and neither could Jeff. I think there are very few pop gigs outside of maybe Steely Dan or Beyonce where I would enjoy myself. Anybody else, I feel like I'd have to dumb my stuff down. To be on a pop gig that you don't like, you have to be an actor, and I've never been much of an actor. But Steely Dan or Beyonce—if they call, I'm there.
YouTube It
For a taste of Scott Henderson and Jeff Berlin live, doing what they do best, check out the following clips on YouTube.com. Note that Henderson has exacting standards for YouTube videos of his playing—he'll vigilantly take down videos he doesn't like, so watch these while you can!

Henderson, Berlin, and Chambers tear it up live on "The Chicken," a classic jam tune by saxophonist Pee Wee Ellis.

Henderson uses one of his aqua Suhr custom models to solo over a bluesy vamp with Chambers and Berlin.

Berlin was one of the first to cast the electric bass in a lead role. Here, he plays an unaccompanied rendition of Eric Clapton's "Tears in Heaven" that encapsulates the pioneering elements of his style, including a more chordal approach and virtuosic runs.
Darryl Jenifer and Gary "Dr. Know" Miller of Bad Brains discuss their trailblazing fusion of disparate styles—from jazz to soul, reggae, punk, funk, and metal—as well as how their new album, "Into the Future," totally lives up to its name, and what it's like to be both legends and underdogs more than 30 years into their career.
Photo by Frank Okenfels III
When it comes to bands who've altered the course of musical history with mind-blowing creativity and yet somehow never really gotten their due, Bad Brains is right up there with Spirit, the Velvet Underground, Moby Grape, and the Stooges. Despite these bands' stylistic differences, each shares the distinction of dragging modern music kicking and screaming in a fresh new direction and heavily influencing countless bands that went on to greater fame and fortune.
To be fair, in the case of Bad Brains, the fault wasn't entirely that of fate or a fickle music industry. The band's lack of mainstream success has had at least as much to do with their two-edged eclecticism and the unpredictability and substance-abuse issues of lead singer Paul "H.R." Hudson—a savant who, in his heyday, could seamlessly channel the most alluring elements of Curtis Mayfield, Bob Marley, Johnny Rotten, and a rabid old-school hip-hop emcee.
Formed in Washington, D.C., in 1977, the Brains began as a Return to Forever and Mahavishnu Orchestra-inspired jazz-fusion outfit called Mind Power. But then the four—H.R., drummer brother Earl Hudson, guitarist Gary "Dr. Know" Miller (aka "Doc"), and bassist Darryl Jenifer—got turned on to Black Sabbath, the Damned, Bob Marley, and the Ramones (a song by the latter inspired their name change). Just as importantly, they all joined the Rastafari spiritual movement, which would henceforth imbue their work with a message of peace, positivity, and perseverance.
Even so, within two years of their newfound fascination with raging volume, seemingly incongruous genres, and "the Great Spirit," Bad Brains had been banned from most D.C. clubs because of their raucous stage performances. And though Jenifer, Doc, and Co. went into the studio soon after relocating to New York City in 1980, the reverb-drenched reggae-punk tunes from those dates inexplicably laid dormant until the 1997 release of The Omega Sessions EP. Consequently, Bad Brains' first official album was 1982's eponymous ROIR Records release—a debut chock-full of breakneck beats, raging power chords, raw-toned shredding, and bass lines so thrash-tastic they make your hands hurt just listening to them.
Bad Brains Must-Hear Moments
You can't call a band legendary and then leave people hanging around with no proof. Check out these tunes on Spotify, YouTube, iTunes, Rhapsody, or your MP3 store of choice.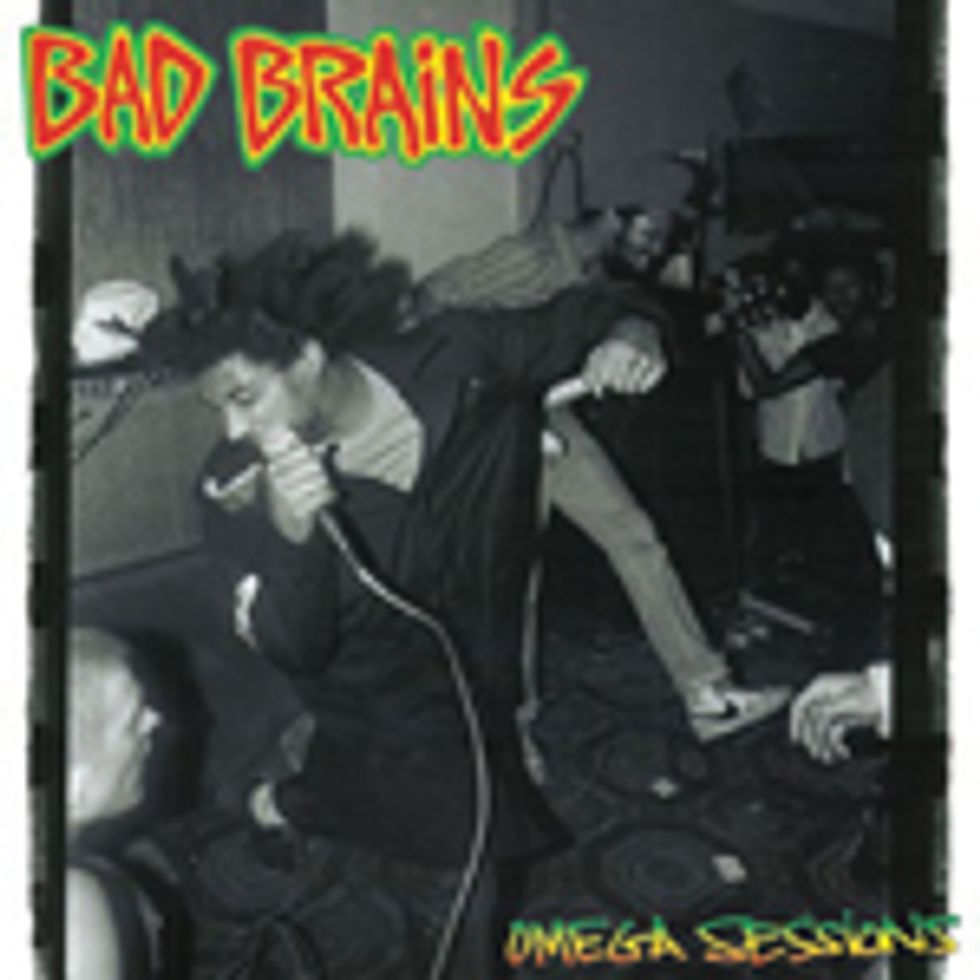 "Stay Close to Me"
The Omega Sessions (1980)
Gary "Dr. Know" Miller's tastefully restrained chukka-chukka reggae rhythms float atop a warm wave of reverb, alternating with crunchy power-chord stabs in the choruses, while Darryl Jenifer's bass lines bob and slither irresistibly, and H.R.'s vocals paint a picture of a Rasta-inhabited Motown.

"Big Take Over"
Bad Brains (1982)
Doc layers Morse code-like pickup-pole tapping over a tapped lick on the intro to this barnburner before Jenifer and drummer Earl Hudson jump in with a relentlessly pulsating drive. At 2:14, Miller augments his feedback-soaked solo with subtle wah.

"Right Brigade"
Rock for Light (1983)
Working with the Cars' Ric Ocasek in the studio, Bad Brains redid a few tunes from their previous album, including "Rock for Light." The whole album shifts a bit more toward metal, and at 1:30 on this track Doc rips out a solo with a catchy pull-off lick punctuated by bent notes that offer a breather before he shreds his way up the fretboard.

"Return to Heaven"
I Against I (1986)
Doc starts things off with a reverse whammy-bar dive and an angular progression before the song settles into a midtempo funk-metal groove of the sort that actually does both genres justice. H.R.'s vocals vacillate between ethereal and swirling jungle calls, and at 1:50 Doc's razor-toned solo begins and ends with hummable, impeccably timed triplets and climaxes in the middle with a rapid-fire staccato lick.

"No Conditions"
Quickness (1989)
H.R. rejoined the Brains after Jenifer and Doc cut the instrumental tracks with Cro-Mags drummer Mackie Jayson and singer Taj Singleton, but thankfully they swapped the latter's tracks with lastminute H.R. cuts. The result is a powerhouse riff fest with snarling vocals, raging artificial harmonics, a lyrical, delay-drenched solo, and a totally moshable groove.

"Let There Be Angels"
Build a Nation (2007)
Whereas so many artists mellow out and settle down as they age, Doc, Jennifer, and Earl Hudson send that notion to the afterlife on this number from the Adam Yauch-produced album—it positively seethes with some of their fastest, tightest, and most ferociously chugging grooves ever.
Their 1983 follow-up, Rock for Light, was produced by the Cars' Ric Ocasek and featured a more metallic edge, but it wasn't until 1986's I Against I that the band got any real visibility. Produced by Ron Saint Germain (Sonic Youth, Living Colour, 311), it boasted a masterful blend of dynamics, a more organic-feeling interweaving of styles, and an overall looser, funkier vibe—all complemented by just the right amount of studio polish. It got airplay on MTV and had an undeniable influence on bands like Living Colour, Fishbone, and the Deftones.
But from that point onward, H.R.'s eclectic personality, itinerant tendencies, and desire to focus more on reggae/dub, world music, and jazz, pretty much threw a monkey wrench in Bad Brains' plans every time things got going in their favor with major labels and high-profile advocates within the industry. He and drummer/brother Earl left and returned to the fold multiple times over the years, and each time Jenifer and Dr. Know would soldier on with various frontmen and drummers, none of whom could hold a candle to H.R. and Earl.
H.R. hasn't changed a whole lot in the new millennium, either. The 56-year-old is as unpredictable as ever (at a 2006 CBGB's show, he showed up wearing a bulletproof vest, a motorcycle helmet, and a headset mic that made it difficult to hear anything he said), but when he's guided by a steady hand in the studio—as he was by the late Beastie Boy Adam Yauch (aka MCA) for 2007's Build a Nation—he's stepped up to the plate and helped Doc (now 54), Jenifer (52), and brother Paul (55) hit it out of the park.
Last November, the legendary foursome released their 10th studio album, Into the Future. While the vitality and seething energy of H.R.'s youth is understandably in short supply—he's now more inclined than ever toward reggae-flavored paeans to "PMA" (positive mental attitude)—he still turns in dynamic performances like only he could. Meanwhile, Doc, Jenifer, and Paul Hudson flex their juggernaut chops in all the ways die-hard Brains fans wanted them to—and then some.
We recently spoke with Jenifer and Doc about the sessions for the new album, their go-to gear, and their long, storied career as hardcore legends fighting to get their due.
Into the Future is stacked to the gills with the sorts of inimitable Bad Brains grooves that no other trio of musicians on the planet can replicate—even when the progressions are simple. What do you attribute that to?
Darryl Jenifer: We started out in our teens and early 20s, and it's about building chemistry. Our chemistry goes way back to, like, 1978. We've played together for so many years that it doesn't really matter about the notes—it's just the combination of our different sensibilities about what we're doing. When we go to break it down to mosh sections of chunk, the way Doc mutes his guitar, the way I like to hear chords and octaves—it's all about our sensibilities. It just comes from playing together—and struggling together, more than anything. I shouldn't even say "playing together," because a lot of cats can play together but they never really develop a chemistry. It's about struggling together, living together, and trying to achieve your goals. I think any combination of musicians can achieve that.
Gary "Doc" Miller: That's what it's about. We went to school together, we've known each other for 40 years or more, and we're brothers—and H.R. and Earl are siblings. [Laughs.] It's personal and spiritual—it's all connected.
Does that "chemistry" extend beyond just musical considerations?
Jenifer: I'm talking about lifestyle chemistry—growing up with each other, knowing if a cat's grumpy or likes to joke all the time or if one guy's serious. All these personality traits come together when we sit down to make music, because we're brethren—brothers together. We get angry with each other, we get joyful with each other, and all of that comes through in the music. When we say, "All right, Doc, we're going to go from G to G# and then we're going to break it down here and do this and then take off really fast"—once we communicate that to one another, then our chemistry of knowing and loving each other and going through shit with each other takes over and, thus, you have the Bad Brains sound.
Doc, you were a pretty accomplished fusion bassist before switching to guitar in the mid to late '70s, right?
Jenifer: He was a very proficient bass player. Like, way better than I was—than I am. Doc is sick on the bass. He was the dude that everybody wanted to play like when we were coming up as teenagers. He was so good on the bass that I didn't even want to go around when he was there. He could play all that Graham Central Station stuff—like "Hair"—the way it really sounded on the record.
Doc: Yeah, I used to play the bass back in the day, and Darryl used to play the guitar. We were in garage bands playing funk covers and whatnot.
Did starting out on bass make you approach guitar differently when you changed over?
Doc: Absolutely, absolutely. It made me a foundation and made me a good rhythm guitar player. It made me understand music from the roots. A lot of times I write on the bass or I think like a bassist—I think about holding it down. Both of us are like that. Darryl is like a rhythm guitarist and bass player in one. Every time I play with other bass players, I'm, like, "Where's the oomph?" That's why we never took on another guitar player, and that's why I do my rhythms and my leads the way I do—because Darryl just holds it down.
Which players inspired you guys in the early years?
Doc: I was really influenced by players like Verdine White [Earth, Wind & Fire] and Stanley Clarke. It was, like, "Damn—these dudes are out there." Verdine is crazy. I used to dibble and dabble in the fusion of the early '70s, too. I'd wear those records out trying to see what the hell was going on there. [Laughs.] Return to Forever was definitely influential on guitar and bass. It was inspirational for me to start playing the guitar when Al Di Meola got in [Return to Forever], because he was so young and such a badass. I was, like, "Yeah, uh-huh—I could do this." [Laughs.] I liked all the Return to Forever guitarists—Bill Connors, Johnny Mac [McLaughlin]. I liked Allan Holdsworth. On bass, it was Larry Graham. I had the beautiful opportunity to see all these people over the course of a five-year span. We saw Earth, Wind & Fire four or five times, and P-Funk played every month in their heyday in D.C. Yes, Zappa, Thin Lizzy, Graham, and all the funk and soul stuff—Tower of Power. You name it, we saw it. It was all happening, every week.
Jenifer: As far as rock, it was Sabbath and "Iron Man" and shit like that—but I also grew up with a lot of stuff like John McLaughlin and Return to Forever. That was out when I was young—15 and 16. I listened to a lot of music-school cats when I was coming up, but also a lot of Motown.
You'll be stoked to hear we've got an interview with Larry Graham in this issue.
Jenifer: That's my hero! Without him, I wouldn't be nobody on the bass. Without Graham, there's no DJ, to tell you the truth. Between him and [James] Jamerson. . . .
Darryl, you started as a guitarist—how did that come about?
Jenifer: I had a cousin that played the guitar, and I was really young—about eight years old—and he had a band, a funkster sort of band, and I found it fascinating. All the amps and the chrome and all the sparkling stuff—I just got attracted to it at a very young age. My cousin told me if I could learn to play something then he would let me play in the band. He wound up selling me his guitar, and I taught myself how to play stuff like "Get Ready" by the Temptations—just the first part, like [hums opening riff]. And then it grew into a competitive thing, like, going into the alley—back then it wasn't about rapping and all. I'd be out there and I'd say, "I can play Ohio Players" or whatever. And then you'd run in the house and get your guitar and come back out to the alley and show off that you can play little parts.
How long after that did you start playing bass?
Jenifer: When I was about 12, the guitar went in the closet and I started playing with model cars and riding my bike. Then when I got to be about 13, I pulled it back out and got into bands around my neighborhood. I was in a little band called the Young Explorers, and we were playing early-'70s funk. I played rhythm guitar, but every time the band would take a break, I would ask the bass guy, "Can I play your bass?" I used to pay him sometimes—"I'll give you three dollars if you let me play your bass for a little while!" [Laughs.]
Darryl Jenifer with his go-to '81 Modulus graphite bass at the Virgin Festival in Baltimore, Maryland, on August 5, 2007. Photo by Eddie Malluk
Do you think it affected your style to start out on guitar and then switch to bass?
Jenifer: Because I was a rhythm guitarist and I was tuned in to Sly and the Family Stone—"Thank You (Falletinme Be Mice Elf Agin)" and all that—I think it gave me a certain insight. I really know the inner workings of the motion between rhythm and bass. Some people hear me say that I'm not a musician. I give musicians credit because they took the time to learn music [theory] and all that, but I have the knack to lay it down. To lay it down is different than knowing music. There are a lot of cats that know music, but they don't know how to lay it down. My whole career has been about inventing my own style on the fretboard. I look at the fretboard like Braille, in a way—it never meant notes, like, G and F and B and C to me. I guess I had ADD or something, because I never really cared about it in that way. I only cared about it in the way of creating these little passages and movements.
When you joined up with Doc and the rest of the band, the roles were a little different than now, right?
Jenifer: When we got together, Doc was on guitar and H.R. was playing bass, and Earl was playing drums. They had a fusion group called Mind Power, but we all went to the same high school and hung out in the same places. Being brothers and dudes in the hood and all playing music, we all knew each other. H.R. wanted to be the singer, so he said, "Let's get Darryl to play bass." Earl was just developing his fusion sensibilities, Doc was kind of getting into being an intellectual kind of guitarist—wanting to bring some sort of spirituality and thoughtfulness to his playing. He didn't want to be a shredder. We wanted to be musicians, not just dudes playing some shake-your-rump-type shit.
So when we were on this thinking-man's jazz-fusion trip, I was still listening to rock music, but my buddy Sid McCray came over to my crib and had the Ramones and all that stuff, and I thought it was loud and cool. Having a fusion background and aspiring to be like Return to Forever, and then hearing the Ramones, I just said, "Yo, if cats think this is fast, watch this." What punk rock brought was a certain freedom to riffs. Bad Brains took the freedom and the raucousness and the roughness of punk rock, but brought a little thoughtfulness to the musicianship.
There are very few musicians on the planet who take inspiration from Return to Forever and the Ramones and Sabbath.
Jenifer: Everybody has their blessing—I feel blessed that I'm versatile. But it's a struggle. When I was a teenager, my cousin—who I love—she used to say, "Darryl, why do you listen to [fusion]? You're crazy—you can't even dance to that!" There's a lot of people that are, like, "How do you get enjoyment out of listening to [Return to Forever's] Romantic Warrior over and over and over and over?" If they had Romantic Warrior on karaoke [laughs] . . . I know every riff, measure, beat . . . everything. I listened to that album a billion times, and I played the bass till I fell asleep. As a teenager, I was completely into it—I didn't go to school . . . My father snatched the bass from me one time and held it up like a hatchet and wanted to hit me! Every time he saw me, that was all I was doing. Imagine you're living with your teenage son in an apartment in D.C., and every time you come home from working hard all day, he's sitting in there, the place smells like weed, and he's playing the bass! [Laughs.]
Doc: We always liked music—from Bob [Marley] to Sabbath to the Clash to the Damned to Return to Forever. We would see these bands, and we never got pigeonholed or stereotyped music. As long as it was good music, we were into it. In the early '70s, there was a lot of good music, and we were just open—like a sponge. Who's to say you can't play whatever you like? That's why we are who we are. With the metal [influences], it was about the power. With the punk, it was the speed—although a lot of the fusion had the speed, too. It was marrying the power, the musicianship, and the speed to give it that superdynamic-ness.
Jenifer: Washington, D.C., is a really sophisticated music place in general. There was a friend of mine who brought records like Rare Earth and Return to Forever to art class. You've got the radio station WPGC, and they're playing, like, "Taking Care of Business," then you've got go-go music going all the time on the basketball court and everywhere in your life, and then you've got your Motown and soul music and your church music—it's just all a part of your life. So if you're a musician dude, you're going to say, "Damn—I like that!"
I used to listen to . . . we used to call it a "white-boy" radio station. I used to be able to play [Kansas'] "Carry on My Wayward Son." [Sings main riff.] So, as a teenager from a black neighborhood, I would hear it on the radio and know that it was a cool guitar riff. I knew how to play "Iron Man," I knew how to play the beginning to "Stairway to Heaven." But also I knew how to play stuff off [famed fusion drummer] Billy Cobham's Spectrum. I knew how to play [New York City funk band] Mandrill. I knew how to play a lot of the [Larry] Graham stuff.
Were you two and Earl pretty much on the same page with all of that, or did you guys introduce each other to new music and then evolve together because you were open-minded?
Jenifer: There were different levels between us all. Earl was more into the jazz-fusion—he was listening to a lot of Earl Klugh and George Duke—and when it got down to me, that's where the Sabbath and the Zeppelin came from. As far as rock, H.R. and Earl were more into the Beatles and stuff like that—stuff I never really listened to. Doc was more about Mandrill and early Return to Forever, like, Where Have I Known You Before—before Romantic Warrior.
So you basically wanted to marry the musicianship and phrasing of fusion stuff with the tones and power of metal and the chaos and freedom of punk?
Doc: Yeah, you could say that. It was the need for all of that, definitely. I'm sure there are a lot of musicians who have the same respect for different types of music, but were—or are—afraid to pursue that because of peer pressure.
They pigeonhole themselves because they're unsure of how marketable it will be, you mean?
Doc: Definitely the marketability. I mean, how do you market us? That's our biggest thing. It's like, "Well, you're not this and you're not that." We've heard it a million times, "We don't know what to do with you guys. It's [expletive] great, but what do we do here? What category . . . we can't put you on the radio." [Laughs.] It's like, "Whatever . . . we do what we do. Thank you, but no thank you."
Why did your first recordings, The Omega Sessions, not get released for 17 years? They're incredible—every bit as good as your first official release.
Jenifer: Y'know, sometimes stuff like that is just a part of the life you're living and it's not really looked at like a product or something to be released. But I'd be the wrong guy to ask that—Doc would probably know more about that.
Doc: I don't know what the heck happened, actually. We recorded it in a house. I was in the basement, Darryl was in one of the bedrooms, and H.R. was actually outside. We used a 4-track with big old knobs on the board—big ones. I think it was actually a Radio Shack [recording console] kit. I was, like, "What the hell is this?"
That's amazing—that album has such a live sound. It sounds like you're all in the same room.
Doc: No, we were all over—wires going everywhere. That's why you can hear me say, "Can you hold this for a second?" [Laughs.]
Gary "Dr. Know" Miller onstage at the 2007 Virgin Festival in Balitmore, Maryland, with "Old Blackie," an S-style axe with ESP body and neck, and custom DiMarzio pickups. Photo by Eddie Malluk
You guys got some early praise for 1980's "Pay to Cum." Even by today's standards— where you can see a crazy-good 8-year-old playing on YouTube—that bass line is incredibly fast and difficult. What do you remember about writing that, Darryl?
Jenifer: Well it wasn't that fast at first. It started very slow, but the times change. We'd play "Pay to Cum" at a show in the late '70s and early '80s, and the kids who thought we were playing fast would start their own bands and then they'd play faster than us. Then we'd end up playing at gigs where we'd come on after them—so then we end up playing faster than them. But it wasn't conscious. That's just what happened when Earl got back there and counted off with his sticks.
I Against I is often considered the first fully realized example of all the classic Bad Brains elements—it's got hardcore, metal, and reggae, but it's also surprisingly funky. Did Ron [St. Germain, producer] help forge the Brains sound, or was he merely witnessing part of your evolution?
Doc: The Spirit produces our records—us and the Spirit. Ron was influential in capturing the essence of the music. We went to a lot of different studios—like, the best studios in the world. Ron would dial that shit in and say, "All right, hit it boys—bam!" Ron will shoot from the hip. He's so freakin' talented.
Jenifer: He did some things, but mainly effects, like on "Return to Heaven"—he did the little delay shimmers and stuff that you hear in the chorus. But as far as "House of Suffering" and all the rock shit, no one knows what to do with that except to let us get a good sound and kick it.
As far as the bass lines, I was trying to bring in a little Graham [vibe]. Sometimes I play with a pick and my [plucking-hand] fingers and my thumb on one song. Like on "Secret 77," I wanted to play the thumb on the verse, and then I dropped to the pick during the bridge, and then my fingers during the chorus. So I go from snapping it—not a real bona fide funky snap, but more of a hybrid funk snap—to regular, lay-it-down and complement-the-chorus- type finger work, like Jamerson.
Do you curl the pick up under one finger or what?
Jenifer: It's in the folds in the palm of my hand, and then I can drop it down when I need it.
Let's talk about the new album. "Popcorn" is prototypical Brains—it's got angular, syncopated power chords ripe for the moshing, but it's also evolutionary: Doc, during the choruses you're playing these dense, complex chords that are pretty uncommon to hear in a setting with such thick distortion. And Darryl, you're playing some of your most overtly funky bass lines ever. How did that song come about?
Jenifer: That's a song that's driven by H.R. He was in one of his good moods—like, "It's on like popcorn with all the pretty ladies!" That's a D.C.-like rock-funk hybrid, a combination of being from the hood and go-go—like Chuck Brown meets the Bad Brains. Doc and I put our minds to the chunk, but we didn't want the chunk to be the same old chunk. Doc is always reaching—always going somewhere else—and I'm always trying to make it so you don't notice that he's trying to go somewhere else! I'll look at him and think, "Why is he looking for another chord or somewhere else to go?" I'm more of a minimalist, and he's keeping it going. He knows what he wants to play—he doesn't want to play that same old shit.
Doc: I don't know how we do it—we just do it. Making all the different flavors fit is just second nature to us. We don't even think about it. It just happens.
But do that many different types of sounds come together pretty fast, or did that song get hammered out and evolve over time?
Doc: Ninety-nine percent of the time, they just come like that. It's just, "All right, let's go to the B." "No, let's go to the C." "Play the Z# there. "Okay!" "Y'know that chord there—that Fmaj7minb5 to the fifth power? That! Here we go—bweeeeee!" [Laughs.] We don't really sit down and beat the damn songs up—then all of the vibe is gone.
Speaking of musical technicalities, where did you learn your chord and scale theory?
Doc: Books and just playing, y'know? I had an old Mel Bay jazz book. And I would buy Stevie Wonder tablature books and theory books on [scale] modes and whatnot. I picked out a few scales that I liked, and it was like, "Let's write a new song. I just learned this scale—let's start off with this."
"Make a Joyful Noise" has some of your most overt fusion tones ever, with those Wes Montgomery-type octave parts and the really clean, modulated tone.
Doc: This record was unique in the respect that we wrote it in the studio. So we had to rehearse after we recorded the stuff in order to learn the songs again—because we would write and record a song and then move on to the next one. We said, "Let's just go in and roll the dice." I always try to keep it fresh for myself so I don't get bored. [Laughs.] It's creativity—you can't be a cover band of yourself.
On songs like "Fun," where there's this really badass, syncopated chugging, do you use a noise gate to make the cutoffs between grunting chords tight and more articulate, Doc?
Doc: I mostly mute it with my hands. Live, I use a little gate, but it's mostly muting with the palm.
Let's talk more about your gear over the years.
Doc: My first guitar was a Bradley Les Paul copy, but Les Pauls were uncomfortable. I'd get a belly rash and arm rash—because we were digging in, y'know? In the CBGB's DVD [Bad Brains: Live at CBGB 1982], most of that was an Ovation [UKII 1291] that Ric Ocasek gave me during the [Rock for Light] record. It had two humbuckers and was really light. [Ed. note: The circa-1980 UKII 1291 had an aluminum skeleton and a Urelite foam body that looked like mahogany.] I also had a B.C. Rich Eagle that got stolen. When they first came out I was a happy young man—they had all these phasing switches and different tones! [Laughs.]
I never really liked Strats because they were too tinny, but I got a black parts Strat[-style], which I still play live. That was when ESP first came out and they had the shop over on [New York City's] 48th Street—they were originally a parts company. Old Blackie has an alder body, which I prefer because it has more oomph. The pickups are DiMarzios that Steve Blucher made for me. The [middle- and neck-position] single-coils are stacked humbuckers.
What about your newer guitars?
Doc: I have this 6-string from a [Swedish] luthier named Johan Gustavvson that's basically a Les Paul Strat—it's mahogany with a maple top and Strat[-like] cutaways. It's a freakin' badass guitar! It's got Duncan pickups and a blower switch that goes straight to the humbucker, and three 3-way coil-tap switches—which is kind of like the B.C. Rich with all the switches. I've also got a Gustavvson 7-string and a Fernandes with a Sustainer in it. I use Floyd Roses on all of them.
Doc, in the early years, you used Marshall stacks or old Fender combos, but for the last few years you've primarily been using Mesa/Boogies, right?
Doc: Yeah. Oh man, I could shoot myself for all the stuff I got rid off. I had a Marshall that Harry Kolbe modified for me, and sometimes I borrowed people's amps, usually Fender Twins. I've been using Boogies for a minute now. We were on tour with Living Colour, and Vernon [Reid]'s tech was a rep at Mesa. Vernon was using the Dual Rectifiers, but they didn't have enough headroom for me. So I A/B/C'd the Marshall with the Dual and Triple Rectifiers, and the Triples had good headroom and could hold the bottom but also clean up like a Twin—because I need to have a very versatile amp. I use the 6L6 version, because it's cleaner.
Darryl, are you still using Ampeg heads and cabs? And did you use your trusty old '81 Modulus for Into the Future?
Jenifer: Yeah. I've got an old SVT Classic Anniversary Edition. Live, I use two of those and two 8x10 cabs. I use one bass—the green Modulus graphite bass. I've used that for all my rock stuff since 1982. When I first bought it, it wasn't because of anything I heard about them. It was because I knew that it was a material that wouldn't have to be babied. Every time I picked it up, it would feel the same and I could throw it around and it would fall on the floor and it would be okay. The bass has a sound that just stays no matter what.
Dr. Know's Gear
Guitars
Johan Gustavvson 6- and 7-string guitars with Seymour Duncan pickups, ESP Sstyle with custom DiMarzios
Amps
6L6-powered Mesa/Boogie Triple Rectifier heads driving Boogie 4x12 cabs
Effects
Line 6 POD HD PRO 500, vintage Uni-Vibe
Strings and Picks
Dunlop Nylon .60 mm picks, DR .009 and .010 sets with a heavy bottom
Darryl Jenifer's Gear
Basses
Green 1981 Modulus graphite J-style, white Modulus J-style (backup)
Amps
Two Ampeg SVT Classic Anniversary Edition heads driving two Ampeg 8x10 cabs
Strings and Picks
Dunlop .60 mm picks ("But I play with the butt end"), Rotosound .045 sets
After all the changes over the years, how do you feel about the new album?
Doc: The records are what they are, though, y'know? People take months and years to do records. We go in, record the shit in two, three days, and then mix a song a day and that's it—say, "Goodnight." [Laughs.]
Jenifer: At this point in our careers, we just have to let the Great Spirit guide us through. We can attribute it to our talents and our perseverance, but at the end of the day it's the Cosmic Force. To us, we're a vehicle of the Great Spirit to spread a message of unity—the corny stuff, like hippies say: "Peace and love." But I'm realizing after 30 years that mainly the message is that you can break the mold of what you're "supposed" to be. Like, how the Beastie Boys could be the rappers, and we could be the punkers, and the Chili Peppers can be the funkers. There was a time in music when everybody couldn't do that. But the Great Spirit, not by any choice of ours, made us cats that had to come out there, all black, and shredding. We were dead serious. I can only say, 30 years down the line, that if I was in the crowd when we first came out in D.C., I would've said, "Damn!" Because not only did we have our PMA behind us, but we were very competitive about making sure our fusion riffs were jumping off. That's why I always described our music as progressive punk—we're thinking about the music. Real punk-rock dudes don't think about the music—they don't give a shit.
YouTube It
Need proof of why Bad Brains is considered one of the most influential punk bands of all time? Check out these clips on YouTube to see the band in its awe-inspiring prime.

In this hour-long 1982 clip of Bad Brains at the legendary CBGB's in New York, you get an amazing look at the band's palpable energy. Backed by a makeshift wall of Marshalls, Gary "Dr. Know" Miller taps out the show opener, "Big Takeover," and then singer Paul "H.R." Hudson, bassist Darryl Jenifer (who, sadly, is off camera for most of the show), and drummer Earl Hudson join in to tear the place apart.

After 12 minutes of footage showing H.R. prowling the same CBGB stage as the human embodiment of hyper-kinetic energy, the primal frontman settles down, Miller kicks on some cavernous reverb, and the band lays back into deep reggae grooves as NYC punks of all shapes and colors dance alongside them onstage.

If you only watch one portion of this excellent 25-minute clip from a 1987 spring-break gig in Florida, start at the 3:30 mark and witness Miller—equipped with a Charvel "super strat"—lead the band's raging intro to the then-brand-new song "House of Suffering." Immediately after, there's an über-funky rendition of the Beatles' "Daytripper" that finds Jenifer getting the crowd moving with his go-to Modulus J-style bass.