Interview: Robben Ford - One Guitar, One Pickup, One Album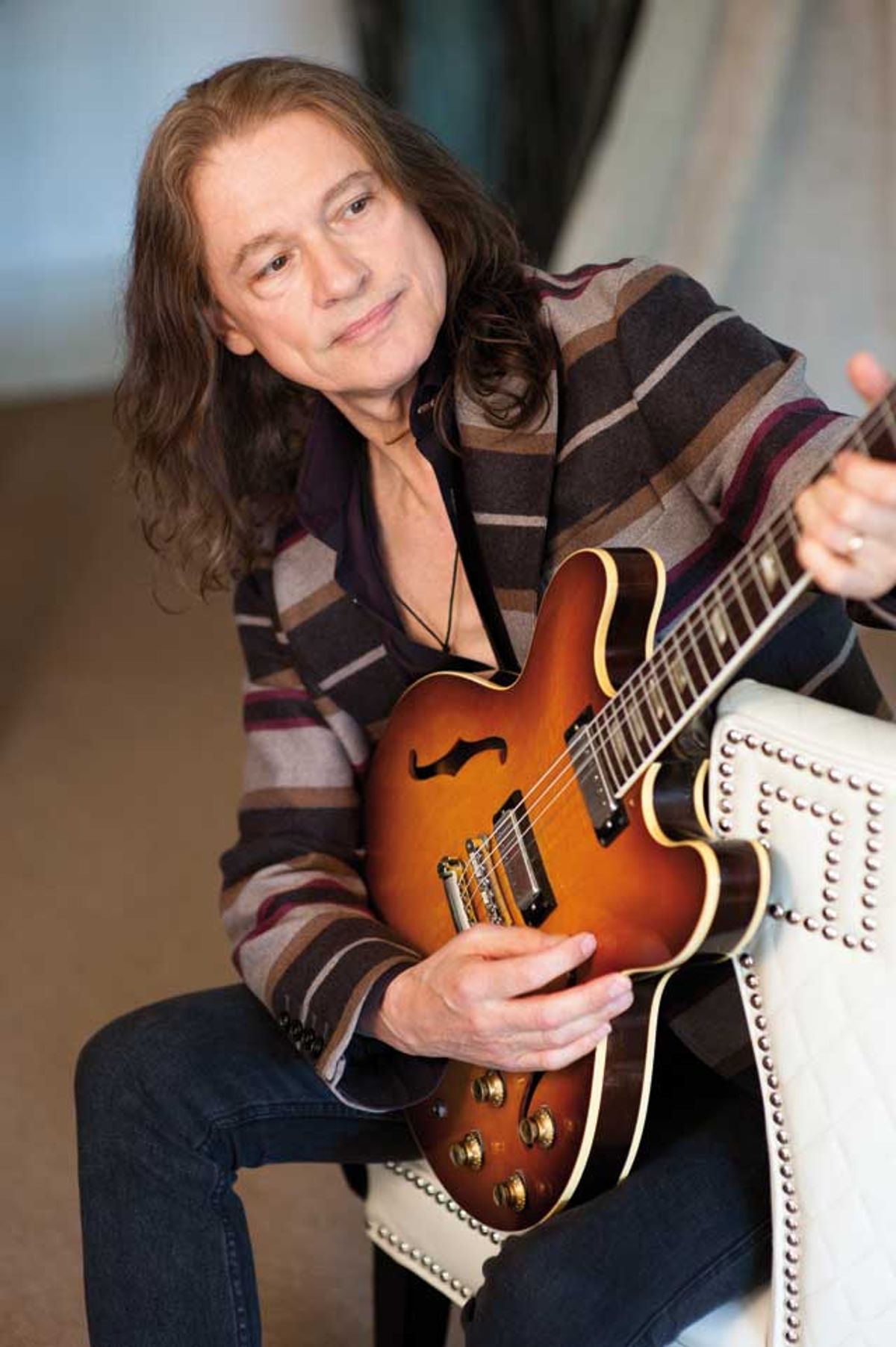 Photo by George B. Wells
Robben Ford challenges himself to simplify his rig and his melodic approach on his soulful new album, Bringing It Back Home.
Blues-bopper Robben Ford has done more to develop the more sophisticated side of blues guitar than anyone since T-Bone Walker. Without blinking an eye, he can move from a sweet, B.B. King-inspired bend to a furious diminished-scale run—and make it all work seamlessly. His playing encompasses a lot more than those two extremes, but no matter where his muse takes him, that ability to be both approachable and intellectual is always part of his sonic signature. Even on his R&B-flavored new album, Bringing It Back Home—on which Ford challenged himself to record everything through a single pickup from one specific guitar, a 1966 Epiphone Riviera.
One of the main inspirations for this unusual move came from Kind of Blue, the seminal 1959 jazz album by trumpeter Miles Davis—who Ford played with back in 1986. "It presents quite a moody thing," Ford says, "and it's consistent—there aren't a lot of highs and lows. It stays in one place and just explores it."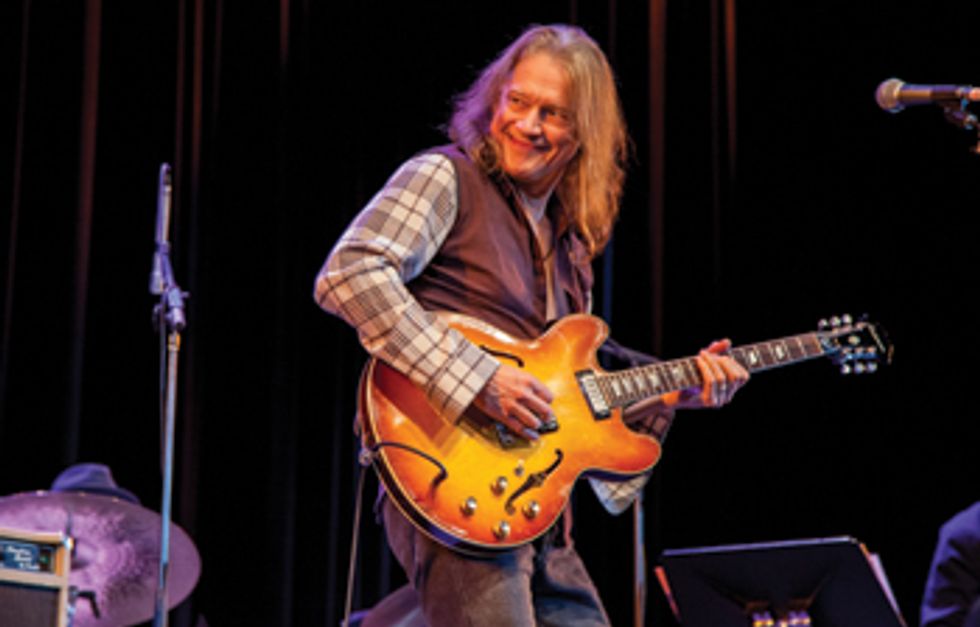 For the main sessions, Ford plugged into his trusty Dumble Overdrive Special, but used a Matchless 1x12 cab instead of his usual 2x12 setup. Photo by Alison Toon
Once he'd decided on the album's approach, Ford had to choose three things: the songs, the players, and of course, the guitar. He chose the '66 Riviera not because it was one of his go-to guitars, but precisely because it was not. "I bought it around 1991, and as cool as it was and as much as I liked it, it just stayed under the piano," he says. He's used it for the occasional overdub and for his 2002 Blue Moon album. But until now, the Epi pretty much went back under that piano after each session. After some attention from Nashville luthier-to-the-stars Joe Glaser–most notably a refret, new bridge, and tailpiece–it became such an integral part of the vision of the album that Ford purchased a second one. "The original Bigsby just locked up the sound a little too much and the tension was wrong from my style of playing," Ford mentions.
Ford knew from the beginning he wanted to rely mostly on covers for the soulful vibe of Bringing It Back Home. "Nobody can write those songs today—there's no way you can get the same feeling that you find in these songs from this particular period in music," he says. Given that sentiment, it makes sense that Ford was adamant about choosing tunes he felt he could present authentically. To that end, bassist Andy Hess helped Ford discover some lost R&B gems—many with a decidedly New Orleans bent—while they were on tour in Italy last year. "He's a very funky guy—he gets that feel thing," Ford explains, "So I asked him to send me a bunch of music. God bless him, he sent me 100 songs! It was a goldmine of R&B, and there was very little that I knew." Out of Hess' bequeathed playlist came "Trick Bag" and "Fair Child," both medium-tempo groovers that highlight Ford's deft arranging skills.
But Hess didn't provide all the tunes. Through some exploration on iTunes, Ford came across Little Buddy Doyle's version of "Slick Capers Blues." "I came across a CD called Blues Roots of the White Stripes, and I like Jack White—I like what he does—so I took a look at it and checked out all the short previews," says Ford. "I heard that harmonica [on 'Slick Capers Blues'] and thought, "That could be trombone," so I bought the one song and based the arrangement on it."

"Nobody can write those songs today—there's no way you can get the same feeling that you find in these songs from this particular period in music," says Ford about why he chose mostly covers for his new album. Photo by Alison Toon
As for his choice of guitar for Bringing It Back Home, Ford says he used minimal effects—mostly hints of delay and reverb in post production—in order to keep the tone of the Riviera a focal point of the album. However, in the intro of "You Go Your Way," he did use a tremolo pedal. "I should be able to tell you what the name of the pedal was, but I'm so not a pedal guy. I get the pedal, put it on there, and then forget about it. There's one setting, and I turn it off and on now and then."
Ford's long association with Alexander Dumble and his amplifiers has been well documented over the years, so it's no surprise his mythical Dumble Overdrive Special was the amp of choice this time around. However, Ford says he didn't want to employ it the way he has previously. "I called Alexander and said, 'Look, man, I'm looking to do a different thing here'—I wanted a very focused sound," says Ford. "He said to try just the Dumble head with a single 12" open-back cabinet." This was a bit of a change for Ford, who normally uses an open-backed 2x12 with Celestion 65-watt speakers. "I had one rehearsal, two days before we started recording, just with Harvey and David. My cartage company had a Matchless cabinet with, I think, a Celestion speaker. We tried it at the rehearsal and it was perfect. With the 2x12 cab, it's just bigger and open. In this situation, because of the levels I would be playing at, the guitar would sound smaller—the 2x12 just spreads it out, while the single 12" is so clean. It's like a lens. It's a smaller picture, but it's clearer and it's very present."
Robben Ford's Gear

Guitars
1966 Epiphone Riviera
Amps
Dumble Overdrive Special Matchless 1x12 open-back cabinet with Celestion Vintage 30 speakers
Effects
Tremolo pedal of unknown make (Robben uses a Strymon Flint in his live rig)
Strings, Picks, and Accessories
D'Addario strings (.010–.046), Planet Waves heavy picks
With the songs, players, and gear in place, Ford was ready to focus on conveying the vibe of the original versions. The goal wasn't to play a lot of notes or explore more extended harmonies. "It's not about notes anymore, it's about colors. It's about nuance. It's about phrasing. These are the things that turn me on in music anyway. It's why I love Miles Davis' playing so much. He was not the greatest trumpet player in the world, but he was the greatest stylist in the world. Jimi Hendrix—the same thing. Not necessarily the greatest guitarist in the world, but what he did was incredible," says Ford. "I just love that style of simple blues playing that is all about communication. This record was all about a feeling. 'Joy' is the word that comes to mind—that's my definition of music."