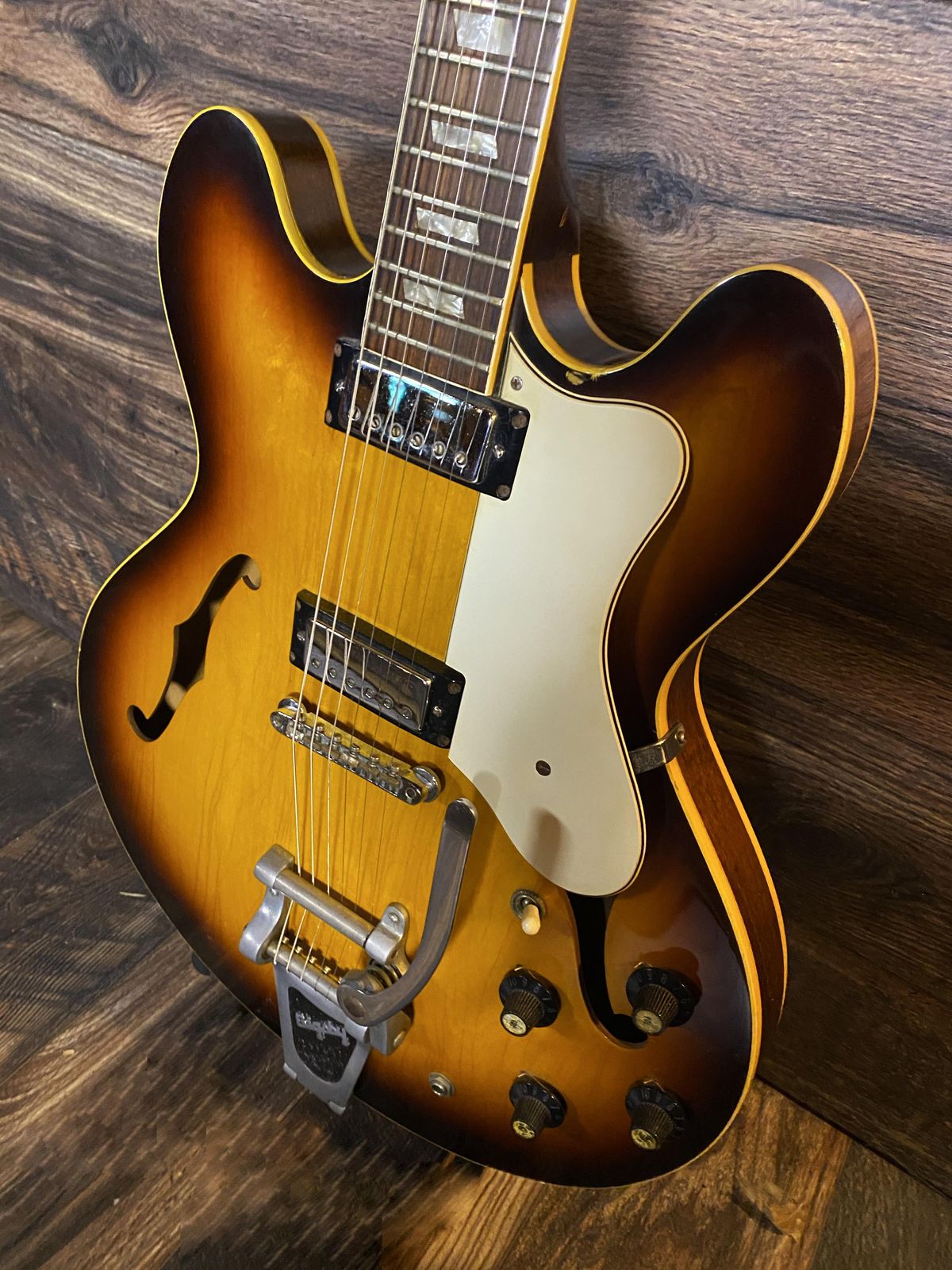 With a Bigsby and mini-humbuckers, this special-order from 1968 is still special 53 years later.
Hey guitar ornithologists! Here's a rare bird for you: a 1968 Epiphone E360 TDV Riviera. According to shipping history, only 300 Riviera models left the factory that year, and, of those, only 19 had vibrato tailpieces. So feast your eyes!
---
I, too, covet this guitar, which carried a hefty-for-the-times price tag of $475 when it was new. Now, vintage Rivieras like this one go for about $4,000. (Out of my price range! LOL!) It's also from the era when Gibson and Epiphone parts were used to make both brands, which means it's got a little extra juice in its veins.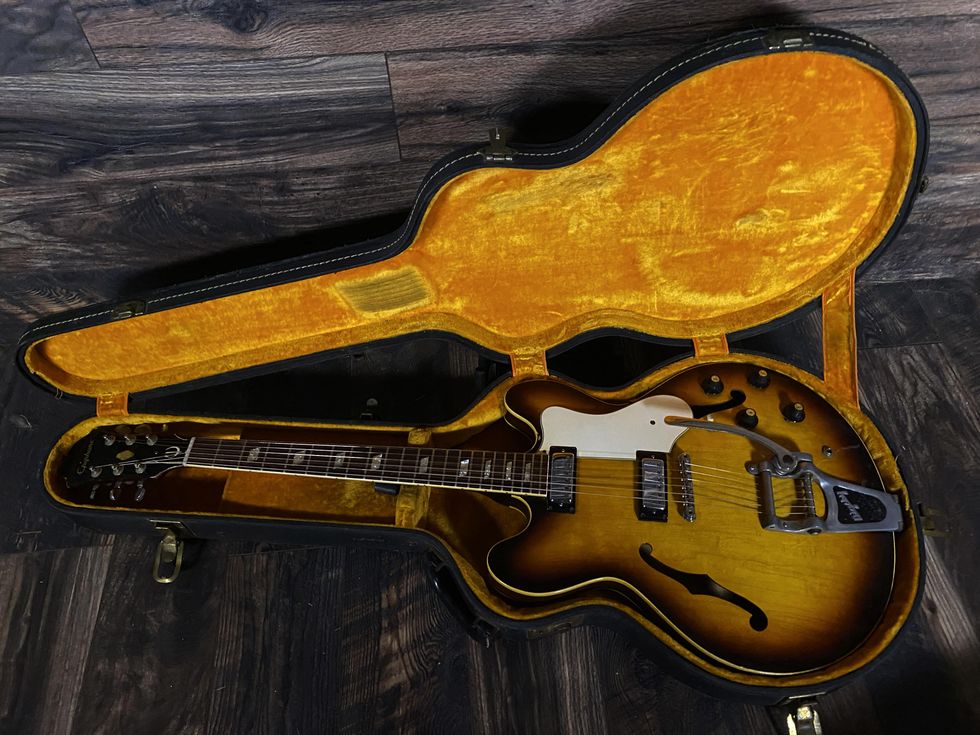 The excellent condition of the original case and the guitar itself speaks to its history as a well-loved instrument. Only 300 Rivieras were made in 1968, and just 19 with Bigsbys.
Except for the closed-back Grover tuners, all of the parts on this classy sunburst E360 TDV are original, and so is its case. The mini-humbuckers and Bigsby tailpiece were options for the Riviera that first became available in 1967, which is why it needed to be special-ordered. Without those appointments, the guitar's price would have settled in closer to $400 at the time.
But before I talk about that, here's a story we heard when this guitar was brought into the shop by the wife and son of its deceased original owner. They explained that this Riviera was special-ordered from a music store in Indiana and used by their husband and father to play gigs from '68 through a good part of the 1970s. In 1975, while loading out of a heated club into Montana's sub-freezing outdoors, the finish immediately weather-checked due to the abrupt temperature change, leaving a striking pattern on the guitar's back that resembles the kind of finger painting Jack Frost does on icy windows. I think that pattern gives this vibey guitar even more character.
In the case of the Riviera and the ES-335, the major differences were in their tailpieces, pickups, and headstocks.
The Riviera began its original production run in 1962, as Epiphone's cheaper answer to Gibson's ES-335 and Epi's own Sheraton. The sunburst finish became standard in 1965, and the original run of Rivieras ended in '69. Famous players who've hefted Rivieras onstage and in the studio include Lenny Kravitz, Stevie Ray Vaughan, Lou Reed, Nick Valensi, and Noel Gallagher.
Now, let's get back to those parts. This month's '68 Riviera, serial number 521820, is among the guitars that collectors sometimes call "Gibson/Epiphones." Here's why: The Chicago Musical Instrument Company, also known as CMI, already owned Gibson when it purchased Epiphone—then Gibson's most direct competitor—in 1957. Along with the purchase came an abundance of unused Epiphone guitar parts, from the company's New York City plant, which were then blended with Gibson parts in Kalamazoo to complete new Epiphone instruments. The use of Gibson parts to make Epiphone guitars continued until 1969, when Epiphone production was moved overseas.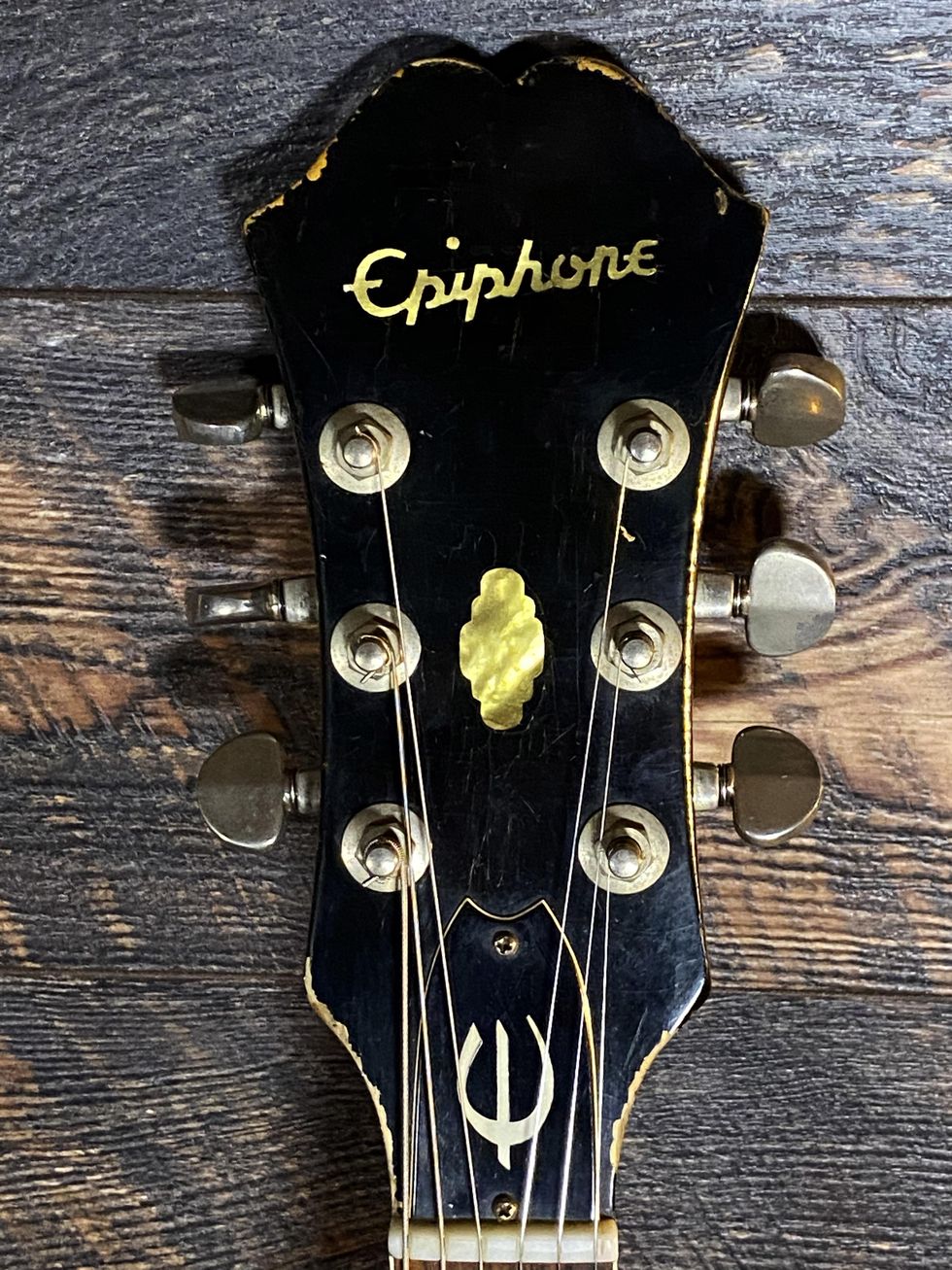 With the production of Epiphone and Gibson models happening side-by-side in the '60s, sometimes the only difference between similar production guitars—like the Riviera and ES-335—was the headstock.
So, Gibsons and Epiphones of that period where literally made side by side, most often with the same materials, finishes, and construction. Sometimes the only real difference was the headstock. In the case of the Riviera and the ES-335, the major differences were in their tailpieces, pickups, and headstocks. Both guitars are semi-hollow with a solid maple center block and solid maple top. On our Riviera, there's binding on the sides and along the fretboard, which has parallelogram inlays. The neck on this Riviera is slimmer than most Gibson/Epiphones from this era that I've played and reminds me of early 1960s Fender Telecasters. This is not a complaint! I like that 24 3/4" scale. The control set is the usual four-dial setup. And with mini-humbuckers, this 6-string is not as dark as most Gibson ES-335s with regular humbuckers that I've played, so the low-mid tone is nicely defined.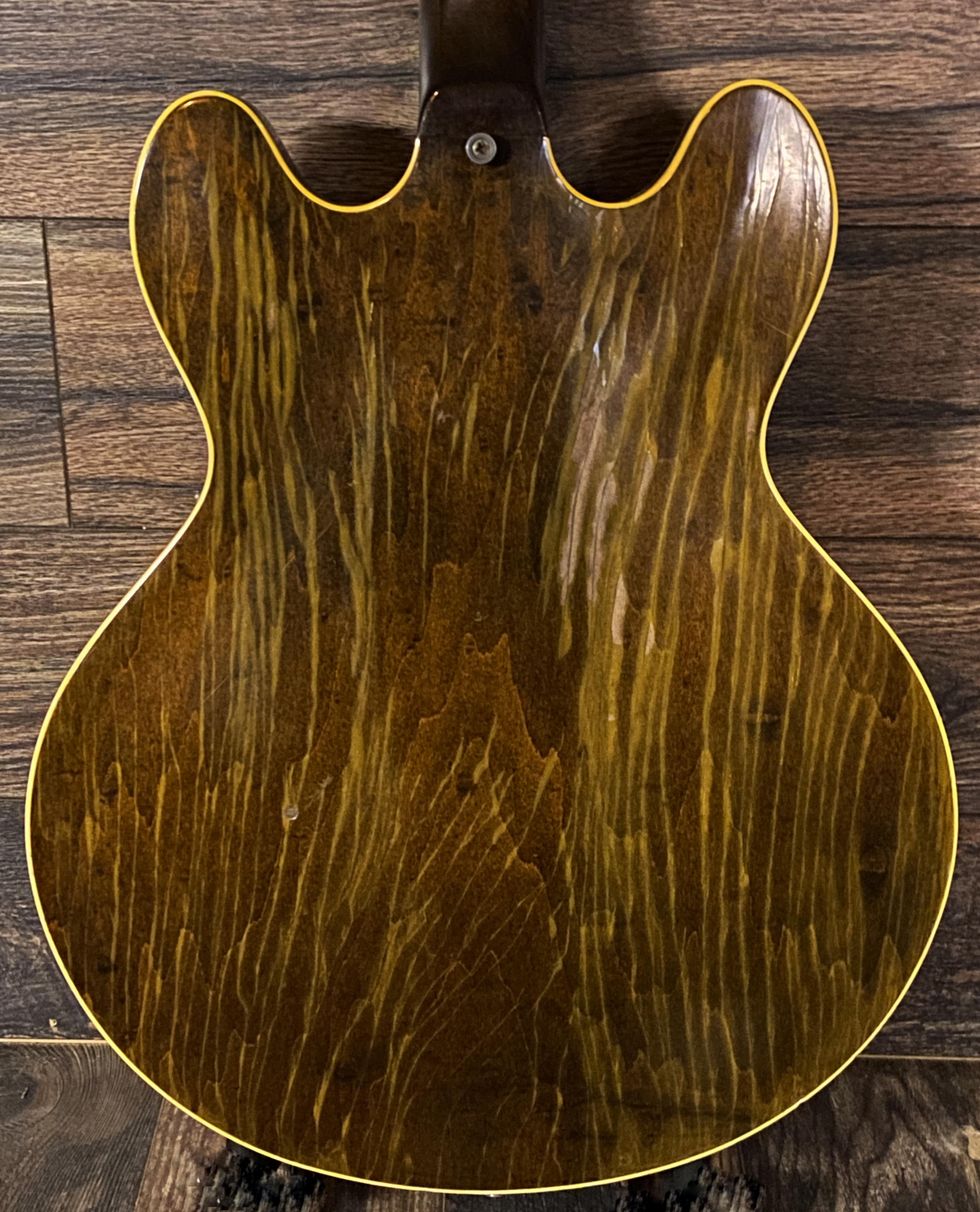 In 1975, the owner of this guitar was loading out of a heated Montana club into sub-freezing temperatures, and the finish immediately weather-checked due to the abrupt temperature change, leaving a striking pattern on the guitar's back.
Let's talk about those mini-humbuckers. The minis that Epiphone created for their jazz/archtop series were introduced to other models once Gibson/CMI acquired the company. With a brighter and clearer sound—kind of between P-90s and humbuckers—this was a sweet option.
I'm a big fan of mini-humbuckers and love the tone they give this Riviera, which was clearly loved. The tobacco burst finish has aged well, and there's just a little wear where the headstock meets the neck from hanging in a cradle mount. That back-side body-finish checking might be a turnoff to cork-sniffers, but I think it really adds to the personality of this instrument. I love, love, love this guitar!
Looking for more great gear for the guitar player in your life (yourself included!)? Check out this year's Holiday Gear Finds!
Flare is a dual-function pedal with a tube-like booster and a 1970s-style ring modulator effect that can be played separately or together.
Flare's ring modulator is based on the iconic tone of the original Dan Armstrong Green Ringer. This vintage classic was made famous by Frank Zappa who loved the unusual modulations created by generating a harmonic octave over notes. Messiah's version offers two control knobs: a "Sparkle" tone attenuator and output Level control. Its taupe-gold body, purple and green knobs and stick-figure rock 'n' roller holding up a flame convey an appropriately rockin'70s vibe.

​In a unique twist, Messiah's Flare pairs the ringer with a warm tube-style boost instead of a fuzz. Flare feeds the booster into the ringer for an extra punch, while preserving the Green Ringerspirit. The ringer side also turns any fuzz into an octafuzz, and it has the ability to quiet signal background noise fed through it.
The booster side features a single Boost knob to control the MOSFET circuit, making it very tube-amp-friendly with a warm, organic boost and gain of up to 32dB.
​The pedal is a distinct improvement over the 1970s pedal that inspired it. "Most ringer pedals don't track well," Tom Hejda, owner of Messiah Guitars. "The player can't rely on repeating the same effect even with the most consistently played notes. We carefully matched the components, so our ringer follows your every move, producing that slightly dirty octave you expect on demand."
Messiah developed this vintage octave pedal with flexible features so that people who love that messy, dirty Zappa-esque sound can get there with ease but there's also something for those who have not fallen in love with fuzz or the Green Ringer alone. Flare offers an array of sonic options while retaining simplicity in the controls.
Each Flair Pedal Includes:
3 control knobs: Boost, Sparkle, and Level
Two effects – Ring Modulator and Boost – can be used together or separately
Space-saving top side jacks
Durable, cast aluminum alloy 125B enclosure with fun artwork
Easy to see, illuminated True-bypass foot switch
Standard 9V pedal power input​
Flare Pedal Demo
Messiah Guitars pedals are designed with an explorative player in mind. Like their custom guitars and amplifiers, Messiah's pedals are hand-crafted in Los Angeles for a long life with guaranteed quality.
Flare retails for $199.00 and can be purchased directly at Messiah Guitars or you can hear it in person at Impulse Music Co. in Canyon Country, CA.
For more information, please visit messiahguitars.com.
This feathery little guy is a joy to play because of its incredibly quick response to your right hand - much faster and more expressive than your typical auto-wah pedal.
​If it looks like a duck, acts like a duck, and QUACKS like a duck, then it must be a duck. That's how we came up with the name for our new envelope filter. This feathery little guy is a joy to play because of its incredibly quick response to your right hand - much faster and more expressive than your typical auto-wah pedal. Trevor explains how this is possible in the launch video, as well as gives a demo on Le Canard's operation.
​The attack control determines how quickly the filter responds to the envelope, and the decay sets how quickly the filter releases afterward. The range controls which frequency spectrum the filter does its magic on. Add to this relay-based full-bypass switching with failsafe, and you've got one crazy little quacky beast. It is so expressive that you'll want to give up on your rocker-wah forever.
The MayFly Le Canard envelope filter features:
Super fast responding envelope follower. Touch it and it jumps!
Range control to dial in the character of the filter
Attack control to control how fast the filter moves on that first touch
Release control to control how slowly the filter slides back to baseline
Full bypass using relays with Fail SafeTM (automatically switches to bypass if the pedal loses power)
Cast aluminum enclosure with groovy artwork
MSRP $149 USD ($199 CAD)​
Introducing the MayFly Le Canard Envelope Filter
All MayFly pedals are hand-made in Canada.
For more information, please visit mayflyaudio.com.