Will Ray's Bottom Feeder: Modified Epiphone Joe Pass Emperor II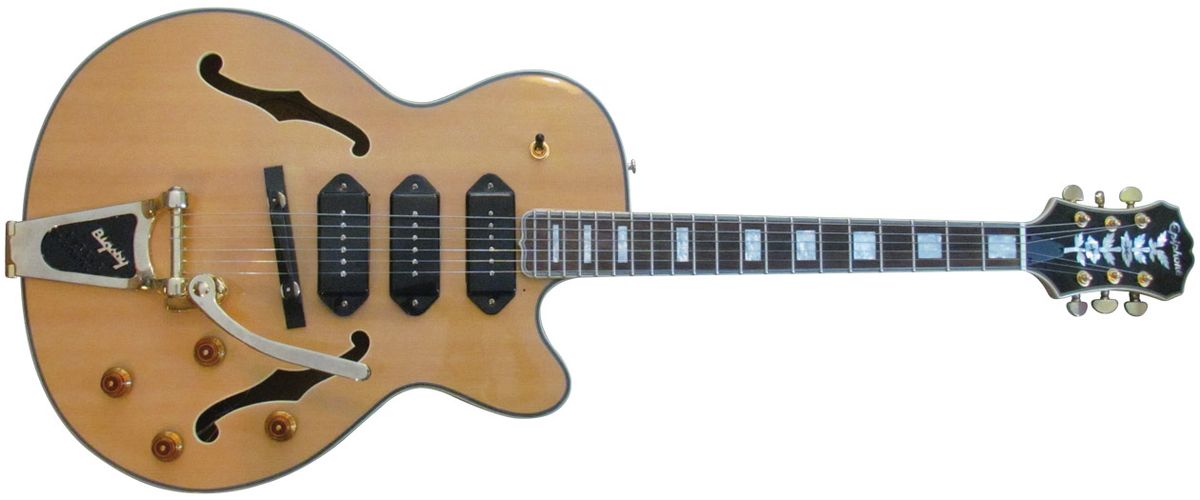 Three P-90s and a Bigsby remake a jazz box into a rockabilly raver.
I've always liked the look of the Epiphone Joe Pass model, but not being a big fan of humbucking pickups seemed to keep me from getting one. That is, until I came across this one on eBay. It's a Korea-made 2005 Epiphone Joe Pass Emperor II model with several significant modifications. The seller removed the two stock humbucker pickups and installed three StewMac Golden Age P-90 pickups. In addition, he also replaced the original trapeze tailpiece with a Bigsby vibrato and removed the pickguard. It went from being a jazz guitar to a rockabilly monster. Honestly, the P-90s had me at hello! That was all I needed.
When you're on the fence about a guitar, never be afraid to ask the seller some questions.
The seller also mentioned in the listing that "it might need to be rewired," and I believe that scared off many potential buyers. That concerned me, too, so I contacted the seller about it and he responded that it was difficult to wire up, but believed all of the pickups now worked correctly. My gut told me to go for it.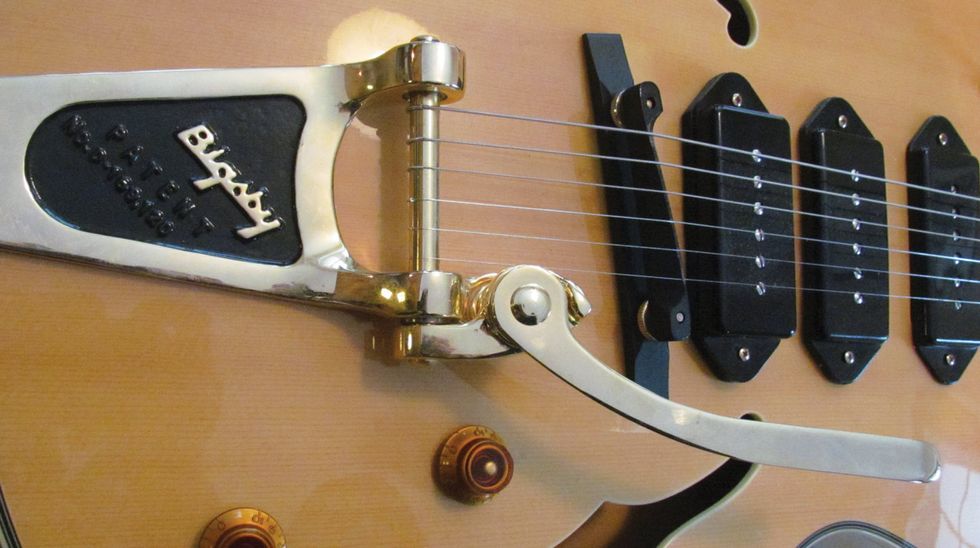 Here's a close-up look at the modifications that transformed this guitar from a jazz box to a rockabilly ripper. The new appointments were immaculately installed.
Bottom Feeder Tip #357: When you're on the fence about a guitar, never be afraid to ask the seller some questions. The answers can either help to persuade you or dissuade you from buying the instrument. Also, never discount your gut feeling.
I kept an eye on the guitar, then made my move and snagged it for $250 plus $34 shipping. I wasn't sure what to expect when it arrived, but to my surprise I discovered the guitar came packed in a really nice hardshell case. I opened the case and there it was … just winking at me as if to say, "Come play with me!"

The elegant and truly classic Epiphone "tree of life" headstock inlay has appeared on some of the company's top models since the 1930s.
First thing I did was plug it into a small practice amp to test the pickups. All three pickups sang out loud and clear. Whew! That was a relief. And the pickup installation and wiring were excellent. It was wired just like the triple P-90-equipped Epiphone Riviera P-93s that I am very familiar with. Basically, there are volume controls for all three pickups, and a master tone knob. The 3-way switch gives you the neck and middle pickups; neck, middle, and bridge pickups; or the middle and bridge pickups. So, the middle pickup is always included with the 3-way, but you can also turn off the middle pickup with its volume control and use the 3-way to give you neck, neck and bridge, or bridge individually. And if you turn down the neck and bridge pickups, you can get the middle pickup by itself for a total of seven different pickup combinations.
Another thing that struck me was how low the action was. It was a joy to play. So, is it a keeper? Yeah! For now, anyway. You know how that goes. Check out my MP3 recording of this guitar at the PG website. It can really swing or rock out with the best of them. I'll probably keep it with low action, because it forces me to play a little differently, which I really like.