The Night Joe Pass Crashed My Gig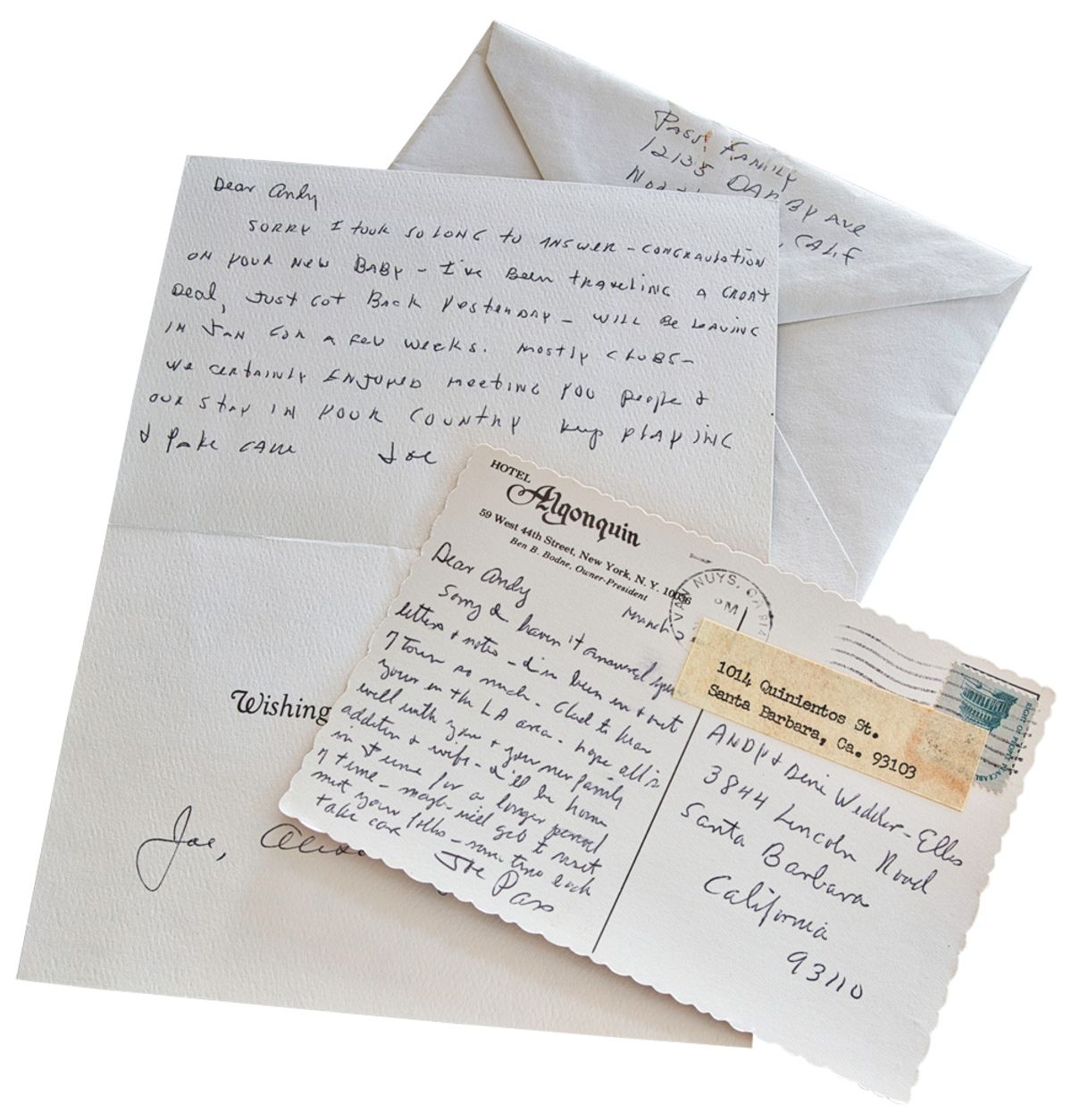 What coming full circle means to Andy Ellis.
In 1976, I was 25 and living in Lincoln City, a small town on the Oregon coast. I had a weekly gig playing solo guitar at a restaurant called Closed Mondays. My repertoire consisted of classical pieces and chord-melody jazz standards, which I played on a late-'60s Framus Attila Zoller AZ-10 archtop. It was a good gig—$35 plus a meal for two. The restaurant owner let me put a black-and-white 8x10 photo with my name and gig details in a display case by Closed Mondays' front door. Hey, a mini-marquee!
---
When the April 1976 issue of Guitar Player arrived in my mailbox, I was thrilled to see Joe Pass on the cover. I began devouring his interview while spinning Virtuoso, his 1973 solo guitar masterpiece. After several weeks of this, my wife Denita, who always supported my guitar obsession, became very familiar with Pass' music and pictures.
One day Denita and I were having lunch at Closed Mondays. She elbowed me and said, "Look, there's Joe Pass!" Glancing up, I saw an avuncular man who bore a striking resemblance to the guitarist on the April GP and Virtuoso covers. We both laughed, shook our heads, and went back to our meals. Joe Pass in Lincoln City? At Closed Mondays? Too absurd to even consider.
A few minutes later, the restaurant owner approached our table with a quizzical look. "Do you know a guitarist named Joe Pass? He saw your photo and asked if you were going to play tonight. When I said yes, he made a reservation for two."
Sure enough, during my first set that night, the man we'd seen earlier took a table near the corner stage. On my break, he motioned me over and introduced himself and his wife. "We're Joe and Alison Pass. We're in town from Los Angeles for a week, staying at a nearby resort. Because I play guitar, too, I thought it would be nice to hear some music." After I assured him I knew who he was and was a huge fan, he leaned over and said, "You know, all this golf is driving me crazy and I haven't touched a guitar in days. Could I play yours, right here, right now?"
Why share this story? It's a way of acknowledging how the guitar has led me to other things I couldn't have imagined.
I agreed, of course. After taking another sip of wine, he stubbed out his cigar, stepped onstage, picked up my Framus, and without saying a word began to play. No one in the noisy restaurant paid any more attention to the round, bald man on guitar than they did to me. At least at first. But as Joe explored tunes from Virtuoso, heads began to turn, and slowly the diners put down their utensils and fell silent. Clearly none recognized Pass, yet they knew they were hearing extraordinary music, and he held them spellbound. He played perhaps 45 minutes—time simply stood still. Eventually, accompanied by enthusiastic applause, he put down my Framus and returned to his table. We chatted for a while, drank more wine, and I played again before packing up, though nobody paid much attention.
The next day, Joe and Alison joined us for breakfast where Denita worked, and for the next year or two, we corresponded. It was magical—something I couldn't possibly have imagined happening in my life.
Why share this story? It's a way of acknowledging how the guitar has led me to other things I couldn't have imagined—including becoming an editor at Guitar Player and subsequently Premier Guitar, and having the opportunity to meet and interview scores of guitarists, many of whom revealed their secrets and shared their passion for our instrument.
And now the guitar is beckoning me to yet another journey—a return to 1976, when my world revolved around building a solo guitar repertoire. You see, after some 30 years of being a guitar journalist, I'm retiring. Instead of editing a story over my morning coffee, I'll wrestle with the B section to Tárrega's "Lagrima" or polish a flatpick fiddle tune. I can't turn back time (nor would I want to), but I can reclaim the headspace that gave me so much joy, so long ago. It's exciting to return to my roots, and if I'm lucky, I'll have some years ahead to revel in this next phase of my 6-string adventure.
Maybe you'll see a graybeard in a tie-dye shirt playing a fingerstyle arrangement of "The Long and Winding Road" in a noisy bistro somewhere. Full circle. If so, come say hello. Meanwhile, keep those calluses hard and I'll do the same.
[Updated 7/27/21]