Rig Rundown: Tommy Emmanuel, CGP
The Australian fingerpicker explains how he uses minimal gear to get maximum tone.
Even at an ungodly hour, Tommy Emmanuel met with Premier Guitar where he revealed the gear behind his huge, natural acoustic sound. Of course, the secret ingredient is talent and listening.
Guitars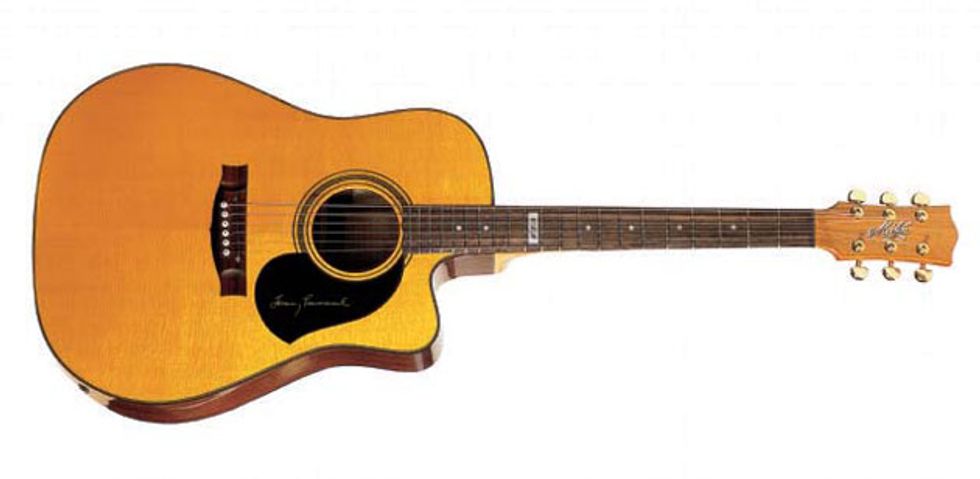 Emmanuel tours with three Australian-made Maton guitars. Two of them are identical EBG808 models (he keeps one in standard tuning and the other tuned down a whole step). The 808s feature sitka spruce tops, Queensland maple necks and Maton's proprietary AP5-Pro pickup system. The AP5-Pro contains both an internal mic and a piezo pickup with onboard EQ controls.
The third guitar is a Maton EBG808 TE Tommy Emmanuel signature model, which also features a sitka spruce top, but the back and sides are made of Queensland maple. An Ultra Acoustic Feedback Buster is placed in each soundhole to help keep any unnecessary frequencies under control.
Amps and Effects
The signal comes straight out of the Maton and into a Boss TU-3, which not only keeps Emmanuel in tune, but also allows him to mute when he switches guitars. From there, the signal runs into an AER Pocket Tools Colourizer before heading to the front of house.
The bypass output from the Colourizer goes to an AER Compact 60 amp. Any delays or reverbs are added by the soundman.
Picks and Strings
Emmanuel started with thin picks but kept upgrading to increasingly thicker picks. Nowadays, he uses extra heavy Dawg picks that were given to him by mandolin virtuoso David Grisman. He likes these picks because they give him a tortoise shell-like feel and tone. When a thumb pick is needed, he uses Jim Dunlop mediums. Emmanuel strings his guitars with Martin Acoustic FX strings (.012–.054), which he changes before every show to ensure great tone and minimize breakage.
Special thanks to Bill Warmoth of Artisan Guitars in Franklin, TN.