The parts for the vaunted device may be out of production, but there's still a way to simulate it on your own guitar.
Hello and welcome back to Mod Garage! This month, we will take a deep dive into the Paul Reed Smith Sweet Switch and look at how you can create a version of it with parts that are available today. There is a lot of hype and mystery around the Sweet Switch, and I don't want to discuss or heat up any of that, so let's simply stick with the facts.
PRS offered the Sweet Switch feature from the mid '80s until 1991, so it is long out of production and no longer available. The story goes that Carlos Santana used very long guitar cables on stage, and when he switched over to a wireless system, his overall tone changed drastically. That is the nature of the beast, because the capacitance of the guitar cable is always part of the overall tone of an electric guitar. You all know the formula: the shorter the cable, the more high-end you will have. Translated into technical terms, this means the shorter the cable, the less capacitance it will add, resulting in more high-end. It was only natural that Santana talked to his friend Paul Reed Smith about this problem, and PRS came up with the Sweet Switch as a solution.
The Sweet Switch is a mini-toggle switch with a fixed SIP delay line (high-frequency type 1513-135Y), which has a delay time of 135 nanoseconds and an impedance of 75 ohms. This SIP delay line is long out of production. But it was still in use in the '80s, inside conventional (non-flat) televisions using line transformers. Since it's no longer available, when you have a faulty Sweet Switch, or if you want to build a new one into your guitar, you will have to find a substitution.
From a technical point of view, a SIP delay line will work in a passive system, but only with the correct impedance—75 ohms for the one used in a Sweet Switch. Inside a guitar, that impedance does not arise though. Instead, when you use such a HF delay line in a LF device, like an electric guitar, it acts like a capacitor, not as a delay line.
So, when you want to repair a faulty Sweet Switch or add one to your guitar, you can simply use a small capacitor on the switch to add some capacitance to the circuit, resulting in the exact same effect as the mysterious SIP delay line.
That's our starting point. I will show you how to add this Sweet Switch substitution into any electric guitar, and, as a bonus, how to use this technology to sonically enlarge short guitar cables.
Each meter of guitar cable will add a certain amount of capacitance to the circuit, dampening some high frequencies, so the tone gets warmer or sweeter. Modern guitar cables have an average capacitance of approximately 100 pF per meter, which is very low and allows long cable runs without audible degenerations. Some high-end guitar cables only have a capacitance of 60 pF per meter or lower, but there are also old guitar cables, especially the coiled ones, that easily can add up to 400 pF per meter. Players like Hendrix, Clapton, Gilmour, May, Blackmore, and many others are well-known for using very long coiled cables in their early days on stage. So, this is part of their trademark sound, and often a piece of the puzzle that is missing when trying to come close with a modern setup.
The added capacitance will lower the resonant frequency of the pickups, so they will sound warmer, especially when using overdrive or distortion.
As a little guideline to calculate the best additional capacitance, you can use this chart:
10 ft. cable (approx. 3 meters): 1 nF
15 ft. cable (approx. 4.5 meters): 1.5 nF
20 ft. cable (approx. 6 meters): 2.2 nF
30 ft. cable (approx. 9 meters): 3.3 nF
Ultra-long cable: 4.7 nF
You should have no problem getting capacitors with these values in any local electronics store.
The added capacitance will lower the resonant frequency of the pickups, so they will sound warmer, especially when using overdrive or distortion. By the way, this is exactly the reason why a lot of distortion and fuzz boxes with a vintage voicing use an additional cap at the input section. The resulting overdrive tone is fat and warm.This mod works best with typical Strat or Tele vintage pickups (approximately 2.4 H inductance) or a typical vintage PAF (approximately 3.8 H inductance). Modern high-output pickups often have an inductance of 6 up to 8 H and don't sound very good with this mod. If you want to make your Strat or Tele sound more Les Paul-ish, you should try 4.7 nF for the additional cap. Your Strat will sound kinda muffled when playing clean, but ultra-fat and punchy when using overdrive. Values higher than 4.7 nF are not recommended, because single-coil pickups will start to lose definition with that much capacitance.
Illustration courtesy SINGLECOIL (www.singlecoil.com)
Performing this mod is very easy. All you need is one of the caps I mentioned above and an SPST on/off mini-toggle switch. You can also use any push/pull or push/push pot to switch the mod on and off. If you want to be more flexible, you can use an on/off/on toggle switch and two caps to choose from. If you want to go wild, you can also use a rotary switch with several caps. Feel free to be creative.
As mentioned earlier, it's all about where to place the additional cap. It's best to insert it between hot and ground in the circuit.
If you don't want to add an additional switch on your guitar, there is another way to perform this mod, as long as you are using conventional guitar cables, not going wireless. You can build yourself a kind of "fake cable" by simply soldering an additional cap between the hot and ground directly on the plug of the cable. For example, if you have a standard modern three-meter guitar cable but want to simulate the typical 15-meter Blackmore cable from his early Deep Purple days, try a 3900 pF cap in the plug of your cable. If you have a six-meter cable, try 3300 pF for the same effect. The plug with the additional cap should be marked and will go into the guitar, not into the amp or the first stompbox. This is a very cool way to add the desired tone to your setup without drilling any additional holes into your guitar.
That's it! Next month we will have a closer look into Eric Johnson's 1954 "Virginia" Stratocaster wiring and how to adopt it, so stay tuned!
Until then ... keep on modding!
To swap or not to swap? Let's explore some situations when it makes sense to replace hardware … and instances when it doesn't.
Welcome back to Mod Garage. This month I want to give you some insight into putting vintage parts into new electric guitars and explore why so many people are doing this.
The trend to put old vintage parts into electric guitars started years ago and it's still in vogue today. But besides the hip factor, is it reasonable to do so? What can you expect, and are there specific situations where this makes sense for a new electric guitar? In this column, we'll have to face some sad and unpopular facts (and myths) about vintage guitars and vintage parts, so not everyone will be happy about this.
In general, the vintage world is not limited to guitars or instruments. The scene includes a lot of categories, such as cars, watches, clothing, furniture, books, electric devices, and much more. But the basic principles are always the same and there are many reasons why someone decides to jump on that wagon.
We don't have to discuss putting vintage parts on vintage guitars, which seems logical and natural. On a vintage guitar, it's all about stock condition and authenticity, like on every vintage collector's item, no matter what it is.
Let's start with sad vintage "truth" number one:
Today we can build much better electric guitars than ever before.
That's not really bad news, if you're not a vintage guitar seller. Don't get me wrong, I'm not saying the old vintage guitars are obsolete or bad in comparison with the ones we can build today. But with today's high-tech equipment, the level of consistent quality is outstanding and close to perfect. All instruments produced that way are more or less completely identical. Vintage guitars, even if built from the same persons on the same day, are virtually all individual items, which for sure is one of the main keys to their magic. And naturally everyone wants to own an individual item rather than an industrial, mass-produced object.
Today we can build tuners that are far ahead of what was possible in the '50s and '60s, as well as bridges and tremolos that are little mechanical pieces of art regarding precision and accuracy. So, does it make sense to put vintage hardware on a new electric guitar?
Regarding quality and performance, it's a clear NO! I have numerous customers doing exactly the opposite, no matter if it's sacrilege or not. They want to play their vintage guitars but with today's highest possible performance, so they take out the vintage parts, carefully storing them away, replacing them with modern 1:1 copies to spruce up the old guitars. This is often the case with tuners, string trees, tremolos, and the like, and it's important that the new parts will fit 1:1 so no new holes need to be drilled to make them fit.
Sometimes imperfection to a certain degree can be exactly the thing you're looking for regarding tone.
Old and brittle plastic parts like pickguards and pickup covers are also stored away. You can buy modern plastic lookalikes easily and so the old parts are ready to drop in again when you want to sell the guitar someday. Vintage amp players are taking out the original speakers to protect and store them away. This way you can have both: Play your vintage guitar and amp with the highest possible performance, plus keep their value alive because you can always swap parts back to stock condition. I have quite a few customers who take out the complete electronics along with the pickguard, playing a modern substitute under the hood because they don't want to risk damage to the original. And, believe it or not, a lot of them say the new pickups and electronics sound better than the originals, but compared to the originals, they are worthless. In general, this applies to all vintage items. For example, today it's possible to build better cars and watches than ever before ... but they don't make them like they used to, which is one of the number one pro-vintage arguments.
Naturally, there could be other reasons—including emotional ones—to put vintage hardware on a new electric guitar. This is highly individual. Maybe it's just for fun because it was already lying around, or it looks cooler because it's used and beaten up. But this can be had cheaper—the market for aged guitar parts is huge. Or maybe one of your favorite artists did something that you want to copy. This also applies to a lot of other vintage stuff like cars and watches—who doesn't want to drive a Porsche 550 Spyder model like James Dean or wear the same Rolex Submariner 6538 that James Bond wore in 1962 during his first appearance in Dr. No?
But maybe it's because people think putting vintage parts into a new guitar will increase its value. This leads us straight to sad vintage "truth" number two:
A new electric guitar with vintage parts fetches more money than it does in stock condition.
This is simply not true, at least when sold as one piece with the vintage parts built into the guitar. Like any modification, this will not increase the value of a new guitar—time and being witness to countless auctions has proven this.
But this is the perfect transition to sad "truth" number three:
A vintage guitar makes the most profit when sold completely intact.
Exactly the opposite is true. If you want to make the most profit, nothing beats completely disassembling a vintage guitar and selling it in pieces. I know some vintage parts dealers in Europe and the U.S.—I've worked with some of them for over two decades—and they're all doing the same thing: finding vintage guitars that are for sale, disassembling them, and selling off the individual parts.
One dealer told me this: If you can sell a vintage guitar for $10k, take it all apart and you can make $15k with the individual parts. So, if you put vintage parts on a new guitar that you want to sell, take out the vintage parts and sell them off individually to make top dollar. (It's not a bad idea to store away any hardware you remove from your guitars, because you might need to put it back in later.)
So, are there any instances where it does make sense to put vintage parts in a new guitar? I would say yes, and I can think of two good considerations:
1. Putting vintage pickups into a new electric guitar.
Putting vintage switches, pots, output jacks, and wires into a new guitar is not reasonable. The pickup-selector switches are still made the same way now as they were in the past. Only the materials have changed a bit, enhancing reliability and longevity. So why spend $600 for a vintage CRL 3-way switch when you can get much better performance for $30? A switch has no tone, so leave the vintage switch for a vintage guitar. Same with pots: They don't have a tone and modern pots are much more reliable. Companies spent years researching the taper and action of vintage pots and you can buy exact vintage copies for only a few bucks. You get the idea.
With a faithful recreation of a vintage pickup plus a vintage tone cap, you can come very close to the magical sound, so investing in a tested NOS tone cap can make a big tonal difference, whereas a new cap can't.
However, if you fall in love with a set of vintage pickups, it can make sense to put them into your modern guitar. There is no financial risk. They will increase in value, so if you ever want to sell them again you will get more than you paid, enjoying their tone in the meantime. Keep in mind that companies also spent years to analyze, research, and re-engineer vintage pickups and today you can buy almost every given pickup you're looking for and as close as possible to its original. Such pickups are a lot cheaper compared to a vintage set, but naturally this is no investment.
2. Putting vintage tone caps into a new electric guitar.
This is for sure a reasonable procedure to quickly enhance the tone of a new electric guitar. Installing a vintage tone cap into a guitar is also done easily because it's a simple 1:1 swap with the original tone cap. It's still possible to find NOS vintage tone caps today, but prices are rising while supplies are running out. Why is this an improvement in tone? The tone of vintage guitars is often described as detailed, harmonically rich, and open. Part of this tone is from the tone cap. Today capacitors are built to perfection and with very low tolerances so they will do a perfect job. In our electric guitars we use them to only short out the highs against ground, leaving the bass untouched ... in very simple words.
Production processes to build capacitors in the '50s and '60s were far from perfect, and besides high tolerances in capacitance, certain caps (depending on the dielectric inside) tend to be kind of "leaky" regarding overtones. A modern cap will do a perfect job, filtering out all overtones that it's supposed to. Most vintage caps will do a lousy job, still letting some overtones through, especially the harmonic ones. This is what makes the tone so rich and detailed, and, by the way, it's the same situation with tube amps.
With a faithful recreation of a vintage pickup plus a vintage tone cap, you can come very close to the magical sound, so investing in a tested NOS tone cap can make a big tonal difference, whereas a new cap can't. Sometimes imperfection to a certain degree can be exactly the thing you're looking for regarding tone. Back in the golden guitar days, no one really cared about such odd details, and even if they did ... it was state of the art and all new technologies were still science-fiction at that time. Today we know better and can use old technology for certain tasks.That's it for now.
Next month we'll explore our next guitar mod, so stay tuned. Until then ... keep on modding!
What does this mean? I'll explain how to do a wiring that yields 16 different sound combinations.
Hello and welcome back to Mod Garage. This month, we'll talk about how to wire triple-shot humbucker pickups. I'll explain what this means and how to do it, so let's go.
When you have a humbucker with a traditional 2-conductor wiring, you don't have any sound variation by itself—only together with another pickup that you can put in parallel or in series with it, in phase, out-of-phase, or half out-of-phase, and so on. With a 4-conductor wiring on your humbucker pickup, you have access to the start and the finish of each coil, and this can be used to get a total of four different tones out of it, whether it's a bridge or a neck pickup. A 4-conductor wiring results in a total of five wires coming from such humbuckers:
North coil start / north coil finish
South coil start / south coil finish
Ground = bare wire (goes always to ground)
The possible combinations and sounds you can dial in are:
 1. Both coils together in series = standard humbucker operation mode.
This is the factory standard way all humbuckers are internally connected when they have a 2-conductor wiring with only hot and ground. This is also the standard way in almost every guitar loaded with one or more humbucker pickups, producing a warm, loud, and fat tone with maximum output and the humbucking function engaged.
 2. Single-coil-esque humbucker wiring (both coils together in parallel).
This option gives you a single-coil-like tone but keeps the humbucking function engaged. You won't get a crystal-clear Strat or Tele tone, but to me it sounds at least single-coil-esque, maybe closer to a P-90 than to a standard single-coil. It sounds different with any humbucker, so it's a matter of trying it out.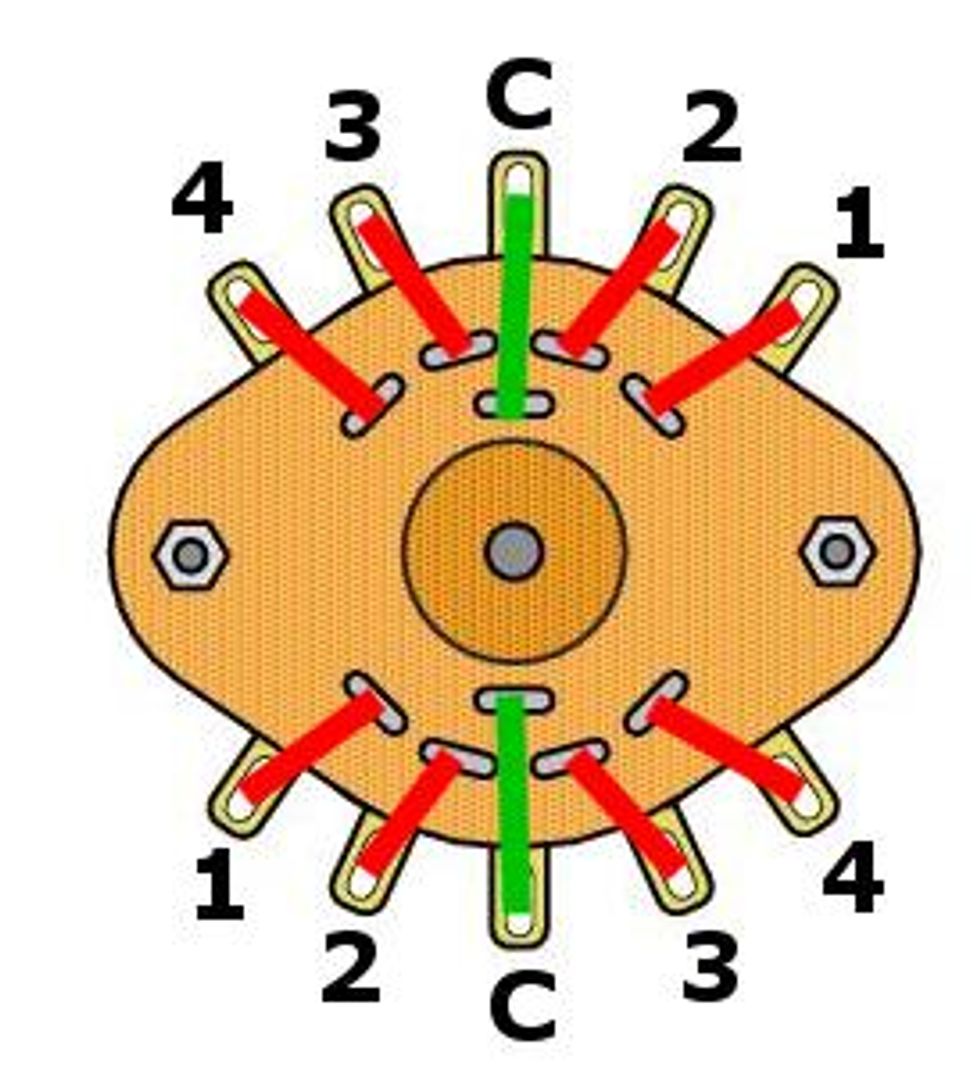 Fig. 1
3. Coil-splitting to the south coil.
This wiring is splitting the humbucker in half, shunting one coil to ground, leaving the other coil engaged like a true single-coil pickup. In this mode, the humbucking function is no longer active, so you'll receive all kinds of hum and noise, just like with any single-coil pickup. Don't expect a true Strat or Tele tone. If this is your goal, there are special humbuckers made of two real single-coil pickups. The downside of this special breed is they don't sound very good as a full humbucker, so it's always the art of compromising. Splitting to the south coil of the humbucker, which is the screw side, is recommended for neck humbuckers, but can also sound good for bridge humbuckers.
4. Coil-splitting to the north coil.
This wiring follows the same idea as #3, but will leave the north coil, which is the slug side, active. This version is recommended for a bridge humbucker because it gives a fuller sound compared to the screw side.
To clear up some terminology, there are several descriptions given to the individual coils of a humbucker and depending on the manufacturer of the pickup, they are sometimes used side by side: The (non-adjustable) slug coil is also called north coil or inside coil, while the (adjustable) screw coil is called south coil or outside coil.
Having two 4-conductor humbuckers in an HH guitar will result in four different sounds from each pickup. Plus, you can combine them for a total of 16 different sounds, which is a lot of choice, not counting possible additional options like phasing.
What sounds like a good plan or must-have often turns into a real issue, because space is your enemy! Try to do this on a Les Paul and you'll face that there isn't enough space for all the additional switches that are needed, and that's the same with a lot of other guitars. So, some years ago Seymour Duncan came up with a clever product called the "Triple Shot."
The good news is, you can get the exact same performance from a rotary switch, which costs only a fraction of a Triple Shot. The sad news is, you need one rotary switch for each pickup, and, naturally, you need space to place them somewhere on the guitar.
This is a humbucker mounting ring with two integrated slide switches and a ribbon cable going from the switches to a small printed circuit board (PCB), which is the connection terminal for the five wires coming from the humbucker plus a shielded output cable. The Triple Shot is available in different colors and shapes, so it'll fit virtually any guitar, no matter if it has a flat (Strat, Tele, SG, etc.) or arched (Les Paul, 335, etc.) top. With the Triple Shot, you don't have to drill any new holes into your guitar, and you don't lose any controls by replacing them with switches or the like.
Operating the Triple Shot is easy, but it takes some getting used to. Because of the two slide switches, you need to know what combination will produce each sound, which can cause some confusion at the beginning. Another benefit is that the optical appearance of your guitar is not altered in any way and it's easy to remove if you need or want to. An often-heard downside is the high price for the Triple Shot ($39 street). Personally, I think it's worth the price because it's high quality, but if you're on a budget, this can be a deal-killer.
The good news is, you can get the exact same performance from a rotary switch, which costs only a fraction of a Triple Shot. The sad news is, you need one rotary switch for each pickup and, naturally, you need space to place them somewhere on the guitar.
For this you need a 2P4T rotary switch, which means it has two poles (comparable to the standard 5- and 3-way switches you all know) and four switching positions. Physically you have five lugs on each switching stage, with one of them being the output of this stage. The lugs are numbered from 1 to 4 and the output on a rotary switch is always labelled with a "C" for "common." The rotary switch wiring you need is illustrated in Fig. 1.
Take care to get a good-quality switch. These switches are available in a wide range of quality and prices. There are open ones, like the one shown in the diagram, and closed ones. The trick is to connect both switching stages (output of stage #1 goes into stage #2), which is something you already know from your standard 5- or 3-way switch.
Fig. 2
Fig. 2 shows how to connect your 4-conductor humbucker to the rotary switch. With this wiring you receive the following switching matrix:
Both coils in series (standard humbucker)
Both coils in parallel (hum-free single-coil-like tone)
Slug coil as single-coil
Screw coil as single-coil
I chose the Seymour Duncan color chart for the diagram, but you can transfer it to any brand humbucker using color code transfer charts on the internet.

That's it for now. Next month we'll continue our relic'ing project, focusing on the neck and fretboard. We're getting close to the finish line on that one, so stay tuned.
Until then ... keep on modding