See how a handful of Gibsons and AC30 stacks add up to a Texas-sized tone.
Ever wonder what Skynyrd would've sounded like if they were from the Lone Star state instead of the swamp? Well, that's just a taste of what childhood friends in Whiskey Myers have been serving on ice for the last decade.
The Texas-bred band has released five records since 2008. (They're currently working on their sixth.) Through those handful of albums, the country-leaning rockers refined their from-the-gut songwriting and heartfelt performances eventually earning them a No. 1 record on both Billboard's U.S. Country and Indie charts with 2019's Whiskey Myers.
During the recording process of the forthcoming album, Whiskey Myers' cofounding guitarist John Jeffers virtually welcomed PG's Perry Bean into his Texas-based tone bunker.
In this episode, the self-taught guitarist shows off his main Gibsons (including some rare finds and classic reissues), breaks down his Vox pillars, and details the smattering of stomps he kicks on for a wide-range of tones covering the rock and the roll.
[Brought to you by: D'Addario Backline Gear Transport Pack]
1994 Gibson Les Paul Standard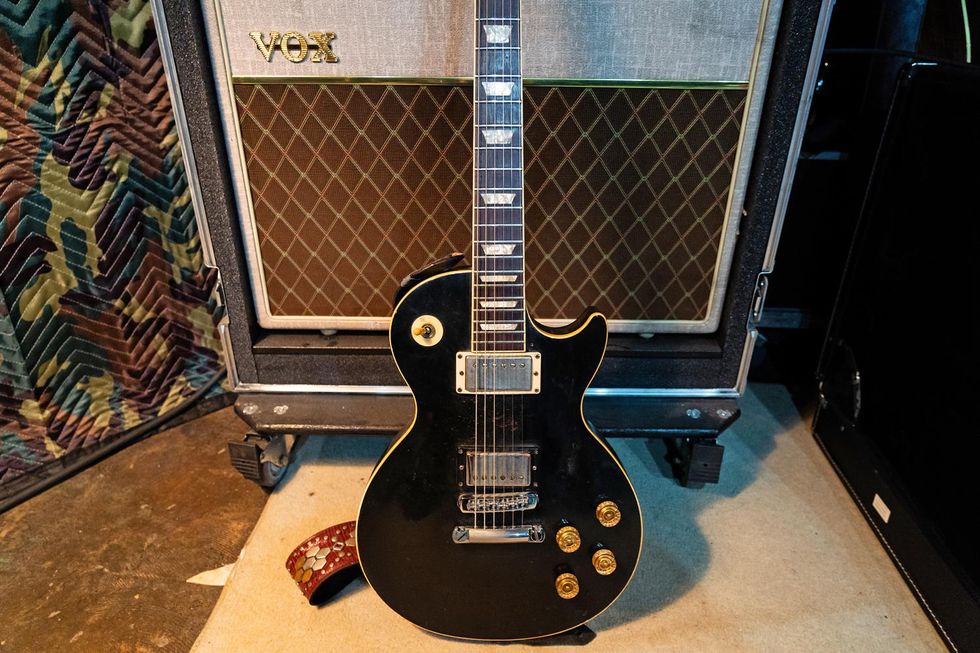 Pro players typically graduate from their first love. In John Jeffers' case, one of his main axes—the above 1994 Gibson Les Paul Standard—was the electric that started it all. It was a gift from bandmate Cody Tate's uncle. Before it became his sweet baby, the stock pickups were swapped out for a Seymour Duncan SH-4 JB (neck) and DiMarzio Super Distortion (bridge). All of double-J's guitars take Ernie Ball Power Slinkys (.011–.048).
2011 Gibson Les Paul Custom Blonde Beauty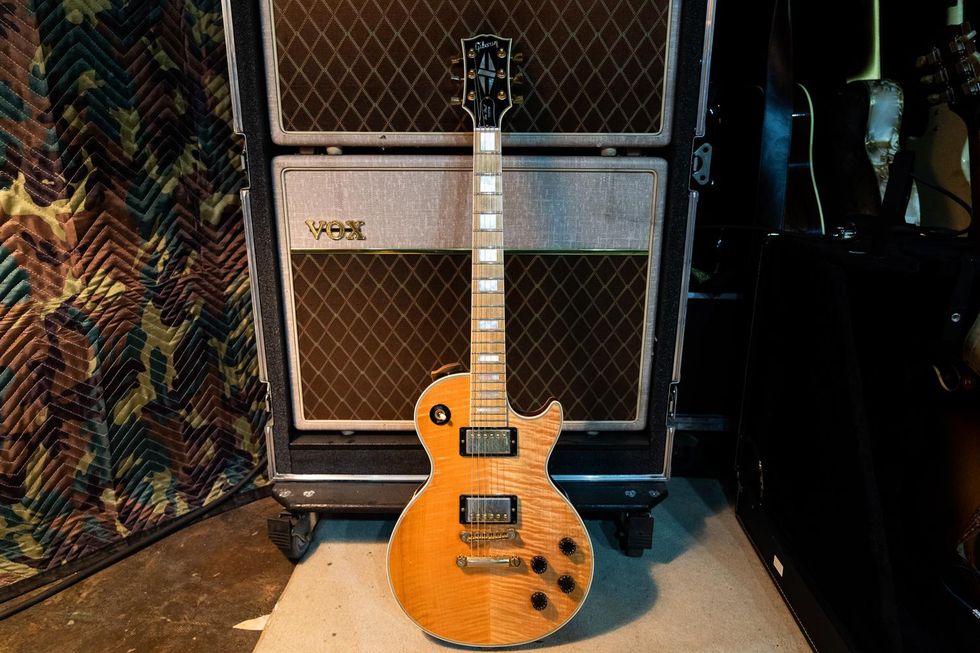 A key backup would be this 2011 Gibson Les Paul Custom Blonde Beauty that Jeffers says is rare because only a few hundred were made. This was a gift from one of the band's longtime fans that used to help fill up their gas tank to ensure they could make it to the next gig.
Gibson ES-339
No your eyes aren't deceiving you, this Gibson ES-339 looks like a 335, but is actually comparable in size to a Les Paul. Other differences from its big brother is the implementation of the Memphis Tone Circuit that reverts back to simplified '50s-style wiring where the tone control is connected to the volume control rather than the pickup. It results in a less-obvious tone-control sweep.
2004 Gibson Les Paul Junior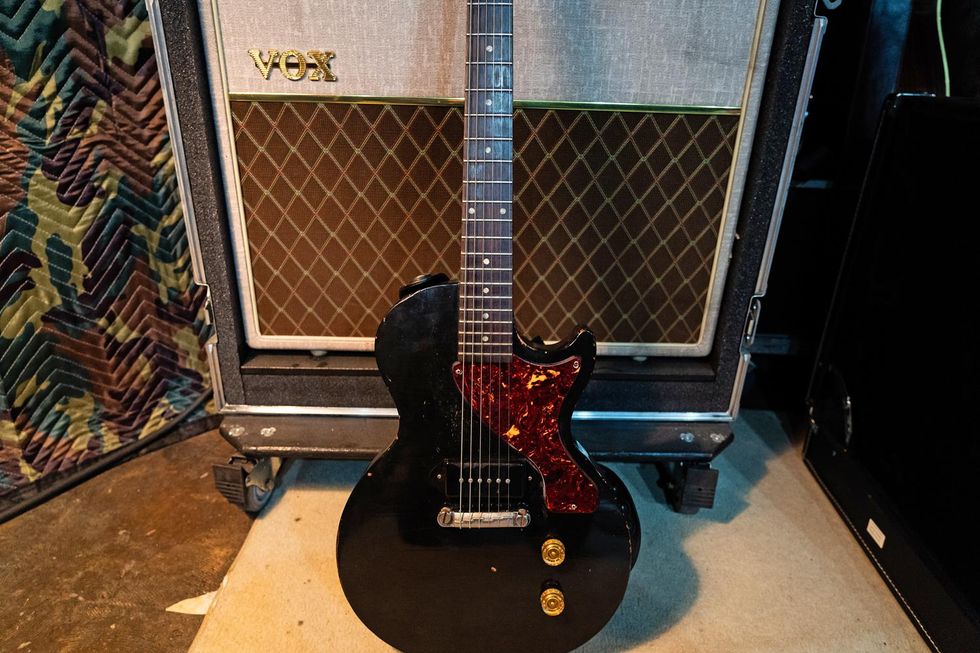 Now he'll play slide on anything you hand him, but Jeffers does prefer to get greasy with this 2004 Gibson Les Paul Junior because it rides well in modal-G tuning for songs like "Home" and "On the River."
1992 Gibson 1967 Reissue SG Custom
Here's something Jeffers' had been lusting over for a long time—a 1992 Gibson 1967 Reissue SG Custom. He's always wanted an original '61 Les Paul (the first year of the SG shape), but this wonderful reissue will suffice until that day comes.
Handwired Vox AC30HWHD Heads & Matching Cabinets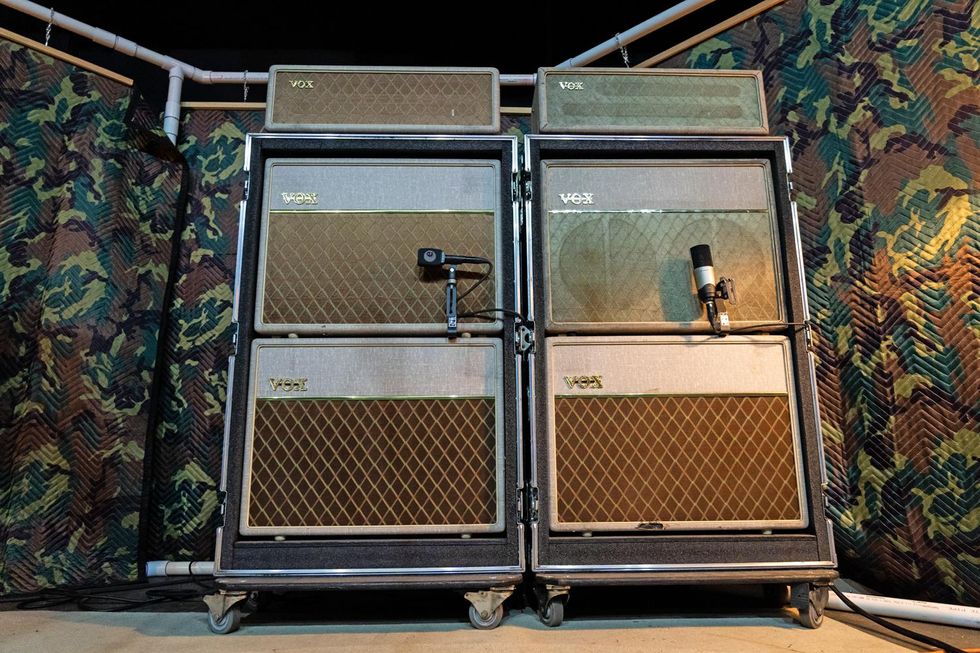 All those Gibsons bark and growl through a pair of handwired Vox AC30HWHD heads and matching 2x12 cabs (all loaded with Celestion Alnico Blue speakers). In a typical live setup, Jeffers will run the left stack as a rhythm tone (mic'd with a Sennheiser MK4) and right stack is for lead tone.
John Jeffers' Pedalboard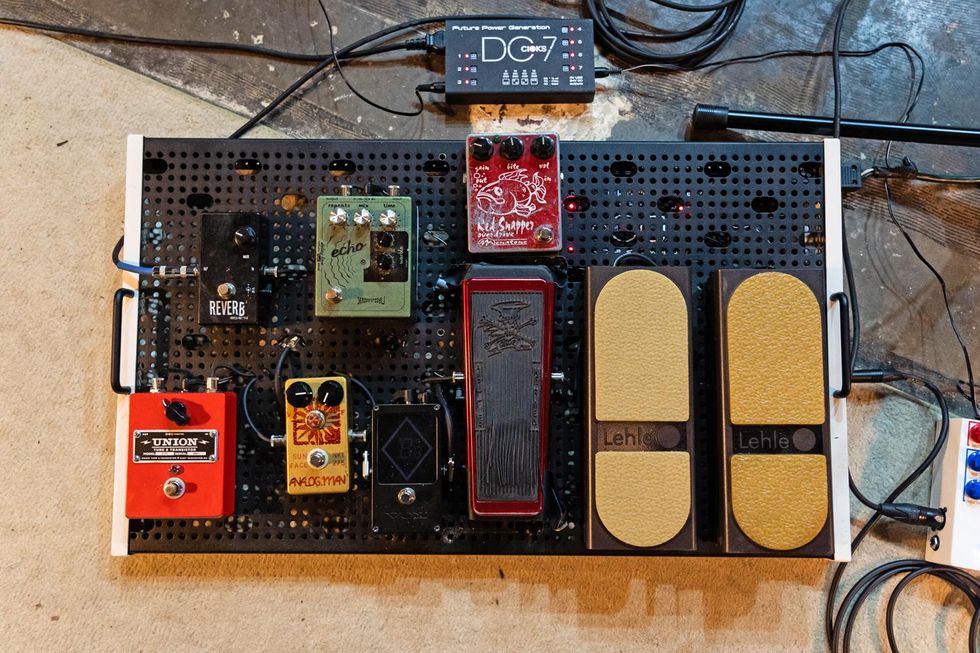 Jeffers is a man of many tones requiring only a few pedals. Currently in his arsenal is a Hermida Audio Reverb, Skreddy Pedals Echo, Menatone Red Snapper Overdrive, Union Tube & Transistor More, Analog Man Sun Face Fuzz NKT 275, and a Dunlop SW-95 Slash Signature Cry Baby wah. Managing his AC30s are a pair of Lehle Mono Volume pedals, keeping the guitars in check is a Vox VXT-1 Strobe Tuner, and powering all the pedals is a Cioks DC7.
"Stompbox." The word just sounds fun. But, of course, it's what you do with pedals that matters. And we sure as heck wouldn't be cramming 37 reviews of the latest, greatest pedals into a single issue of Premier Guitar if stompboxes weren't, well, a foot-stomping good time.
"Stompbox." The word just sounds
fun
. But, of course, it's what you
do
with pedals that matters. And we sure as heck wouldn't be cramming 37 reviews of the latest, greatest pedals into a single issue of
Premier Guitar
if stompboxes weren't, well, a foot-stomping good time.
It's little wonder that most of us guitarists and bassists are addicted to these things, because they can be downright magical, too. Put your foot down and BAM!—the whole world changes: A smoky roadhouse becomes a desert expanse at sunset … a dusty country road becomes a vast and eerie underwater expanse … a thunderstorm becomes an apocalyptic alien invasion. Pedals can transform our playing and inspire songs and/or new stylistic meanderings. And at their best, they are musical instruments in very same way that a bass or a guitar is.
The world of stompboxes you're about to enter is wild and varied. Here you'll find reinterpretations and refinements of pedals that have long been enshrined in the stompbox pantheon, wild beasts that can barely be tamed, keys to unexpected adventures in expression, and portals to sounds you didn't know you had at your fingertips. They come from legends in the guitar effects world such as Electro-Harmonix, Boss, and Vox, as well as established boutique builders like Strymon, Z.Vex, and Mad Professor— but you'll also discover boxes from rising stars like the guys at EarthQuaker Devices, Skreddy Pedals, and Stomp Under Foot, all of whom are building beautiful wares that stretch boundaries and take classic sounds to new heights.
It's a wild world that can leave you dizzy with possibilities. But we wouldn't have it any other way—and we don't think you would, either. In fact, we hope you've saved your pennies and dimes since last year's pedal spectacular, because we'll be flabbergasted if you don't find a reason to bust open your piggybank in these pages. So take a load off, take your time, sit back and enjoy this trip through the boundless land of magical music-making implements.
First review: Burriss Boostiest 2.5>>>
Pedals Reviewed

Black Cat Bee Buzz
Boss RC-30 Loop Station
Build Your Own Clone Scrambled Octave
Burriss Boostiest 2.5
Carl Martin Blue Ranger
Catalinbread Naga Viper
Celestial Effects Virgo Overdrive
Earthquaker Devices Bit Commander
Electro-Harmonix Neo Mistress
Empress Effects Compressor
G&L Buckshot
Jacques Stompboxes Black Mamba
Juliet Collective Circadia
Levana Mellow-D
Lotus Yellow
Mad Professor Stone Grey
Mid-Fi Electronics Demo Tape Fuzz
Mojo Hand Colossus
MXR Noise Clamp
Pigtronix Tremvelope
Providence Chrono Delay DLY-4
Skreddy Pedals Lunar Module Deluxe
SolidGoldFX Surf Rider
Stomp Under Foot Red Menace
Strymon Timeline
Subdecay Octasynth
T-Rex Tonebug Sensewah
Tech 21 Roto Choir
VHT V-Drive
Vox VDL1 Dynamic Looper
Way Huge Ring Worm
Z.Vex Instant Lo-Fi Junky
Bass Pedals Reviewed
Fishman Fission Bass Powerchord FX
Fuchs Plush FX Jersey Thunder
Ibanez TS9B Bass Tube Screamer
Ruppert Musical Instruments Basswitch IQ DI
Tech 21 Bass Boost Chorus
Skreddy Pedals Lunar Module Deluxe inspired, in exacting—even obsessive—terms by David Gilmour's tone on "Time" from Pink Floyd's classic The Dark Side of the Moon.
The Skreddy Pedals Lunar Module Deluxe is a true bypass fuzz/overdrive pedal based on the silicon Fuzz Face circuit, which wouldn't make it the first Fuzz Face clone on the block. But this Skreddy isn't based on any old Fuzz Face tone: It's inspired, in exacting—even obsessive—terms by David Gilmour's tone on "Time" from Pink Floyd's classic
The Dark Side of the Moon
.
The Deluxe is Skreddy-mastermind Marc Ahlfs' second attempt at perfecting Gilmour's Fuzz Face sound. The first Lunar Module was rapturously received by Gilmour fanatics. And like the first Lunar Module, the Deluxe is the result of playing the "Time" solo over and over and tweaking the pedal's response against it. The Deluxe, however, gives the player even more control over this notoriously hairy circuit with a variable-gain input transistor, as well as a tone control for added brilliance that's helpful for tailoring the pedal to different guitars and amps.
Moon Unit
The sparkly casing of the Lunar Module Deluxe features the three knobs found on the standard version—Volume, Fuzz, and Body, with the latter being a pre-distortion bass control. Below this set of controls are two knobs, labeled Brite (presence) and Range (pre-gain). These two controls were also available on the standard Lunar Module as trim pots. But the ability to tweak these controls on the fly is key to the Deluxe's performance, flexibility, and effectiveness in a variety of settings.
Taming the Beast
In their original incarnation, Fuzz Faces were finicky and temperamental, and also hard to manufacture consistently. While some units sound unbelievable, others border on awful. Fuzz Faces are also notorious for having impedance issues. Because of the Fuzz Face's low input impedance, if any other pedals or buffers are placed between it and the guitar, the sound can get very harsh. And with a wah placed inline, the signal can even go into oscillation. Vintage Fuzz Faces were also notoriously susceptible to radio interference. The Skreddy circuit is light years more stable, and an extra input stage (controlled by the Range knob) makes the Lunar Module Deluxe friendlier to other pedals.
Flexible Fuzz
Though the Lunar Module Deluxe's most direct inspiration is clear, that doesn't mean it won't do a whole lot more. To explore its capabilities, I tested the Skreddy using a Japanese Fender Strat and a Gibson Les Paul Standard through a vintage Ampeg Gemini II. I also added a Boss DD-2 pedal into the chain to get a little extra Gilmour vibe where appropriate.
Skreddy's focus on
Dark Side of the Moon
tones was not in vain. Copping Gilmour's simultaneously searing and singing tone was relatively easy with the Stratocaster's bridge pickup and a little delay, which I added without experiencing any additional noise.
But it's a killer pedal even if you're not a Gilmour aficionado, and works equally well with single-coils or humbuckers. Using my Strat, and with the Fuzz knob less than halfway up, Brite at 8 o'clock, and Body at 3 o'clock, I got a smooth overdrive that inspired me to play with a Jimi-meets-Scott Henderson vibe. Just as impressive was how well the guitar cleaned up when I rolled back the volume on either guitar. With a quick flick of my Les Paul's Volume knob, I transformed a Sabbath-like sludge into a gritty, but articulate clean sound.
While the Skreddy does an admirable job of taming the inherent squirreliness of a Fuzz Face-type circuit, that doesn't mean it's all buttery smooth. In loud settings this thing can still get raucous and verge on squealy. Be prepared to use your guitar's volume knob judiciously.
The Verdict
Demand for the Lunar Module and the Lunar Module Deluxe have, at times, well exceeded supply. And it's easy to see why. This pedal will help you nail one of the holiest tones in the rock canon, if that's your obsession. But it's a lot more than just a ticket to the Dark Side. The Lunar Module Deluxe is a great example of how a much-loved pedal design can evolve and be refined, and still deliver some surprises along the way.
Buy if...
you're a Pink Floyd fanatic or just want a killer fuzz pedal.
Skip if...
you hate waiting lists.
Rating...