If you've ever wanted to make your mixes sound more like the Fab Four's, you can use this guide to do just that.
We're huge, and I mean H-U-G-E, Beatles fans here at Blackbird (you can guess where the studio's name comes from). And for this column, I'd like to give you some ways you can add some old-school Beatles sound to your mixes. Tighten up those belts, the Dojo is now open.
The Beatles' recording process has been well-documented—instruments, mics, locations within the various studios, outboard gear, consoles used during the tracking and mixing process, etc. Recently, I had a Blackbird Academy student ask me how he could get more of a Beatles "vibe" while mixing his recent recording session. In the not-too-distant past, the best solution was to go to Abbey Road Studios. But now, today's technology can get really impressive results with plugins that model the timbre and behavior of the original vintage outboard gear.
Original Recipe
On February 11, 1963, the Beatles recorded their first album. The 10 songs they recorded that day would be combined with their first singles to make up the U.K. LP Please Please Me. After you take into account the individual touch and feel that the Fab Four brought to their instruments—which I strongly believe is the biggest contributor to their sound—the remaining factors consist of the room acoustics (in Abbey Road Studio 2) and all the recording gear.
Just like the classic Coke flavor, the early 1963 recordings of the Beatles had a specific engineering recipe with a signal chain that was initially and most notably developed by Malcolm Addey and Norman Smith (Beatles aficionados will note that the legendary Geoff Emerick didn't come on board until Revolver)—specifically, four pieces of outboard gear. The EMI-designed REDD.37 four-track mixing desk, the EMI RS114 limiter (a favorite of Smith's), and two American compressors: the Altec 436B, which was so heavily modified by EMI it became the RS124, and the holy grail mono Fairchild 660.
The good news is that most of this gear has been faithfully modeled and recreated as plugins! Checkout Waves' Abbey Road collection ($229 street) and Universal Audio's Fairchild Tube Limiter Collection ($89 street). Chandler Limited has faithfully recreated the RS124 ($2,995 street) as well as other legendary EMI/Abbey Road gear for those who may want the analog experience.
Just like the classic Coke flavor, the early 1963 recordings of the Beatles had a specific engineering recipe.
The Process
During these early recording sessions, the REDD.37 desk's four-track inputs were typically arranged in a consistent way. Track 1 was dedicated to the rhythm section with the Altec/RS124 compressing lightly. Track 2 was dedicated to rhythm instruments (acoustic and electric guitars) and compressed with the RS124 while tracks 3 and 4 were reserved for vocals and individually compressed with the Fairchild 660. Any bounced mixes (i.e. recording tracks 1–3 onto track 4 to free up the previous tracks and allow for additional recording) would also be processed through the RS124s. These compressors were also involved in mixing, mastering, and lathe cutting rooms at Abbey Road as well.
Your Turn
Let's emulate this approach on a mix by taking a similar approach. Open one of your multi-track sessions on your DAW. Route all your drums, loops, and percussion outputs to a new aux bus and label it "Rhythm Section." Place an RS124 on this bus and put your recovery on the fast side and try for around 3–10 dB of compression. Use your ears for this and don't be afraid to go too far and then back off until it feels just right.
Repeat the process for all of your keys and guitars—route their outputs to a new aux bus labeled "KYZ-GTRS," use an RS124 on this bus, another RS124 set for medium to slow release, and perhaps around 3–5 dB of compression for starters.
Create two other aux busses for your BGVs (background vocals or solos, or both) and one for your lead vocal (or main melodic instrument if there are no vocals). Use a Fairchild compressor for each of these busses. Set the time constant to position 2, and adjust the threshold until you get 2–5 dB of compression. At this point, you've reduced your mix to four main elements that you can control and automate as you see fit with broad use of specialized compression targeted for specific elements of your mix.
Finally, add a stereo version of an RS124 or use a Fairchild 670 (also stereo) on your main stereo bus as well as the REDD.37 mixing desk, and listen to the differences. Be sure to play around various subtle degrees of compression levels and reduction, and check out the drive knob on the REDD desks.
Until next time, namaste.
Grinding guitars + soaring vocals = stripped-down rock bliss.
The spark for Striking Matches flared in 2007, on the first day Sarah Zimmermann and Justin Davis met in a guitar class at Belmont University. They've been playing as a duo and leading other musicians under the band's banner, with an album and a handful of EPs to their credit, ever since.
Recently, Premier Guitar's John Bohlinger met with Zimmermann and Davis in their East Nashville studio while they took a break from recording their new album. Zimmermann and Davis did some show-and-tell, pulling a lot of Gibson, Fender, and Takamine out of their collective hats, and playing some killer music, too.
[Brought to you by D'Addario XS Strings: https://www.daddario.com/XSRR]
Two Humbuckers, No Waiting
Sarah Zimmermann got into SG's when she was tracking the first Striking Matches album, Nothing but the Silence, with producer T Bone Burnett. Her No. 1 is this much-played 2014 Gibson SG. The guitar is stock except for the tuners and its truss rod cover.
Match Cover
And here's that truss-rod cover—obviously custom. The SG stays strung with D'Addario EXL110s (.010–.046).
Road Warrior
Her main acoustic is this Takamine TAN45C—a model the company no longer produces. This high-mileage 6-string features Takamine's proprietary Cool Tube preamp and Palathetic pickup, and stays strung with D'Addario EJ16s (.011—.052). She uses a Dunlop Moonshine slide and Tortex 1.14 mm picks for acoustic, and Dunlop Jazz iii plectrums for electric.
A Rare Mando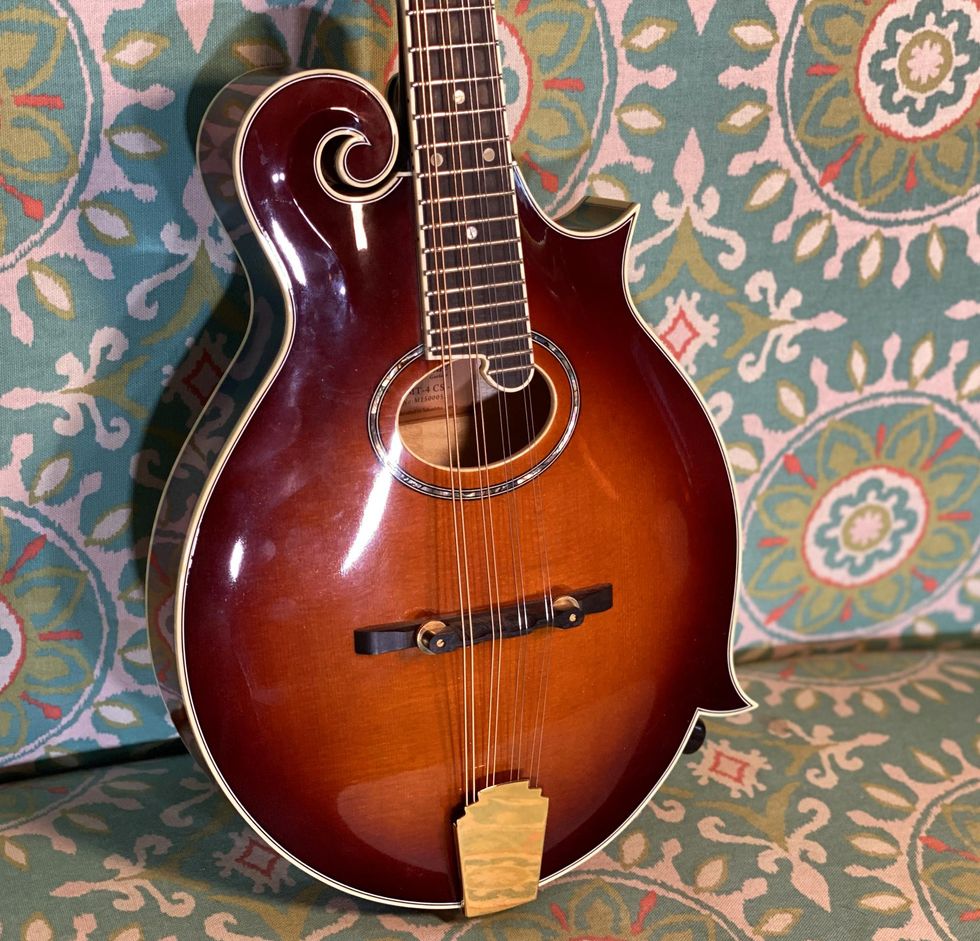 Zimmermann's Takamine mandolin appears to be a prototype that was never released. It resembles a Gibson F-style and sports a proprietary Takamine pickup.
Here's Junior
Zimmerman uses a Fender Blues Junior tricked out with a Patriot Swamp Thang speaker. Otherwise this 15-watt workhorse is all-stock.
On- And Off Board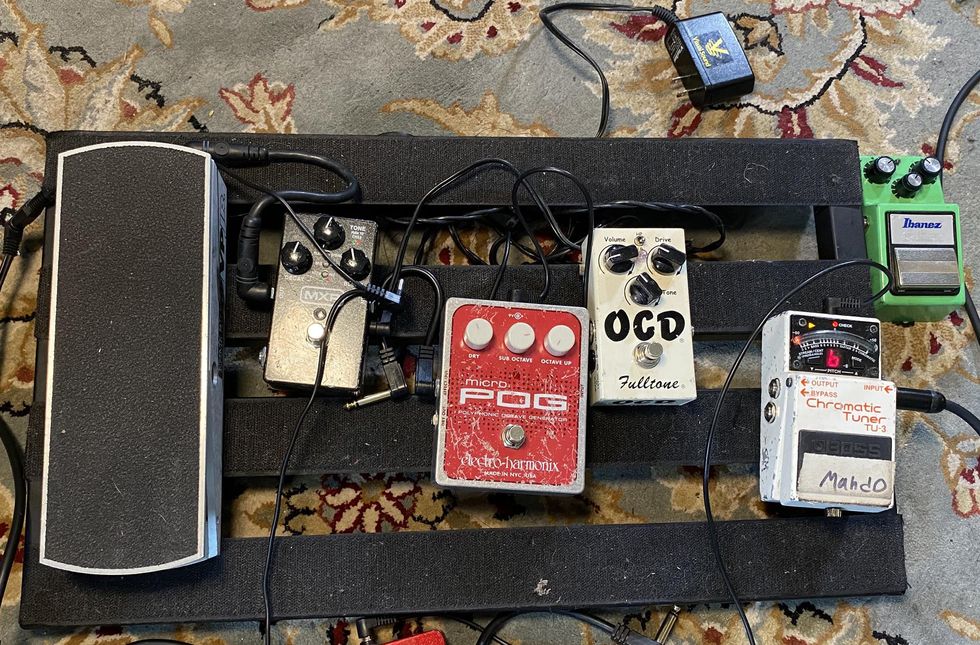 In the heat of recording, it's often tough to keep a neat pedalboard. Zimmermann' pedals include a Boss TU-3 tuner, a Fulltone OCD, an Electro-Harmonix POG, and MXR Reverb, and her power station: Voodoo Lab's Pedal Power 2.
Davis' Dirty Dog
Justin Davis' No. 1 is his 2018 Gibson ES-335. The all-stock guitar stays strung with D'Addario EXL110s, and smudged with a patina of sweat and road dirt.
Old Friend
Davis purchased this '90s Fender Strat when he was a kid, just learning to play. It's been modded with a DiMarzio Rail in the bridge and stays strung with D'Addario EXL110s.
Up Nex
Yet another Takamine joins the Striking Matches roster. Davis' acoustic is an all stock P5NC, with X-bracing and the company's NEX body style, and it's strung with D'Addario EJ16s. For the record, he mostly plays with his fingers.
The Nest
Again, keeping pedals at home on the board during tracking is over-rated. So Davis' are loose and ready to goose his tone in a flash. They are a Boss TU-3 tuner, a TS-9 Tube Screamer with a Keely mod, a Boss DD-3 Digital Delay, and a Voodoo Lab Pedal Power 2. In addition to Zimmermann's pedals in this shot, interlopers include an Empress Effects ParaEQ, a Big Ear NYC More More More OD and boost, an EHX Holier Grail Reverb, and a JHS Ruby Red OD, designed by Butch Walker.
Teasing the Sub
For gigs, Davis uses a Fender Hot Rod Deville, but on this day in the studio he was using a newish silver-panel Fender Vibrolux Reverb.
Ox Me!
And he was running the Vibrolux Reverb through a Universal Audio OX Amp Top Box.
The tenor-sized uke features updated electronics and an ovangkol top, back, and sides.
Dhani grew up playing the ukulele, which soon became an integral tool in his songwriting. The new Dhani Harrison Ukulele is available in two distinct and eye-catching finishes, featuring an engraved Shiva Yantra design on the back of the instrument and Shiva moon phases decorating the fingerboard, both of which hold personal significance to Harrison.
Having carved a unique career path as a multi-instrumentalist, composer, and singer-songwriter, Dhani Harrison's versatility onstage and behind the scenes has led him to collaborations with a range of artists as varied as Wu-Tang Clan to Jeff Lynne. Harrison grew up playing the ukulele, which soon became an integral tool in his songwriting. Now he's partnered with Fender to launch the Dhani Harrison Signature Ukulele. The model is available in two different finishes, each with its own unique fretboard inlays and engraved designs on the back of the instrument, all which hold personal significance to Harrison. The Dhani Harrison Signature Ukulele is designed for live performance, both are tenor-sized and feature a solid ovangkol top with ovangkol back and sides as well as a ¾ depth, upgraded Fender electronics, distinctive build and eye-catching aesthetics that will challenge you to expand your musical horizons.
Unique features include:
Two unique finishes: a Sapphire Blue and a Turquoise stained finish
Tenor-size ukulele
Solid ovangkol top with ovangkol back and sides
¾ depth and upgraded Fender electronics with tone knob
Custom inlay work
($249.99 USD, £229 GBP, €259 EUR, $549 AUD, ¥30,000 JPY)
The Dhani Harrison Ukulele | Artist Signature Series | Fender