Fiery Hiwatts (literally), an aluminum bari, and a common drive forge the tonal backbone for the Norwegian Grammy-winning metal mystic brewing sounds somewhere between Melvins' metallic chug, Neurosis' pulsing grind, and Swans' celestial moods.
In this episode, founding Norwegian metal visionary Kjetil Nernes details why he switched to a tuned-up, Electrical Guitar Company baritone, why he runs more Hiwatts than Pete at Leeds (and how they've caught fire … multiple times), and explains how a big-box-store drive sharpens his massive tone.
[Brought to you by D'Addario XL Strings: http://ddar.io/XL.RR]
Custom Electrical Guitar Company Baritone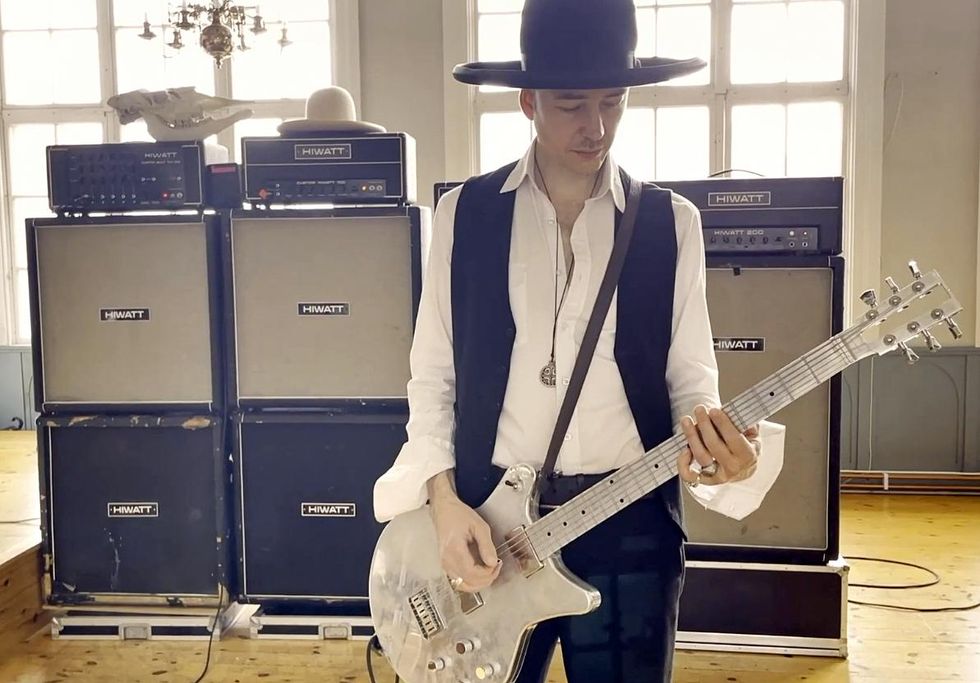 Årabrot artistic leader Kjetil Nernes owns several custom Electrical Guitar Company instruments, but the one he's been using the most currently is EGC's baritone model. He tunes it to drop C and says the bari mixes well with bandmate Karin Park's Moog bass analog synth. He employs a custom set of Black Harbor strings (.012–.060).
Kjetil Nernes' Pedalboard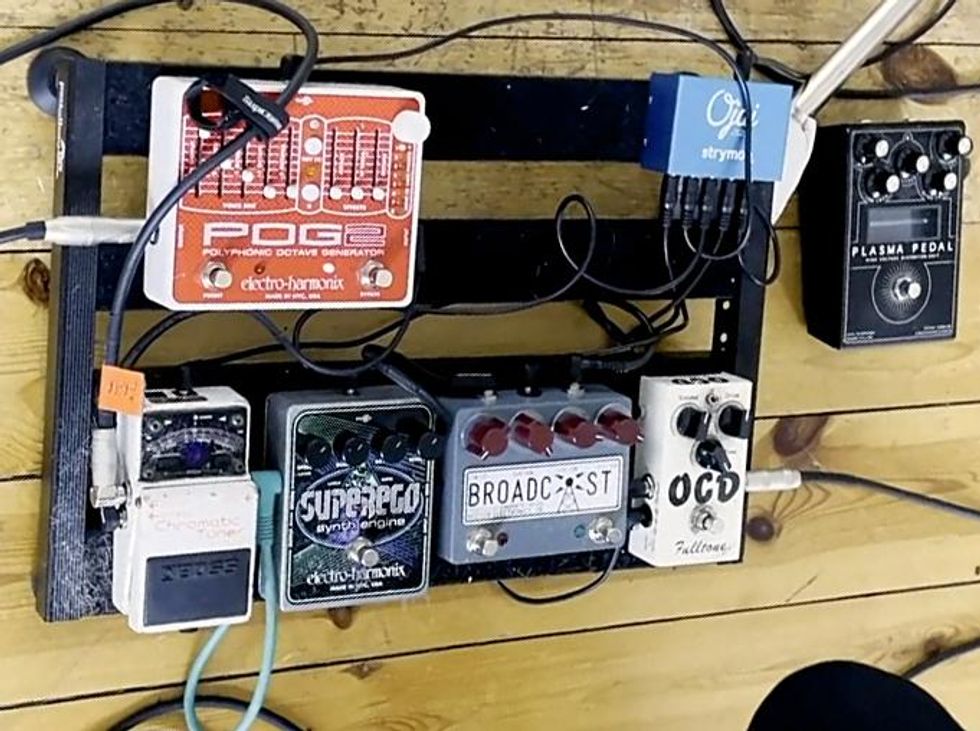 "I actually have a pedalboard these days, which is remarkable for a guitar player like me," says Nernes. "For years, I was only using the Fulltone OCD and it's became the backbone of Årabrot's sound."
He still prefers the OCD for its "sharpening" touch to his metallic EGC tones. The Electro-Harmonix POG2 hits his Hiwatt (Custom 200 DR201 bass amps) for an added signal boost. (As you can see, he's dialed out most of the octave effect.) His second Electro-Harmonix stomp is the Superego, but it's used simply as a glorified synth-y reverb to cover material on 2021's Norwegian Gothic. Heavier, chunkier, repulsive gain happens when the Hudson Electronics Broadcast runs into the Fulltone OCD. And while it wasn't plugged in for the Rundown, Nernes enjoys getting filthy with the Gamechanger Audio Plasma Pedal. Everything is powered by the Strymon Ojai.
Hiwatts Galore!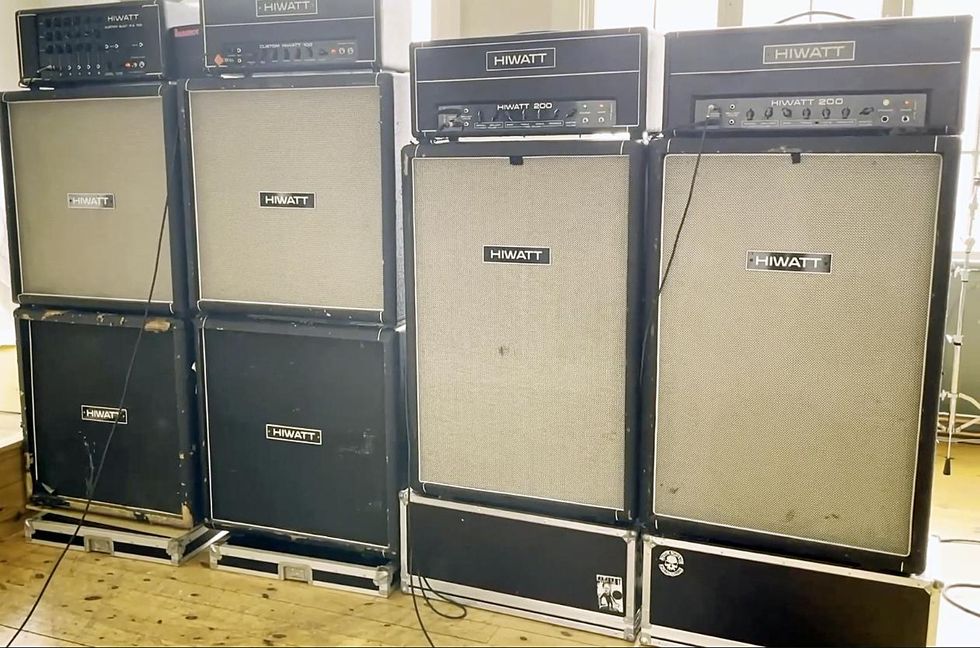 Using more Hiwatts than Pete at Leeds, Nernes blends vintage guitar heads with modern bass pillars. The guitar stacks on the left are comprised of two 1970s Hiwatt models—a DR112 Custom Built PA 100 head (left) and a venerable Custom 100 DR103. Both heads run through their own pair of Hiwatt 4x12 cabinets: one is loaded with Celestions and the other with Fanes. Nernes likes the blend of speakers with the guitar heads because he feels the Celestions add a current complement to his monstrous roar. The right half of the British-voiced battalion features Hiwatt Custom 200 DR201 (KT88) heads matched with Hiwatt SE115410F cabinets loaded with four 10" and one 15" Fane Sovereign speakers.
You could WIN an Alvarez MD70EBG Masterworks Dreadnought during our latest giveaway!
Alvarez MD70EBG Masterworks Dreadnought
The Alvarez MD70EBG takes power and clarity to a new level, withinstant response and clear, robust notes. The rosewood helps deliversonorous bass frequencies, complemented by shimmering trebles.When strumming, the FS6 bracing system and AAA Sitka top helpdeliver clarity and separation, and balance is clearly audible across allsix strings. These beautifully dressed guitars pay tribute to traditionalBluegrass instruments with open gear nickel tuners, classic inlays,premium tortoiseshell style pickguard and a flawless gloss finish. TheMD70EBG is fitted with the fantastic LR Baggs Element-VTC pickupwith soundhole console.
Alvarez
The legendary bassist shares wisdom and reflects on a long and storied career playing with just about everyone from Eric Clapton to Daft Punk and tells Cory how he keeps his gigs.
Nathan East on How to Keep the Big Gigs | Wong Notes Podcast
The Rush legend's signature features Epiphone's Pro Bucker 3 (bridge) Ceramic Pro (neck) pickups, a Graph Tech Ghost Floyd Rose system, and be available for $899.
Legendary Rush guitarist Alex Lifeson and Epiphone present the new Alex Lifeson Epiphone Les Paul Standard Axcess electric guitar. Created by Alex Lifeson and the luthiers at Epiphone in Nashville, TN, the Alex Lifeson Epiphone Les Paul Standard Axcess is now available worldwide on: www.epiphone.com.

Through an extensive collaboration between Alex and Gibson, Epiphone pushed the boundaries of the classic Les Paul to create the exclusive Alex Lifeson Les Paul Standard Axcess. The guitar includes a pair of powerful Epiphone pickups - the Pro Bucker 3 bridge pickup and the Ceramic Pro neck pickup. It also includes coil-splitting options via the push-pull volume controls and a Graph Tech Ghost Floyd Rose system. Together these features give the player access to both traditional magnetic humbucker tones as well as the Ghost's realistic acoustic tones. For added flexibility, you can blend acoustic and magnetic voices to create a rich layered sound and then route them through either a traditional mono jack or use two cables to access the individual magnetic and piezo outputs.
Video Featuring Two New Song Snippets
"The introduction of the Epiphone Alex Lifeson Axcess model based on my Gibson Les Paul Axcess model has all the same attributes and characteristics that I desired so much when we originally designed it," says Alex Lifeson, Rush guitarist. "The look, the sound, the playability and the utility--it's all there for the player-at any level. I'm very proud of this guitar."
"We have been honored to have Alex as part of our family for decades," says Elizabeth Heidt, Vice President of Cultural Influence. "He is an incredible, iconic artist, innovator, philanthropist, and an inspiration to so many. We are excited to partner with him on the Epiphone Axcess and to celebrate this collaboration with his fans around the world."
The Alex Lifeson Les Paul Standard Axcess
To mark the occasion of his collaboration with Epiphone and the release of the new Alex Lifeson Epiphone Les Paul Standard Axcess guitar, Lifeson is proud to debut two brand new songs titled "Kabul Blues" and "Spy House." Fans can get a first listen to "Kabul Blues" and "Spy House" in the new interview with Alex Lifeson, Here, and listen to the songs in their entirety exclusively via AlexLifeson.com. These two instrumental songs mark the first new music from Alex Lifeson in close to a decade.
More on the Epiphone Alex Lifeson Les Paul Axcess
In his work with Rush, Alex Lifeson has redefined the boundaries of progressive rock guitar, with playing that soars beyond the drama and the bluster to reveal truly stunning virtuosity that has been praised and admired by fans—and players—of all stripes. Created through extensive work with Alex Lifeson and Gibson™, Epiphone's Alex Lifeson Les Paul Axcess Standard similarly redefines the boundaries of the classic Les Paul™ in an accessible package. This guitar carries all of the traditional tones that have made the Les Paul legendary, along with unprecedented levels of sonic and performance versatility. The Alex Lifeson Les Paul Axcess Standard carries powerful Epiphone Ceramic Pro neck and ProBucker 3 bridge pickups with coil-splitting options via their push-pull volume controls and a Graph Tech Ghost Floyd Rose system that not only provides the world's most efficient vibrato but is also loaded with Ghost piezo bridge saddles. Access traditional magnetic humbucker tones, mix it up with coil-split options, tap the Ghost's realistic acoustic tones, or blend acoustic and magnetic voices — the sky's the limit from this sonic chameleon, whose sound-shifting depths are virtually limitless. You can route it all through a traditional mono jack or use two cables for individual magnetic and piezo outputs. All this and the Alex Lifeson Les Paul Axcess Standard still presents that timeless Les Paul look that has remained a classic for more than 60 years. An EpiLite™ case is also included.
Don't miss your chance to get Nothing But Bass Vol. 11 absolutely FREE for a limited time.
Covid caused a huge uptick in guitar sales and repair requests. If you're considering trying to fix it yourself rather than wait in line, here's a simple rule of thumb to keep in mind.
The COVID pandemic clobbered many of our favorite pastimes but proved to be a boon for the sales of some things, especially musical instruments. But while guitars, unlike bicycles (another pandemic fave), can be shipped without any significant disassembly, that doesn't necessarily mean it's smooth sailing once the box arrives and you pull a new, or at least new-to-you, instrument out of its case.
You did your homework, you found the right guitar at the right price, and it arrived with no visible damage. Whew! And yet after a quick tuning, something obviously isn't right.... Now what? If you're lucky, a local guitar repair technician can look at the instrument and help you determine if there's something faulty or if the problem is simply a matter of adjusting it to suit your playing style. But while finding the right guitar was a lot harder than it would've been in 2019, finding a repair tech with enough time to help you may be even more difficult. What happened?
Welcome to another unexpected wrinkle of now: A lot of us have more money to buy stuff, but if you buy something that needs fixing and you can't fix it yourself, those newly memorized mantras about patience may be put to the test. The ratio of stuff needing fixing to people who can fix things is seriously out-of-whack.
One of the reasons is that the recent dramatic uptick in people playing guitars has far outstripped any increase in the number of people being trained to work on them. This mismatch is made worse by the fact that even learning how to diagnose guitar repair issues takes considerably longer than the time it took all those COVID-trapped souls to find their dream rig online and have it delivered. Others didn't have to buy anything but a set of strings because they pulled a long-neglected guitar out of the closet, or, worse yet, the attic or garage, only to discover that their 6-string vehicle for trips down memory lane was no longer drivable.
Guitar repair techs are often one part mechanic and two parts psychologist: They're good at what they do because they understand both you and your instruments.
And while I hate to make dire predictions, a quick survey of lutherie and guitar repair schools doesn't indicate that "Guitar Repair Tech" is high on anybody's YOLO list of alternative occupations. That means the long delays of getting your guitar repaired is probably not going to improve anytime soon, and the same holds true for amplifiers. (I'm using the term "repair tech" instead of "luthier" because many people assume luthiers only build guitars.)
Those readers familiar with the online world of guitar repair videos are probably asking, "What about YouTube?" While it's true that some excellent diagnosis and instruction is available online, the DIY movement isn't for everyone and not all the guitars needing help fit that category. Bringing your brother's Seagull acoustic back from purgatory is one thing, but dad's Martin D-28? The former seems like a fitting guitar for testing YouTube-instructed setup skills, but with the D-28 it's probably best to find a repair tech with experience working on Martin guitars.
A simple safety test to keep you from getting in over your head and doing real damage is this: If you're altering a replaceable part on a guitar, such as the bridge saddle on an acoustic, or if you're making an adjustment that can be reversed, such as to the truss rod, go for it. However, if you're disturbing glue joints or a major part of the guitar, slow down. Taking the saddle out of the bridge on an acoustic guitar and altering or replacing it is one thing, but trying to reglue a loose or cracked bridge can result in real damage. (My rule of thumb is that those who have paid someone else to restring their guitar are probably not candidates for learning even the most basic setup that requires only screwdrivers and Allen wrenches, such as on a Strat.)
Yet a long-term solution to delays for instrument repair is going to require a more basic adjustment, and that's in how people who fix things are regarded by society at large. While luthiers who build guitars get lots of respect, those who repair instruments do not, even though guitar repair techs often have a tougher job.
This is because while the guitars they work on may be very similar, the people playing them often vary widely. Yngwie Malmsteen and Ry Cooder approach the Fender Stratocaster with very different goals (and very different strings), and acoustic guitarists have an equally far-ranging approach to playing instruments that are remarkably similar despite different woods and body shapes. Favorite guitar repair techs are often one part mechanic and two parts psychologist: They're good at what they do because they understand both you and your instruments. Only when repair techs get more respect, and better pay, will there be enough of them to meet demand.