A new marketplace allowing music makers to buy and sell gently used gear through the trusted online music retailer.
The Sweetwater Gear Exchange creates a new opportunity for musicians to get the equipment and instruments they need to make music by buying and selling gently used gear in a safe and cost effective way through a trusted partner. Through Gear Exchange, there are currently zero seller fees incurred when the seller chooses a Sweetwater gift card as the form of payment.
Since 1979, Sweetwater's mission has been to provide the best shopping experience possible for customers. That single focus continues to drive every aspect of the company's operation and is the key to its ongoing success. By understanding and keeping a pulse on what customers want, The Gear Exchange further exemplifies Sweetwater's ability to provide them with a top-notch experience. Gear Exchange sellers have the opportunity to create their own customized storefront, including setting a store address, outlining policies for returns, and adding a bio to let people learn more about them. Sellers can create listings that include photos of the instruments and gear they no longer need or want.
To maintain safety, Gear Exchange has implemented tight fraud prevention measures including requiring photos of the exact item listed. There will be badges available on the storefront pages showcasing how long Gear Exchange sellers have been verified Sweetwater customers. Additionally, there will be a full team of administrators monitoring the marketplace for any potential security risks. Shipping labels for sellers can be purchased directly through The Gear Exchange, utilizing Sweetwater's great rates. The cost of the labels can be subtracted from the payout so sellers don't have to pay shipping bills until they get paid.

Tube Amp Doctor announces the newest addition to their REBASE-tubeline - their 6V6GT-STR.
The TAD 6V6GT-STR REDBASE is the ideal tube for Fender Deluxe Tweed 5E3 or BlackfacePrinceton Reverb amps, single-ended Class A amps like the Fender Tweed Champ, VibroChamp, Fender Champion 600, or the Univalve. Also, many boutique amp builders already use and rely on the TAD 6V6GT-STR REDBASE.

The TAD 6V6GT-STR REDBASE shines with the typical NOS "sweet top end" and a strikingly dense and complex midrange. This special and organic midrange character produces a tonal liveliness that otherwise only NOS 6V6s are able to achieve and which remains unparalleled. When pushed into saturation, there are no harsh upper mids, which is frequently the case with other 6V6s.
The TAD REDBASE series is built on an optimized production line - exclusively for TAD and only for this series. It is therefore a completely new development, combining the latest manufacturing techniques with traditional design and impeccable quality.
In preparation for the unparalleled TAD-premium matching, the TAD REDBASE series tubes receive a special, additional burn-in and formatting process in Germany, optimizing the quality of the cathode emission and achieving an exceptionally detailed sound structure.
For more information, please visit tubeampdoctor.com.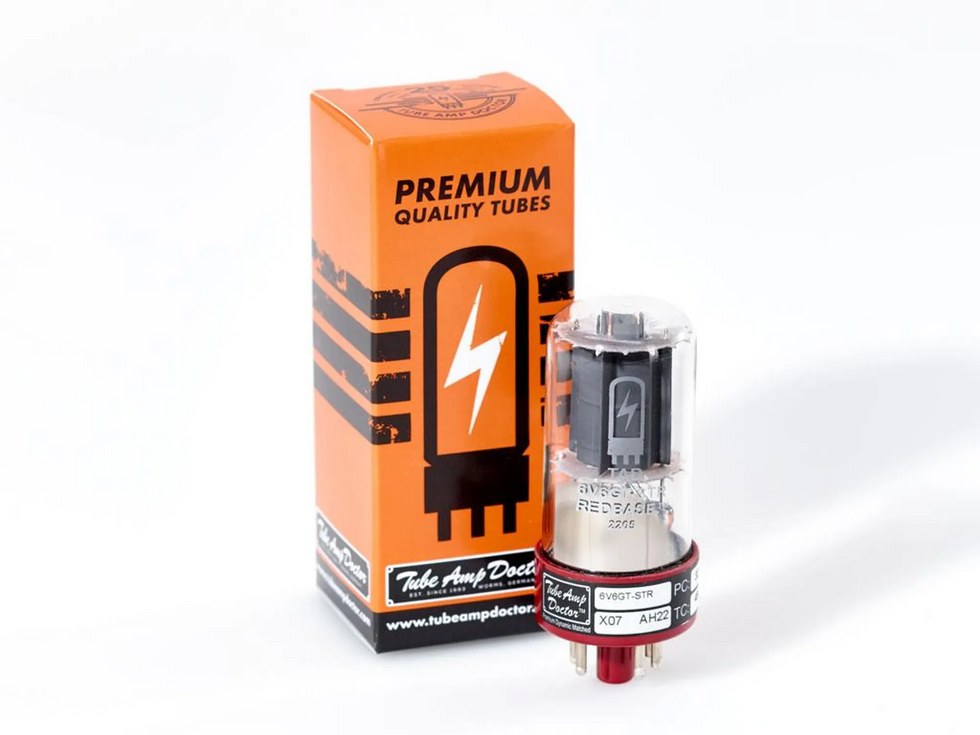 heavy-duty 6V6
sweet, full-bodied tone with silky highs
superb responsiveness
outstanding dynamics
individually tested and approved
selected and premium matched
Tube Amp Doctor
Designed for bassists, this gain staged preamp/overdrive features Lounsberry's eye-grabbing graphic appeal and pro-quality construction.
​Lounsberry Pedals has launched the new Mo Bass pedal. Designed for bassists, it's a gain staged preamp/overdrive featuring Lounsberry's eye-grabbing graphic appeal and pro-quality construction.A bass guitar pedal for the working man, the Mo Bass delivers both overdrive and clean big bottom tones with mild natural compression and even-order harmonics, and can do both at the same time.
Features
Simplified, two-knob operation, The knob labeled "Mo" is the drive control, and theknob labeled "Less" is the level control.
The Mo Bass pedal is capable of all the grind, bottom end, and transparent overdrive ofthe one could ask for, layered with the clean sound of a tube preamp.
Allows for the growly top end favored by rock and prog rock players, while still delivering the round, fat bottom bassists are looking for.
The clean, fat sound is always present, but as the drive control (Labeled "Mo") is advanced, the balance is tipped more towards overdrive.
The Mo Bass provides an excellent pre-driver to help any bass cut through a dense mix, and enhance the sound of any bass amp.
Designed for bassists, this gain staged preamp/overdrive features Lounsberry's eye-grabbing graphic appeal and pro-quality construction.