Tone Tips: The Power of Intuitive Thinking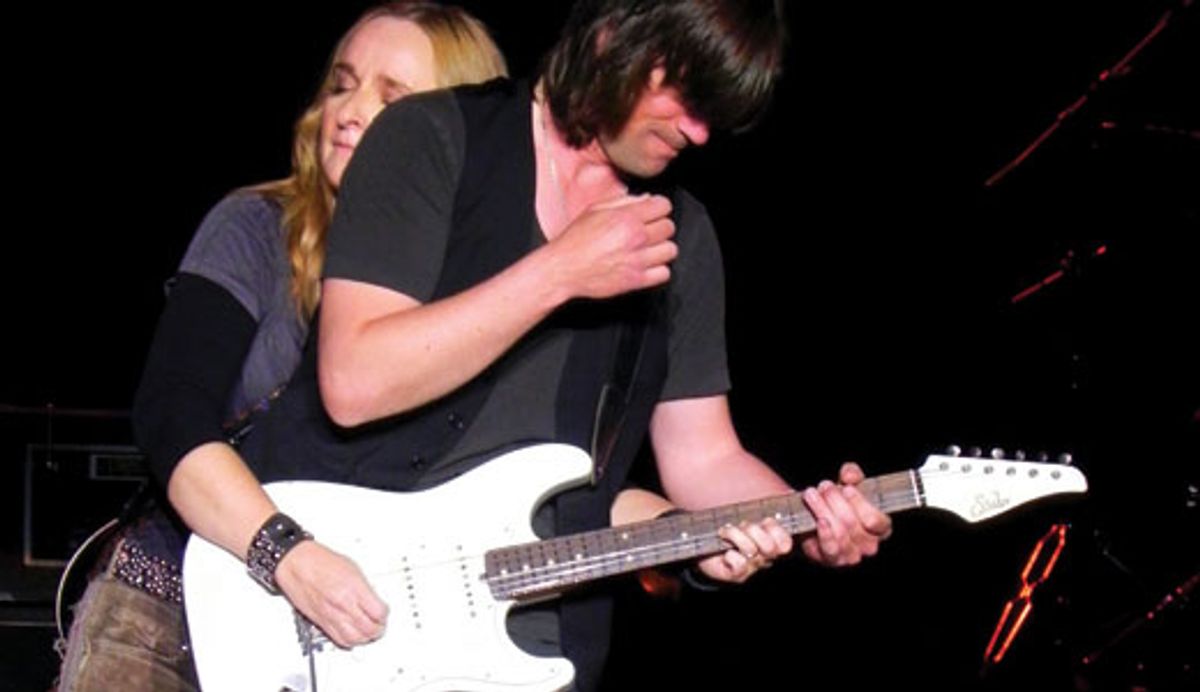 Your chops and attitude might be fantastic, but a high degree of intuition is just as important for taking things to the next level.
Being intuitive. I've come to realize over the years that it's the number one thing a musician should try to develop for making the jump to being a professional. In this month's column, I'd like to share two completely different examples of how intuitive thinking can further a career.
---
When opportunity knocks. Back in January, I was gearing up for the NAMM show and working on some video demos for various manufacturers. I'd been off the road for four months and my gig with Tsuyoshi Nagabuchi was on hiatus for the foreseeable future. About a week before NAMM, I got a call from a guy I've known for some time named Philippe. Philippe is from France, lives in the U.S., and has worked for many years as a record producer and a sort of intermediary between musicians based in the U.S. and some top French artists. He wanted to know if I was free the next Wednesday for a few hours. French singer-songwriter Michel Polnareff was seeking an American drummer for an upcoming tour, and Philippe was organizing auditions. He needed a few musicians to come down to a rehearsal facility in L.A. and play four of Michel's songs with the drummers trying out.
But here's the rub: I had already booked higher-paying work for that coming Wednesday and Thursday, doing demos for dealers in town for NAMM. I asked Philippe to give me an hour or so to look at my schedule and told him I'd call him back with an answer. After I hung up the phone, I thought it over quickly and decided that when Philippe calls with a job, it's wise to go do the work. He works with some very big artists and you never know what might transpire, so I called back and accepted. I then had to back out of the other job, which is never something I like to do, but they understood when I explained the situation.
I went down and did the drummer auditions that following Wednesday. I had prepared and practiced the material as though I was actually auditioning and brought my full amp, pedalboard rig, and a few choice guitars. The hired bassist for the day was the legendary Reggie McBride, who has toured and recorded with Stevie Wonder, Rare Earth, Funkadelic, Rod Stewart, and many others.
What had started out being an afternoon of work has turned into a full year of touring with some truly gifted musicians.

He played exceptionally well, as did all the auditioning drummers. The auditions were recorded on both video and audio, and when Michel heard and saw the results, he liked the vibe so much that he decided to hire Reggie and me as well as an excellent drummer, Curt Bisquera (Mick Jagger, Elton John).
What had started out being an afternoon of work has turned into a full year of touring with some truly gifted musicians. I couldn't be happier, and while I do feel lucky to be in this position, it was my intuition—even when I already had another job booked—that put me here.
On the gig. We rehearsed for about three weeks in L.A., both with Michel and without him. He likes to watch the band play and offer suggestions on arrangements and parts, but he's not one to actually sing much during rehearsals. This isn't uncommon, and Melissa Etheridge comes to mind as similar in this regard. She knows her songs inside and out and likes to keep it fresh by saving it for the stage. Rehearsals with her are mostly just to get the band whipped into shape, and you don't get to really hear her sing or see her perform until the first show.
Speaking of, there were many cues from both Melissa and Michel on the first night of each respective tour that the bands had never seen in rehearsal: hand cues to stop songs, cues to vary dynamics, cues to keep playing certain sections so the crowd could sing along, etc. You're constantly making judgment calls when you're playing with master performers like this, so you must be intuitively listening, watching, and vibing on these changing onstage situations. Sometimes singers inadvertently come in early or late. (It's only natural when they're trying to keep an arena full of people captivated!) Sometimes they want to extend sections on the fly if the audience is really into it. You listen, you adapt, you go with it. It's all part of being intuitive.
Until next month, I wish you good tone!