Smooth tube power, DSP-driven cab simulation, and tone shaping options galore from Blackstar's overdrive scientists.
See how gear consolidation—including a sneaky stereo signature StingRay, a home-built guitar, and Line 6 modelers—actually encourages more tonal tinkering.
Recently Thrice's Dustin Kensrue (vocals/guitar) and Teppei Teranishi (guitar) participated in PG's Hooked. (The video series features musicians talking about a moment, riff, or song that turned their world upside down and sideswiped them into playing.) Kensrue raved about the Pixies' dissonant melodies, while Teranishi highlighted Metallica's heavy impact. And at the conclusion of the video, they both admit the band has a lot of "Pixies" parts and "Metallica" moments throughout its catalog.
Over the course of 11 studio albums—with the help of brothers Eddie (bass) and Riley (drums) Breckenridge—Thrice has explored odd-timing metal (Identity Crisis and The Illusion of Safety), thrashy screamo (The Artist in the Ambulance), maturing post-hardcore (Vheissu and Palms), all-encompassing prog-rock with ethereal escapes and mammoth, surly riffs (The Alchemy Index: Vols. I-IV), and an amalgamation of it all (To Be Everywhere Is to Be Nowhere and Horizons/East). And even after all those years, all those albums, and all their discovered sounds, the Pixies and Metallica continue to be musical planets they orbit while exploring the outer realms of the sonic solar system.
Prior to headlining Nashville's Mercy Lounge in support of the just-released Horizons/East, Kensrue and Teranishi spoke with PG's Perry Bean about the changes (and reductions) in their symbiotic setups. Kensrue explains why he's shifted his live tone (and Horizons/East recordings) to be fully dependent on the Line 6 Helix, and how that impacted the design of his signature Ernie Ball Music Man StingRay. Teranishi chronicles how the pandemic-created time void sent him down the lutherie rabbit hole and resulted in a familiar-looking-but-original build.
[Brought to you by D'Addario XPND Pedalboard: https://ddar.io/xpnd.rr]
Stealthy Stereo StingRay
Since our last Thrice Rig Rundown in 2016, Dustin Kensrue has retired his two previous offsets (Nash and Cave and Canary models) and designed his own offset signature with Ernie Ball Music Man. On its surface, the Ernie Ball Music Man Dustin Kensrue StingRay (reviewed here) has minor tweaks from its predecessors: a single-coil in the neck, a lower-bout pickup selector, and a concentric volume/tone control. Its secret weapon is a small black button near the pickup selector. When that button is pushed down, the model is a normal passive guitar. When pushed out, it taps each pickup individually and sends the signals to a stereo output for playing through two amps or a digital modeler. (Kensrue has shifted towards an all-Line 6 Helix setup for this purpose, but more on that in a minute.) The tonewood recipe includes an African mahogany body, a maple neck, and a rosewood fretboard. And its scale length is 25 1/2". He generally opts for a custom set of Ernie Ball Slinkys (.011 –.058), and the 6-string rides in either D-standard or drop-C tuning.
A Standard StingRay … Baritone??
Last Rundown, Kensrue had the Cave and Canary baritone for any drop-A or B-standard tunings, but now he's carrying a second signature StingRay that still has the normal 25 1/2" scale length. It handles the lower-tuned songs quite well and gets strapped with a custom set of Ernie Balls (.011–.068).
Better Than a Pair of Boots
Here's a shot of both iterations of the Ernie Ball Music Man Dustin Kensrue StingRay.
Five years ago, Kensrue was dipping his toe into the digital dream pool with a trio of Strymons and a Line 6 M5 Stompbox Modeler that ran alongside a few more stomps, then into a two-amp stereo setup. As you see, he's condensed everything into this digital do-all—a Line 6 Helix Floor. (He mentions in the Rundown that he recorded all his parts for Thrice's 2021 release, Horizons/East, with the Helix.) For stage monitoring purposes and feedback frenzies, he runs the Helix into a matching Line 6 Powercab 212 Plus that is stocked with a pair of Eminence Coaxial Neodymium speakers and a 1" Celestion CDX Compression driver.
The only thing Dustin doesn't trust the Helix with is tuning. (His version of the Helix shuts everything off when tuning, but now Line 6 has updated software so the tuner doesn't affect sound output.) He enlists a TC Electronic PolyTune 2 Noir Mini for keeping his StingRays in check.
I Bet You Can't … Build a Guitar
Guitarist Teppei Teranishi has played some high-quality instruments, including vintage Les Pauls and custom, handmade Teles. Those guitars were being a bit neglected, and he thought about revitalizing them with pickup replacements. However, his mind didn't stop there. He wondered if he could wind his new pickups himself. And this is where a slippery slope dovetailed into a new passion.
"I thought if I could learn to wind my own pickups, I could find exactly what I want," admits Teranishi. "That snowballed into thinking about building a kit guitar, but then I thought it'd be more personalized if I got a Warmoth neck and made my own body. It was a slow progression into me constructing a complete guitar."
The home-build is based on a Les Paul Doublecut—although it has a 4-bolt neck to simplify the process—that is essentially cut in half, mirrored, and then slightly offset. He landed on a middle-ground PRS-based 25" scale length. Another halfway measurement on the guitar is a 10" neck radius that sits between Fender and Gibson. And he wired up the electronics so both humbuckers—Teppei's handwound PAF-style 'bucker (bridge) and a Lollar Imperial (neck)—can be split, and Teranishi added in a bass-cut control that peels off some of the neck pickup's wooliness. This one takes a custom set of Ernie Ball Slinkys (.011–.054).
Elegant Toppings
A close-up of Teranishi's handiwork that opted for a clean headstock thanks to truss-rod adjustments being handled at the base of the neck.
Roar (and Rumble) Like a Jaguar
For Thrice's lower-tuned, dropped-down songs, Teppei still goes with the Fender Baritone Custom Jaguar (which was renamed the Jaguar Bass VI Custom in 2006).
Just Like Old Times
In 2016, Teranishi was running a one-two amp punch. He's still plugging into the same Supro Dual Tone, but he's swapped a Vox AC30 for a fawn-colored, handwired Vox AC30HW2.
Mix and Match
Circa the previous Rundown, Teppei would mix analog pedals with digital modelers. Last time he used a Line 6 M5 Stompbox Modeler with a half-dozen pedals from JHS and Walrus Audio. Since then, he's upgraded the Line 6 to a HX Effects pedalboard unit, which takes on more duties than the M5—thus reducing his pedal count. Two new additions are a Walrus Audio Warhorn and a Fuzzrocious Afterlife reverb. And the lone carryover is a Walrus Audio Julia. Everything is juiced up with a Walrus Audio Phoenix and the guitars are kept in line by a TC Electronic PolyTune 3 Mini.
Enter here for your chance to WIN a Revv G3! Giveaway Ends October 28, 2021.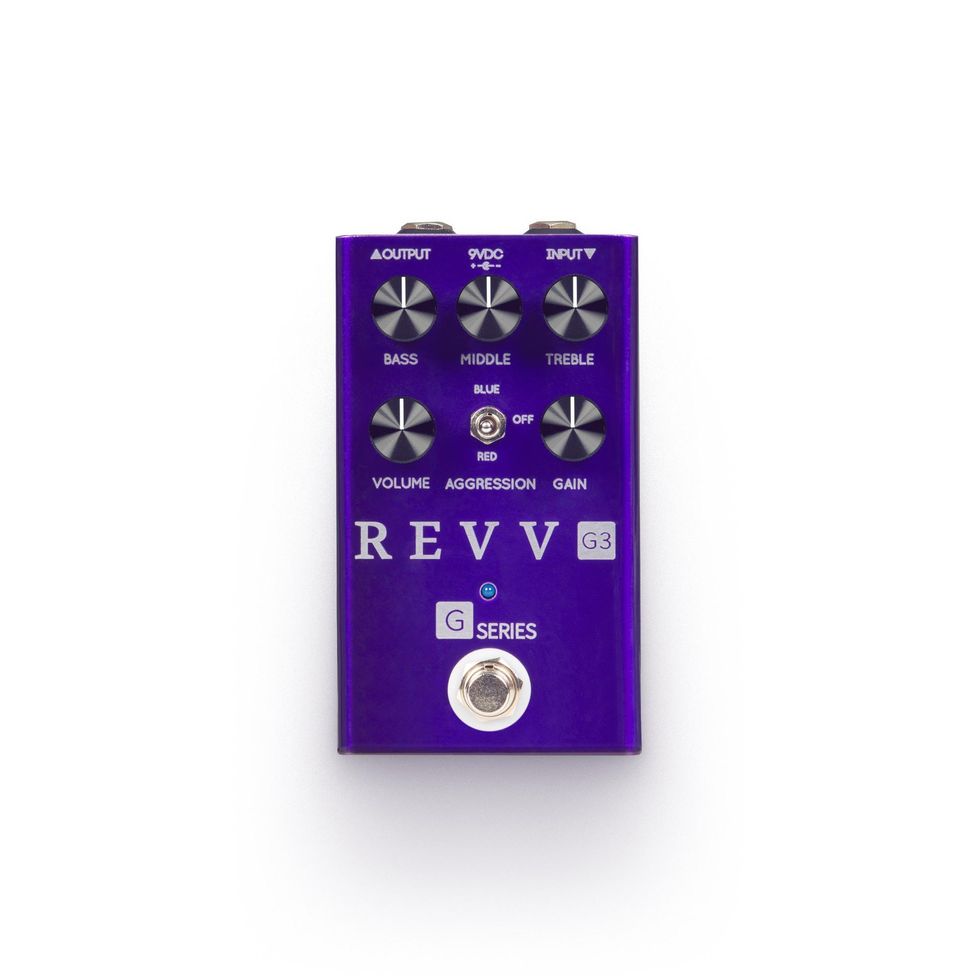 Revv Amplification's Purple Channel 3 is one of the most unique tones in modern amps. Extremely tight & clear with the right amount of saturation for any situation. Now that tone is available to everyone in an amp in a box format that's versatile & feels great under the fingers.

Plays nice with:
Combos, Heads, Pedalboard Rigs, in Effects Loops, w/ Cab Modeling.

Form Factor:
Small Single-Space Enclosure, Standard 9v Power (center negative 9v external power supply only), Durable Construction, Top-Mounted Jacks, Blue LED, Laser Etching.

Mix-Ready --- Smart filtering keeps lows tight & highs present with no mud or ice.

Feels Great --- Constant revisions ensured Revv pedals have inspiring attack & bloom, like your favorite amp.

Versatile --- Fat and warm or tight & bright. Heavy amp-like saturation or light overdrive.

Integrates Into Any Rig --- "Amp in a box" in front of a clean amp, another flavor of gain with a multi-channel amp, easy traveling, great studio tool, works great with analog & digital.
Revv Amplification
The producer/songwriter on keeping it simple, staying hungry, and creating inspiration.
Linda Perry on Recording Guitars | Wong Notes Podcast
Guitarist Mikayla Mayhew explains how J Mascis' turbulent, slow-n-go riff still takes her back to the days of skate parks and first bonding with the instrument.
Supro announces the arrival of their latest analog modulation effect and the first ever flanger to feature a Dimension switch that results in a double flanger effect.
Sibling to the Supro Chorus, the Supro Flanger is an all-analog, full-stereo modulation effect pedal that uses a quartet of genuine MN3009 Bucket Brigade IC chips to deliver the absolute richest Flanger effect possible while maintaining exceptional headroom. In addition to Speed and Width knobs, the Supro Flanger features a bi-directional Feedback control and a Sweep control that increases the delay time on one side of the stereo field while shortening the delay time on the other side.
Supro Flanger Demo with Zach Comtois | Supro
Featured for the first time in a flanger pedal, the Dimension switch crossfeeds the two channels into one another, creating the entrancing double-flanger effect of two delay lines being modulated in opposite directions, even when used in mono. Runs on standard 9VDC.
Available for preorder at select dealers worldwide. In stores this November. $289 US MAP