I'm a firm believer that one of the main things that sets Premier Guitar apart from other guitar-media outlets is the fact that we seek out the most knowledgeable,
I'm a firm believer that one of the main things that sets
Premier Guitar
apart from other guitar-media outlets is the fact that we seek out the most knowledgeable, experienced, and engaging people in this business to unabashedly dive as deep as you (and they) want to go on anything and
everything
guitar-related under the sun.
Sure, we bring you timely interviews with past masters and new trailblazers alike— Exhibits A, B, and C this month are our chats with Warren Haynes, the Raveonettes' Sune Rose Wagner and Sharin Foo, and Collective Soul's Joel Kosche. And, yes, we're known as the best in the industry when it comes to bringing you the latest gear reviews and news. You don't need proof, but I'll say it anyway: Between our monthly print and weekly web-exclusive reviews, every month we bring you more insights on gear from knowledgeable reviewers than
any
other guitar mag out there—and often our reviews come out before the competition has even listed the press release announcing the product's release.
Likewise, our builder profiles highlight pedal and amp geniuses, as well as amazing acoustic, electric, and bass luthiers that many of you would never hear of otherwise. And don't even get me started on this month's Musikmesse wrap! Though it nearly killed
PG
's gear editor, Charles Saufley, and me to take eight working days out of our already short monthly production schedule, we recently journeyed to Frankfurt, Germany, to shoot scads of kick-ass demo videos on the coolest gear from the world's biggest gear show. Charlie and I then hauled our HD booty back stateside and turned it over to our resident video guru, associate editor Chris Kies, so that the three of us could engage in some major sleep deprivation in order to both start the steady stream of video uploads on
premierguitar.com
and
get the show highlights into the very next print issue (this one). Look for the other guys to get their coverage to you significantly later.
As a side note, I must mention that we saw more video cameras at Musikmesse than we've seen at any trade show before. But
Premier Guitar
remains the ONLY media outlet I've seen that goes to the painstaking effort to professionally mic guitar cabs with the industry-standard Shure SM57—and take DI outs from bass amps—so that our vids have the best audio quality on the showroom floor. Some outlets get their videos online faster, but no one else makes their vids as engaging as we do through accurate sound capture and thoughtful questioning. That's why guitar freaks are still watching our gear-show videos years later when the fast-upload guys' are long forgotten.
But back to my original point about
PG
columns. We're stoked to have a veritable who's-who of industry heavyweights in our pages talking about the nuts-and-bolts stuff guitar addicts talk and dream about 24/7. Bob Taylor, Jol Dantzig, Tom Hughes, Ervin Somogyi, Mitch Gallagher, Jeff Huss and Mark Dalton, Blue Book writer Zach Fjestad, and Dirk Wacker are just a few of the world-class authorities we've had engaging in the most self-indulgent and delightfully decadent guitar geekery on the planet. Combined with the other coverage bragged about above, it's what makes
Premier Guitar
the most forwardthinking, fastest-rising guitarmedia outlet in history. And that's no exaggeration.
To all those who've contributed their vast expertise, as well as those who continue to do so, we express our heartfelt thanks. We know how much you have to wring your brain to come up with engaging stuff to write about every month, and we truly couldn't be
PG
without you.
This month, we're thrilled to announce we're bringing more exciting voices to our column section. First up, we've got Hellecasters jaw-dropper Will Ray telling you how he hunts down quirky guitar gear online and then upgrades it to meet his needs (Bottom Feeder). Bringing one of several new voices to our expanded discussions on pedals is Strymon founder/brainiac engineer Terry Burton (State of the Stomp). And bringing a new take to our monthly explorations on guitar design is Randy Parsons (The Dark Side)—the subject of one of
PG
's most compelling 2010 builder profiles [August 2010]. We extend our heartiest welcome to these pros and hope you enjoy their entertaining and insightful debuts this month.
Oh yeah—almost forgot: This month we're also introducing expanded content, as well as opportunities to interact and win gear, for those who Like us on Facebook. For those of you who find the whole Facebook craze to be an annoying, fad-like time suck, we sympathize and even occasionally concur with the sentiment. But that doesn't change the fact that we're offering you more goodies than we did before, and we suspect your guitar-junkie tendencies are stronger than your Luddite leanings.
As always, keep your thoughts, suggestions, and feedback coming our way—we thrive on it!
Later!
Shawn Hammond
shawn@premierguitar.com
Looking for more great gear for the guitar player in your life (yourself included!)? Check out this year's Holiday Gear Finds!
Outlaw Effects introduces their next generation of NOMAD rechargeable battery-powered pedal boards.
Available in two sizes, NOMAD ISO is a compact, versatile tool that offers the convenience of a fully powered board plus the additional freedom of not having to plug into an outlet. NOMAD ISO is ideal for stages with limited outlet availability, quick changeovers, busking outdoors, temporary rehearsal locations, and more!
NOMAD ISO builds upon the legacy of the ultra-convenient and reliable NOMAD rechargeable pedalboard line originally launched in 2018. The brand new NOMAD ISO editions feature eight isolated outputs (1 x 9V DC, and 1 switchable 9V/12V DC) for even more versatility and clean, quiet power. With an integrated lithium-ion battery pack boasting 12800mAh capacity, NOMAD ISO can fuel a wide array of pedals, and will last over 10 hours* on a single charge.
Each NOMAD ISO pedal board includes adhesive hook & loop pedal-mounting tape, eight (8) standard DC connector cables, and one (1) reverse polarity DC cable, giving you everything you need to build your ultimate "off-the-grid" rig. A rugged, road-ready padded gig bag with shoulder strap is also included, to safely protect your gear while you're on the move.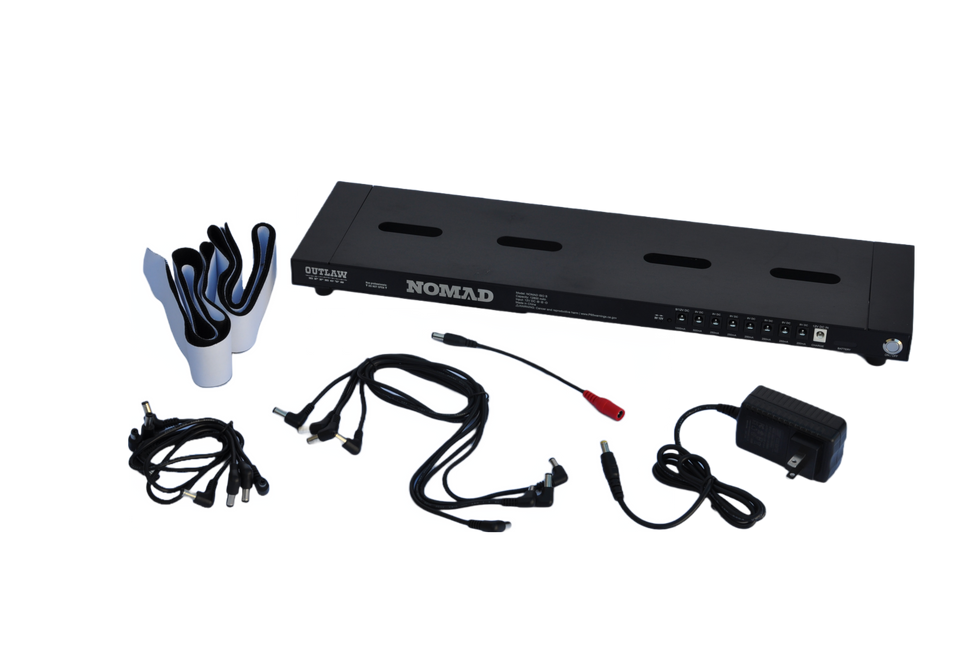 Dunable announce new Minotaur model featuring Grover Rotomatic Keystone tuners.
The Minotaur's DNA is rooted in their classic Moonflower model, which Dunable discontinued in 2017. However, they have long since wanted to create a fresh take on a carved top guitar design, and various attempts to rework the Moonflower led them to a brand new concept with the Minotuar.
Dunable's goal is to give the player a guitar that plays fast and smooth, sounds amazing, and gives maximum physical ergonomic comfort. The Minotaur's soft and meticulous contours, simple and effective control layout, and 25.5" scale length are designed to easily meet this criteria.

Dunable Minotaur!
Features
25.5" scale length
Dual Humbucker
one volume, one tone, push pull for coil splitting
Grover Rotomatic Keystone tuners
Grover Tune O Matic bridge with brass Kluson top-mount tailpiece
jumbo nickel frets
12" fretboard radius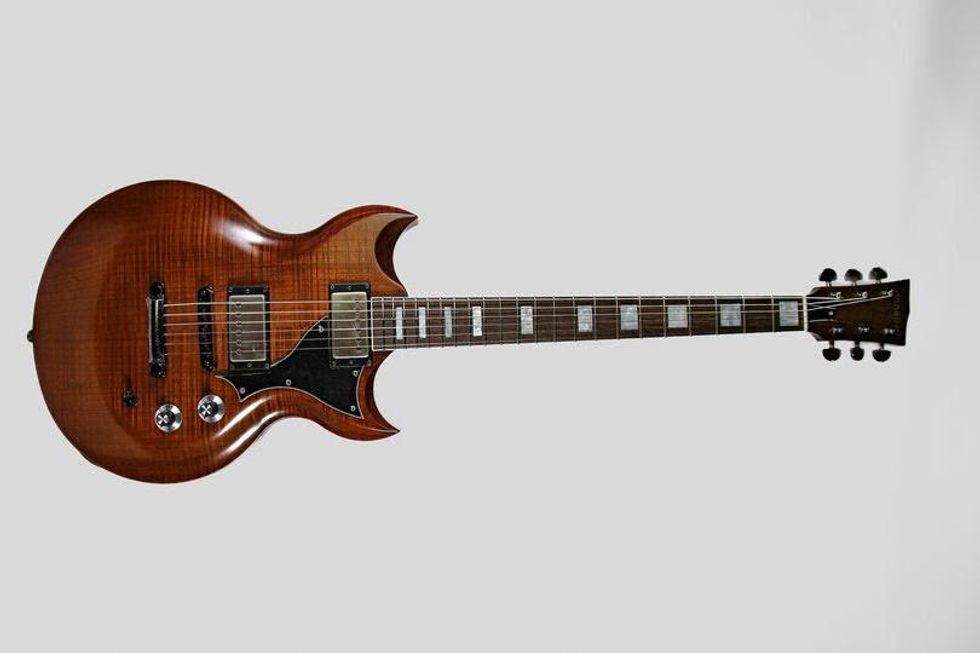 Dunable
This full-amp-stack-in-a-box pedal brings a new flavor to the Guitar Legend Tone Series of pedals, Missing Link Audio's flagship product line.
Adding to the company's line of premium-quality effects pedals, Missing Link Audio has unleashed the new AC/Overdrive pedal. This full-amp-stack-in-a-box pedal – the only Angus & Malcom all-in-one stompbox on the market – brings a new flavor to the Guitar Legend Tone Series of pedals, Missing Link Audio's flagship product line.
The AC/OD layout has three knobs to control Volume, Gain and Tone. That user-friendly format is perfect for quickly getting your ideal tone, and it also offers a ton of versatility. MLA's new AC/OD absolutely nails the Angus tone from the days of "High Voltage" to "Back in Black". You can also easily dial inMalcom with the turn of a knob. The pedal covers a broad range of sonic terrain, from boost to hot overdrive to complete tube-like saturation. The pedal is designed to leave on all the time and is very touch responsive. You can get everything from fat rhythm tones to a perfect lead tone just by using your guitar's volume knob and your right-hand attack.
Features 
Three knobs to control Volume, Gain and Tone
Die-cast aluminum cases for gig-worthy durability
Limited lifetime warranty
True bypass on/off switch
9-volt DC input
Made in the USA
MLA Pedals AC/OD - Music & Demo by A. Barrero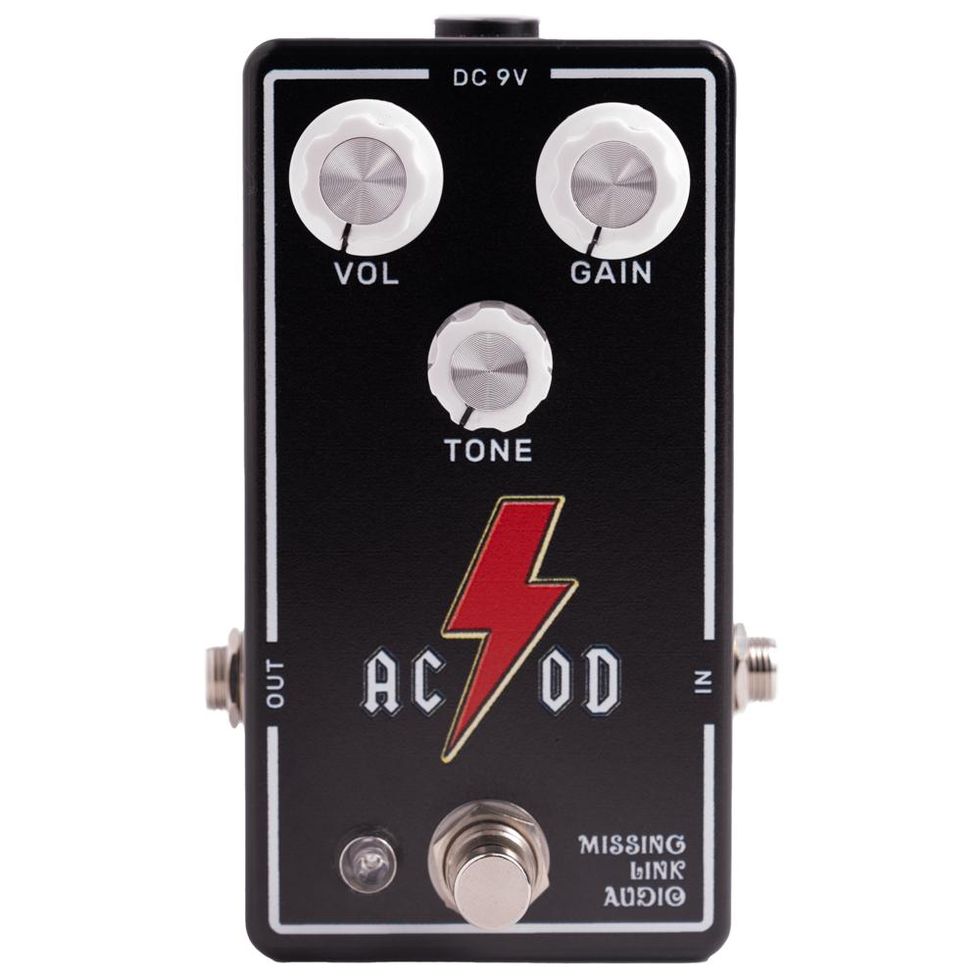 www.mlapedals.com.