Victoria Amplifier Company Introduces Silver Sonic and Cherry Bomb Amps
The Silver Sonic and Cherry Bomb are variations on the company''s popular Golden Melody and Electro King amps.
Naperville, IL (November 30, 2011) -- Victoria Amplifier Company announces the arrival of the Silver Sonic and Cherry Bomb combos to its stable of professional guitar amplifiers.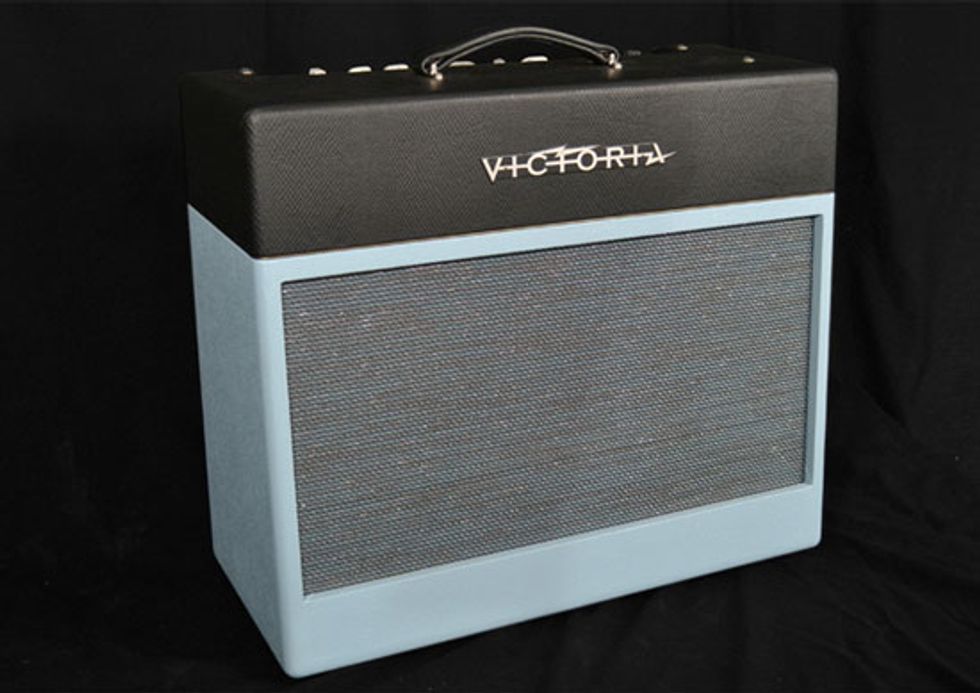 Silver Sonic
The Silver Sonic is designed to bring the huge spatial performance of the Golden Melody in a lower wattage, studio-friendly package. The dual 6V6-powered Silver Sonic features the classic 5F6-A type architecture combined with 100 percent tube reverb and harmonic filter vibrato all in a 1x12 combo cabinet. At 20 watts, it's designed to deliver rich dimensional performance for intimate gig or studio use. The Silver Sonic's tweed heritage is evident in its palette of tones ranging from sweet cleans to aggressive overdriven flavors. The amp features Victoria's harmonic filter vibrato for what the company calls "3D sonic imagining unlike any other amp" outside of their line, and a full size Accutronic tank is standard in the all-tube reverb circuit. Two-tone cabinetry is available in black and sonic blue or black and cream. The tube complement is one GZ-34, two  6V6GTs, five 12AX7s, and one 12AT7 (NOS), and the cabinet is loaded with a single 12" Victoria speaker. List price for the Silver Sonic is $3395.00.

Cherry Bomb
The Cherry Bomb is a dual 6L6 version of Victoria's popular Electro King amp. The 1x15 Cherry Bomb takes the classic 15-watt "GA-40 LP" amplifier and juices it up to a full 40 watts of cathode-biased 6L6 vacuum tube power. The additional output section allows the power of the 5879 preamp tubes to be fully realized, and Victoria says extraordinary dynamics and touch sensitivity are the hallmarks of this amplifier. A separate tremolo channel employs the same NOS 6SQ7 as the Electro King for an authentic 1950s wobble. The amp is fully foot-switchable and offered in a classic two-tone cabinet. The tube complement is one 5U4, two 6L6s, one 12AX7, one 6SQ7 (NOS), and two 5879s (NOS). The list price for the Cherry Bomb is $2995.00.
For more information:
Victoria