Nashville, TN (July 21, 2011) -- VOX Amplification (Summer NAMM booth 800) introduce the AC15C2 Twin combo amp, the TB35C1 and TB35C2 with Tony Bruno, and the Handwired Series Amps.
Nashville, TN
(July 21, 2011) -- VOX Amplification (Summer NAMM booth 800) introduce the AC15C2 Twin combo amp, the TB35C1 and TB35C2 with Tony Bruno, and the Handwired Series Amps.
AC15C2 Twin
This enhanced version of the AC15C1 adds a second speaker, providing two 12" Celestion Greenbacks. The AC15C2 Twin also features the larger spring reverb tank found in the AC30C2.
The AC15C2 Twin offers both Normal and Top Boost channels, tremolo, spring reverb, an effects loop, and footswitching capabilities. The tube amp design uses three 12AX7 dual triode vacuum tubes in the preamp section, and two EL84 pentode tubes in the power stage.
The classic VOX tremolo effect is equipped with adjustable controls for both the speed and the depth. A warm Spring Reverb is also included. With its larger dual speaker housing, the AC15C2 Twin features the larger reverb tank normally used on the AC30C2, adding spaciousness to the sound. The amp will be available early fall 2011 at $1100.
TB35C1 and TB35C2
VOX has joined forces with boutique amp designer Tony Bruno to create the all-tube TB35C1 and TB35C2 guitar amplifiers. Employing four 6V6 power tubes and a tube-driven reverb section featuring a premium Accutronics spring tank, these amps are warm and clean with a very touch sensitive response.
While the TB35C1 & TB35C2 amplifiers satisfy the traditional all-tube enthusiast, the Tony Bruno designed circuitry also includes some new additions.
Macho switch:
This footswitchable feature provides a boost to the mids and overall gain structure, allowing players to keep their amp tone pure and organic, while allowing their leads and solos to shine through.
Bass Boost:
Turning the Bass Boost on enhances the warm and round low end response coming from the instrument. This setting is ideal for a rich and full sound.
Master Volume bypass:
The addition of a Master Volume control allows the amps to achieve a full overdriven tone at lower listening levels. For the purist, the Master Volume bypass switch removes the master volume from the circuit, delivering a direct and pure tone, and allowing the amp to run flat out for those who want to make the walls shake!
Tube Reverb:
This all-tube design is defined by a custom built transformer and a high quality Accutronics spring reverb tank, able to go from a subtle shimmer to long surf-style decay—and all points in between—while maintaining the warm and rich tube tone synonymous with Bruno amplifiers.

MSRP:
TB35C1 - $1600, TB35C2 - $1900
Handwired Series
Created for the amp enthusiast, the Handwired Series includes innovations to satisfy the versatility a modern player needs. Included are four combo models, plus a head and matching extension cabinet. The ultimate take on the VOX classics, these amplifiers make use of high quality components, an all-tube design, handwired turret board construction, and over 50 years of VOX AC15 and AC30 refinements.
Finished in fawn colored vinyl reminiscent of the 1960s AC amplifiers, the birch and ply cabinets feature solid, tight bracing and a natural high frequency diffuser. Matched Ruby Tubes are used throughout for an extended dynamic range. All models provide three 12AX7/ECC83 preamp tubes. The AC30 models are equipped with an EL84 quartet in the power stage and a GZ34 rectifier. Inside the AC15 models, a duet of EL84 tubes drive the power stage, while an EZ81 is used for the rectifier. The 12" speaker choices include the Celestion GM12 Greenback or Celestion AlNiCo Blue.
The VOX Handwired Series is now available and includes:
AC15HW1
(Handwired combo amp; Celestion G12M Greenback) - $1600
AC15HW1X
(Handwired combo amp; Celestion Alnico Blue) - $2000
AC30HW2
(Handwired combo amp; Celestion G12M Greenback (x2)) - $2200
AC30HW2X
(Handwired combo amp; Celestion Alnico Blue (x2)) - $2600
AC30HWHD
(Handwired head) - $1750
V212HWX
(
Handwired extension cabinet; Celestion Alnico Blue (x2)
) - $1500
For more information:
Vox
Source: Press Release
Looking for more great gear for the guitar player in your life (yourself included!)? Check out this year's Holiday Gear Finds!
Outlaw Effects introduces their next generation of NOMAD rechargeable battery-powered pedal boards.
Available in two sizes, NOMAD ISO is a compact, versatile tool that offers the convenience of a fully powered board plus the additional freedom of not having to plug into an outlet. NOMAD ISO is ideal for stages with limited outlet availability, quick changeovers, busking outdoors, temporary rehearsal locations, and more!
NOMAD ISO builds upon the legacy of the ultra-convenient and reliable NOMAD rechargeable pedalboard line originally launched in 2018. The brand new NOMAD ISO editions feature eight isolated outputs (1 x 9V DC, and 1 switchable 9V/12V DC) for even more versatility and clean, quiet power. With an integrated lithium-ion battery pack boasting 12800mAh capacity, NOMAD ISO can fuel a wide array of pedals, and will last over 10 hours* on a single charge.
Each NOMAD ISO pedal board includes adhesive hook & loop pedal-mounting tape, eight (8) standard DC connector cables, and one (1) reverse polarity DC cable, giving you everything you need to build your ultimate "off-the-grid" rig. A rugged, road-ready padded gig bag with shoulder strap is also included, to safely protect your gear while you're on the move.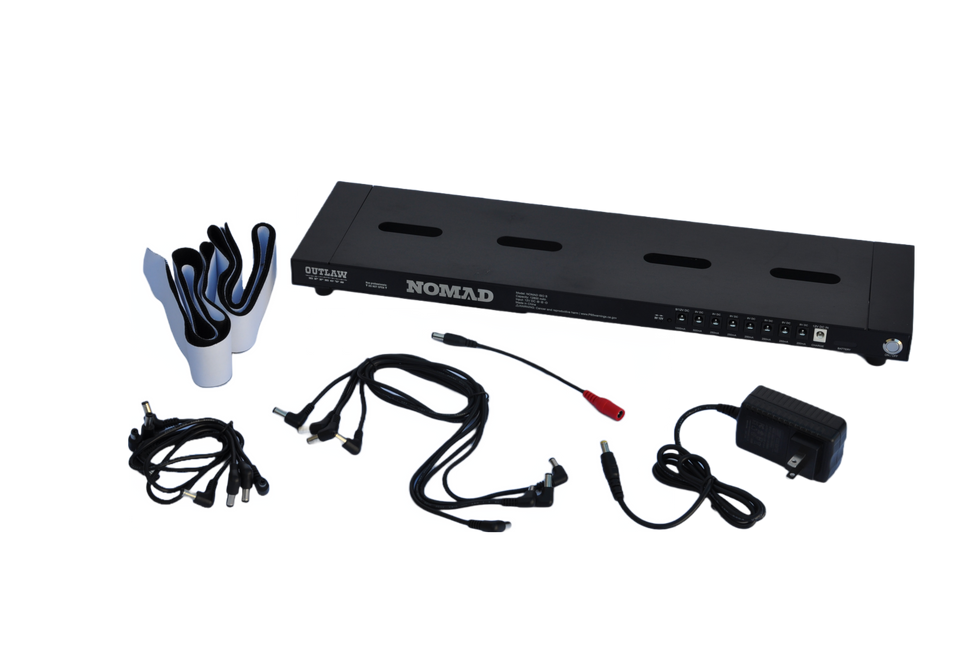 Dunable announce new Minotaur model featuring Grover Rotomatic Keystone tuners.
The Minotaur's DNA is rooted in their classic Moonflower model, which Dunable discontinued in 2017. However, they have long since wanted to create a fresh take on a carved top guitar design, and various attempts to rework the Moonflower led them to a brand new concept with the Minotuar.
Dunable's goal is to give the player a guitar that plays fast and smooth, sounds amazing, and gives maximum physical ergonomic comfort. The Minotaur's soft and meticulous contours, simple and effective control layout, and 25.5" scale length are designed to easily meet this criteria.

Dunable Minotaur!
Features
25.5" scale length
Dual Humbucker
one volume, one tone, push pull for coil splitting
Grover Rotomatic Keystone tuners
Grover Tune O Matic bridge with brass Kluson top-mount tailpiece
jumbo nickel frets
12" fretboard radius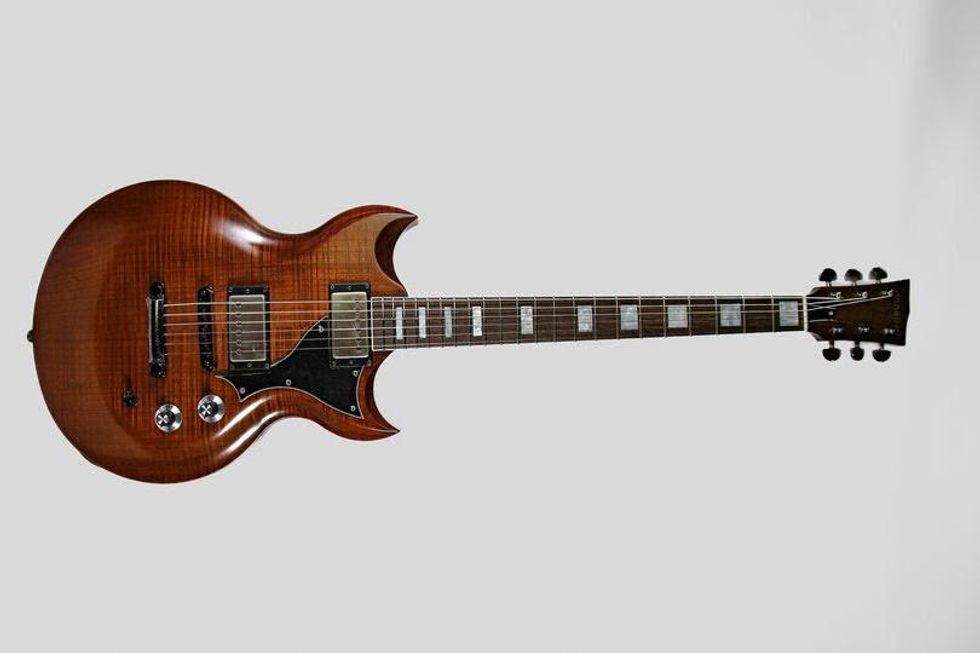 Dunable
This full-amp-stack-in-a-box pedal brings a new flavor to the Guitar Legend Tone Series of pedals, Missing Link Audio's flagship product line.
Adding to the company's line of premium-quality effects pedals, Missing Link Audio has unleashed the new AC/Overdrive pedal. This full-amp-stack-in-a-box pedal – the only Angus & Malcom all-in-one stompbox on the market – brings a new flavor to the Guitar Legend Tone Series of pedals, Missing Link Audio's flagship product line.
The AC/OD layout has three knobs to control Volume, Gain and Tone. That user-friendly format is perfect for quickly getting your ideal tone, and it also offers a ton of versatility. MLA's new AC/OD absolutely nails the Angus tone from the days of "High Voltage" to "Back in Black". You can also easily dial inMalcom with the turn of a knob. The pedal covers a broad range of sonic terrain, from boost to hot overdrive to complete tube-like saturation. The pedal is designed to leave on all the time and is very touch responsive. You can get everything from fat rhythm tones to a perfect lead tone just by using your guitar's volume knob and your right-hand attack.
Features 
Three knobs to control Volume, Gain and Tone
Die-cast aluminum cases for gig-worthy durability
Limited lifetime warranty
True bypass on/off switch
9-volt DC input
Made in the USA
MLA Pedals AC/OD - Music & Demo by A. Barrero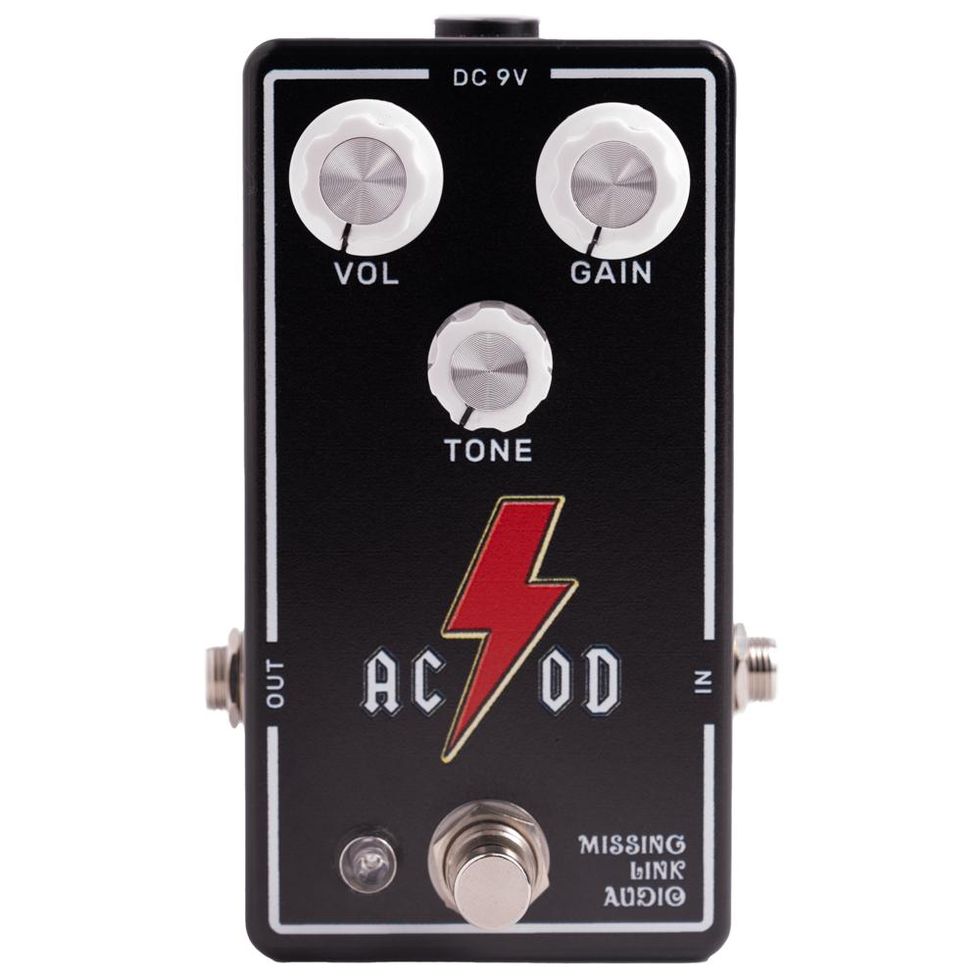 www.mlapedals.com.