Walter Becker's 1968 Ampeg AMUB-1 Bass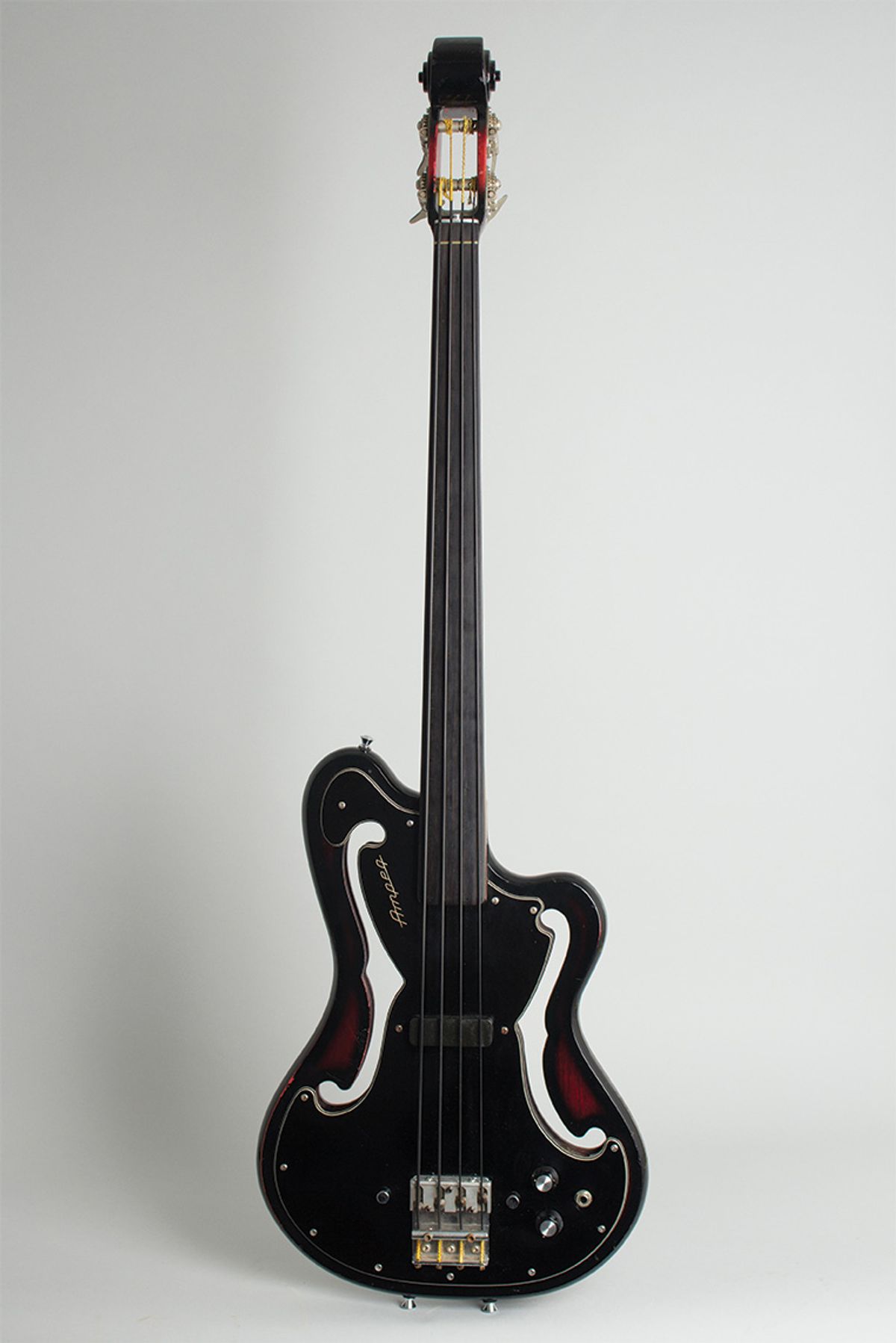 Photo by George Aslaender of Retrofret Vintage Guitars
We're not sure which recordings the Steely Dan legend used it on, if any, but that doesn't mean it's not a fascinating find!
When you read various accounts and sources on the history of Ampeg in the '50s and '60s, you typically see founder Everett Hull characterized as skeptical of—if not actively opposed to—rock 'n' roll as a musical genre. Hull was a big band player by background and the company's foundational product was an amplification device that was installed in the peg of an upright bass. This "amplified peg," of course, inspiring the name Ampeg. He seemingly considered rock music to be beneath the attention of his company, and when, in the mid-'60s, the firm set out to compete with Fender by producing its own bass guitar model, it did so in a decidedly upright-influenced and jazz-oriented way.
The Band's Rick Danko and Boz Burrell of Bad Company/King Crimson are among the model's other notable players.
First introduced in 1966 and designed by Dennis Kager (who is said to have taken inspiration from the offset shape of the Fender Jazzmaster), the new Ampeg line featured two models: the AEB-1 and the "unfretted" AUB-1, one of the first fretless bass guitar models. Other upright-oriented appointments on these basses included the distinct scrolled headstock, exaggerated f-holes, a 45-inch string length, and, perhaps most intriguing, its mystery pickup. This device relied on two large magnets and a diaphragm installed under the bridge that picked up vibrations throughout the body and was able to capture the sound of gut strings in addition to steel.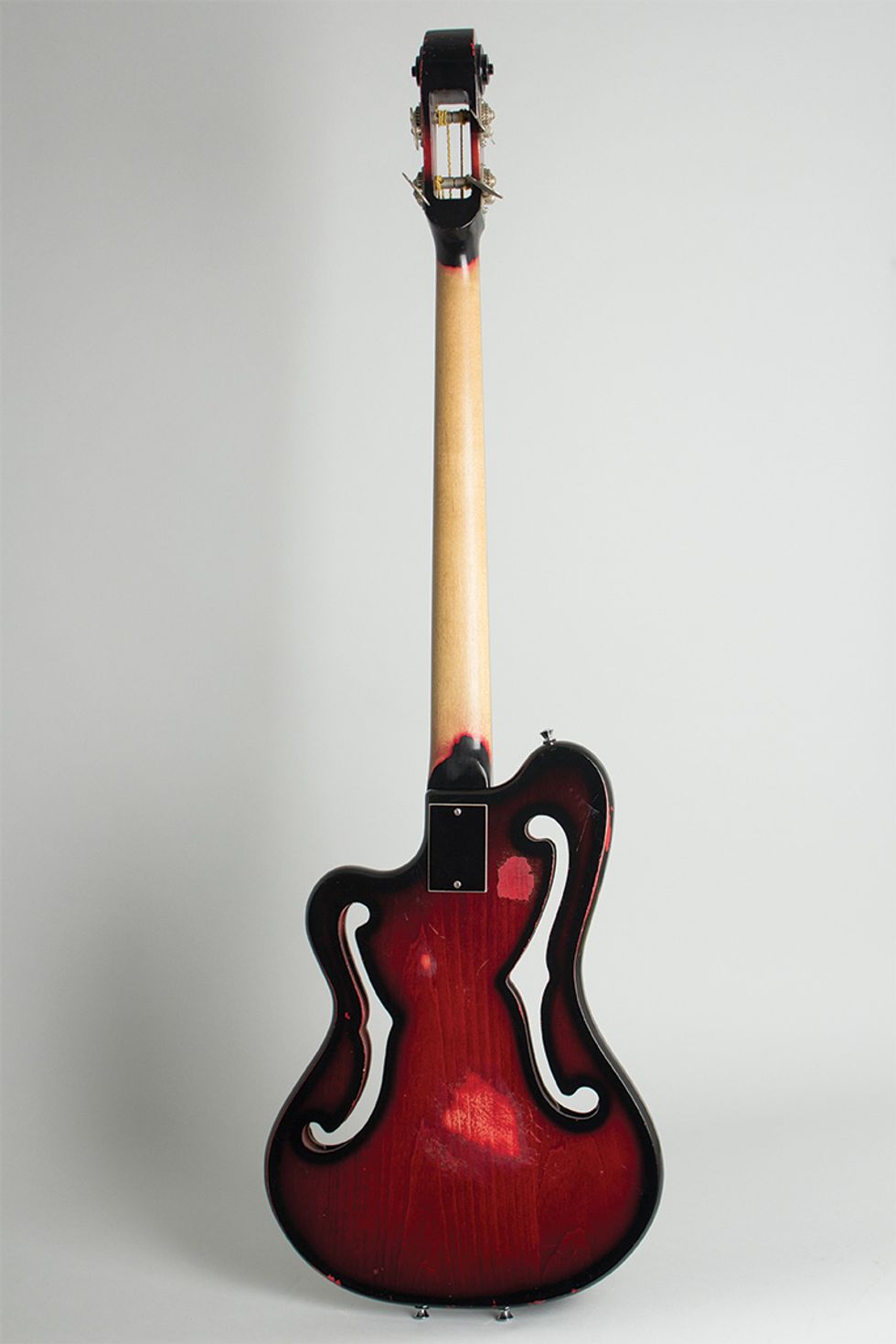 Belt rash and finish checking are the only signs of wear on this otherwise all-original bass. Photo by George Aslaender of Retrofret Vintage Guitars
Given Hull's affinity for upright tones and the company's origins making upright amplification, the pickup makes sense, but its low microphonic output rendered it somewhat unviable for the increasingly loud stages of the decade. In 1967, Ampeg went through a change in ownership and, with Hull leaving the picture, the company refined these basses with a new bridge, an updated body construction approach, and the swapping of the mystery pickup for a new design with four separate coils set inside a block of epoxy resin. The fretted version was dubbed the AMB-1 and the AMUB-1 was the fretless variant. Relatively few of these basses were produced from late 1968 to early 1969. This month's featured bass comes from this batch.

The scroll headstock and open tuners are a strong indicator of this model's upright-bass inspirations. Photo by George Aslaender of Retrofret Vintage Guitars
As if this model's evolution and origins weren't interesting enough, it so happens that this particular bass was previously owned by the late, great Walter Becker of Steely Dan. (The Band's Rick Danko and Boz Burrell of Bad Company/King Crimson are among the model's other notable players.) This black-finished instrument is listed on Reverb for $5,500 by Retrofret Vintage Guitars of Brooklyn, New York, who describe its sensational feel and "dark, growly" tone, and its "all-original condition, showing some play wear but with no repairs or alterations." The bass is accompanied by its original black-Tolex hardshell case. In its listing, Retrofret also emphasizes that the "AMUB-1 is simply one of those sadly underappreciated classics, a far better instrument than its relative obscurity would suggest."

This instrument comes with its original Tolex case and was part of Becker's blue-ribbon collection of 4-strings. Photo by George Aslaender of Retrofret Vintage Guitars
It's impossible to know how or when Becker used it or if it can be heard on any notable Steely Dan recordings. As a fan, though, I can't help but ascribe some metaphorical weight between this Ampeg fretless bass, which sits at a historical intersection between jazz and rock, and the music of Steely Dan, which does the same.
Further information can also be found in Ampeg: The Story Behind the Sound by Bill Moore and Gregg Hopkins, and Dave Hunter's Amped:The Illustrated History of the World's Greatest Amplifiers.
---