Warwick Announces Thumb Singlecut Bass & RockBass Alien Acoustic Bass
The bass additions include a single-cut version of the Warwick Thumb NT and two lower-priced acoustic basses.
Markneukirchen, Germany
(February 15, 2010) -- Warwick has announced additions to their electric and acoustic bass families: the Thumb SC Single Cutaway and the RockBass Alien Standard & Deluxe Acoustic basses.
Thumb SC Single Cutaway Bass
The brand new Warwick Thumb Single Cutaway Bass represents what happens when two legends collide. The basis of this modern creation is a combination between the tried and true Warwick Thumb NT and the popular single cutaway design.
The Warwick Thumb SC is striking in its chunky silhouette and substantial tone. It is an ideal instrument for jazz, funk and r&b. A passive MEC soap-bar
humbucker
has been specially designed for the Warwick Thumb SC and two 3-way switches, richly enhanced with 3-band MEC electronics, give it plenty of versatility.
Also available as a left-handed version with no additional charge for both 5-string and 6-string versions.
Warwick Thumb SC Single Cutaway Bass 2010 Specs
- Neck-through design
- Available as a 5-string broad neck or as a 6-string version
- Fretted or fretless and left-handed versions available without additional charge
- US swamp ash body with Bubinga Pommelé top
- Flamed maple neck
- Tiger stripe ebony fingerboard
- Scale: 34" Long Scale
- 26 frets (or fretless)
- Passive MEC Soap bar humbucker
- Active MEC 3-band electronics with 2 mini toggle switches for coil splitting
- Warwick tuner
- Warwick 2-piece bridge
- Warwick Security Locks
- Black hardware
- Just-A-Nut III
- Warwick EMP strings, 5-string: .045"-.1352, 6-string: 025"-.135"
RockBass Alien Standard/Deluxe Acoustic Bass
Beginners and other price-conscious musicians can now afford their acoustic Warwick dream bass: The extraordinary and very popular Alien is now available in two high-quality RockBass versions: Standard and Deluxe. Both come as 4- or 5-string instruments, with frets or fretless. The tone is concise, dynamic and rich; it's punchy with a snarly acoustic accent, making it unmistakably a Warwick Alien bass.
The Standard model comes loaded with features such as a spruce top and laminated agathis wood back and sides. The use of laminated tone woods increases stability and is perfectly suited for stage performance. The top of the Alien Standard has a high polish natural finish, the sides and back are high polish black. Both versions come with a set neck made of mahogany with a non-slip satin finish. The body of the RockBass Alien Deluxe has a laminated spruce top, while the back and sides are laminated bubinga. Both versions feature a first-class Fishman Sonicore Piezo pickup. The Alien Standard has a Sonitone preamp and the Alien Deluxe a Presys preamp.
Available in fretted or fretless versions as well as left-handed with no additional charge.
RockBass Alien Standard Specs
- Acoustic bass, set neck
- Available as a 4- or 5-string
- Available in fretted or fretless versions as well as left-handed with no additional charge
- Laminated spruce top, laminated agathis back and sides
- Mahogany neck, satin finish
- Rosewood fingerboard (fretless: tiger stripe ebony fingerboard with fret lines)
- 4-string: 32" medium scale, 5-string: 34" long scale
- 24 nickel silver frets
- Fishman Sonicore Piezo pickup and Sonitone preamp
- Natural high-polish finish (top side), high-polish black finish (back and sides)
- Warwick tuner
- Rosewood bridge with bone saddle and notched bridge pins
- Chrome hardware
- Warwick Security Locks
- Just-A-Nut III
- Nut width: 4-string: 38.5 mm, 5-string: 45 mm
- Warwick Red Strings Bronze Acoustic Bass strings: 4-string: .045" - .105", 5-string: .045" - .135"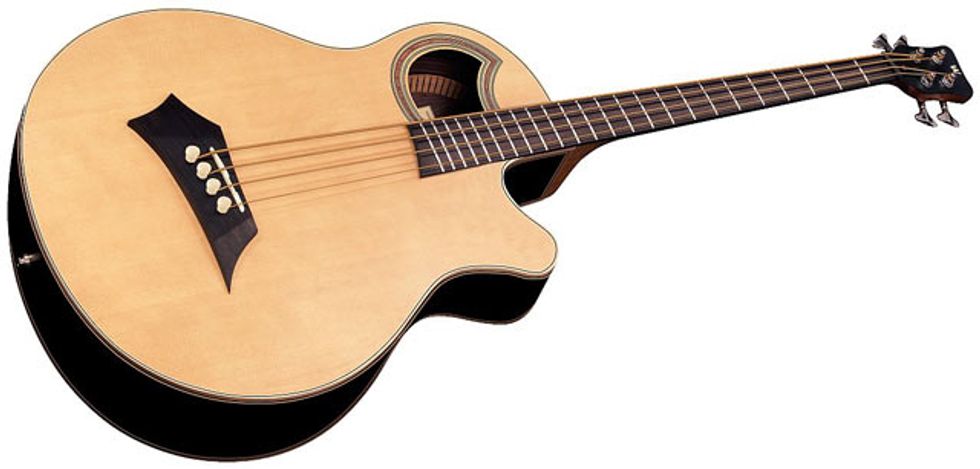 RockBass Alien Deluxe Specs
- Acoustic bass, set neck
- Available as a 4- or 5-string
- Available in fretted or fretless versions as well as left-handed with no additional charge
- Laminated spruce top, laminated bubinga back and sides
- Mahogany neck, satin finish
- Rosewood fingerboard (fretless: tiger stripe ebony fingerboard with fret lines)
- 4-string: 32" medium scale, 5-string: 34" long scale
- 24 nickel silver frets
- Fishman Sonicore Piezo pickup and Presys preamp
- High-polish natural finish (top, back and sides)
- Warwick tuner
- Rosewood bridge with bone saddle and notched bridge pins
- Chrome hardware
- Warwick Security Locks
- Just-A-Nut III
- Nut width: 4-string: 38.5 mm, 5-string: 45 mm
- Warwick Red Strings Bronze Acoustic Bass strings: 4-string: .045" - .105", 5-string: .045" - .135"
For more information:
Warwick