This signature Pro-Mod So-Cal model features a lightweight alder body with scalloped lower back bout and shredder's cut heel offering easier access to the higher frets.
This Strat-style guitar is crafted to deliver world-class playability and performance. In the case of the PA28, this means an ultra durable and lightweight alder body with scalloped lower back bout and shredder's cut heel offering effortless access to the higher frets. The graphite reinforced bolt-on maple neck with 12" radius rosewood fingerboard and 42mm Graph Tech TUSQ XL nut is custom crafted for lightning fast riffs and chugging rhythms alike. At the heart of the Charvel PA28 are a set of custom made Charvel humbuckers. These pickups were made with direct input from Aswani himself and feature alnico 3 magnets that offer a uniquely dynamic palette of tones ranging from fiery distorted leads to crystalline cleans. Boasting a mystifying Inca Silver thin skin nitro lacquer finish and parchment pickguard, this instrument truly looks just as good as it sounds.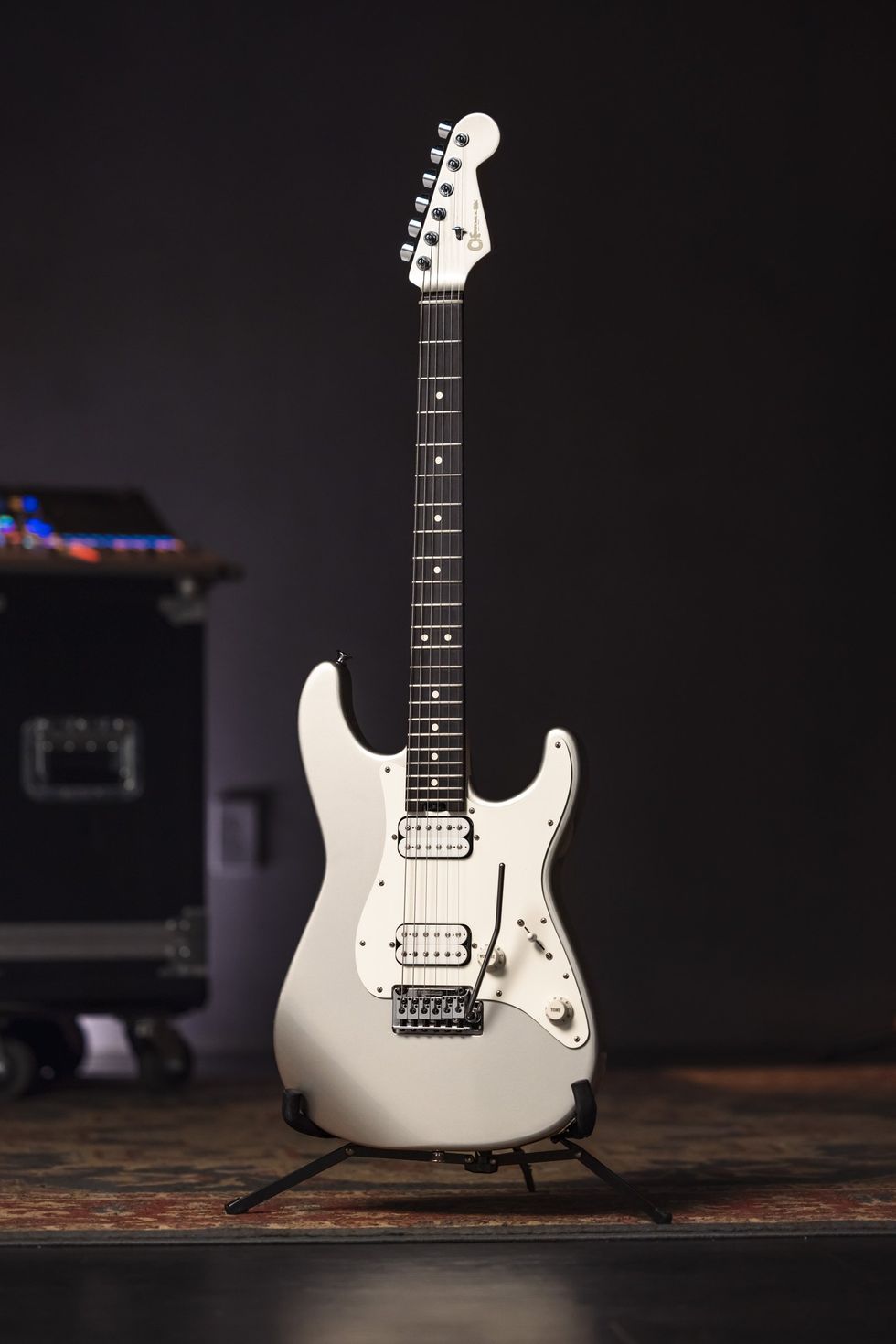 Aswani first gravitated towards music after attending a number of classical Indian performances with his father and at age 13, he branched out and bought his first rock n' roll record, AC/DC's "Back in Black." The magnitude of Angus Young's thunderous playing inspired Aswani to get serious about guitar playing and in 1998, Aswani released his first album, Revelation. From that point on, he became famously known for his tight funk inflected rhythms and dizzying phrasing. His playing has reached the corners of just about every genre imaginable, playing alongside everyone from Christina Millian to renowned flutist, Ronu Majumadar. Honoring a player whose legacy includes touring with Justin Timberlake as well as writing and recording four renowned solo albums is a tall order—and Charvel has risen to the occasion.

Prashant Aswani Showcases His Charvel Signature Pro-Mod So-Cal Style 1 PA28
"Prashant's playing is unique in that you can't quite fit his style into any one box," said Jon Romanowski, VP, Category Management - Charvel. "But because of that, he's like a chameleon shifting from one genre to the next. We wanted to encapsulate that limitless approach to playing with this signature model and thanks to features like the dynamic custom humbuckers and comfortable maple neck, this guitar can do it all."
Charvel honors the inimitable guitarist with the all-new Prashant Aswani Signature Pro-Mod So-Cal PA28, designed to deliver next-level performance and an incredibly versatile and ideal studio tonal range.
For more information, please visit charvel.com.
The DiMarzio Model J is designed to be 50 percent quieter than the original Fender Jazz bass single coil pickups, and it's 60 percent louder.
Tanya O'Callaghan, famed for her dynamic stage presence, in-the-pocket timing, and world-class touring resume talks about her new favorite bass pickup, the DiMarzio Relentless J.
Tanya has toured with Whitesnake, Bruce Dickinson (Iron Maiden), Maynard James Keenan (Tool/APC), Dee Snider (Twisted Sister), Steven Adler (Guns N' Roses), Nuno Bettencourt (Extreme), The Riverdance, The Voice, Orianthi, Michael Angelo Batio, Kevin Godley, Sharon Corr (The Corrs) and David Grey, to name a few…
DiMarzio introduced the world's first Fender Jazz bass replacement pickups at the NAMM show of 1977. DiMarzio invented the dual bar ceramic magnet structure for extra power and included twin hum-cancelling coils for decreased noise. The DiMarzio Model J is 50 percent quieter than the original Fender Jazz bass single coil pickups, and it's 60 percent louder.
We also added adjustable pole pieces to improve the string balance and designed them in our signature cream color. At its introduction, the DiMarzio Model J immediately become an industry standard and has been the pickup of choice on thousands of hit recordings.
With the introduction of the Relentless P bass pickups, co-designed with Billy Sheehan, we began to think how we could make our Jazz Bass pickup even better.
As with the Relentless pickups, we removed all the hard edges from the standard J Bass pickup and added an arch to the top of the pickup to bring the sensing coils and pole pieces closer to the strings. These improvements increase the dynamic range and make active circuits unnecessary.
We invented (patent pending) parallelogram-shaped coils to add dimension, punch, and dynamics to the Relentless J sound, and we incorporated metal covers with foil-shielded cables to further suppress the background noise.
DiMarzio's extra shielding makes the Relentless J better for both recording and stage performances. We mounted it onto a robust .09375" thick circuit board base plate so we could eliminate the annoying protruding mounting screws — ultimately creating a more comfortable and consistent foundation to rest your fingers on.
Tanya O'Callaghan for DiMarzio Relentless J Bass Pickups
​To improve the balance when both pickups are used together, we made the bridge position pickup louder than the neck position pickup. When the pickups are blended, you get a better volume match.
The Relentless pickups incorporate Neodymium magnets and produce 70 percent more output than traditional passive pickups, and they're dead quiet. We've expanded the mid-range punch, adding snappy highs and precise lows. These pickups have a broad magnetic field so you can even bend notes without volume dropout.
Relentless J pickups will breathe new life into any bass, increase playability, and work well for any style of music from Motown to metal.
For more information, please visit dimarzio.com.