How do you say "flower power" in Italian?
Let's say you're the owner of a music store in the 1960s, and you want to attract customers with some sort of advertisement or gimmick. What kind of sign would you hang? Or better yet, what instrument would you display in the front window? Well folks, Photo 1 shows the ideal item for that purpose—the perfect symbol for a guitar-playing public in the late '60s. Flower power, baby!
Okay, rewind 50 years: There actually was a music store in Oregon that displayed this very guitar in the window. This must have been the storeowner's prized possession, because after the shop closed, the guitar basically became a closet queen—a time capsule from an era when electric guitars ruled and psychedelic imagery was all the rage.
This particularly flashy "JG" guitar was built by the Zerosette company in Italy. Zerosette began as a maker of very fine accordions, but like other instrument manufacturers of the time, the company was soon producing some truly interesting guitars. Many of the Italian guitar makers applied what they knew about accordions to guitar production, so we often see lots of plastic, pearloid, push buttons, and other oddball parts that were unique to their crazy guitar models.
These psychedelic Zerosette guitars are exceedingly rare, and in the many years I've been chasing down interesting guitars, this is the only one I've seen in person.
In Europe, Zerosette guitars typically carried a few different brand names, including JG, Juliett (both derived from the company president's name, Julio Giulietti), and Rayhorn. Stateside, the Hershman Musical Instrument Company in New York and the Sano Company in New Jersey primarily imported Zerosette guitars. Hershman used the Goya brand name and featured the awesome Rangemaster guitars with split-pickup designs. Sano, which seemed to import mostly hollowbody guitars, used its own name, as well as the Contessa brand on amps they built for Hohner. And as usual for the era, many Zerosette guitars were simply imported without any brand names or indication where they came from.
The model number for this one is called SAD 2, which I seriously think stands for pSychADelic! Aesthetically beautiful in just about every way, the guitar resembles a work of art and its finish is just gonzo. Speaking of the finish, it consists of a totally mod patchwork fabric that was stretched across the body and then lacquered over (Photo 2). While I was perusing a 1968 Goya catalog, I found a hollowbody Rangemaster 1092P, complete with split-coil pickups, that featured some unique "psychedelic style" finish options. It listed at $475 with case. Apparently there were three different patterned-cloth options that could be applied under the high-gloss finish. It was listed as the world's "first psychedelic guitar."
If you had a truly psychedelic guitar, who would best exemplify the definition of a psychedelic guitarist? Jimi Hendrix, of course! Yes, there is a famous photo of Jimi playing a paisley Goya Rangemaster 1092P. (You can see this in Jimi Hendrix: Electric Gypsy, a richly illustrated 780-page book by Harry Shapiro and Caesar Glebbeek.) Zerosette was also the maker of that Goya guitar, and this SAD 2 is the sister of that more famous Hendrix version.
These psychedelic Zerosette guitars are exceedingly rare, and in the many years I've been chasing down interesting guitars, this is the only one I've seen in person. I often feel that such vintage guitars work as a form of art, truly representative of the times and sensibilities of their era. I mean, just when you think you've seen it all, can you imagine coming across this guitar hanging in a small music store's front window?
Watch the video demo:

---
Looking for more great gear for the guitar player in your life (yourself included!)? Check out this year's Holiday Gear Finds!
Outlaw Effects introduces their next generation of NOMAD rechargeable battery-powered pedal boards.
Available in two sizes, NOMAD ISO is a compact, versatile tool that offers the convenience of a fully powered board plus the additional freedom of not having to plug into an outlet. NOMAD ISO is ideal for stages with limited outlet availability, quick changeovers, busking outdoors, temporary rehearsal locations, and more.
NOMAD ISO builds upon the legacy of the ultra-convenient and reliable NOMAD rechargeable pedalboard line originally launched in 2018. The brand new NOMAD ISO editions feature eight isolated outputs (1 x 9V DC, and 1 switchable 9V/12V DC) for even more versatility and clean, quiet power. With an integrated lithium-ion battery pack boasting 12800mAh capacity, NOMAD ISO can fuel a wide array of pedals, and will last over 10 hours* on a single charge.
Each NOMAD ISO pedal board includes adhesive hook & loop pedal-mounting tape, eight (8) standard DC connector cables, and one (1) reverse polarity DC cable, giving you everything you need to build your ultimate "off-the-grid" rig. A rugged, road-ready padded gig bag with shoulder strap is also included, to safely protect your gear while you're on the move.
NOMAD ISO S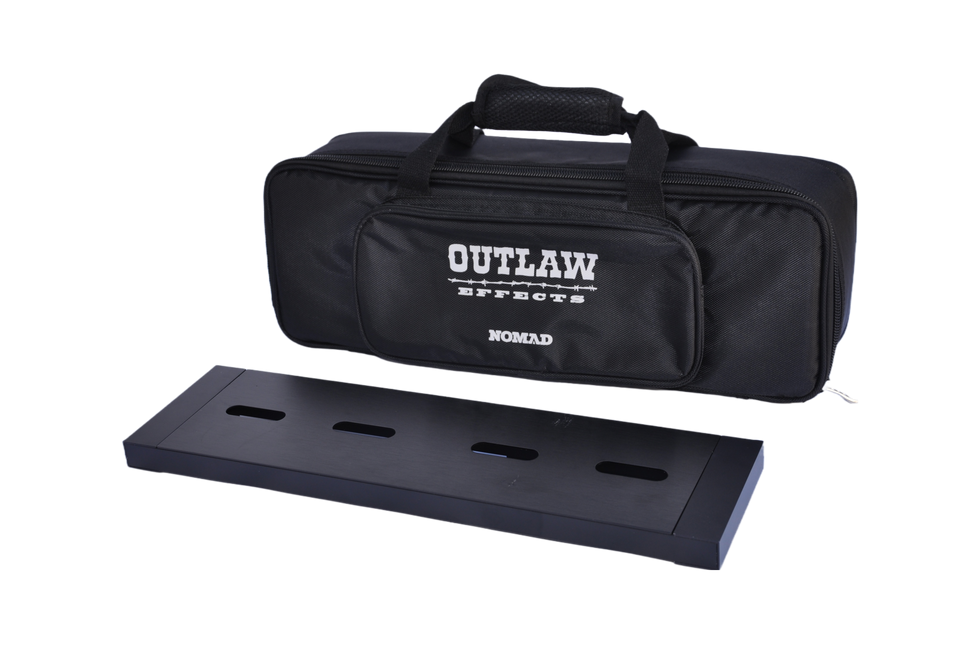 NOMAD ISO S: MSRP $309 / MAP: $249
Dimensions: 19 ¼" x 5 ¼"
NOMAD ISO M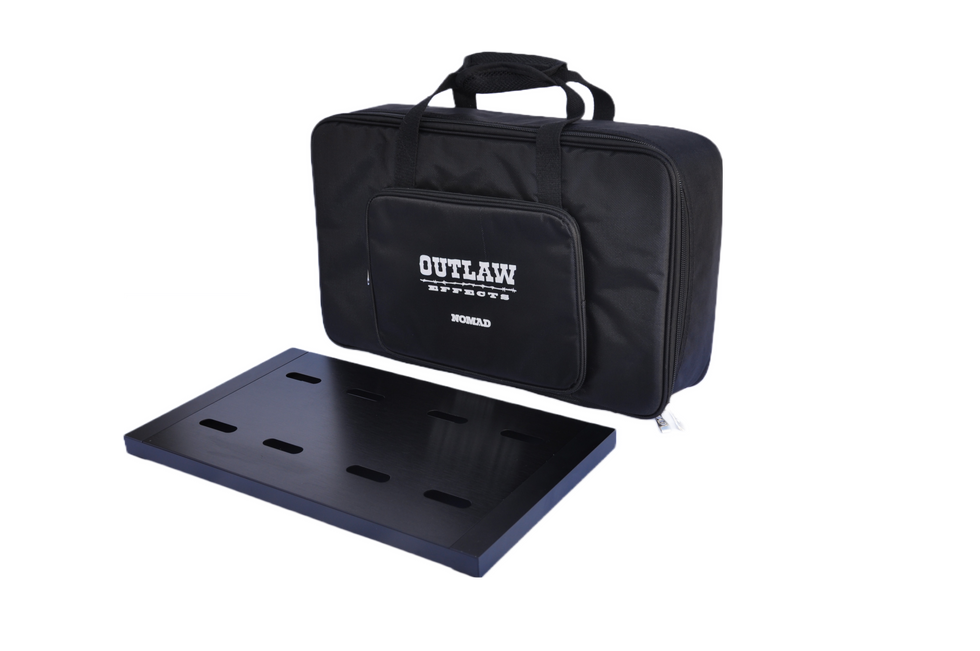 NOMAD ISO M: MSRP $349 / MAP $279
Dimensions: 19 ¼" x 11"
More info: https://www.outlawguitareffects.com.
Dunable announces new Minotaur model featuring Grover Rotomatic Keystone tuners.
The Minotaur's DNA is rooted in their classic Moonflower model, which Dunable discontinued in 2017. However, they have long since wanted to create a fresh take on a carved top guitar design, and various attempts to rework the Moonflower led them to a brand new concept with the Minotuar.
Dunable's goal is to give the player a guitar that plays fast and smooth, sounds amazing, and gives maximum physical ergonomic comfort. The Minotaur's soft and meticulous contours, simple and effective control layout, and 25.5" scale length are designed to easily meet this criteria.

Dunable Minotaur!
Features
25.5" scale length
Dual Humbucker
one volume, one tone, push pull for coil splitting
Grover Rotomatic Keystone tuners
Grover Tune O Matic bridge with brass Kluson top-mount tailpiece
jumbo nickel frets
12" fretboard radius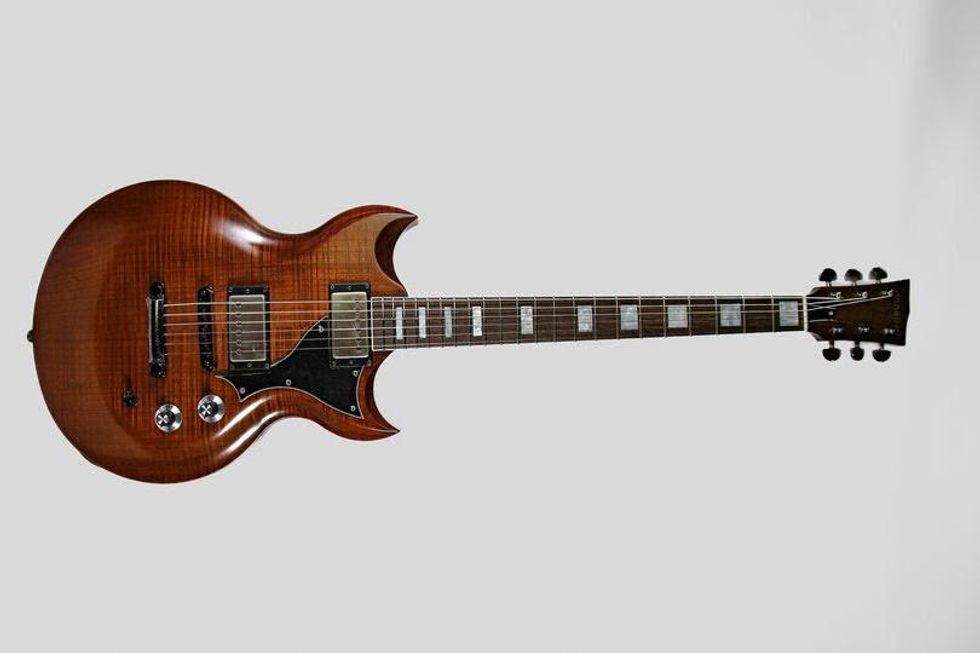 Dunable
This full-amp-stack-in-a-box pedal brings a new flavor to the Guitar Legend Tone Series of pedals, Missing Link Audio's flagship product line.
Adding to the company's line of premium-quality effects pedals, Missing Link Audio has unleashed the new AC/Overdrive pedal. This full-amp-stack-in-a-box pedal – the only Angus & Malcom all-in-one stompbox on the market – brings a new flavor to the Guitar Legend Tone Series of pedals, Missing Link Audio's flagship product line.
The AC/OD layout has three knobs to control Volume, Gain and Tone. That user-friendly format is perfect for quickly getting your ideal tone, and it also offers a ton of versatility. MLA's new AC/OD absolutely nails the Angus tone from the days of "High Voltage" to "Back in Black". You can also easily dial inMalcom with the turn of a knob. The pedal covers a broad range of sonic terrain, from boost to hot overdrive to complete tube-like saturation. The pedal is designed to leave on all the time and is very touch responsive. You can get everything from fat rhythm tones to a perfect lead tone just by using your guitar's volume knob and your right-hand attack.
Features 
Three knobs to control Volume, Gain and Tone
Die-cast aluminum cases for gig-worthy durability
Limited lifetime warranty
True bypass on/off switch
9-volt DC input
Made in the USA
MLA Pedals AC/OD - Music & Demo by A. Barrero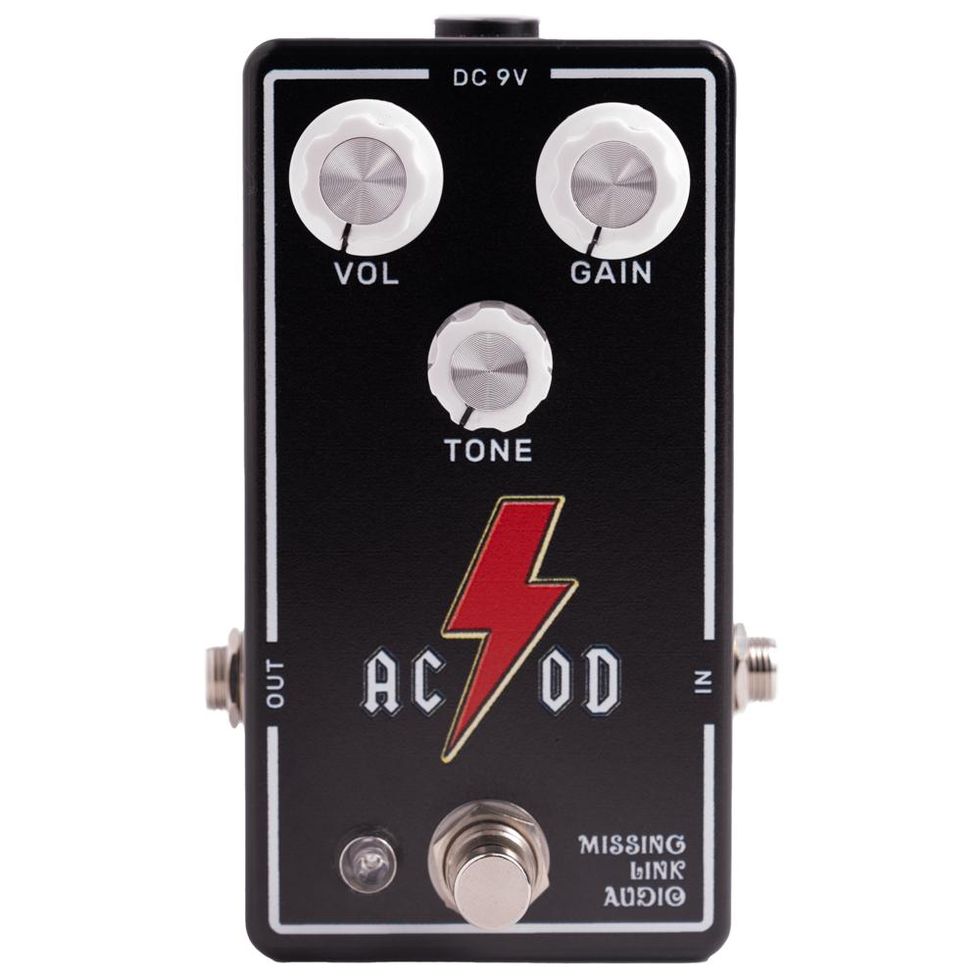 www.mlapedals.com.