World Class (but not world famous) Luthiers
A look at four lesser-known artists of the custom guitar
Imagine a shy, introverted guitar maker who just wants a tiny moment of your time to show you one of his creations. He has worked for months on what he is about to unveil and is so emotionally attached to his work of art that it might even appear he is in the final stages of giving birth. Just like any art form, when that rare and magical set of ingredients comes together, custom guitars stand out like Van Gogh's Starry Night. When I'm in the midst of such a realization, it is just like having Vincent himself walk up and ask me what I think about his painting. Here's an introduction to four distinct artists who've managed to go beyond the mastery of construction and into the world of pure guitar art.

Let's start with Taku Sakashta, a Japanese guitar maker who works and resides in Northern California. Taku makes many types of guitars, but his most renowned work to date is the Noupaul (New Paul) currently played by Robben Ford. It's even on the cover of Robben's latest Grammy-nominated CD, Truth.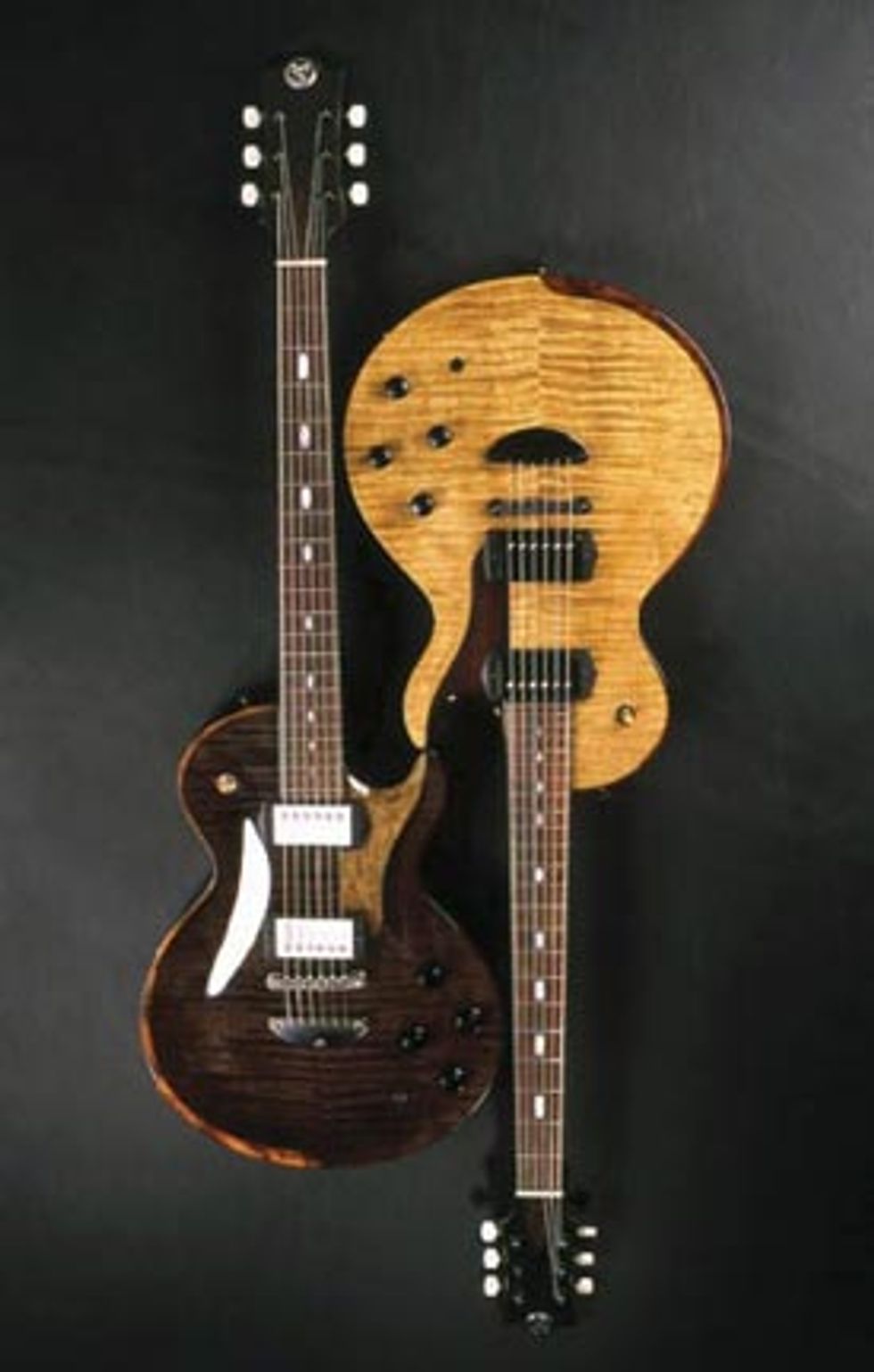 A gorgeous pair of Sakashta Noupaul models
Taku thinks of his guitars as an extension of the musician's personality and soul. Each musician demands different instruments because each has different talents, motivations and preferences from varying sonic, aesthetic and tactile points of view. Taku realizes the importance of past traditions in guitar building, and has used this as a foundation to build his futuristic instruments for performers looking for personalization without compromise. He does all this while still retaining the superior advantages of traditional designs and features. This approach allows the performer to choose the best features and create a truly unique and personalized instrument.
Taku Sakashta Guitars
P.O. Box 750728
Petaluma, CA 94975
sakashtaguitars.com
707-782-0282
Toru Nittono
is another incredibly skilled Japanese artisan/luthier, but he resides in L.A. He actually was the one who introduced Robben Ford to Taku. Toru makes a number of different guitars, but in my experience he produces far and away the best nylon string jazz guitar in the world, called the Model T Jazz Nylon. This guitar has a beautiful spruce top with a semi-hollow chambered mahogany body, a twopiece mahogany neck, ebony fingerboard and tailpiece, and Toru's own customdesigned onboard preamp. The ebony pickguard hosts the extremely even and responsive Volume, Treble and Bass controls. If you play nylon string guitar and are serious, you owe it to yourself and your art to check this out. Toru can be reached at 818-901-8675.
I first met Kraig Phillips at the Hollywood Bowl while he was working for Norman Brown. Kraig really stuck out as a guitar tech because when he checked the sound of Norman's amp, it was clear that Kraig is a killer jazz guitarist. Kraig makes a number of 15" and 17" bout archtops, but also does amazing historical replications of classic vintage guitars. Early in his career, he had the great fortune to meet and work with Roger Sadowsky. Shortly after that, Kraig started envisioning guitars that had great sonic and aesthetic appeal and yet remained affordable. 30 years later, after playing thousands of gigs, building and repairing many, many guitars (including solidbodies, archtops, semi-hollows and bass models) and studying with some of the world's great builders and repair people, Kraig found a way to incorporate many of the aspects of the finest instruments he's played in designs that are both affordable and beautiful. He always starts with great woods and construction from the "inside out," with the goal of capturing the feel and sounds of the finest instruments. These instruments have great curb appeal and are built to last a lifetime!
Kraig Phillips
phillipsguitars.com
614-622-6836

Turning to the finely tuned world of German engineering, allow me to introduce
Tommy Metz
. The distinctive feature of "Tommy's special guitars" is his systematic approach for choosing wood based on physical sound properties; each instrument is the synthesis of specific, technical characteristics. Tommy feels there is much more to making a guitar sound good than sophisticated pickups and electronics. The same care required when choosing the wood and the body shape must also be applied when creating each individual part of the guitar. Combining and exactly matching all of these parts demonstrates his precision work and a corresponding degree of sensitivity to the symbiotic nature of the production process. The guitars Tommy produces are the result of many years of close communication with musicians from all over the world. He is dedicated to working directly with guitarists to choose the best materials and design for his/her specific style. If you're into solidbody, Tele, Strat or Paul styles, you have to check him out.
Tommy Metz
tommys-special-guitars.com
Gereonsplatz 3
D-41747 Viersen, Germany
+49 02162 – 29227

All of these guitar makers have an instrument available right now for the serious player. Go get one. You can thank me later.
---
Rick Wheeler
Rick Wheeler currently works as Larry Carlton's guitar tech and front of house engineer. He is also an accomplished jazz guitarist, vocalist, and educator. You can contact Rick at
rickwheeler@hughes.net