Bogner's beastliest amp is made miniature—and still slays.
Excellent sounds in a portable and very affordably priced package.
A footswitchable clean channel and onboard reverb would make it perfect.
4.5
5
4.5
4.5
The original Bogner Ecstasy, released in 1992, is iconic in heavy rock circles. Though it was popularized and preferred by rock and metal artists (Steve Vai and Brad Whitford were among famous users), its ability to move from heavy Brit distortion to Fender-like near-clean tones made it appealing beyond hard-edged circles. Even notorious tone scientist Eric Johnson was enamored with its capabilities.
At nearly $4K, a new 100-watt Ecstasy is out of reach for a lot of players. But the new Ecstasy Mini, a 30-watt, class-D, solid-state amp that weighs less than four pounds, does a surprisingly great job of capturing the original Ecstasy's essence in a tiny, portable package
 Mini Monster
The Ecstasy Mini comes in a package small enough to be mistaken for a shoebox. Don't be fooled by the diminutive size, though. It's a badass little screamer that can rip heads off. It can also play it cool: Even though it's based on the original Ecstasy's mighty high-gain red channel, the Mini still moves between screaming hot lead tones and near-clean sounds with relative ease.
The control panel is pretty straightforward. There are six chicken-head knobs for volume, presence, treble, middle, bass, and gain. Above the knobs are four mini toggle switches that help you shape the amp's tone and feel in more specific ways. There's a variac mode that approximates the function of a variable voltage transformer—reducing headroom and producing cool takes on Eddie Van Halen's brown sound. A gain switch lets you choose between a plexi-type sound or a modern, ultra-high gain setting, and a mid-frequency switch lets you choose which midrange band (800 Hz, 1.6 kHz, or 3.2 kHz) is shaped with the mid control. A pre-EQ switch, meanwhile, provides three baseline voices ranging from relatively mellow to bright. There's also an effects loop on the back of the amp for patching in effects like reverb and delay. The amp's 24V power supply is universal and the amp can be used anywhere around the world without a step-up transformer.
The Ecstasy Mini's build quality is excellent. Throughout my test—even with the volume and gain cranked—the amp was impressively quiet. With guitar volume at zero, you probably wouldn't even know that a raging amp is sitting idle, ready to pounce.
Lethal Low Gain, Hellacious High Gain
I started my tests in low-gain mode with the gain knob at noon. Even at these less aggressive settings, I could feel the room rattle when I hit an A chord. There's a lot of available volume and single notes really ring with sustain at these settings—particularly when the variac setting is on. The amp is a surprisingly great match for blues-rock and pop-rock at these settings. (I was even compelled to have a go at Steve Lukather's solo and tone from Toto's "Rosanna." It sounded pretty spot-on.)
Even at less aggressive settings, I could feel the room rattle when I hit an A chord.
High-gain settings transform the amp from simply muscular to monstrous, reminding me why the original Ecstasy is so coveted. I tuned my Schecter T-7 7-string's low string down to A and played power chord riffs with the gain around 1 o'clock, the variac off, and tone knobs all at noon. Here, the Ecstasy Mini was razor-sharp and never flabby. Picking response feels fast, and even low open 7th string tones were crisp and tight.
Switching to the variac setting brought a noticeable drop in volume, a bit more warmth, and spongier, more compressed response. In general, I preferred the variac setting for solos. Obviously, it's less well suited for ultra-precise single-note runs and detuned rhythms, but a high-mid boost from the pre-EQ's B2 switch helps solos cut through more effectively without sacrificing too much of the forgiving sag you get via the variac mode.
Time to Clean Up
For a single-channel, high-gain amp, the Ecstasy Mini does a respectable job of generating clean sounds at gigging volume. With the gain knob around 7 o'clock and the mini toggle for gain in low mode, single-coils readily produce cleaner tones at lower guitar volumes. Humbuckers introduce more grit, but you can still hear lots of individual note clarity and effectively move from clean-ish to dirty sounds via picking and volume control dynamics. The amp's dynamic response is impressive at the highest gain settings, too. And though you won't get pure clean tones here, active adjustments of guitar volume make the amp capable of cool, dramatic shifts in mood, tone, and intensity.
The Verdict
Bogner's Ecstasy Mini is versatile for an amp so clearly designed for maximum power. It will sound huge and hang with a loud band when miked through a PA. But you can also stow it in a gig bag as a backup, use it in the studio, or at home if you're tight on space. It may not rival an all-valve 100W Ecstasy for body, richness, and sheer power. But unless you're playing Madison Square Garden, there's no reason it can't cover most of your gigging needs. The Ecstasy Mini is a killer high-gain amp with a street price that's not much more than a pedal. And that combination of power and value makes it pretty hard to beat.
Watch chaotic co-pilots Mark Bowen and Lee Kiernan use five boards to create hip-hop beats, raging elephant sounds, and whatever "genk" is.
Do you hear that thunder? That's the sound of strength in numbers. Specifically, it's the sound of four 100-watt stacks. (Actually, one is a 200-watt bass tube head.) IDLES' guitarists Mark Bowen and Lee Kiernan finally have the firepower to match their fury. (Original members singer/lyricist Joe Talbot, drummer Jon Beavis, and bassist Adam Devonshire fill out the band. Kiernan took over for guitarist Andy Stewart after 2015 EP Meat was released.)
For much of the 2010s, the bashers from Bristol played on anything and plugged into everything. Low-budget imports and solid-state combos were what they had and they made that work. They toiled around the U.K. sharpening their sneering tongue, quickening their sting, and focusing their vision. Doing so meant playing small rooms as much as possible. So the need and access for big, potent, top-shelf gear was unnecessary. That volatile energy, sensible setups, and Sten-gun attack anchored both 2017's Brutalism and 2018's Joy as an Act of Resistance.
The popularity in those releases opened doors to new tools and the time to explore fresh tones and approaches. When writing Ultra Mono, Bowen and Kiernan looked for sounds rather than riffs.
"The noise-making had to be thought of from the start," Bowen told PG in 2020. "We basically created a sound palette first, and once we created a sound, that sound informed the riffs."
And the most obnoxious sounds on Ultra Mono were intentional.
"When we were writing this album, we'd go to random guitar shops and ask them for the weirdest pedals they had," adds Kiernan. "It may sound useless, but it still might touch you somehow. Every now and then, a pedal that does something really weird will kick you into gear."
Using hip-hop beats as a North Star and often performing on their instruments as drummers, the duo unlocked a combination of heartless sounds for Ultra Mono that elevated Talbot's heartfelt (and challenging) lyrics.
For the just-released Crawler, they continued exploring obtuse sounds. Some continued to be unusual to the masses and others were atypical for IDLES. "Car Crash" is a disjointed, cold-war-siren-sounding, brooding banger. Considering its brash, bizarrely brilliant predecessor, it's right in line. However, one track no one saw coming was "The Beachland Ballroom"—a bring-you-to-your knees soul song. The incessant brave exploration advances their brutal power, supports their menacing energy, and paints with broad colors to complement Talbot's biting commentary and tales of personal troubles.
Touring ahead of 2021's Crawler (now available), IDLES' Mark Bowen and Lee Kiernan invited PG to Nashville's Cannery Ballroom for an extended gear chat before their sold-out show. Just ahead of soundcheck, Kiernan clarified his seemingly callous treatment of his Fenders, while Bowen establishes that his acrylic Electrical Guitar Company EG 500 is heavy to dance about onstage, but its "angry piano" sound makes it worth it. They explain why they need a collective of five pedalboards and 50+ stomps to cover guitar, bass, baritone, synth, inhuman sounds, and whatever they mean when they say "genk." (In a 2020 interview with PG, Bowen described the term like this: "'Mr. Motivator' is a good example: Lee makes this 'genk' noise that sounds like a hammer in a metal factory, and he plays that along with the drums, and that part really only occupies a frequency range around 1.2k to 2.3k—which is a large bandwidth, but it's where the transients of the drums and the cymbals sit. That part really pops in that space." Also, Bowen and Kiernan created a YouTube show called Genks during the pandemic, which focuses on effects. Even if you're a minimalist, it's worth a watch for the laughs.)
Big thanks to IDLES tech Gavin Maxwell.
[Brought to you by D'Addario XPND Pedalboard: https://ddar.io/xpnd.rr]
"It's Not Carelessness, I Just Do What I Want with It"
To the outside observer, stacking your Fenders on the floor, using gaff tape as strap locks, and carrying on with broken knobs and missing switches may seem like a fool's errand for IDLES guitarist Lee Kiernan, but it's all part of his master plan.
"Playing it however I want, or smashing it against an amp, or rubbing a microphone on it, is all a part of using the tool," Kiernan explains. "It's made of wood so when it breaks, you just glue it back together."
Above you see Kiernan's trifecta of trouble. A quick glance and you notice the shell-pink Mustang and yellow Strat have been severely simplified. ("Less parts mean less things to go wrong," says Kiernan). Both of their stock wiring setups and pickups were removed. He had Bristol (UK) tech Steve Hawkers drop in custom-wound single-coils ("all bass and all treble") and solder them straight to the output jack. (Kiernan admits that it was Steve's first pickup wind.) The only control on either is a volume knob. (As Kiernan demonstrates in the Rig Rundown, the Mustang's volume knob is hanging by a thread and used in conjunction with strong neck bends producing a howling-train-in-the-distance sound.) The Strat still has its tremolo arm because Kiernan loves '80s hair metal and can indulge in a dive bomb or two.
The untouched American Professional II Tele gets stage time when the band performs songs off their brand-new album Crawler. Upon receiving the guitar, Kiernan was doing as guitarists do—plugged it in and started hearing what it had to say. He slid it into the neck position with the tone rolled all the way off and singer Joe Talbot heard his noodling and wondered what it was for. Kiernan said it was him just testing out the guitar, but the process led to Crawler's "When the Lights Come On."
"This guitar, within seconds of its life, ended up helping write a song," recalls Kiernan. "It's staying as it is. I'm not gonna change it."
All the guitars use Ernie Ball Not Even Slinkys (.012–.056) and he assaults the strings with Dunlop Tortex Standard 1.14 mm purple picks.
Loud and Proud
When the band was playing smaller rooms and had no money, they opted for whatever shabby amps they could plug into (including Peavey Pacer and Marshall Valvestate combos). Solid-state or tube, it didn't matter as long as it made racket. Now that they're selling out large clubs and theaters, the boys from Bristol crave as much volume and headroom as possible.
Kiernan's first flirt with a tube Marshall was when he encountered a late-1980s, 2-channel JCM800 2x12 combo he adored. While recording Ultra Mono, he used several amps, including a 2003 Marshall 100-watt Super Lead plexi reissue and a 2000s 100-watt Marshall JCM800 2203. So it made sense for the fall 2021 U.S. run that Kiernan requested the above 100-watt Marshall JCM800s. The one on the left is a 2013 Model 2203, while its counterpart on the right is a 1989 Lead Series Model 2210 (with master volume and reverb). (Kiernan mentions in the Rundown that in Europe they use the SLP and 1897x models.) Both Marshalls hit their own Hiwatt 2x12s that are loaded with Fane Ascension F70 creamback speakers.
Double the Fun
The time spent mentioning everything Kiernan does with these pedals is better served watching the Rundown, listening to IDLES' music, or attending one of their shows. But in doing our due diligence, here are the stomps that corrupt, challenge, and ravage his tone.
Starting with the top row on the right-side board, we have a Strymon Flint, Drolo Twin Peaks (tremolo), Drolo Stamme[n] (micro looper/glitch delay/tape machine/sustainer/reverb), Death By Audio Micro Dream (delay), and a Death By Audio Space Bender prototype (modulation). The bottom row is home to a DigiTech Whammy, Electro-Harmonix Synth9, Intensive Care Audio Vena Cava Filter (distortion with an auto-filter and ring modulation), Moog MF Ring, and a Boss TU-3 Chromatic Tuner. A GigRig ABY-BABY controls the amp offering phase control and isolation. The small black box labeled "in/out" was built by tech Gavin Maxwell so Kiernan could quickly test out a pedal without having to rip his setup apart.
The left-side board starts with a Mission Engineering EP-1 expression pedal, a Boss PS-6 Harmonist, an EarthQuaker Devices Data Corrupter, a Death By Audio Interstellar Overdriver Deluxe, and a Death By Audio Evil Filter. The top row starts with a quartet of EarthQuaker stomps—Organizer (polyphonic organ emulator), Arrows (preamp boost), Gray Channel (overdrive), and Tone Job (EQ/boost)—a Moog MF Chorus, and Death By Audio Reverberation Machine. A Jam Pedals TubeDreamer is sandwiched in between everything.
Smells Like Home
Mark Bowen's longtime main cruiser was this 1972 Fender Stratocaster he affectionately calls "Stinky." This well-loved Strat belonged to Bowen's dad and was gifted to him years ago. In a 2020 interview with PG, Bowen had this to say about his foul-smelling friend: "Stinky's action is horribly high and it's a terrible guitar to play, but I just love it because it feels like a real punk-rock guitar. That guitar lives for me, in a way, so that it makes its way onto everything."
Besides the action, another thing making this Strat a struggle to commandeer is the Ernie Ball Mammoth Slinkys (.012–.062) he puts on his guitars. He bludgeons his instruments with Dunlop Tortex Standard 1.14 mm (purple) picks.
The Angry Piano
While Bowen still tours with "Stinky," his preferred weapon of choice right now is this Electrical Guitar Company EG 500. Speaking with PG last year, he had this to say about the acrylic beauty: "It's so much louder than other guitars, and there's this resonance to it that really fits in with my ethos and songwriting. It sounds like an angry piano. That guitar is capable of really horrible caustic sounds, but immediately switches over to making these weighty, thuddy doom-metal sounds."
Stealth Bomber
For anything low, rumbly, and absolutely nasty, Bowen picks up this Electrical Guitar Company Standard baritone (borrowed from Mogwai's Dominic Aitchison). He says the EG 500 pickups are hot, but the humbuckers made for their Standards are "terrifying."
More Bass, Baby!
For Ultra Mono, Bowen used a transatlantic amp combination of Hiwatts and Fenders. As the band has progressed from that album, Bowen has drifted his sound deeper and lower into the bass and synth territory. Putting together Crawler, he enlisted an Orange AD200B MKIII, which now travels with him on the road. Still keeping things somewhat in the guitar spectrum, he pairs the bass head with a Hiwatt Custom 100 DR103 reissue. (If you zoom in, you can see the Hiwatt has the bass knob goosed.) It's worth noting, up until the Nashville date, Bowen had already blown out six Hiwatts, but he claims to never be without one: "There's just this weight, this thunk that's there, they're bright, and the headroom is unmatched."
Ironically, the Hiwatt runs into a MAXWATT B115HN 1x15 bass cab while the AD200B crushes an Orange PPC212 guitar cab.
Bowen's Central Command
To accomplish all the fantastic and outrageous tones captured on IDLES' last two records, Bowen brings a whole cast of characters to accomplish that feat. His main board (stationed out front onstage by his microphone) features his "most standard" pedals: Death By Audio Reverberation Machine and Echo Dream 2, Adventure Audio Dream Reaper, a pair of Moogs (MF Delay and MF Ring), Death By Audio Waveformer Destroyer, Electro-Harmonix POG2, 4ms Pedals Mini Swash Full (fuzz/distortion/noise synth/self-oscillation/LFO craziness), a duo of Red Panda pedals (Particle and Raster), and a JHS Haunting Mids. A Boss TU-3W Waza Craft Chromatic Tuner keeps his guitars in check and a GigRig G3 organizes all the changes.
Mooger-Fooger Mark Bowen
Near his amps, Bowen has another batch of tone morphers. Up top he's got a 4-pack of Moog Moogerfooger monsters—MF-107 FreqBox, MF-102 Ring Modulator, MF-108M Cluster Flux, and a CP-251 Control Processor—and another no-name glitch/synth device. Below those we have an Electro-Harmonix 95000 Stereo Looper, a Strymon TimeLine, an Electro-Harmonix POG2, and an Old Blood Noise Endeavors Minim (reverb/delay and reverse). Lastly, he has a Nord Electro 6D at his disposal. Everything is powered by GigRig Timelord power supplies, while two Strymon Iridiums handle cab emulations.
Final Destination
The last part of Bowen's setup is this board under his keyboard/Moogerfooger workstation. Here, he has another GigRig G3 switcher, another Electro-Harmonix 95000 Stereo Looper, a GigRig Three2One (to help balance levels between instruments), and three Mission Engineering EP-1 expression pedals (controlling some of the effects in the previous photo).
Photo by Steve Trager
For his stylistically diverse new album, the fiery guitar hero steps back from his gear obsession and focuses on a deep pool of influences and styles.
Twenty years ago, Joe Bonamassa was a struggling musician living in New York City. He survived on a diet of peanut butter and jelly sandwiches and ramen noodles that he procured from the corner bodega at Columbus Avenue and 83rd Street. Like many dreamers waiting for their day in the sun, Joe also played "Win for Life" every week. It was, in his words, "literally my ticket out of this hideous business." While the lottery tickets never brought in the millions, Joe's smokin' guitar playing on a quartet of albums from 2002 to 2006—So, It's Like That, Blues Deluxe, Had to Cry Today, and You & Me—did get the win, transforming Joe into a guitar megastar.
Since achieving fame and fortune, Joe has spent most of his time in his various residences across the country. He's got Nerdville in sunny California and Nerdville East in Nashville. Both are almost-literal museums that house Joe's arguably unmatched collection of vintage guitars and amps. You will be very hard pressed to come across a finer collection. Yet in 2019, Joe found himself drawn back to New York City.
Joe Bonamassa - "Time Clocks" - Official Music Video
"It's a mid-life crisis. I always wanted to go back to where I lived 20 years ago, but not have to worry about hustling down sessions and gigs to make the rent every month," he says. "For as cool and exciting of a time as it was, it was also a very stressful time. I had this thing in my mind where I just wanted to be able to enjoy New York City and not have the stress of, 'Oh shit, it's either a subway ticket or ramen noodles tonight.'"
In February 2021, Joe went to Germano Studios in Manhattan's NoHo neighborhood to record Time Clocks, aka "The New York Album." Because of the pandemic, this recording session was like no other Joe had been involved with. Kevin "the Caveman" Shirley, Joe's longtime producer, was stuck in Australia due to strict COVID travel restrictions. The two have had a long working relationship and they've been inseparable for most of Joe's career. Shirley produced the guitarist's fifth studio album, You & Me, and has since produced over 30 of Joe's subsequent projects. So, when it came time to record Time Clocks—travel restrictions be damned—they found a way to work together. "We recorded it virtually with Zoom and some other technology where my producer in Australia could get the actual tracks from the session in real time or with about a second latency," says Joe. "It was totally fine. It was an odd record to make because of what we were doing, but it was also an odd time. So, why should anything be normal anymore?"
"I just wanted to be able to enjoy New York City and not have the stress of, 'Oh shit, it's either a subway ticket or ramen noodles tonight.'"
Even with the differences in time zones (Sydney, Australia, is 16 hours ahead of New York City), they found a way to make it work. "We would get there about noon. Kevin's an early riser so he would get to his studio, which is by his house in Sydney, by about 2 a.m. So, we would go from about noon to 6 or 7 at night, and he would go from 2 to 9 a.m., and then take naps."
Time Clocks is full of unexpected twists. It was recorded live as a trio with drummer Anton Fig and bassist Steve Mackey, and then other parts were layered in. The album has a diversity of sounds that belie Joe's blues categorization. "Notches" opens with an Ali Farka Touré-inspired 12-string riff, "Time Clocks" has a country-esque, Americana vibe, and "Curtain Call" is an homage to Led Zeppelin. "My ADD transcends into my musical life. It's a very different record for me. It's not a blues record, for sure. I just try to make records that don't bore me all the way through—we've got this groove covered, we've got that groove covered, let's put a sorbet in, something out of left field," says Joe.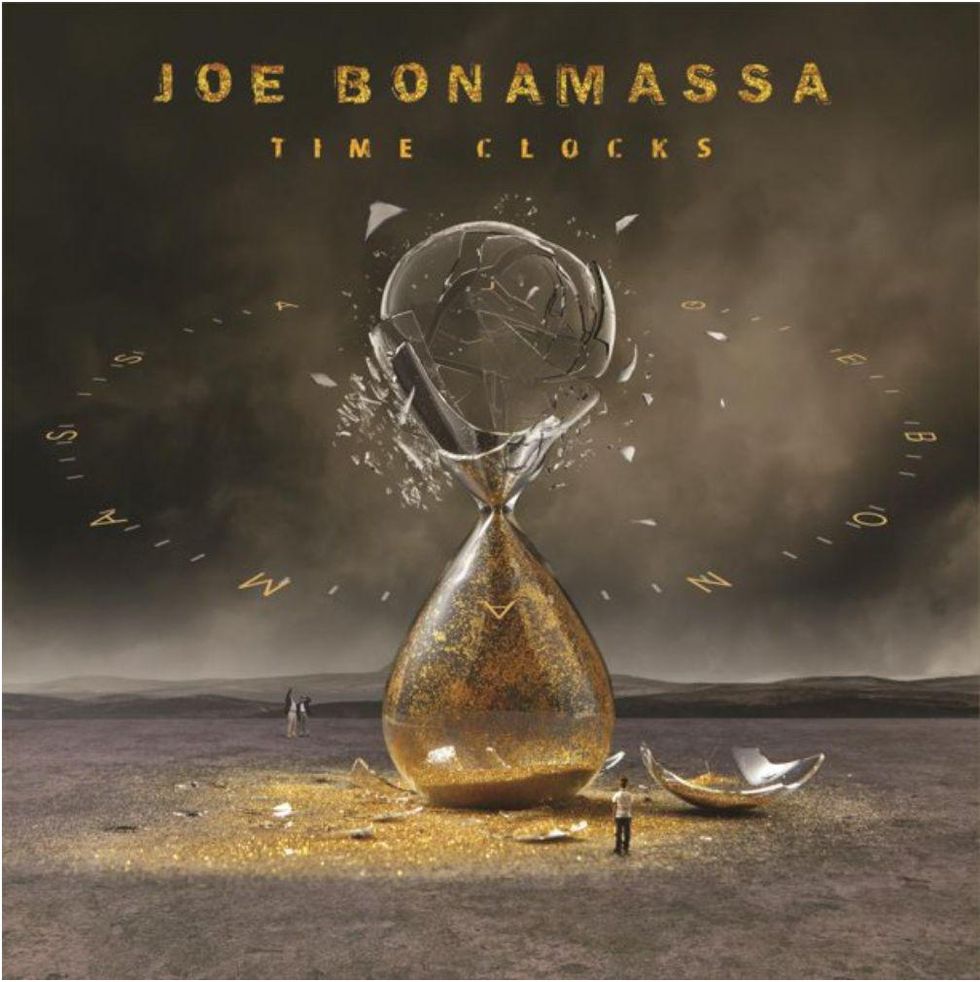 TIDBIT: Bonamassa's longtime producer, Kevin Shirley, had his hands on the wheel again, but remotely. He produced from Sydney, Australia, while the band recorded live on the floor in New York City.
"Some people think that all I do is play blues. I don't just play blues. I play whatever. We've all been in this game for a long time where we can adapt to any musical situation. It's fun. Every once in a while, I'll go sit in with friends. I just sat in with Nir Felder [at NYC's famed 55 Bar]. If I sit in with Nir, I'll be like, 'When these chord changes get too fucking adult for me, I'm bailing.' You just know your strengths and your weaknesses."
For the Time Clocks sessions, Joe used a much leaner gear selection than you might expect, especially given his cavernous collection. "In New York City, you go with what you got. There were only three amps. I had a [JB signature] high-powered Twin sent from our inventory that's still in the spare bedroom in the apartment. I ended up using two Deluxes. I had one Deluxe Reverb and one brown Deluxe," says Joe. We wonder if Joe was referring to a reissue Deluxe Reverb that might have happened to be at the studio, or one of his rare closet classics. He immediately snaps, "Think about that critically and ask yourself again, 'Who are you talking to?'" Point taken, Joe!
Joe Bonamassa's Gear on Time Clocks
"I'm not going to live my life in indentured servitude to the fucking guitar."
Guitars
Gibson Les Paul
Gibson ES-335
Fender Stratocaster
Fender Telecaster
Martin acoustic guitar
Strings

Ernie Ball Burly Slinkys (.011–.052; .011–.056 on down-tuned guitars)
Amps
Fender black-panel Deluxe Reverb
Fender brown-panel Deluxe
'59 Fender Twin-Amp JB Edition
Effects
Klon Centaur
Dunlop Joe Bonamassa Signature Wah
"When I was a kid, I had a black [panel] Deluxe Reverb. I think this is probably one of the ones that I had for 25 years," he clarifies. "The black and brown circuits are totally different, so you get that kind of sweet/salt mix. The brown Deluxe does the real thick midrange stuff and the black does the low and the high. That's kind of always been my M.O. It's never just one amp. You're mid-stacking with amps that don't necessarily do the same thing. The bigger, thicker tones you hear on the solo, that's the high-powered Twin. The more jangly stuff was the Deluxes."
"'When these chord changes get too adult for me, I'm bailing.' You just know your strengths and your weaknesses."
Joe also only used a handful of guitars on Time Clocks. "I don't keep a lot of guitars here," he says. "All I had was a Les Paul, a Strat, a 335, a Rickenbacker 12-string, an old bass from the movie Spinal Tap, the one that Nigel kept telling Rob Reiner not to touch—I actually own that one. But it was less than six guitars. I also used a Martin acoustic. All the acoustic stuff was done with one acoustic.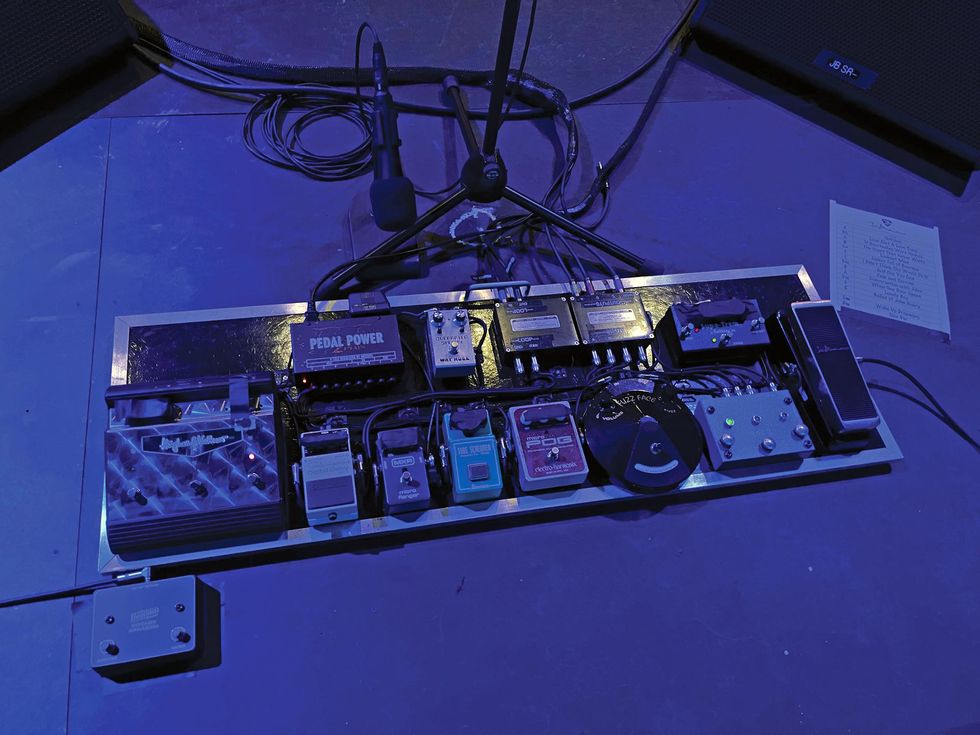 A recent snapshot of Bonamassa's pedalboard.
"In Nashville, I have all my road guitars, but to be honest with you, over the years I've never gotten into this thing where you bring 50 guitars and use five. I did that a long time ago. It's nothing but a photo op. Most of the time I bring a Whitman's Sampler of what I think would work. The days of humping in 50 guitars and setting up six racks of them and going, 'Look what I got'—that's a young man's game. That's for somebody in their 30s."
"I've been playing guitar and cranking amps for 40 years. Do you know the two things that prompt me to run away? Loud music and crowds. It's a paradox, I know."
Joe's newfound minimalism goes hand in hand with living in a New York City apartment, where even playing with an amp on 1 will get you the "broomstick on a ceiling" retaliation. "I've been playing guitar and cranking amps for 40 years. Do you know the two things that prompt me to run away? Loud music and crowds. It's a paradox, I know," he says. "So, when I'm at home and I'm enjoying a very quiet Sunday afternoon, I have zero, absolutely zero, desire to crank an amp. And I have zero-plus-5-percent desire to sometimes even practice on a given day. It gives you a break. It's important to be good at your job on a given day. It's important to also step away and give yourself some perspective, so you're not so consumed by it."
Rig Rundown - Joe Bonamassa [2018]
Every aspiring guitarist—no matter the genre—longs for their day in the spotlight. They too want to be a guitar god and inspire thousands of players and listeners, just like Joe. But what does it feel like on the other side—when you actually win?
The guitarist onstage with his frequent on-tour sparring partner in recent years, bass giant Michael Rhodes.
Photo by Debi Del Grande
"Then a whole 'nother set of circumstances come into play," he says. "It's managing time, managing your energy. It's also trying to keep in perspective what is it that you really do, because sometimes life comes at you twice as fast as it used to. All my energy is dedicated to the fans that keep me in business and come time and time again. That is 100 percent my biggest priority. When distractions and other things come into play that tend to take energy away from what you're supposed to be doing, that's the challenge. I realize I'm a very fortunate person, but I don't make any apologies for it, because, to be honest with you, that's what everybody strives for. Why should I apologize for working hard? I always tell people it's easy to dismiss, hard to replicate. If it was easy, as some claim, then it would be as easy as starting a TikTok. If it was that easy, then anybody could do it. But to be honest with you, anybody can do it. You've got to have the intestinal fortitude and the drive, and the ability to stick it out through thick and thin."
Bonamassa cradles his famed 1959 Les Paul Standard, Lazarus. The guitar was recreated for a limited-edition issue via Epiphone this year.
Older and wiser at 44, Joe, who started performing onstage at age 12, has now found time to explore other things in life besides guitar. He indulges in Law and Order marathons, is on an excruciatingly strict diet with Diet Coke as his only vice, and has found a new passion in cycling. He'll just as likely post details of his Central Park bike excursions on Instagram as he would another guitar-safari vintage find. Even with the potential danger of a career-ending fall, Joe, much like the late Allan Holdsworth—who was also an avid cyclist—is willing to chance it. "If I fall and somehow my career ends on that particular day, then so be it," he says. "I'm not going to live my life in indentured servitude to the fucking guitar. If it's over, it's over. You've got to enjoy your life."
Joe Bonamassa & Tina Guo - "Woke Up Dreaming" - Live At Carnegie Hall