An echo machine from Quebec is a ticket to sweet repeats and mutant glitchy and octave delays.
Snap! Crackle! Pop! You've never heard T-styles deliciously deformed like this pair of steamrollers piloted by noise rocker Christian Lembach.
As this Rundown unravels, your inner armchair expert (especially once we get to the pedals) may scream "gluttony." And you're not wrong, but Whores creator Christian Lembach doesn't care to be right.
"Honestly, when people say 'You don't need all that stuff,' my response is, 'No shit! I want all this stuff,'" he proudly states. "Necessity is the dumbest argument in rock 'n' roll. For me, it has nothing to do with utility—playing guitar and using all of this [gear] gives me pleasure [laughs]."
And with that spirited passion, he's been Whores' ringleader since 2010 when he formed the swaggering, strutting power trio with bassist Jack Schultz and drummer Travis Owen. The band has released a pair of blistering EPs (2011's
Ruiner
and 2013's
Clean
) that were followed by a refined, groovier, raucous sound for the full-length debut (2016's
Gold
) that featured the current lineup of bassist Casey Maxwell and drummer Douglas Barrett.
Carrying on the brash, boisterous tradition from '90s underground slobberknockers like the Melvins, Shellac, Swans, and Jesus Lizard, Whores churns out the loudest, most obnoxious (yet infectious) rock 'n' roll you won't hear on your dad's airwaves. "When rock music gets too fancy, it gets ruined. I know I'm not the world's greatest guitar player. I don't want to be," admits Lembach. "I just wanna play guitar, in a band—I just love fuzz pedals and big, loud music so much—nothing else on earth makes me feel like that."
Recently, Whores entered producer/engineer and longtime collaborator Ryan Boesch's Candor Recording to track their second album. During the process, Lembach virtually welcomed PG's Chris Kies to go over his simplistic-but-intense guitarsenal. Plus, we admire his plentiful pedal paradise (rivaling your favorite guitar store's inventory) that delivers both "flavor crystals" and "fire-breathing craziness," and he shares the two-pedal combination that "is the reason this band exists."
[Brought to you by D'Addario Auto-Lock Straps:
https://ddar.io/AutoLockRR
]
Mid-2000s Fender Classic Series '50s Esquire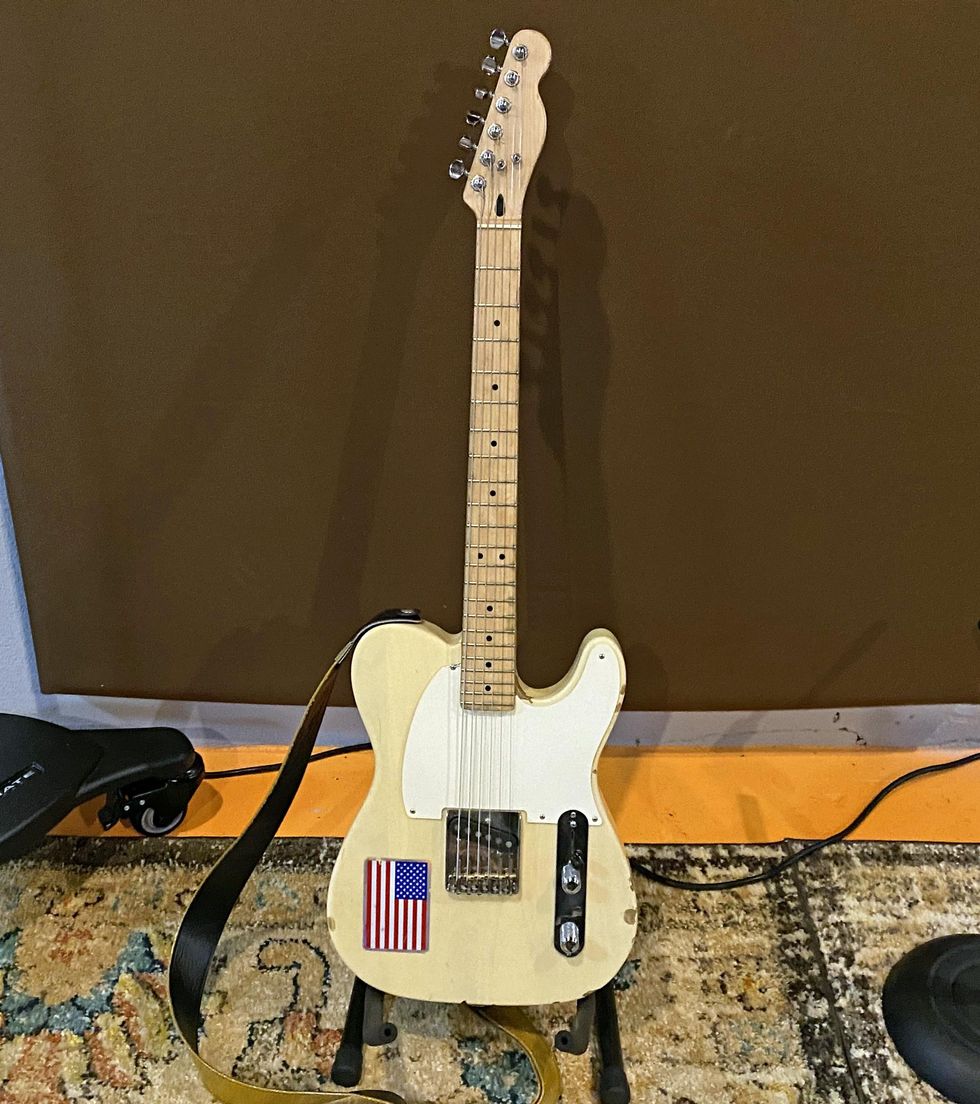 You might not believe it (especially if you take a gander down at his feet and the three pedalboards), but Whores' ringmaster Christian Lembach likes to keep it simple … at least with guitars. His longtime No. 1 is this mid-2000s Fender Classic Series '50s Esquire (MIM). However, that wasn't always the case. He originally pulled the trigger on this reissue to serve as a backup for his then go-to axe (a Fender American Standard Telecaster). Before he trusted the Classic Series for the road, he had to replace the anemic stock single-coil. A friend offered a solution by way of a spare Schecter F520T. Christian wired it into the T and, wham-o, the Esquire instantly became his Excalibur. (Because of the F520Ts being out of production (it's connected with Mark Knopfler in the "Walk of Life" video), Christian has since opted for obtainable F520T recreations—wound and wired by German pickup maker Harry Häussel, and aptly called Walk of Life—in his stage guitars.)
In the Rundown, Christian breaks down the pickup's special DNA: "It's basically an overwound single-coil that has half of the winds in one direction and the other half of the winds in the opposite direction, so you could coil-tap if you want. I don't have it tapped. I have it on full blast, all the time."
He also revels in the Esquire's often misunderstood switching setup. (Why in the hell is there a 3-way switch for a one pickup guitar?!) In the back position, it's just the standard Tele bridge sound that bypasses the tone circuit. The middle slot is your standard Tele bridge setting that brings back in the tone control. And the "neck" or third position removes the tone circuit again and activates a bass boost. He loves how dark and loud that last setting is because, when smeared with fuzz, it balances out for a lively, laser-like tone. Other repairs, upgrades, and switches include an Amazon-purchased, 6-saddle brass bridge, a Mighty Mite maple T-style neck, Hipshot locking tuners, and a bone nut.
The band usually lives in drop-C tuning (CGCFAD), and he plays with light picks (.60 mm) paired with heavy strings (.013–.056). That sort of imbalance allows Christian to hammer on the strings without walloping them out of tune.
MJT Musikraft VTM Telemaster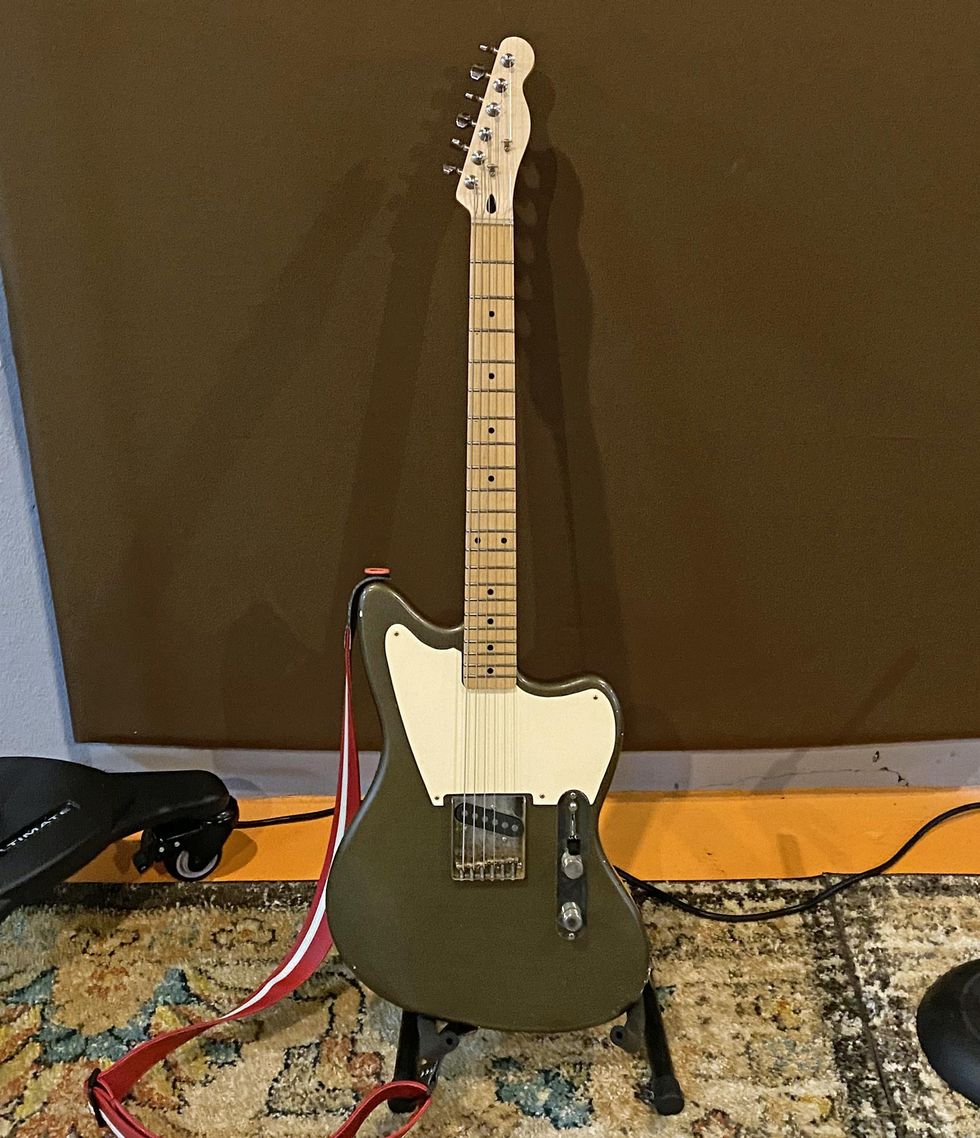 This Fullerton knockoff features all of the same ingredients as the T (Amazon bridge, Mighty Mite neck, Hipshot locking tuners, bone nut, Esquire circuitry, Häussel Walk of Life pickup), but with a MJT Musikraft VTM body. He admits that this one is closing in on the No. 1 slot, because the beveled body is easier on his picking-hand forearm, which gets shredded by the slab-bodied Esquire.
Acrylic B.C. Rich Mockingbird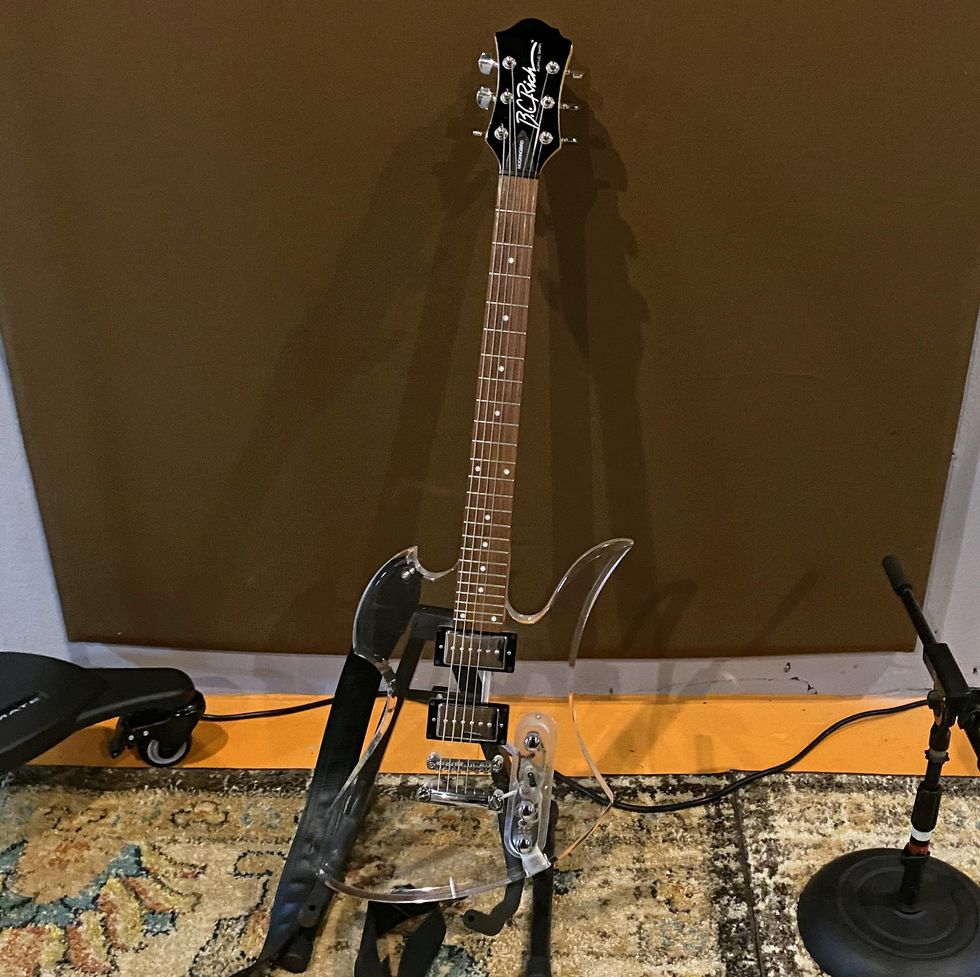 During one of Whores' Canadian tours, Christian blew out his knee. (In true rock 'n' roll fashion, he continued the tour and performed sitting down.) While at home recovering from surgery, he was browsing online and came across this acrylic B.C. Rich Mockingbird. He screenshot the bodacious instrument and shared it on his social media because it was that cool. Well, friend and fan John Cooper bought the guitar and contacted Lembach, who appreciated the sentiment but said he had no spare cash for the instrument because of the surgery. Christian didn't realize that Cooper bought it for him as a gift. The below guitar might not see a lot of stage time (our necks hurt just looking at it), but it will always have a special spot in Lembach's boat.
1960s Marshall 100W Super Lead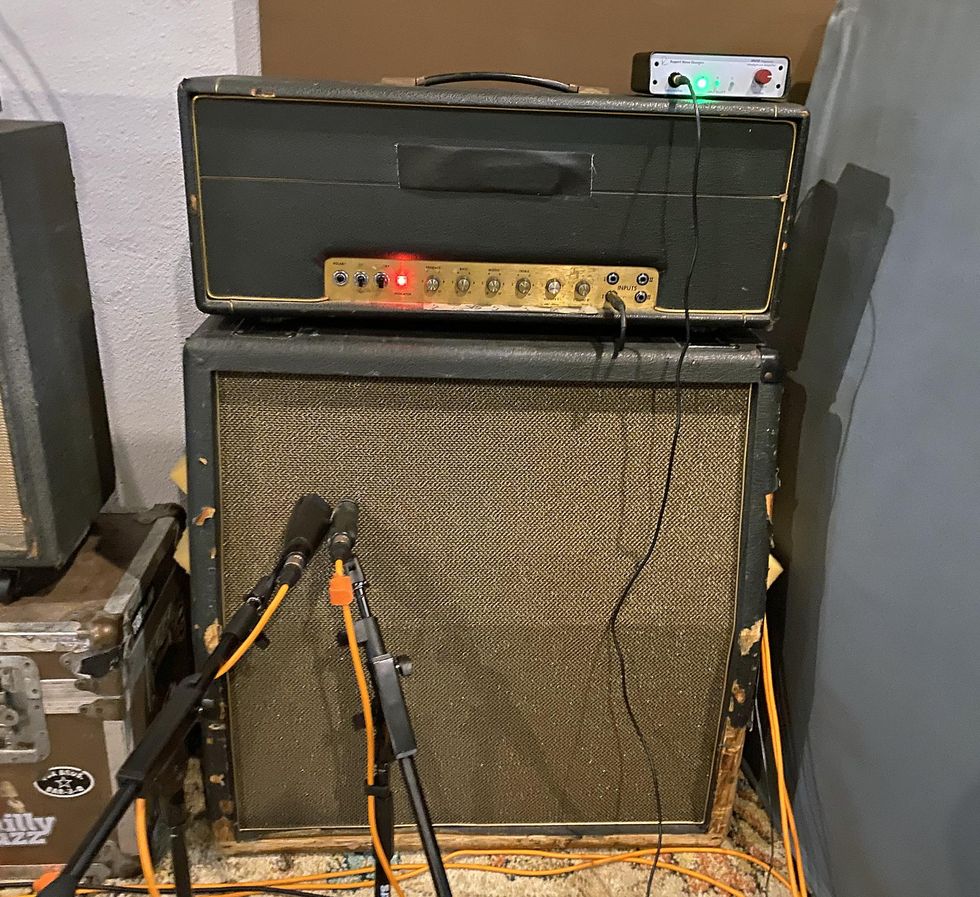 For his auditory assault, Christian packs a one-two Marshall punch. Below is a late 1960s (or possibly early '70s) 100W Super Lead. He runs that through a Marshall JCM800 1960A Slant 4x12 cabinet filled with Celestion G12T-75s.
2000s Marshall 1959SLP 100W Plexi Reissue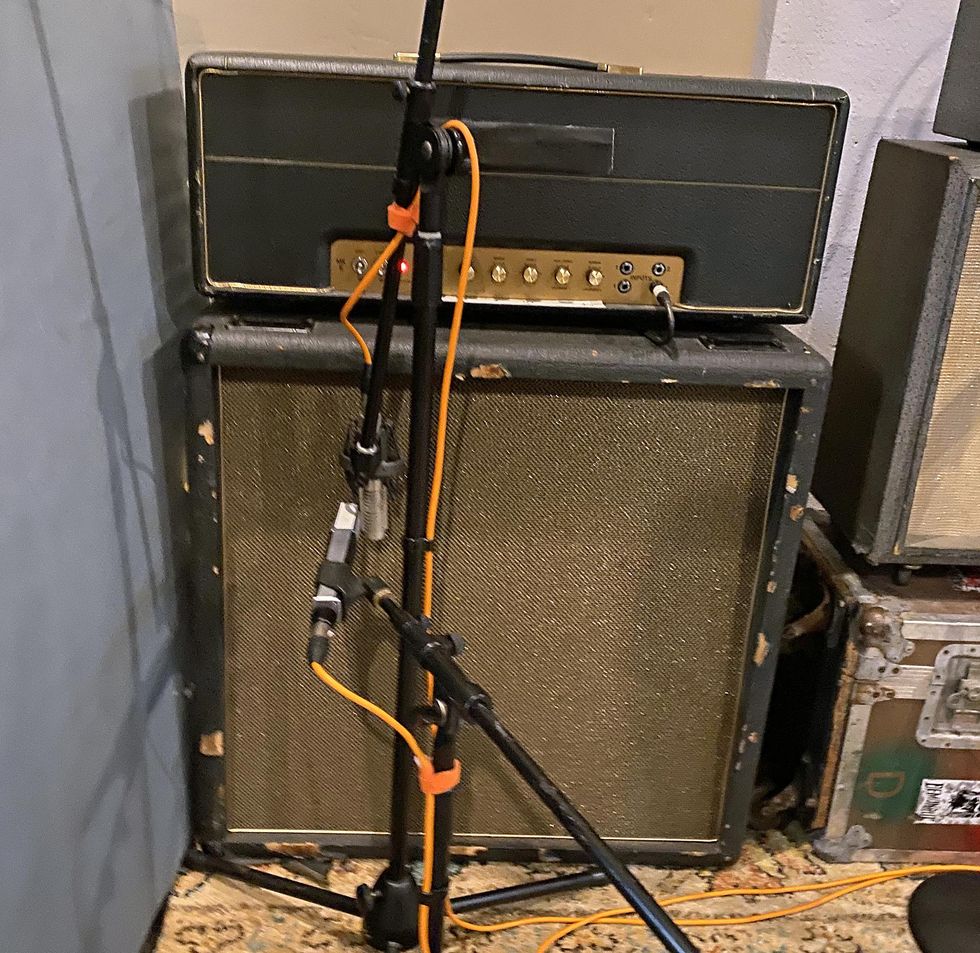 The second part of the amp equation is this 2000s Marshall 1959SLP 100W plexi reissue. This one hits a Marshall JCM800 1960B straight 4x12 cabinet that's also loaded with Celestion G12T-75s. Both of the heads have lower gain than stock plexis, because Lembach put in 12AU7 preamp tubes. To give himself even more headroom, he plugs into the low inputs and both heads have been upgraded with Mullard or Tung-Sol EL34s. (He plugs into channel 1 of the original Super Lead, which is internally jumpered, while he plugs into the low-input channel 2 of the reissue.)
1960s Silvertone 1484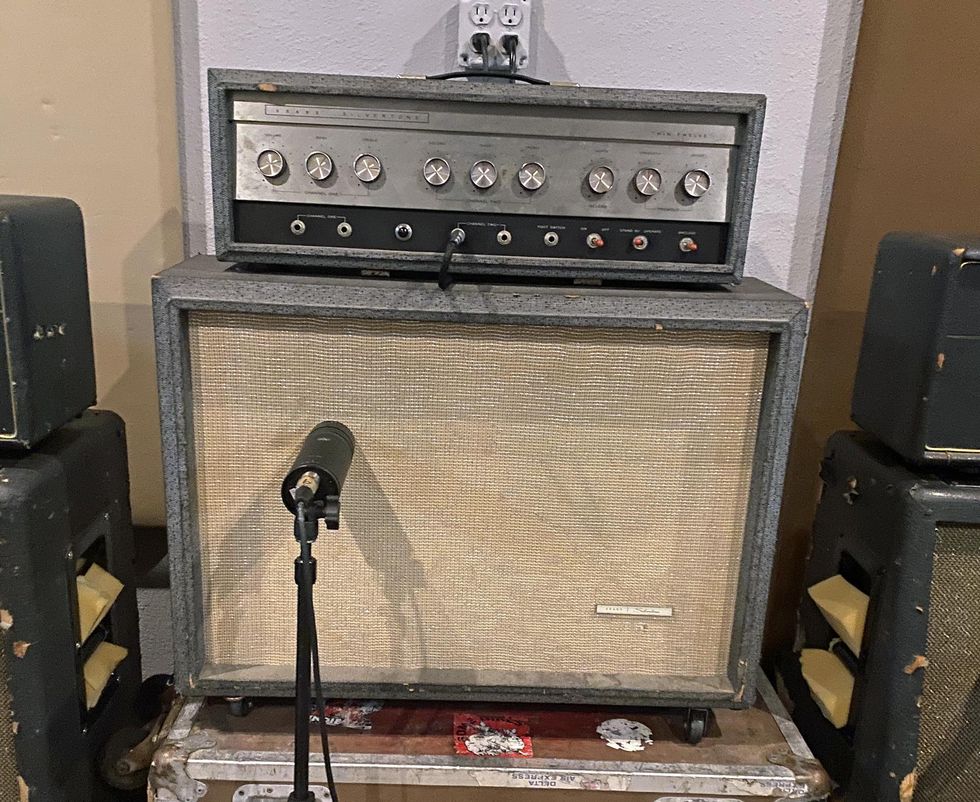 His latest gear acquisition before entering the studio was this 1960s Silvertone 1484 head and cab.
Christian Lembach's Pedalboard #1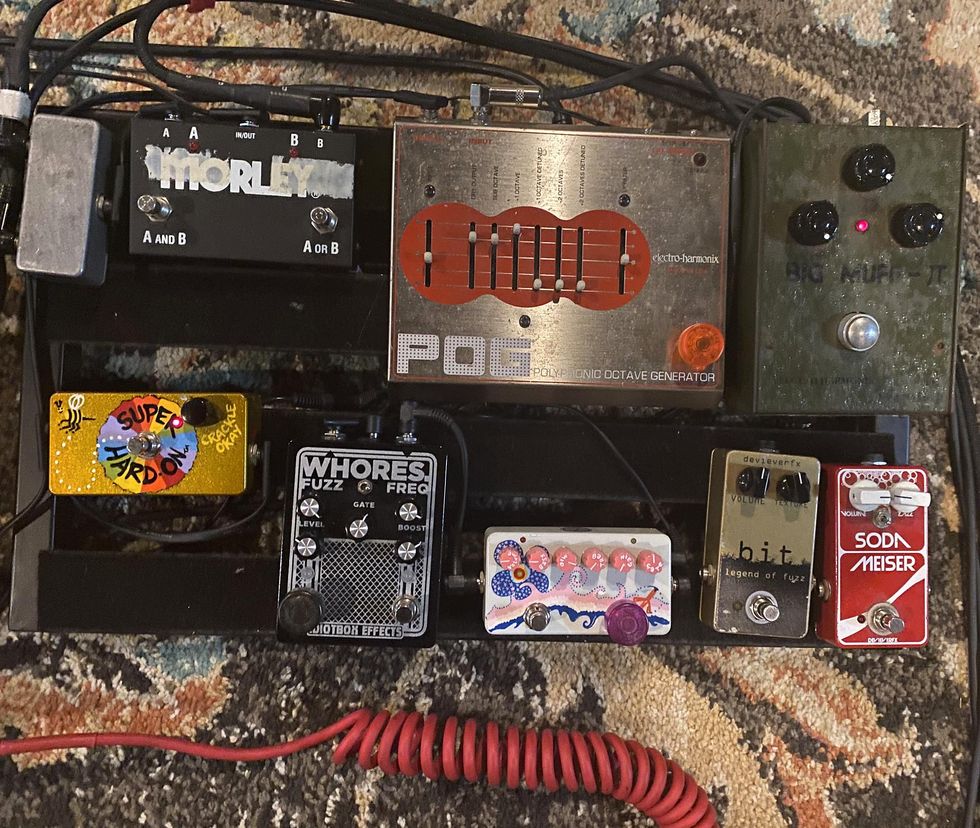 We were lucky enough to swoop in to producer/engineer Ryan Boesch's Candor Recording while Whores tracked their new album. (Lembach does admit to traveling with a lot of pedals, but this amount is insane and for studio shenanigans.)
To try to make sense of this plethora of pedals, let's start at the end. Christian divides his pedalboards into two paths. The A loop is everything except what's in loop B. The B loop is the always-on, menacing combination of the ZVEX Super Hard On ("SHO" as Lembach calls it) and the green, tall "bubble font" Russian Big Muff. "That combination is literally on every song we've ever recorded and is used on every song we perform. It's the reason this band exists," he says.
Lembach has it set up this way so he can go from any sound conjured in the A loop to the aforementioned destructive duo on a dime. (In the next photo, you'll see a small, non-descript gray box in the lower-right corner that switches between A and B loops.) Everything else on this board (lower right) includes a pair of Devi Ever FX stompbox (a Soda Meiser and a Bit: Legend of Fuzz), a ZVEX Box of Metal, signature IdiotBox Effects Whores Fuzz/Filter, and an original Electro-Harmonix POG. A Morley ABY box switcher commands the Marshalls.
Enter to win Christian's signature IdiotBox Effects Whores Fuzz/Filter!
Christian Lembach's Pedalboard #2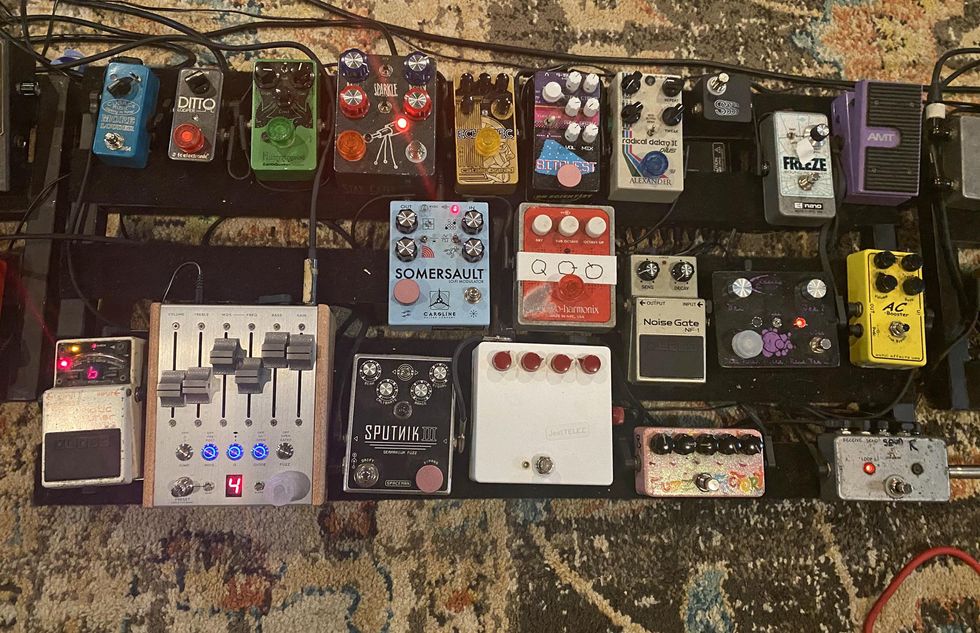 Moving left, the pedal parade continues (bottom right) with a ZVEX Fuzz Factory, Jext Telez White Pedal (fuzz/overdrive), Spaceman Effects Sputnik III, and Chase Bliss Audio Automatone MKII Preamp. (Those last two pedals were both presents from his better half.) The middle row consists of a Caroline Guitar Company Somersault, EHX Micro POG, Boss NF-1 Noise Gate (because of Steve Albini), Keeley Nova Wah, and an Xotic AC Booster. And the top row starts with a Cusack More Louder clean boost, TC Electronic Ditto Looper, EarthQuaker Devices Hummingbird, Hungry Robot Pedals Stargazer (V1), Catalinbread Echorec, Dr. Scientist BitQuest, Alexander Pedals Radical Delay II Plus, JHS Stutter (small black box), an EHX Freeze, and an AMT Electronics Japanese Girl Wah. A Boss TU-2 Chromatic Tuner keeps his guitars in check. While he doesn't claim to have Eric Johnson's hear-the-difference-in-9V ears, Lembach does claim to distinguish differences between all his fuzzes and filters.
Christian Lembach's Pedalboard #3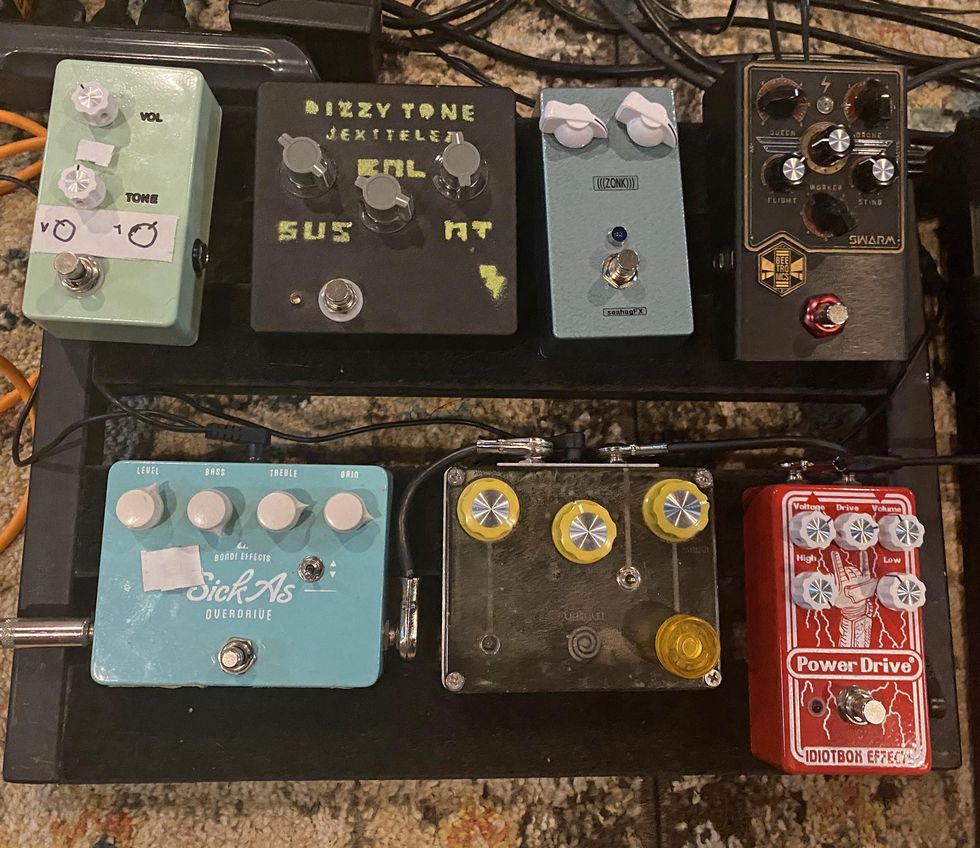 This last board is specific to studio experimentation. It has an IdiotBox Effects Power Drive, Spiral Effects Yellow LM741 Overdrive, Bondi Effects Sick As Overdrive, Beetronics Swarm, seahagFX Zonk (clone), Jext Telez Dizzy Tone (OC44 transistors, for pedal nerds), and a Montreal Assembly Your and You're (fuzzy synth).
Deceptively simple—this straight-ahead rocker is a many-toned, stereo-enabled scorcher with a subtle side.
Very well made, cleverly simple yet deceptively versatile. It's a superbly playable guitar that translates easily to a wide range of playing styles.
4.5
5
5
3.5
Further stretching the reach and diversity in its Artist Series, Ernie Ball Music Man's latest offering beautifully embodies the subtle power of the player that gives it its name. Dustin Kensrue has shepherded his band Thrice's development from post-hardcore/punk thrashers to more mature and evocative stylists, and forged a flourishing solo career as a singer/songwriter plumbing the emotive depths and possibilities of heavy rock. Appropriately, the new Dustin Kensrue StingRay from Ernie Ball Music Man is subtly beautiful, restrained, powerful, and surprisingly adaptable.
Outwardly, the Dustin Kensrue Artist Series is a classic StingRay. And just about any player or fan of this unheralded Ernie Ball Music Man model could find inspiration in this guitar, regardless of their perspective on or knowledge of Kensrue's style and tone. But it's built around several features that are unique in an already varied StingRay lineup.
Clean: Guitar's mono output into a Twin Reverb preset on the Quad Cortex; 0:00 – bridge pickup , 0:16 – middle position, 0:34 – neck pickup.

Mean: Guitar's mono output into a Boogie MkIIC+ preset on the Quad Cortex; 0:00 – bridg pickup, 0:55 – neck pickup.

Stereo: Guitar's stereo output—recorded all in the same single take—into two different treatment paths in the Quad Cortex: neck pickup into a pitch shifter for faux-12-string; bridge pickup into high-gain amp. The two are gradually blended together.
Down Time
While the StringRay body shape nods at Music Man's strong Fender family heritage, the satin TV blonde finish on our test guitar (a dark satin tobacco burst is also available) is sprayed over a very Gibson-like African mahogany body that lends the StingRay range unexpected heft. But the mahogany also lends a warmth and reactivity that extends the sonic palette.
The neck joins the body using a refined and practical 5-screw attachment and sculpted heel. It's carved from solid maple in the maker's appealingly comfortable "C" profile, with a vintage-tinted satin finish and rosewood fretboard. There are 22 medium-jumbo frets, a 10" fretboard radius, and a 1 5/8" width at the nut, which is compensated for precise intonation. Scale length is 25 1/2".
While those specs look pretty conventional, you'll notice something very different about this guitar when you start playing. String gauges are Kensrue's choice of .011–.058, and the guitar comes tuned to his preferred D standard. The D standard tuning is not mandatory, of course, but everything certainly sounds and feels bigger and more muscular in this configuration. The guitar is easy enough to set up for E standard and lighter strings, too.
Despite its simplicity, it is a canvas across which you can paint just about any tone color.
The Dustin Kensrue StingRay further differentiates itself by way of its pickups. A medium-wound Ernie Ball Music Man single-coil in the neck and a Ernie Ball Music Man humbucker in the bridge are selected via a 3-way toggle switch on the small chrome control plate. It's also home to a concentric volume/tone control, which is a smart, easy, no-look way for a singing guitarist like Kensrue to make those adjustments on the fly. The lower horn is home to a small black mode button, which is easy to miss until you start exploring up close. When the button is up, the standard neck/combined/bridge selections are routed to a mono output. In button-down mode, however, the circuit taps each pickup individually and sends the signals to a stereo output for processing via two amps, or two channels on your modeler of choice. (Kensrue often makes use of a Line 6 Helix.)
Hardware includes Ernie Ball Music Man's impressively stable, 2-post floating vibrato system and locking Schaller tuners. The guitar is also equipped with the 9V-powered silent circuit hum-cancelling system.
Super Thumper
It's little surprise that the Kensrue StingRay is super playable and easy to get comfortable with. Ernie Ball Music Man's reputation on that count is well founded. Nor is it surprising how ferociously and readily this seemingly simple instrument takes to being amped up and played with attitude. But for all that bold, trenchant, lively core tonality and simplicity, the Kensrue is a canvas across which you can paint just about any tone color.
It excels at mellow jangle, warm ballad tones, and crushingly heavy rock. It also loves raunchy garage and swaggering roots and twang moves. If you're worried this guitar will pigeonhole you into some kind of Thrice/Kensrue style compartment, forget it. The mono/stereo capabilities are stupidly easy to use, and I had fun crafting wildly divergent dual-path rigs on a Neural DSP Quad Cortex (simultaneous faux-12-string from the neck pickup and high-gain metal from the bridge, anyone?). Suffice to say, this is a guitar that will do just about whatever you want in brilliantly straightforward fashion.
The Verdict
Deceptively streamlined, the Dustin Kensrue had me skeptical at first. (A stereo guitar that ships in D standard can do that.) But the design is so well executed, and the guitar so appealing, that I ultimately found its musical potential addictive. The build quality and playability are outstanding. It sounds great in the most straight-ahead settings or at the extremes of its stereo-enabled potential. And the clever pickup and switching complement make it ridiculously versatile. With powerful modelers becoming a go-to solution for more and more guitarists, it's also easier to leverage the stereo output and create mammoth tones in the process. Well done Ernie Ball Music Man—and Dustin Kensrue.
The good vibes, retro rocker remembers his "cool" aunt sneaking him some quintessential rock cassettes that led him to the watershed album and forever changing his life's course.
See it in action in the Rig Rundown!
Rig Rundown - Whores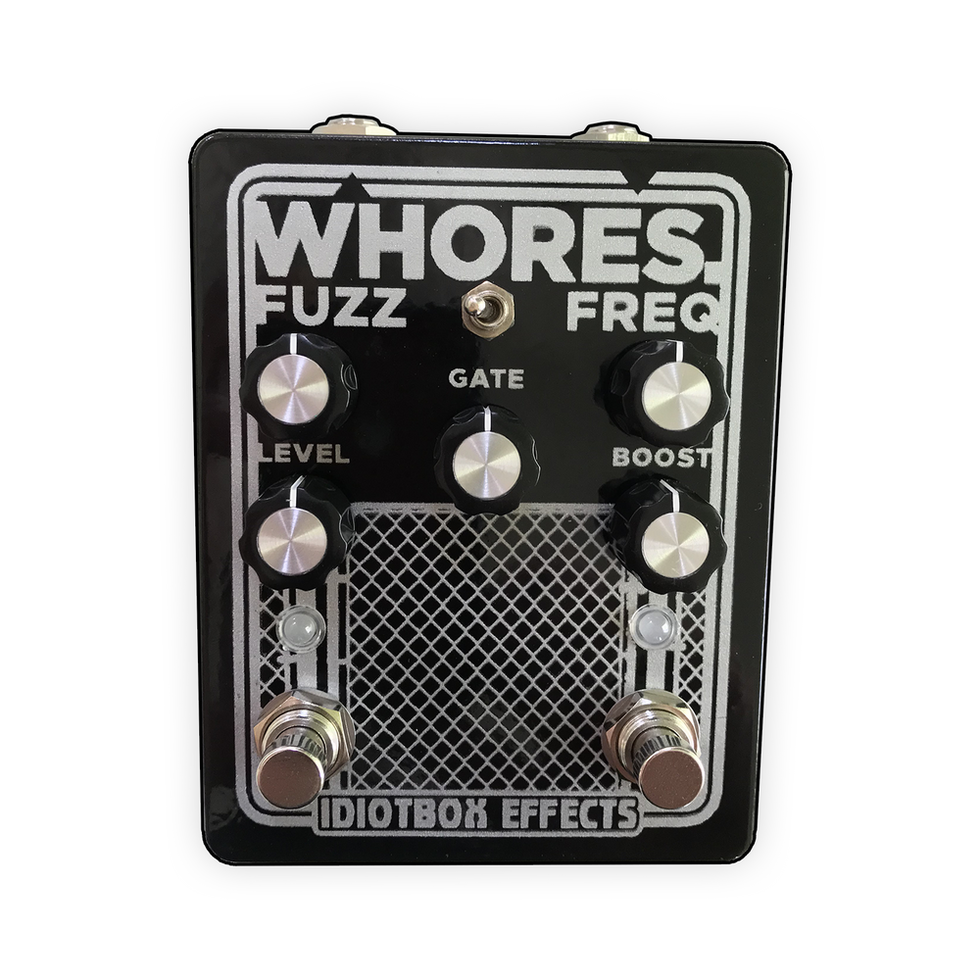 The Fuzz Freq is two effects in one. The Fuzz Freq is a gnarly 80's Russian germanium transistor fuzz and a wah style filter that can be used together or separately.
The rad thing about this is that you can switch which effect runs into the other. Toggle switch to the left and you've got fuzz into filter. Switch to the right and its filter into fuzz.
Separate foot switches for the fuzz and frequency filter, controls for fuzz, filter frequency, volume, gate and clean boost.
Used on the songs "Playing Poor" "Baby Teeth" and "Participation Trophy" from the "GOLD." record.
Specs:
4.7″ x 3.7″ x 1.18″ enclosure, true bypass switching, common 9vdc center negative 2.1mm BOSS style power input. Current draw ?mA. Power supply not included.
Idiot Box Effects
The guitar is loaded with all of the features that define the Silhouette, now with an added Bigsby B5 vibrato.
Harmony, the world's most cherished maker of musical instruments, today announced the launch of the Harmony Silhouette with Bigsby, shipping globally in August. Proudly made in the USA, the guitar is loaded with all of the features that define the Silhouette, now with an added Bigsby B5 Vibrato for endless tonal possibilities.
Building on the success of the Silhouette, Harmony listened to their community who called for even more versatility. Enter the Harmony Silhouette with Bigsby, the perfect addition to the guitar's sought-after style and sound. Featuring the same unique body shape, premium tonewoods, proprietary gold foil mini-humbuckers and custom hardware, the added Bigsby B5 Vibrato melds distinctive tones from the Silhouette with expressive vibrato from the Bigsby. The model is available in Burgundy, Slate and Space Black color options.
The Harmony Silhouette with Bigsby is shipping in August, available at $1,549 (US MAP) via select dealers.
Patrick Breen Introduces the Harmony Silhouette with Bigsby Electric Guitar