3rd Power Amplification Introduce Switchback 112 Extension Cab and Hand-Wired AB Channel Selector Pedal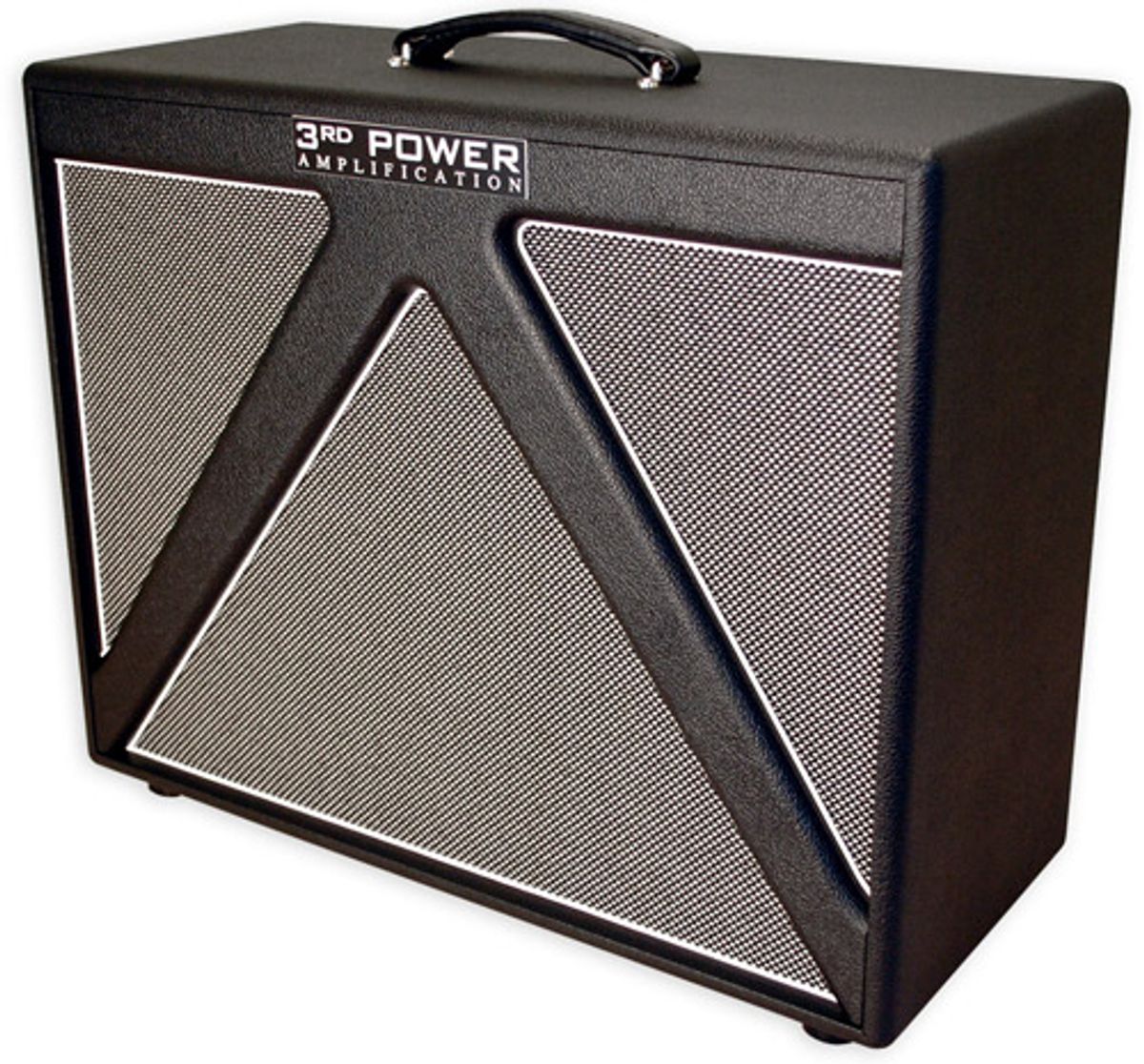 The additions will be showcased at Summer NAMM in Nashville
Nashville, TN (July 6, 2011) -- Following the launch of the
British Dream amplifier and Switchback 312 cabinet
at NAMM 2011, 3rd Power Amplification is launching the Switchback 112 speaker cabinet. In keeping with the "Dream"
and "Switchback" concepts, triangle speaker chamber contained within
a rectangle outer shell, this new compact 112 cabinet attains a similar
sonic experience typically associated with 212 designs in a cabinet
that's 35 percent more compact, all with what 3rd Power says is an enhanced clarity via a
wider, smoother frequency response and dispersion pattern than any
other single 12" cabinet currently on the market.
The Switchback 112 employs 3rd Power's patent-pending signature
Switchback porting system on the back of the cabinet. Computer
tuned to extend the low frequency response, the triangular port behind
the speaker gives the user a choice closed- or open-back sound,
effectively doubling the tonal possibilities of whichever amplifier the
cabinet is paired with.
The Switchback range of
speakers come in three sizes (112, 212 and 312) and utilizes, for the
first time on the market, triangular speaker chamber construction.
This technology is based on minimizing parallel surfaces
within the speaker chamber to reduce internal reflections and their
associated interactions that can result in uneven comb-filtered
responses to the sound.
3rd Power has priced the new Switchback 112 at an introductory
$699 in its standard configuration, which includes a premium ceramic
magnet 12" loudspeaker. Optional upgrades are also available.
AB Channel Selector Pedal

3rd Power's AB Channel Selector hand-wired pedal gives guitarists a quick and easy way
to instantly switch between two discreet output paths from one input
source. Bright red and blue LED's display the selected status of the
audio signal flow. Primarily designed as a means of channel switching
its Dream Series amplifiers, the unit functions equally well when
deployed as a switching device to select between two different effects
setups, amplifiers or switch between an amp and tuner.
The AB Channel Selector's hand-wired point-to-point circuitry delivers
a direct signal flow to the selected output. Meanwhile, the unused
signal path is shorted to ground to eliminate excess noise from the
connected yet inactive device. Bright red and blue LEDs are utilized to
display the status of the active signal path. A red LED lights to show
that output "A" is currently selected and active. Alternatively, a blue
LED lights to show that output "B" is currently selected and active. The
LEDs are powered by an on-board 9V battery and alternatively via an
external power source when connected to a standard 9V DC power
supply. Audio connections to the AB Channel Selector are made via
standard ¼" phono jacks. The unit bears the unique styling of 3rd Power's Dream Series amplifiers.
3rd Power has priced the AB Channel Selector at $129 (retail).
The
Switchback 112 cab and AB Channel Selector will make their public debut at the Summer NAMM
Show in Nashville, July 21-23, 2011. 3RD Power Amplification is located
in booth #1525.
For more information:

Source: Press Release