After conquering Guitar Hero II, she's reimagining acoustic guitar with two-hand lap tapping, percussive flourishes, and washing it all through reverb and modulation.
Yasmin Williams' gateway drug to guitar was a video game. After defeating Guitar Hero II (on expert, no less), her parents encouraged the budding interest by giving Yasmin an electric.
"I guess they were impressed that I beat the game," admits Williams. "They got me an electric first and so I learned Hendrix and Nirvana songs. I really wanted to be a metal-head shredder like Paul Gilbert and Steve Vai … that didn't work out [laughs], so I switched to acoustic because I could lay the guitar across my lap and tap on the neck much like playing the harder, faster songs on Guitar Hero."
In addition to playing the acoustic guitar (in traditional and non-traditional styles), Williams sprinkles in toe-tapping percussion (yes, she wears tap shoes that dance on a board that rest on her guitar's case), cello-bow drones, metallic-hammer touches, and even dabbles in traditional African instruments like the kalimba and kora.
She's joined the venerable instrumental label Spinster (women-run label), shared the stage with fingerstyle icon Kaki King, and aims to continue expressing herself through the guitar with any means necessary.
She's been playing for over 10 years and released two buoyant, joyful instrumental records—2018's Unwind and 2021's Urban Driftwood. Her most recent collection of songs was an empathetic and uplifting response to U.S.'s social unrest in 2020.
Just after putting out her latest album, the one-woman ensemble virtually welcomed PG's Chris Kies into her D.C.-based rehearsal studio.
In this episode, the unconventionally great guitarist shows off her main instruments, illustrates how she expands the acoustic guitar's possibilities (incorporating two-hand lap tapping, an Engle hammer, and a cello bow), and gets wild and weird with a pair of digital dreamers—a Strymon BigSky and Hologram Electronics Microcosm.
[ Brought to you by: D'Addario Pro Plus Capo]
Skytop Grand Concert Multi-Scale Acoustic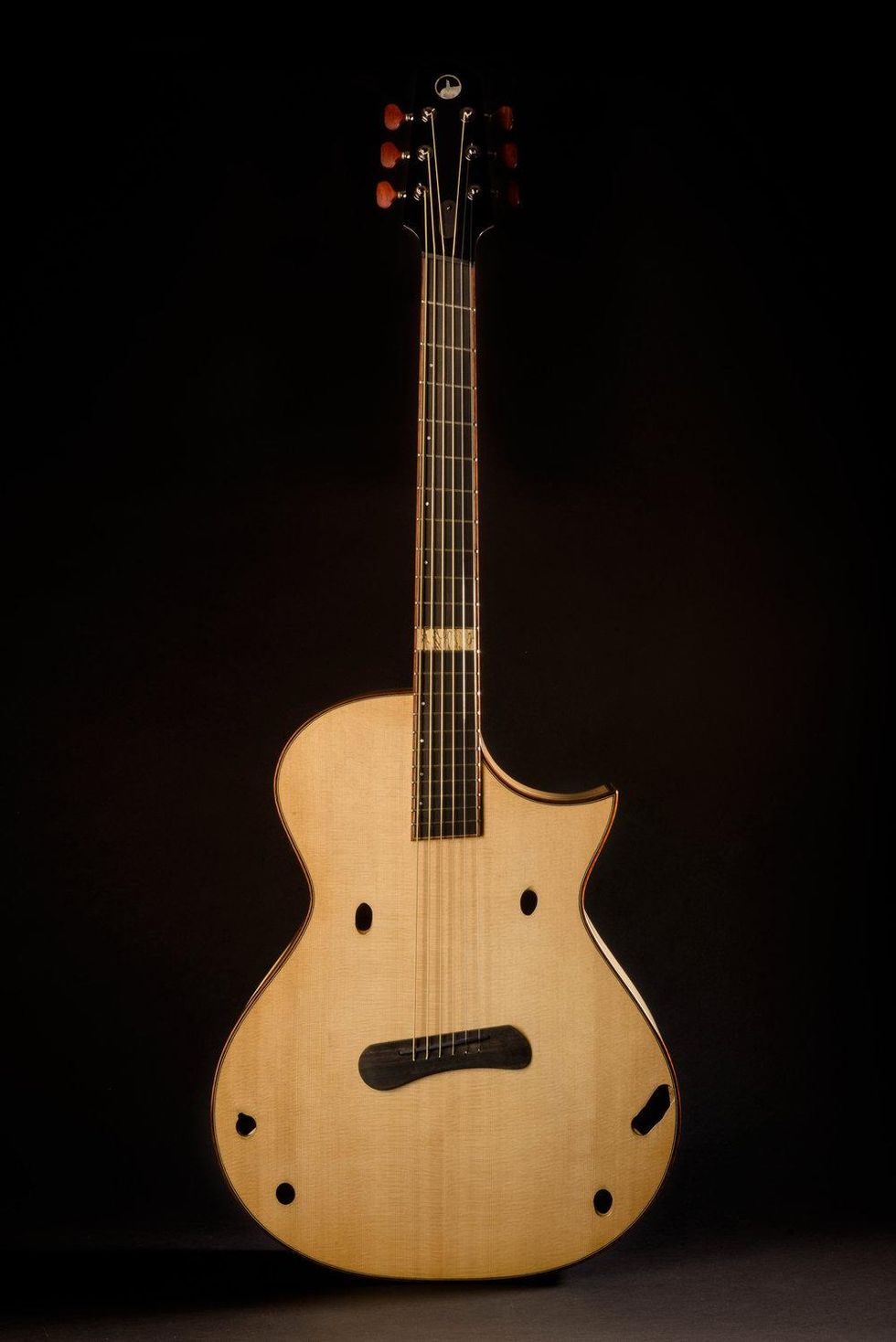 Above is Williams' mainstay acoustic—a multi-scale Skytop Grand Concert model handbuilt by luthier Eric Weigeshoff. No, your eyes aren't deceiving you, the teredo Sitka spruce top does have holes in it. Before coming to Weigeshoff's New York-based shop, the sourced Sitka was used in the PNW to line around rafts accessing the Puget Sound. The teredo worms chew through the logs, boring out unique patterns and grooves. The use of the holed tonewood enhances Williams' percussive playing style. In addition to the teredo holes on top, Weigeshoff put in two of his signature side soundholes that create a stereo effect allowing her to hear herself better onstage.
Her No. 1 came loaded with James May Engineering Ultra Tonic V3 pickups. The Skytop takes GHS Silk and Steel (.011–.048) strings, she goes with a Black Mountain thumbpicks, sometimes strikes the strings with an Engle Guitar Hammer, and exclusively uses Shubb Capos. The guitar will be in all sorts of tunings, but most often it rides in open D ("because things just sound beautiful and light").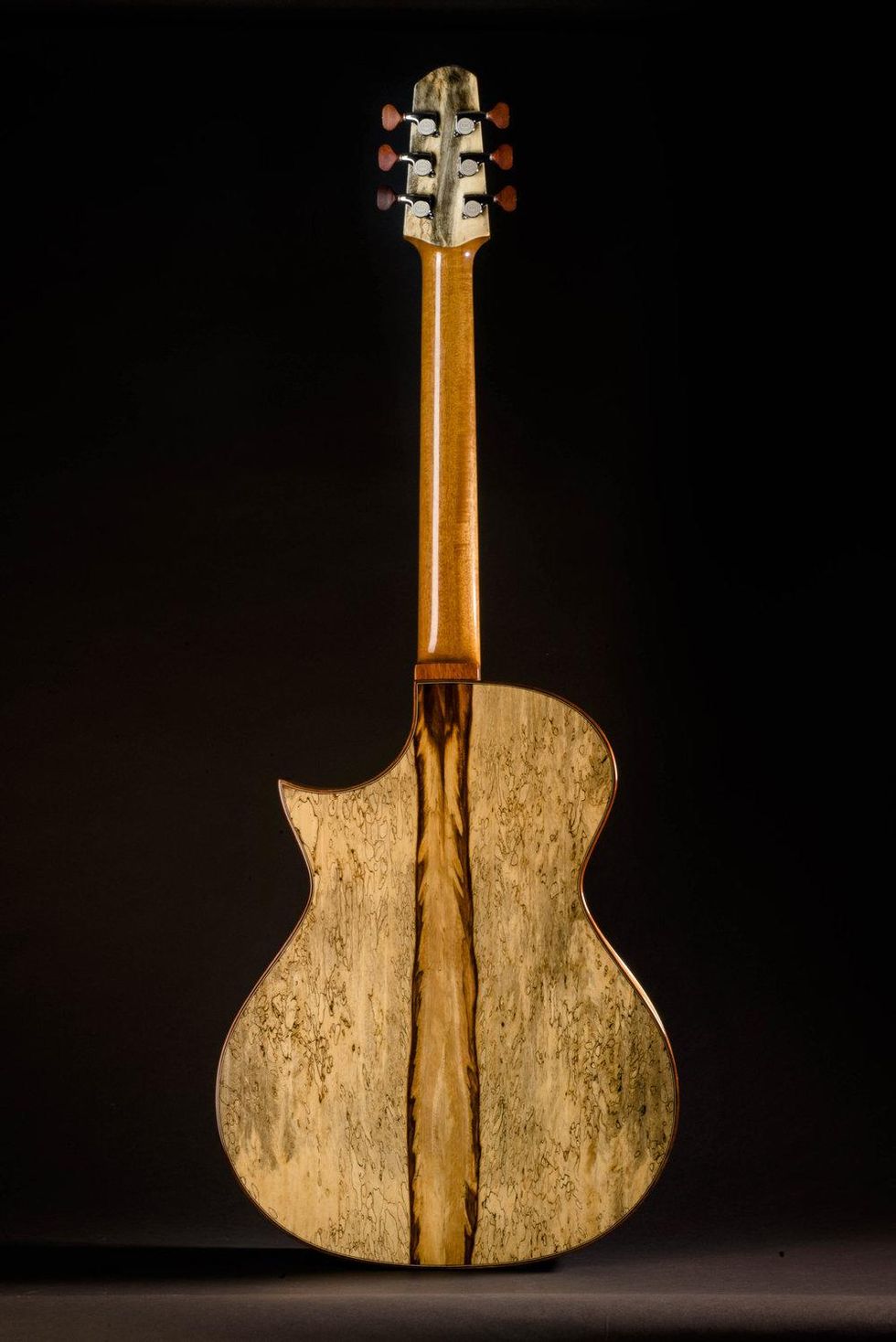 Here's the reverse side of Yasmin's Grand Concert with its stunning spalted tamarind used for the sides and back.
Timberline Guitars T60HGHpc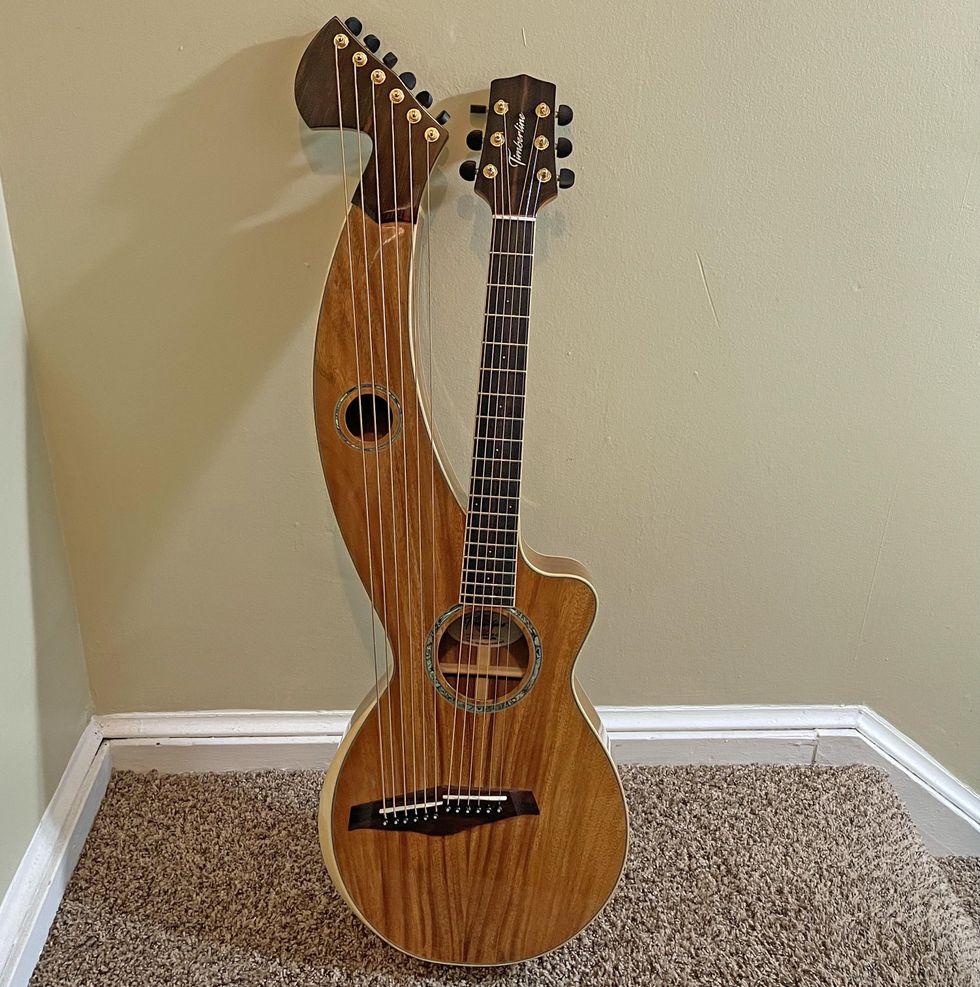 "I never thought I'd get a harp guitar," admits Williams. "It just looks like too much is going on [laughs]." However, when she was introduced to this parlor-sized Timberline Guitars T60HGHpc during NAMM 2020, the idea of a harp guitar was more in her grasp.
Its top, back, and sides are made from solid acacia, while the mahogany neck is paired with a Macassar ebony fretboard. Tamarind is used for the comfort arm bevel and it's also used as binding to contrast against the acacia body.
The double-neck harp is outfitted with a dual-output system that uses a pair of 3-element contact K&K Sound Pure Mini pickups.
And the upper sub-bass strings are typically tuned to a g scale.
21-string Kora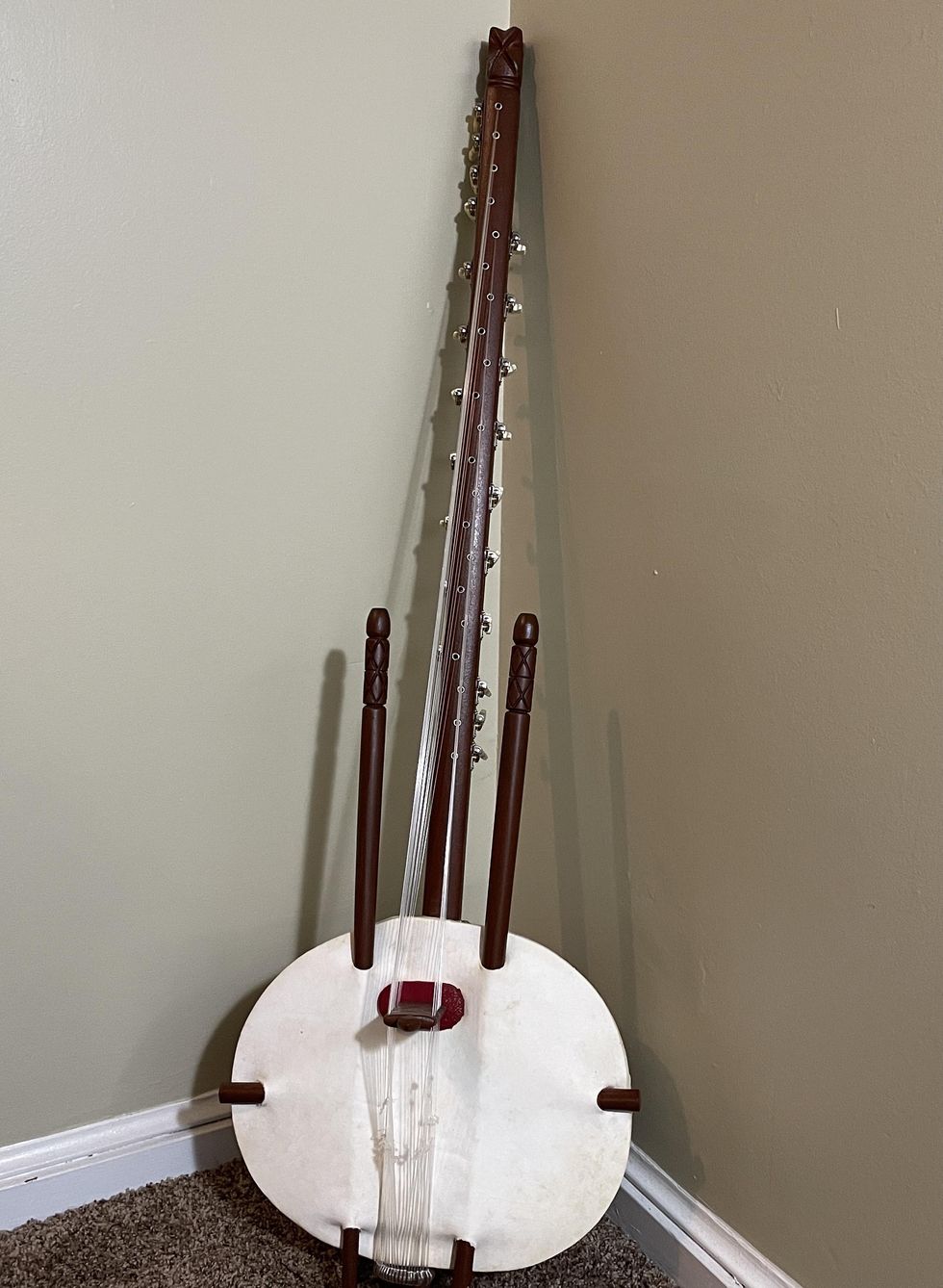 Another instrument Williams will pluck on is this 21-string Kora. The instrument is native to West Africa and was developed in the 16th century.
Hugh Tracey Kalimba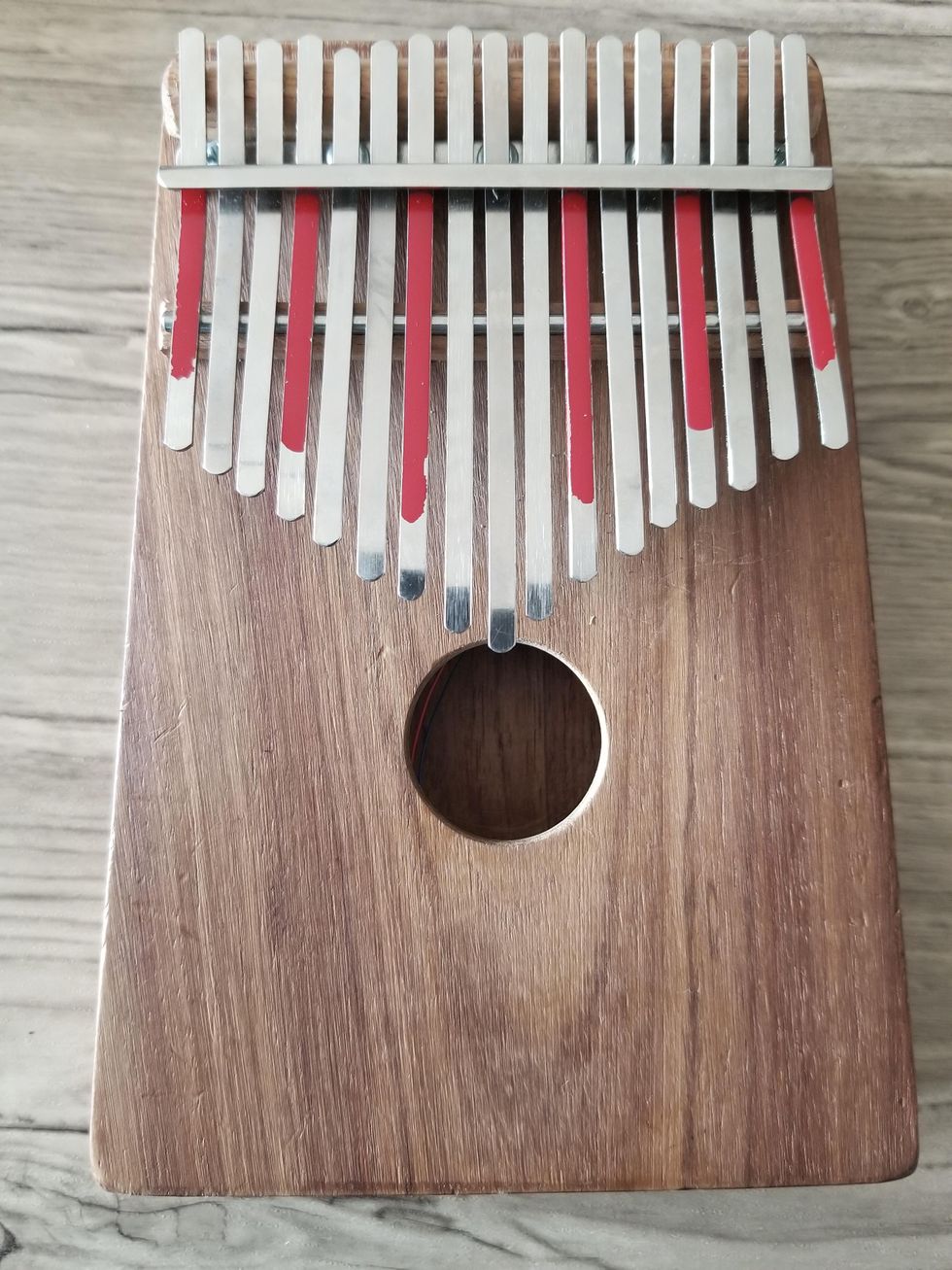 As a child, Yasmin loved Earth, Wind & Fire's hit "Kalimba Story" (off Open Our Eyes) and it inspired her to add it to her onstage repertoire. In practice, Williams will rest this Hugh Tracey Kalimba on her acoustic's top (behind the bridge) and tap out melodies on the guitar's neck with her left hand and hit the kalimba with her right. (A great example of her dexterity is the song "Guitka" that closes out her debut album, Unwind.)
Yasmin's Pedalboard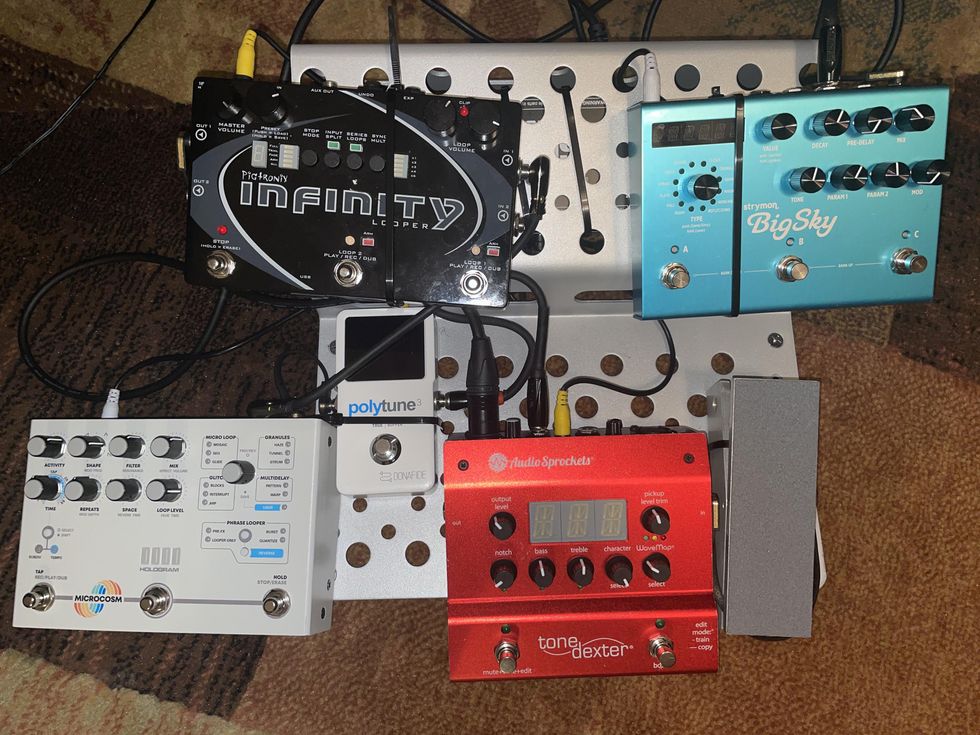 Since finding her footing with the acoustic guitar, Yasmin has been slowly filling her Holeyboard stomp station. (She's a big fan of the Holeyboard because she can test out new pedals without the long-term commitment of Velcro and its residual gooeyness.)
Her pedals (going from utilitarian to oddball) include a TC Electronic PolyTune 3 and Loop Community Looptimus (not pictured). Then we have the Audio Sprockets Tone Dexter that allows her to map her recorded guitar tone and blend that with her soundboard pickup almost giving her acoustic a 3-D sound. Next she has the Pigtronix Infinity Looper, a Strymon BigSky, and the zany Hologram Electronics Microcosm.
For 30 years, new tunings and sounds, collaborations, and staying in the moment have been the acoustic guitar slayer's bedrock, but making music to "amplify truths" is what really keeps her inspired.
How Dave Matthews Led Cory Wong to Ani Di Franco | Wong Notes Podcast
The guitar brothers highlight how their teenage selves fell in love with the 6-string life thanks to School of Rock, the Chili Peppers, Hendrix, Neil Young, and the Beatles.
You could WIN a Bass9 from Electro-Harmonix in this week's all-new giveaway!

How today's vintage-authentic pedal builders meticulously recreate the dirty sounds of the past.
Stompboxes are made so, so many different ways—especially when it comes to the construction of the circuitry inside. Most builders today use modern surface-mount technology, others adopt the older method of using through-hole components, and some employ a mixture of both to create their circuits.
But there is a growing league of builders out there who specialize in making classic renditions of fuzz and dirt pedals the old-fashioned way: point-to-point style, completely by hand. What this means is that instead of the parts being soldered to a circuit board, they are connected directly to each other—the same way many vintage amplifiers were built, and a method still used by many high-end boutique amp makers.
The enclosures for these pedals are often fashioned to pay homage to the look of the stompboxes of yesteryear, complete with that relic'd patina and sweet name badge. Often, the aesthetic and art of this style of building pedals produces quite elegant results, both sonically and visually.
The circuits inside typically include just a handful of parts. The heart and soul of the process involves hunting down period-specific components (ideally, parts from the same time period as the parts used in building the original pedal) that must measure within a certain range and be meticulously tuned to each other. After all, it takes just the right combination to produce those ripping, classic fuzz tones we all know and love. Many point-to-point builders salvage parts out of broken electronics from the 1950s and 1960s, while simultaneously searching the web for new-old-stock, or NOS, components. Most of these components are long out of production, so there's quite a bit of treasure hunting involved in the production of these units. But troves of transistors and other components from the '60s and earlier can still be found … with luck and good intel.
"I feel like it's better to create boxes that will outlive me and be serviceable forever." —Patrick Brown of Collector Effectors
I recently spoke to two of these dedicated pedal revivalists to get some insight on their motivation and methods. Patrick Brown of Collector Effectors, based in Greensboro, North Carolina, builds his fuzzes—Buzzarounds, Tone Benders, Fuzz Faces—point-to-point, just loaded with gorgeous old parts, all neatly and perfectly arrayed. I asked Patrick what inspires him to build old-school while putting his own twist on things aesthetically.
"I think it's cool when people kind of take a classic and refine it," he says. "There's something great about getting that primitive gnarly-ness. I also like the idea that a unit can be repaired a few times with the old through-hole parts. I don't like the idea of a disposable circuit. I feel like it's better to create boxes that will outlive me and be serviceable forever, rather than go to a landfill, which is where unused tech ends up."
Across the Atlantic Ocean, in Granada, Spain, César de Vicente from
Lo-Fi Mind Effects
is also dedicated to making pedals of the past—with a psychedelic vibe—part of the present day, with takes on the Rangemaster, Fuzz Face, Tone Bender, and more. His enclosures have an appealing and often weathered industrial look. I asked him what he finds appealing about old-school point-to-point builds.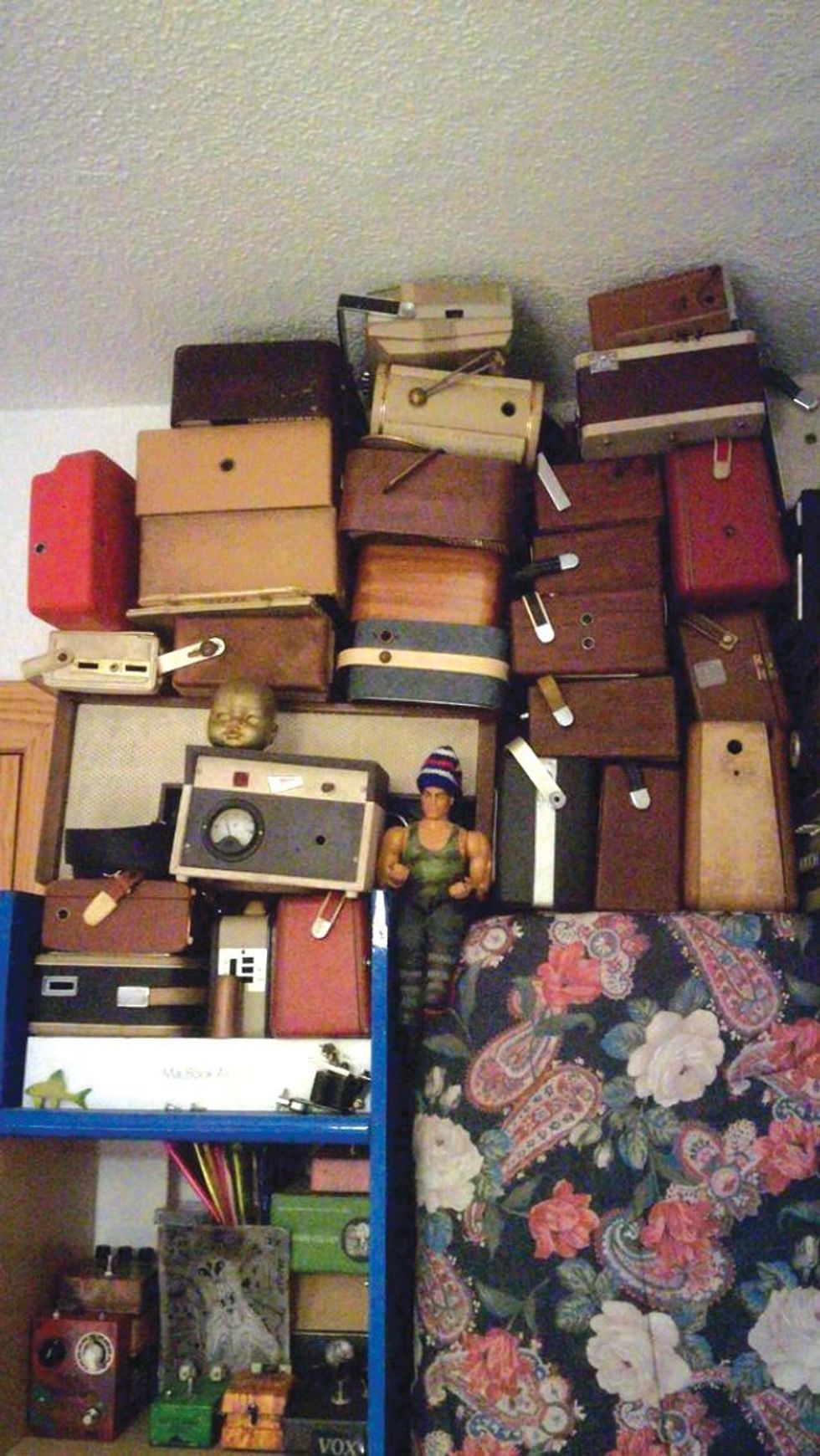 This may look like a wall of junk electronics, in the Lo-Fi Mind Effects workshop, but as a resource for vintage transistors and other parts, it's solid gold.
"I like all kinds of constructions—designing PCBs and tagboards. But point-to-point has something special. The first time I saw the insides of a Hiwatt DR103 amp, I was mesmerized. Since then, I always try to build something that could match that beauty."
César has a wall of ancient, gutted radios in his workshop. The piles span from floor to ceiling, and they're part of his formula for finding vintage components. He rescues the rare-as-hen's-teeth transistors and other parts from these broken radios and uses them in his pedals. And he says he might even use the radio enclosures to build little amps someday.
If you want to get a better appreciation for point-to-point work, take a close look inside a vintage or new-build old-school pedal the next time you've got its bottom cover off. You just might be inspired.
The Kemper Powered Kabinet packs a 200-watt power amp and is compatible with the company's speaker imprint technology
Kemper today announce the immediate availability of the new Kemper Power Kabinet. The powered version of the acclaimed and award-winning Kemper Kabinet features the new Kemper Kone speaker, a build-in 200 Watts power amp, and a smart, build-in speaker stand for a slanted setup.
The KEMPER Kone speaker is controlled and driven by the KEMPER PROFILER's DSP to provide a unique and versatile guitar monitoring system. Independent from the simultaneous full range feed to FOH and recording devices it features 19 included speaker imprints offering the finest choice of well-known guitar speakers from Celestion, and many renowned other classic brands, even rare and particular speakers. This setup guarantees for the best in class "amp in the room sound".
Alternatively on offer is an ultra-linear full-range mode. In contrast to the conventional idea of a full-range system, the KEMPER Kabinet sound carries a distinct guitar speaker character, unlike regular PA speakers or monitor speakers. To season the speaker behavior to the player's taste KEMPER offers the unique "Sweetening" and "Directivity" Parameters for detailed personal and location-dependent adjustment.
The KEMPER Power Kabinet is the perfect monitoring system for all owners of unpowered KEMPER PROFILERS (Head, Rack, and Stage). Various bundles will become available. Stereo setups supported.
The package contains the Power Kabinet, power cord, a protecting dust cover, and features a smart, build-in speaker stand for slanted setup.
Pricing and availability
The KEMPER Power Kabinet is available from the Kemper Online Store for Euro 689,- USD 789,- and GBP 500,-
SPECIFICATIONS
KEMPER Power Kabinet
Height: 43 cm (16.93 inches)
Width: 51,6 cm (20.31 inches)
Depth: 23,5 cm (9.06 inches)
Weight: 11,3 kg (24.91 pounds)
Poweramp output: 200 watts
For more information:
Kemper