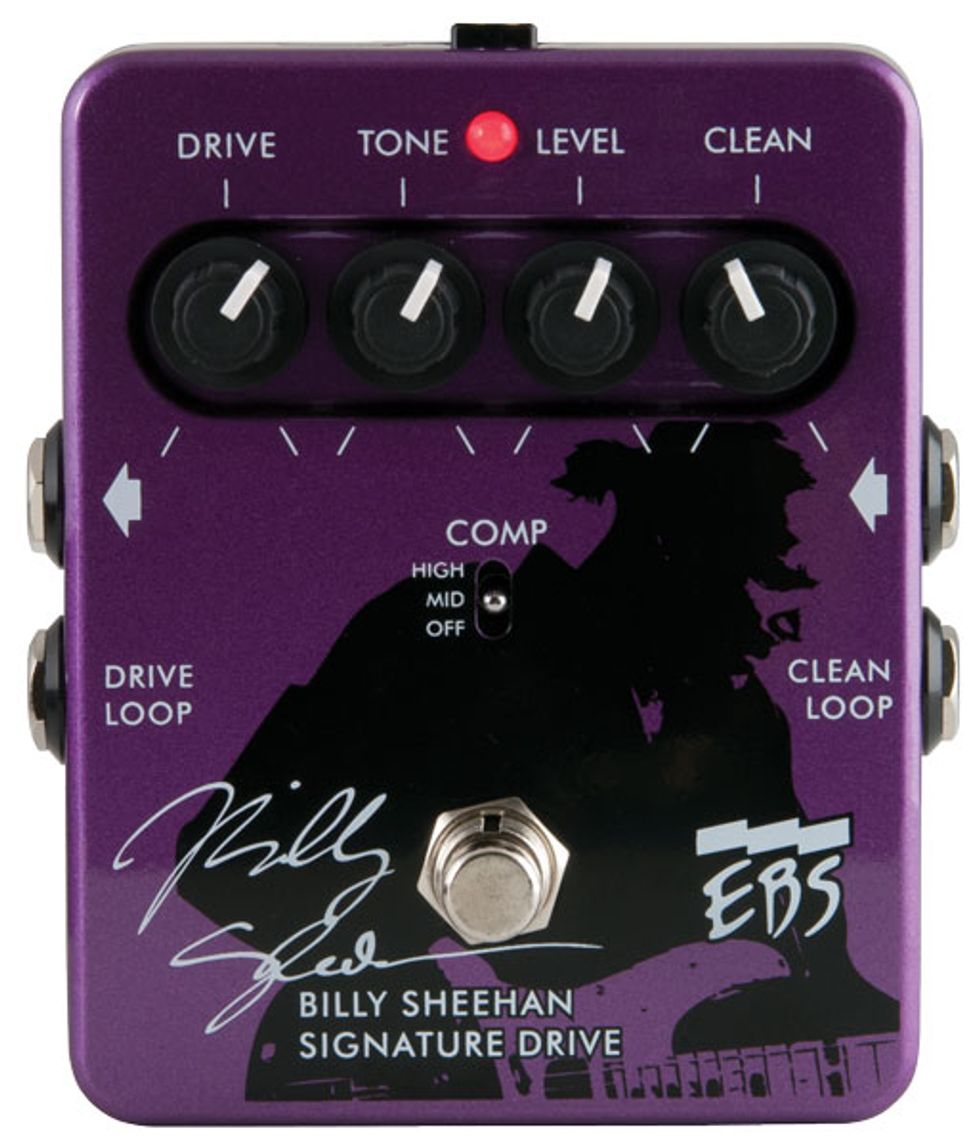 One should take note when Billy Sheehan puts his name on a new product. Combined with his lightning-fast fretwork, Sheehan's meticulously crafted tone defines him as much as his work with Mr. Big, David Lee Roth, and his solo efforts. EBS is a company known for superior bass products, from amps to cabinets to their popular bass pedals. So it makes perfect sense that Sheehan and EBS decided to collaborate and create the Billy Sheehan Signature Drive.
Sign and Drive Event Tackling the production of an overdrive unit worthy of Billy Sheehan's endorsement is like telling Henry Ford how to improve his assembly line. It's a bit of a daunting task to say the least. EBS and Sheehan worked in close collaboration to design not only a distortion box, but also an effect pedal that could retain clarity and low end while pumping out overdriven tone. Up until now, Sheehan has resorted to splitting his signal to achieve his trademark sound. With the new Signature Drive, EBS has essentially delivered a 2-channel mixer, a preamp, a compressor, an EQ, and an overdrive in one pedal to do the trick.
The standard in/out cable jacks are onboard, but EBS also added a handy clean and drive loop that will allow for unique pedal-shaping opportunities beyond the scope of the built-in controls.

EBS departed from their typical pedal footprint with this durable new stompbox. It's oversized by EBS standards, but is still relatively compact. There is no easily accessible 9V battery compartment. Instead, the company opted for the not-always-popular four-screw design, so owners should consider getting a suitable adapter to avoid a potential headache in the middle of a set.
The purple finish is accented by four rubber knobs for controlling drive, tone, level, and clean, respectively, along with a mini 3-way switch for selecting the compression level. (The level for the medium compression setting can be fine-tuned by adjusting a trim control inside the pedal.) The standard in/out cable jacks are onboard, but EBS also added a handy clean and drive loop that will allow for unique pedal-shaping opportunities beyond the scope of the built-in controls.
Ratings
Pros:
Being able to shape clean and overdriven tones independently is a great thing.
Cons:
Battery compartment not easily accessible. Pricey.
Tones:


Playability/Ease of Use:


Build/Design:


Value:


Street:
$199
EBS Billy Sheenan Signature Drive
ebssweden.com

Mr. Big Tone I went with some different options on bass for this review. I hit up my active Warwick Streamer Stage II, a vintage Fender Jazz, and a Sandberg California active/passive, all through an Eden WT-500 and Eden 115XLT cab.
The pedal basically cuts the signal into two parts—clean and distorted—with controls for each. I started out using the pedal as a clean preamp with the drive control all the way off. This renders the level control useless, but the tone control is a nice sound-shaper for fine-tuning the midrange. Easing up the drive control, I was greeted by a great distortion that begged me to start playing high and fast. I was able to get a warmer, distinctly older tone by rolling down the tone knob.
Using the built-in compression on the high setting, the drive knob cranked, the level at 10 o'clock, and the clean at about 2 o'clock, I was able to sustain harmonics until lunch the next day. Even more importantly, I was able to play with great accuracy because I heard every note—not just a mess of square waves. Using the same settings and rolling the tone control up, I got a remarkable distorted bass sound that was aggressive and tight. And this pedal doesn't discriminate at all. It plays nice with both passive and active basses alike.
The Verdict Sheehan worked for almost two years on this pedal, and it most certainly paid off. His vision has been realized, and the uniquely shapeable and relevant distortion tones are classic Sheehan. With the Signature Drive, his trademark bass sounds are now achievable and controllable with a single pedal. Even if you aren't a bass virtuoso, you'll appreciate the flexibility this distortion pedal affords you.