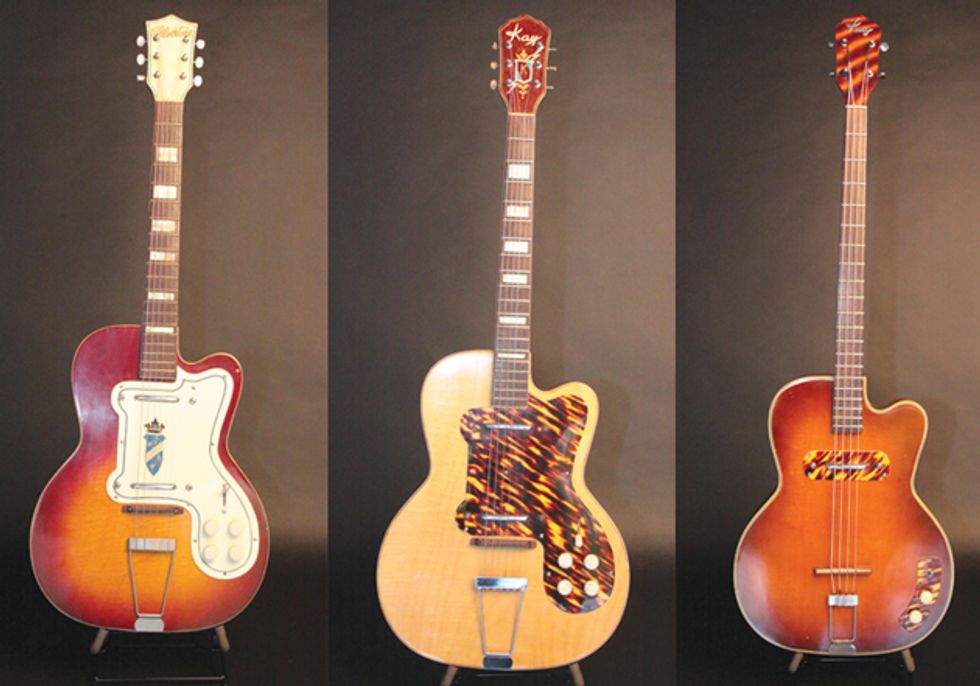 "Jimmy Reed's signature guitar was a semi-hollowbody with twin blade pickups," Ivankovich says. "The Thin Twin is shown here with Silvertone (left) and Kay headstocks (middle), and the Howlin' Wolf Bass (right). Photo by Chris McMahon.
Kay
Despite being a high-volume manufacturer, Kay had roots in old-world manufacturing. The company originated as the Groeschel Instrument Co., which later changed its name to Stromberg-Voisinet. The brand became Kay in 1928 when Stromberg-Voisinet employee Henry Kuhrmeyer purchased the company. (That same year Stromberg-Voisinet released the Stromberg Electro, one of the first electric guitars to hit the market.)
Like Harmony, Kay built and sold stringed instruments under its own brand and a slew of others, including Airline and Sherwood Deluxe (for Montgomery Ward), Custom Kraft (for St. Louis Music), Old Kraftsman (for Spiegel), Orpheum (for Ward's Catalogue), Penncrest (for J.C. Penney), plus Silvertone and Supertone for Sears.
"There was no internet. There was no Guitar Center. There wasn't a lot of choice. You bought what you could get, and in a small town, the Sears, Roebuck catalog was often the first and only choice." —Bruce Zinky, Supro Amps

Kays tend to rank higher than Harmony guitars in quality and price, but below Gibsons. The Gold Kay archtops, created to compete with premium brands such as Gibson and Fender, featured distinctive pickup covers that are sometimes referred to as "Kessel boxes" (after guitarist Barney Kessel, who had a signature Kay model) or "Kleenex boxes." Another hallmark is the Kelvinator headstock with its huge gold and pearl plastic ornamentation.
In 1955 Kuhrmeyer sold his portion of the company to Sidney Katz, formerly of Harmony. The company rode the rock 'n'roll wave through the mid '60s, expanding into new markets and new products, including amplifiers and budget guitars. (Kay outsourced the amp production to Valco.)
The company opened a new larger plant outside of Chicago in 1964, where, according to Wheeler, they were building 1,500 guitars per day, distributed to 7,000 retailers nationwide via 45 distribution companies. Kay was sold in to jukebox manufacturer Seeberg Corp. in 1965, and then to Valco two years later. By then guitar sales were in decline, and the company was auctioned off in 1969, according to kingofkays.com, a site dedicated to Kay guitars. The assets went to Syl Weindling and Barry Hornstein of W.M.I, which imported Teisco Del Rey guitars from Japan. The Kay brand then was applied to imported instruments in the early '70s.
In addition to guitars, Kay made high-quality upright basses. That division was acquired by Engelhardt-Link, which still produces instruments.